About the Competition
Background
First published in 2002, Canada's Top Employers for Young People is an editorial competition organized by the Canada's Top 100 Employers project.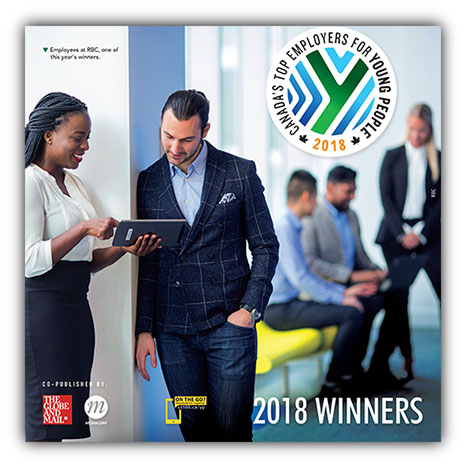 This special designation recognizes the employers that offer the nation's best workplaces and programs for young people just starting their careers. The employers on this list are Canada's leaders in attracting and retaining younger employees to their organizations. Before 2007, this competition was published annually as an appendix to our Canada's Top 100 Employers paperback. This year's winners were announced on February 9, 2018 in a special magazine published in The Globe and Mail. Read the press release issued the same day for more background on this year's competition.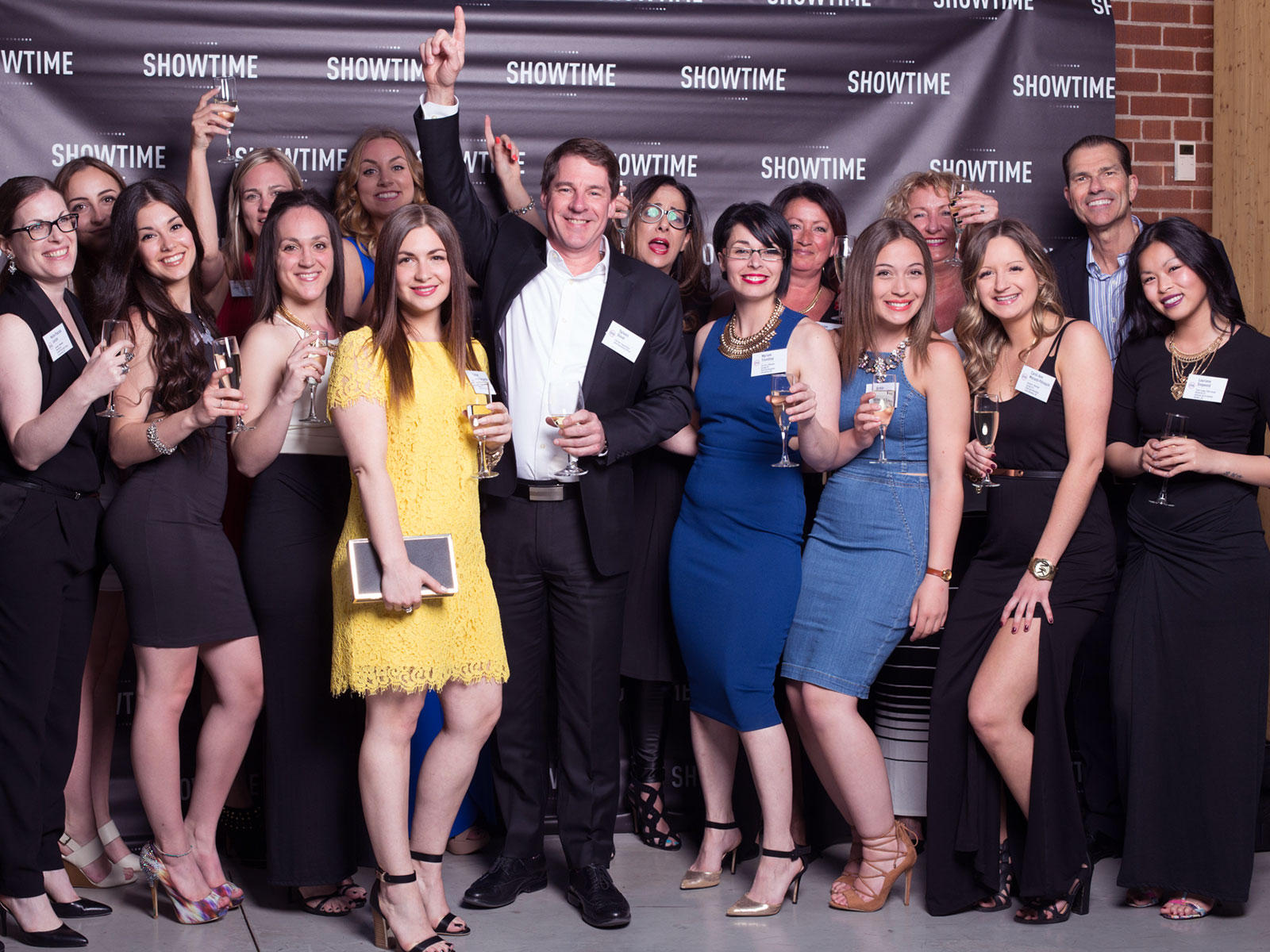 Selection Process
Each employer is evaluated by the editors of Canada's Top 100 Employers in terms of the programs they have to attract and retain younger workers. These include benefits such as tuition assistance and the availability of co-op or work-study programs. Our editors also examine each employer's mentorship and training programs, including benefits such as bonuses paid when employees complete certain courses or professional designations. We also review each employer's career management programs, looking for initiatives that can assist younger workers advance faster in the organization. Lastly, our editors also look at the average age of employees at each employer to better understand the composition and profile of their workforce.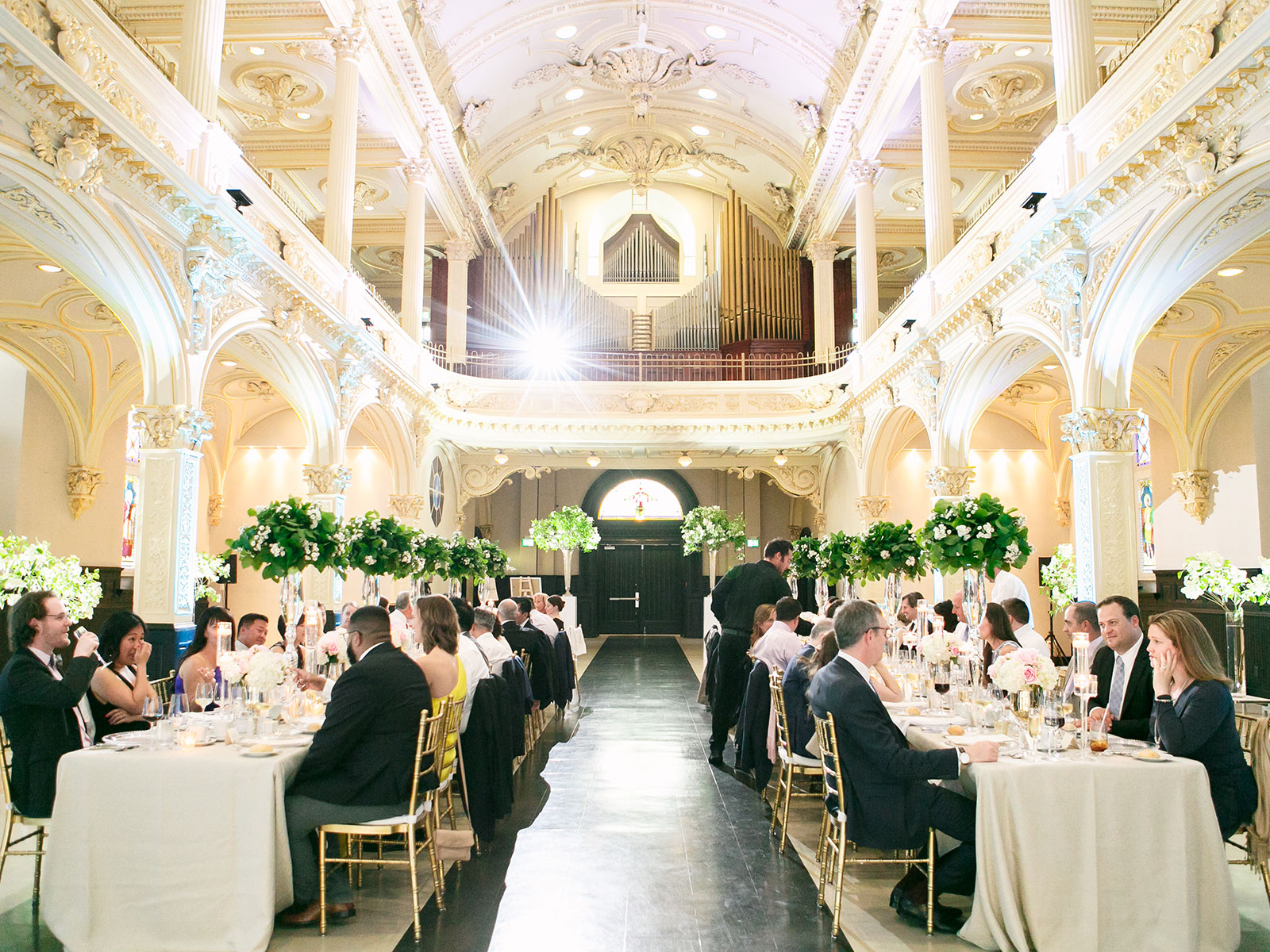 Editorial Partner
The Globe and Mail is our editorial partner on the Canada's Top Employers for Young People competition. Each year, we co-publish a large national magazine announcing the winners, which appears in The Globe and is read by thousands of students and young people starting their careers.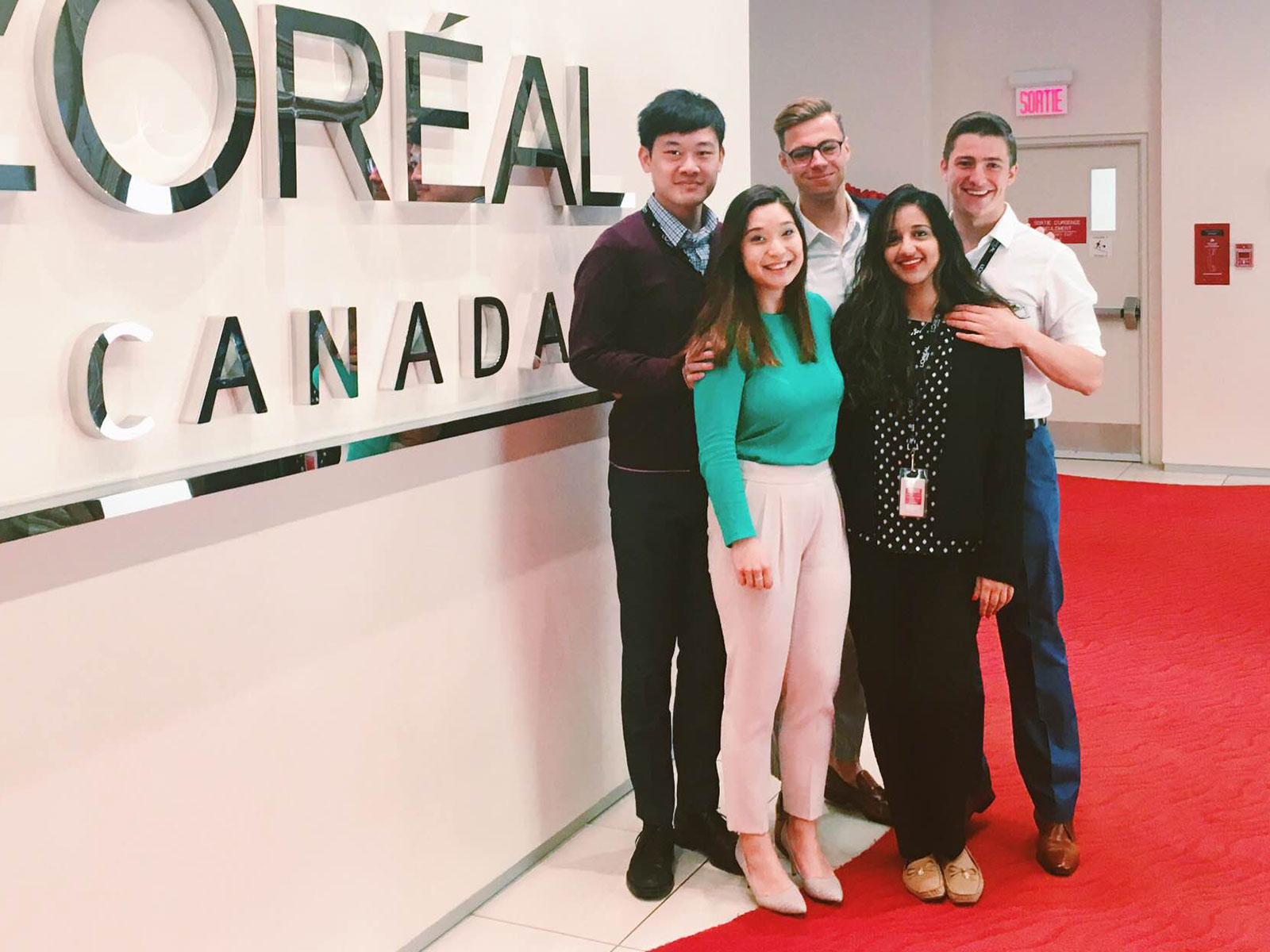 Eligibility Requirements
Any employer with its head office or principal place of business in Canada may apply for our national competition. Employers of any size may apply, whether private or public sector.
2019 Competition
Applications for our 2019 competition will be available early in 2018. Our 2019 winners will be announced in a special magazine in The Globe and Mail early in 2019.
Editorial Conference
To learn more about the competition, we invite you to join us at the Top Employer Summit, our annual editorial conference on the Canada's Top 100 Employers project. This event lets you discover the latest best practices from winners, meet competition organizers and editors, and hear inspiring stories from world-class speakers – all presented in a commercial-free format. The conference is Canada's largest annual event for senior-level HR professionals.
About the 2018 Competition
Whatever your industry, the new generation is going to drive it. That's something Canada's Top Employers for Young People 2018 already understand.
They've welcomed young talent into their workplace, giving them opportunities to learn and develop bright careers within their ranks. Instead of whining about negatives attributed to millennials -- young adults typically pegged as being born between about 1980 and 2000 -- these winning companies are listening to what young people have to say and providing them with the support needed to excel.
These include summer employment and paid internships for students at a variety of levels, job rotation and job-shadowing initiatives, formal and informal mentorship, school partnerships and tuition subsidies for further education, as well as strong in-house training programs.
Often the opportunities provided are unique and invaluable to a future career. For example, Baycrest Health Sciences in Toronto offers a 12-week paid research internship program, giving undergraduate students the chance to work in the laboratory of a Rotman Research Institute scientist, or Cactus Restaurants in Vancouver that organizes Culinary Development Days allowing chefs and sous chefs to work alongside product development chefs to create unique dishes not prepared on a regular basis.
Additionally, Canada's Top Employers for Young People 2018 understand that socially conscious initiatives matter, particularly to younger workers, and that giving back to the community is key in attracting and retaining this generation.
Citi Canada in Mississauga is outstanding in this area by offering a number of unique philanthropic opportunities, including ServiceCorps, a one-year fellowship program for incoming technology analysts. As part of the fellowship, the graduate's start date is deferred and they are matched with a non-profit or public organization. The company's Citi Volunteer Africa program also enables junior bankers to help low-income entrepreneurs in Uganda for a five-week period. This winning organization truly gets the millennial desire to contribute and make a difference.
– Diane Jermyn
From the official announcement magazine for Canada's Top Employers for Young People (2018), published on February 9, 2018 in The Globe and Mail.
2018 Winners
Here are 2018 winners of the Canada's Top Employers for Young People competition. Click an employer name to read our editors' full Reasons for Selection:
Doing the Right Thing
Canada's Top Employers for Young People are boosting their community involvement to attract Millennial talent.
At RBC in Mississauga, Ont., Anastacia Chichova feels it, and she was born in Russia.
At Aboriginal Peoples Television Network (APTN), Ranee Dong feels it, and she is Indigenous, based in Winnipeg.
At Sodexo Canada In Montreal, Yasmeen Dawoodjee feels it, and she is an Ottawa native of Burmese-Jamaican heritage.
All of these young women are a vibrant part of the Canadian fabric, but their backgrounds are clearly very different. Yet they are united in feeling that Millennials like them want to have a greater purpose in their work than simply the task at hand. They can count themselves members of a globally influenced youth culture in which making a difference in life is a big part of what you are supposed to do.
Let's let Dawoodjee explain, because besides being, at 24, on the younger end of the Millennial spectrum, she is also a professional -- she's Coordinator, Talent Development, in the Human Resources department of Sodexo Canada, one of Canada's Top Employers for Young People. And if you ask her the now time-honoured question, What do Millennials really want?, this is how she answers:
"I know exactly what we want! Millennials truly want to feel that there's a purpose to what they're doing, regardless of what industry they're in. In this day and age, Millennials want to wake up and show up for something they feel will not only add value to themselves but to the rest of the world.
"A lot of Millennials are looking for forward-looking companies that truly follow what their mission and values say. Sustainability is a huge one; so is diversity and inclusion. Millennials want to see their own values and beliefs mirrored in the company they work with."
And sure enough, RBC's Chichova points to the bank's broad commitment to the community, particularly through employee giving and volunteering, as a key attraction for her fellow young people. "It is important to give," says Chichova, a Client Effectiveness Coach who is also a Wellness Champion for her fellow employees. "Helping communities around us is good for our well-being and for our sense of value."
At APTN, many employees like Dong feel they are working for something bigger than themselves. "I have a lot of respect for where I work -- I think we're doing great things," says Dong, a Graphic Artist for APTN National News. "We put a lot of focus on issues that really matter. I'm really proud of the work we do here."
All of which goes to explain why involvement with society at large is such a big priority among Canada's Top Employers for Young People as they face a highly competitive race for talent. Kristina Leung, Senior Editor for Mediacorp Canada, who oversaw compilation of the list, found this a unifying theme for the 2018 winners.
"The employers on this list are really focusing on helping young people find meaning in the work that they do, whether it's personal or professional," she says. "On a personal level, a lot of organizations are providing opportunities to give back and to contribute to community initiatives. There's a lot of research out there about Millennials showing that these are important drivers in terms of recruitment. I think a lot of this year's winners are tapping into that."
It's almost part of the price admission for a Top Employer to give staff members paid time off to volunteer with a non-profit or charity, in addition to the charitable giving and sponsorships that most large organizations are involved in. Many match employee funds raised for good causes. And increasingly, notes Leung, organizations are incorporating philanthropic opportunities into their entry-level programs. Some companies, such as Citi Canada, even offer young people a chance to defer their start so they can work at a non-profit for a period.
Then there's working life. Sodexo's Dawoodjee elaborates from her experience: "Millennials want to feel engaged at work. They want to feel involved, they also want flexibility, and they want to have great relationships with their co-workers. It's not just show up, do my work and get out. They want to feel almost like it's a home away from home."
Again, Leung finds similar thinking in the Top Employer entries. "On a professional level, it means supporting young employees in determining their skills and what they are passionate about," she says. "We found that a lot of this year's winners are really engaging their younger generations and helping them feel like they really contribute to the organization's growth and success. This often means opportunities to provide direct feedback and ideas to senior executives." Companies also put a lot of emphasis on flexibility -- work-life balance is a mantra for most -- and many have set up employee networks that bring like-minded people together.
Arguably, the Millennials' time as new entrants to the workplace is coming to an end - after all, the Millennium was 18 years ago -- and a new generation is coming up behind. Experts argue over what to call them, but Generation Z is beginning to stick. In Leung's observation, they probably surpass their slightly-elders in concern about what companies stand for. "Wanting to know that their organization is ethical and shares the same beliefs is even more of a defining characteristic of Gen Z," she says. "And I think that's why a lot of this year's winners are really amping up their community initiatives." The message to employers is clear: to get the best, do good.
– Berton Woodward
Find jobs from Canada's Top Employers for Young People