About the Competition
Background
First published in 2002, Canada's Top Employers for Young People is an editorial competition organized by the Canada's Top 100 Employers project.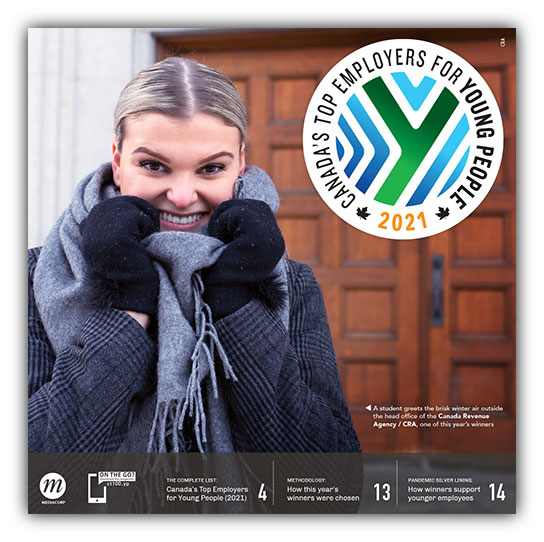 This special designation recognizes the employers that offer the nation's best workplaces and programs for young people just starting their careers. The employers on this list are Canada's leaders in attracting and retaining younger employees to their organizations. Before 2007, this competition was published annually as an appendix to our Canada's Top 100 Employers paperback. This year's winners were announced on January 19, 2021 in our special announcement magazine. Read the press release issued the same day for more background on this year's competition.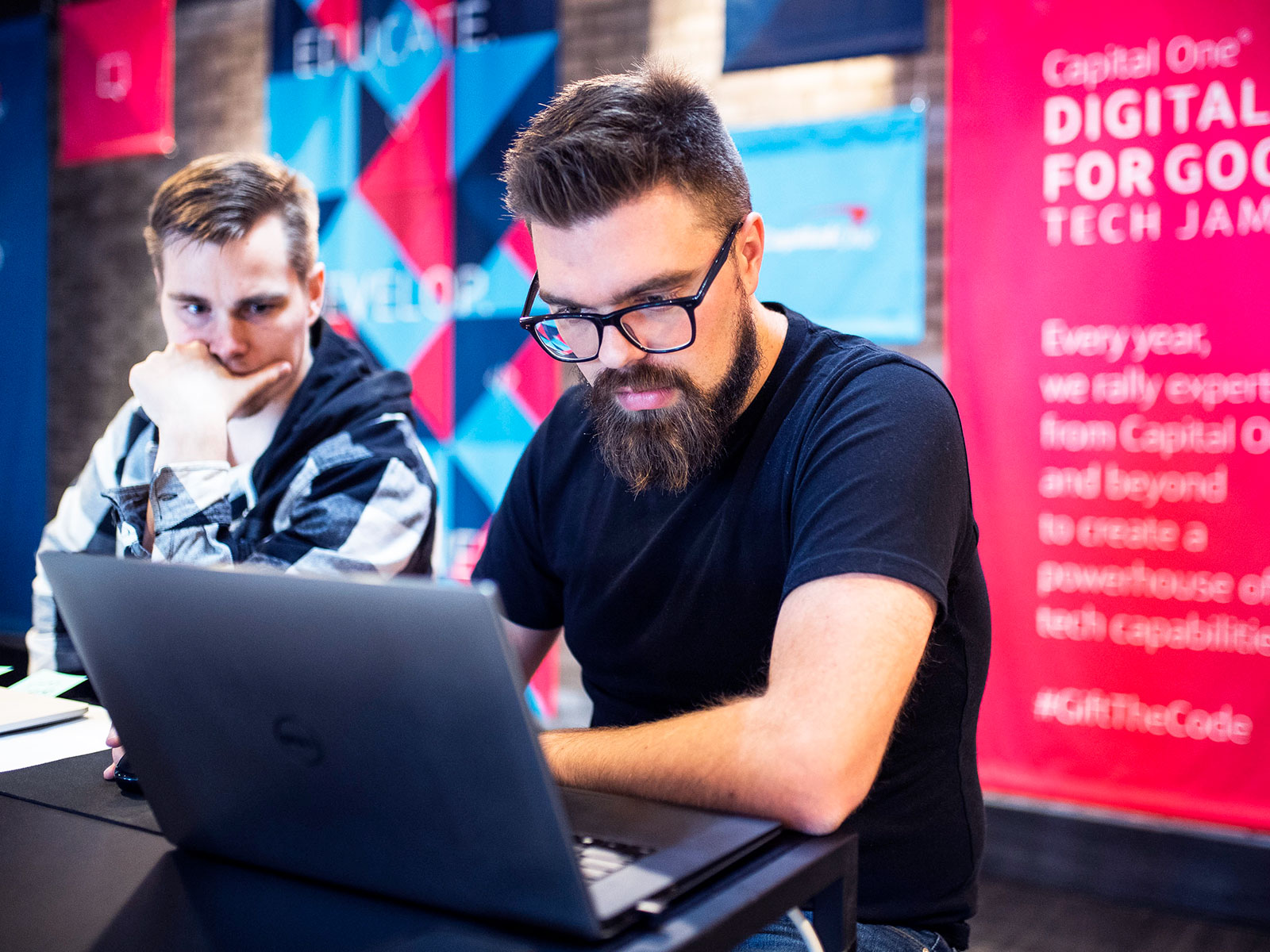 Selection Process
Each employer is evaluated by the editors of Canada's Top 100 Employers in terms of the programs they have to attract and retain younger workers. These include benefits such as tuition assistance and the availability of co-op or work-study programs. Our editors also examine each employer's mentorship and training programs, including benefits such as bonuses paid when employees complete certain courses or professional designations. We also review each employer's career management programs, looking for initiatives that can assist younger workers advance faster in the organization. Lastly, our editors also look at the average age of employees at each employer to better understand the composition and profile of their workforce.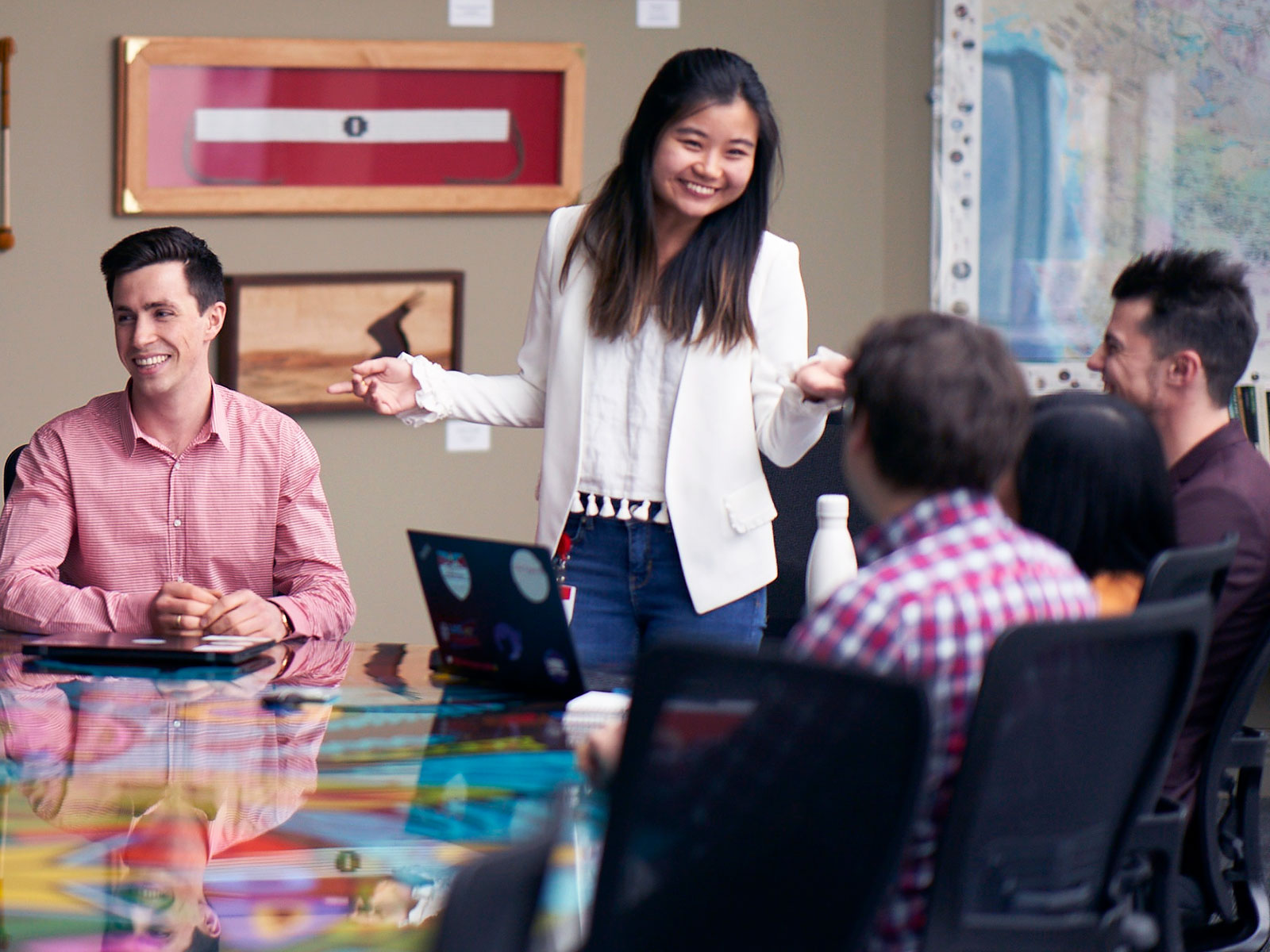 Reasons for Selection
Each year, the winners are announced in a special feature published in The Globe and Mail, which is our media sponsor on the competition. For our detailed Reasons for Selection, please review the full list of winners below. Publishing detailed Reasons for Selection is a distinguishing feature of our competition: it provides transparency in the selection of winners and "raises the bar" so that other employers can discover and adopt initiatives that work well elsewhere.
Eligibility Requirements
Any employer with its head office or principal place of business in Canada may apply for our national competition. Employers of any size may apply, whether private or public sector.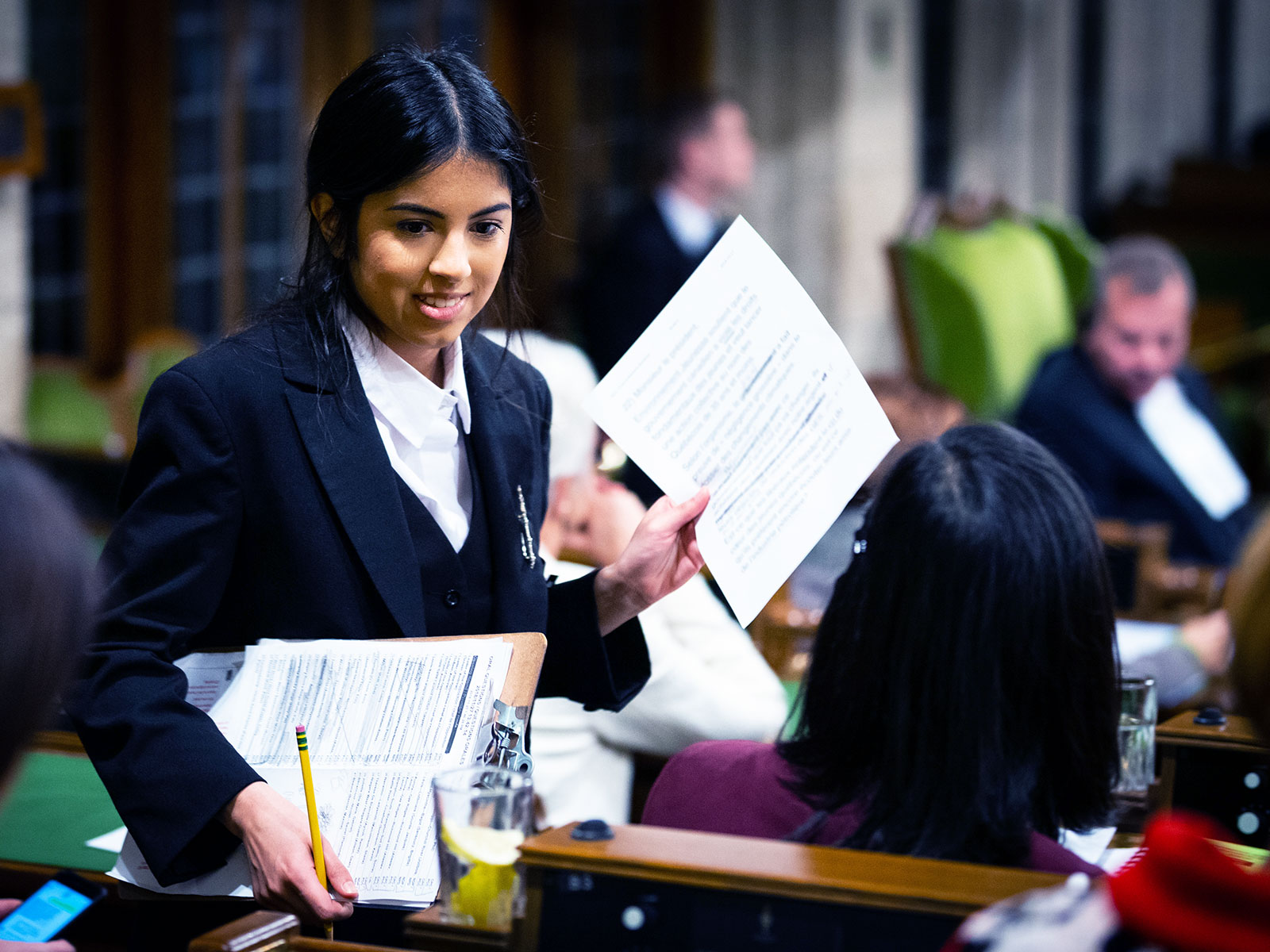 2022 Competition
Applications for our 2022 competition will be available early in 2021. Our 2022 winners will be announced in a special announcement magazine early in 2022. Join our mailing list to stay up to date and receive an application for next year's competition.
Silver Linings
The pandemic has been tough, but Canada's Top Employers for Young People offer a lot of support
As nearly everyone who is not a shareholder of Zoom Video Communications Inc. has said at some point, 2020 was an awful year. Amid a tragic pandemic, it was especially tough for many young people looking for a job. And yet – there were silver linings, too, which are continuing well into 2021 and beyond.
If you talk to winners of the Canada's Top Employers for Young People 2021 competition, you learn that many managed to keep intact their programs for young people, such as internships and co-ops, and run them virtually. Among them was RBC, one of the country's biggest employers, with 1,400 summer students globally. Another was KPMG LLP (Canada), the Toronto-based professional services firm, which turned on a dime to create an on-screen internship and co-op program.
"We normally bring on over 250 interns each year," says Nicole Tomassetti, KPMG's director of national talent attraction strategy. "In March it became very clear that we would not be having a normal internship, meaning the students coming to the office and then going out on client work. So we took the opportunity to give them a learning and development internship, virtually." At the end, every participant was offered a role at KPMG for 2021.
But Tomassetti also saw the fallout from the awful year and its impact on young job-seekers. "When we went through our fall recruiting campaign, we had all the almost double the applicants that we had in our previous year," she says. "There are a lot of companies that cancelled their internships and cancelled their full-time career opportunities. It's a lot more competitive."
Although vaccines, of course, are now rolling out in Canada, the end of the pandemic is still a long way away. So the virtual programs continue at many major employers, along with virtual recruitment interviews, virtual onboarding, and virtual networking once you've been hired. In fact, it is a regular refrain among Top Employer leaders that even when it's all over, they expect a "hybrid" system to develop. As more offices re-open, people may still spend a lot of their time working from home.
That may be one of the silver linings for new recruits, notes Kristina Leung, senior editor for Mediacorp Canada, which holds the competition. "I think it will encourage organizations to adopt more flexible policies, and young people have always voiced an appreciation for the flexibility of being able to work where you're most effective and efficient," she says. "Sometimes that happens to be at home and sometimes in the office, depending on the nature of the work."
Moreover, the current cohort of young graduates, who were born shortly before the new millennium, can all be considered digital natives. The internet surrounded them as they grew up, and the Apple iPhone has been with them since 2007. So to a generation reared on texting and Facetime, virtual work is not as odd as it may seem to older staff. Mediacorp assistant editor Stephanie Leung, who collaborated on the project and graduated in 2015, says she even found taking phone calls a bit tricky when she first made the transition from school to work. "We've grown up being very, very digital," she says. "If you're going from a very casual environment to something more structured and corporate, it isn't always easy to make that jump. I think employers are recognizing that and creating supports that will help with the transition."
Kristina Leung says that Top Employers are focusing on how to make strong connections with their younger hires, especially in the onboarding and orientation process. "They're making sure that folks feel connected, find buddies and peers, and are able to chat informally, which may be as important as the onboarding. People are interacting in a much more personal way than in the office – you may see someone's child or pet on camera in the background."
Employers, she adds, are stressing capacity building – expanding the soft skills that may be better suited to a fast-changing world. "That was definitely reflected in our applicant pool this year," she says. "It's not entirely specific to a role but overall capacity building that will enable the individual and the organization to be more agile, to have people with all types of skills that they can adapt to an environment such as the one that we're currently in." She notes, for example, that many organizations use case competitions as a means of developing critical thinking and other skills that can be applied in many situations.
KPMG's Tomassetti offers another potential silver lining for young job-seekers – there's a bigger playing field. "If a company's doing an information session, sign up. You don't even have to travel. You can attend things happening in Vancouver even if you live in Toronto." But research to find the right employer is key, she notes. "What hasn't changed is that everything you had to do before to get a job, you still have to do in this virtual world."
– Berton Woodward
This story appeared in the official announcement for Canada's Top Employers for Young People (2021), published on January 19, 2021.
2021 Winners
Here are the 2021 winners of the Canada's Top Employers for Young People competition. Click an employer name to read our editors' full Reasons for Selection:
Find jobs from Canada's Top Employers for Young People