About the Competition
This year marks the 12th annual edition for our Greater Toronto's Top Employers competition, which has become the benchmark in the Greater Toronto Area for workplace best-practices.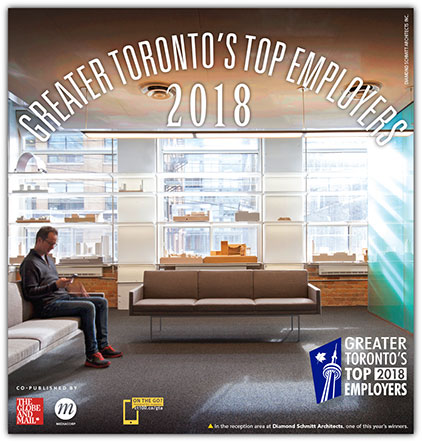 Like the metropolitan area it represents, the competition has become exceptionally strong and competitive — so much so that, for Toronto-area employers, the minimum scores to secure a place on the GTA list routinely rank among the highest in the nation. Our 2018 winners were announced on December 8, 2017 in a special magazine in The Globe and Mail. Read the press release issued the same day for more background on this year's winners.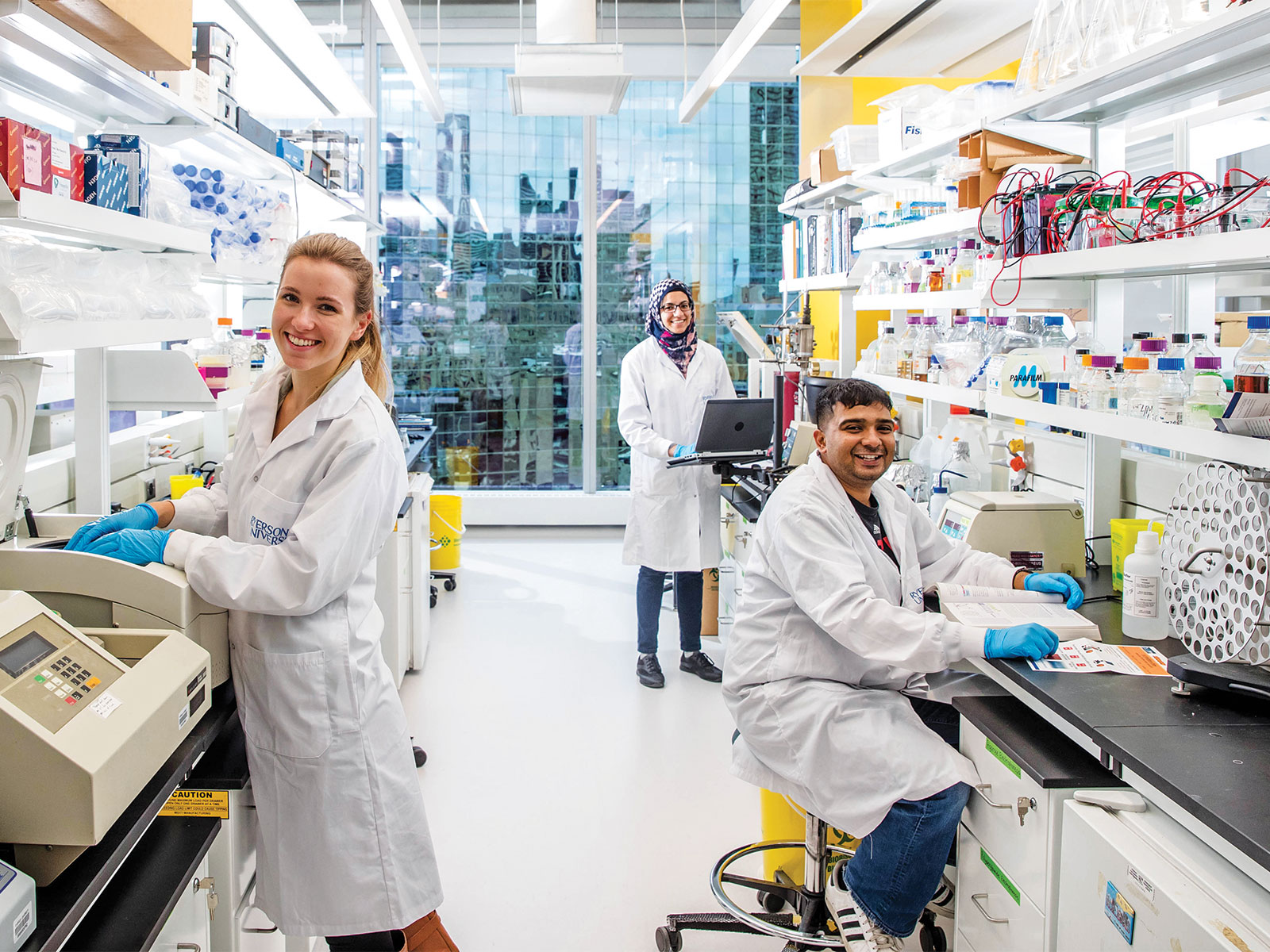 Selection Process
Our editorial team has evaluated the employers on eight criteria: (1) physical workplace; (2) work atmosphere and social; (3) health, financial and family benefits; (4) vacation and time-off; (5) employee communications; (6) performance management; (7) training and skills development; and (8) community involvement. These criteria have remained the same since the competition's inception and are the same criteria used to judge our national winners.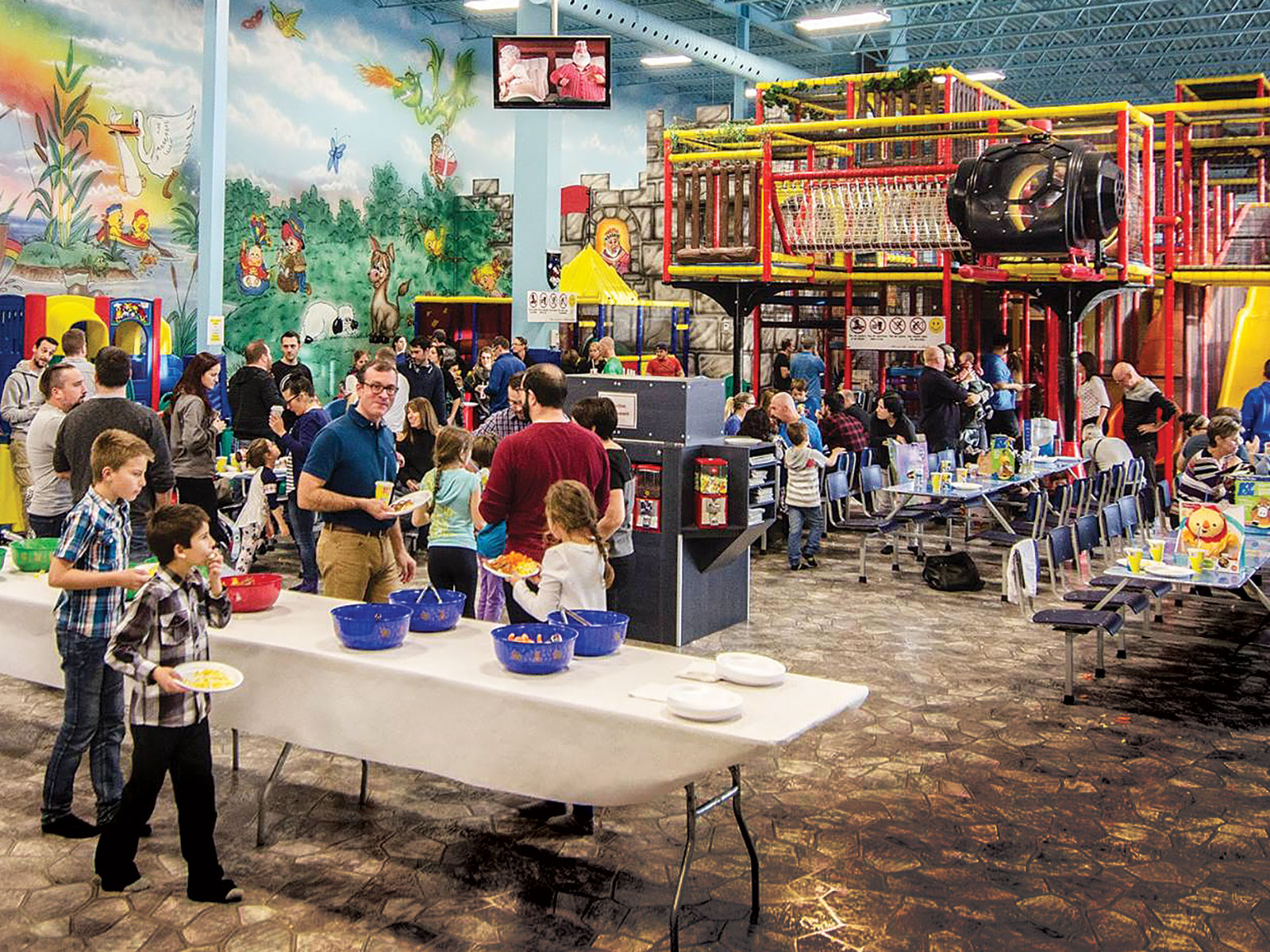 Editorial Partner
Each December, the winning employers are announced in a special magazine published in The Globe and Mail's metro edition. For our detailed Reasons for Selection, please review the full list of winners. Publishing detailed Reasons for Selection is a distinguishing feature of our competition: it provides transparency in the selection of winners and "raises the bar" so that other employers can discover and adopt initiatives that work well elsewhere.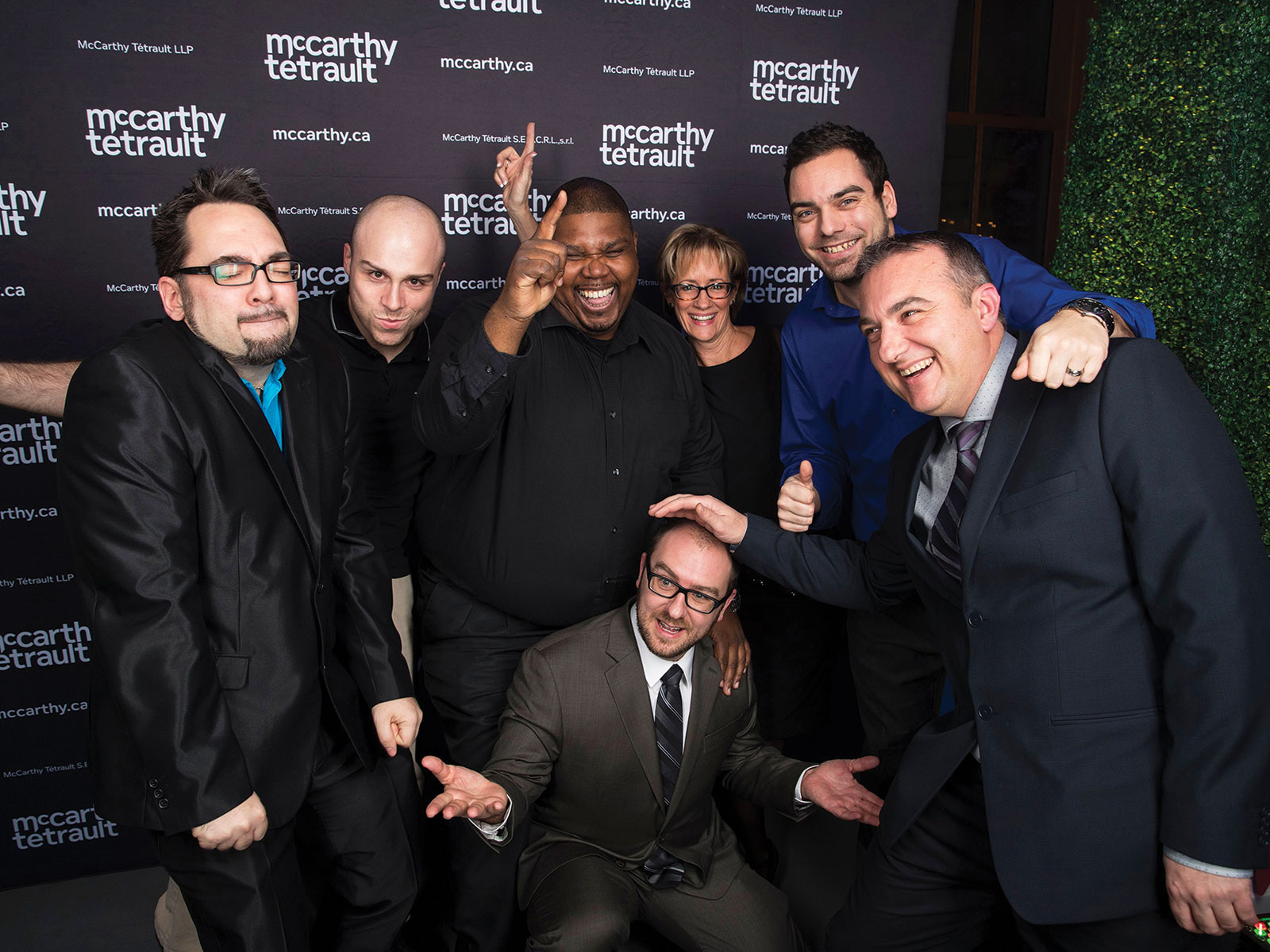 Eligibility Requirements
Any employer with its head office or principal place of business in the Greater Toronto Area may apply for this competition. Employers of any size may apply, whether private or public sector.
2019 Competition
Applications for our 2019 competition will be available early in 2018. Our 2019 winners will be announced in December 2018. Join our mailing list to stay up to date and receive an application for next year's competition:
Editorial Conference
To learn more about the competition, we invite you to join us at the Top Employer Summit, our annual editorial conference on the Canada's Top 100 Employers project. This event lets you discover the latest best practices from winners, meet competition organizers and editors, and hear inspiring stories from world-class speakers — all presented in a commercial-free format. The conference is Canada's largest annual event for senior-level HR professionals.
Introduction
By Diane Jermyn
In the time of a changing human demographic landscape, when the latest Canadian census reports that a majority of the Greater Toronto Area's 6.4 million people identify as visible minorities, what does it take to create a great workplace where everyone feels they can not only belong, but also succeed?
As employers in the GTA's multicultural heartland, the best first ensure that their policies are progressive and that their human resources management reflects the changing faces of who we are. That's how the best firms attract top talent in a competitive and diverse employment environment such as the GTA. Beyond that, the best stand out in their willingness to invest in their employees' future by providing opportunities for leadership and continuing development. That's how to retain top talent. The top organizations recognize that individuals want a career and not just a job.
The GTA's Top Employers 2018 offer a broad variety of forward-thinking initiatives to help their employees succeed. Some of these include: programs that identify and nurture employees with high potential, including those to help advance women in the workplace; generous tuition subsidies for professional accreditation and for academic courses, both related and sometimes unrelated to an employee's existing job; opportunities to explore new career paths and positions within a company; in-house and online training; recognition and rewards for employee innovation; support for new Canadians in the workplace; opportunities for networking, formal mentoring and career planning services.
"The twin challenges of growth and change are all here in the GTA," says Richard Yerema, managing editor of Canada's Top 100 Employers. "The result is a continual evolution of workplaces that help make for a very dynamic working reality for the region as a whole. It truly is a classic win-win for employers and those of us who call the GTA home."
From the official announcement magazine for Greater Toronto's Top Employers (2018), published on December 8, 2017 in The Globe and Mail.
2018 Winners
Here are 2018 winners of the Greater Toronto's Top Employers competition. Click an employer name to read our editors' full Reasons for Selection: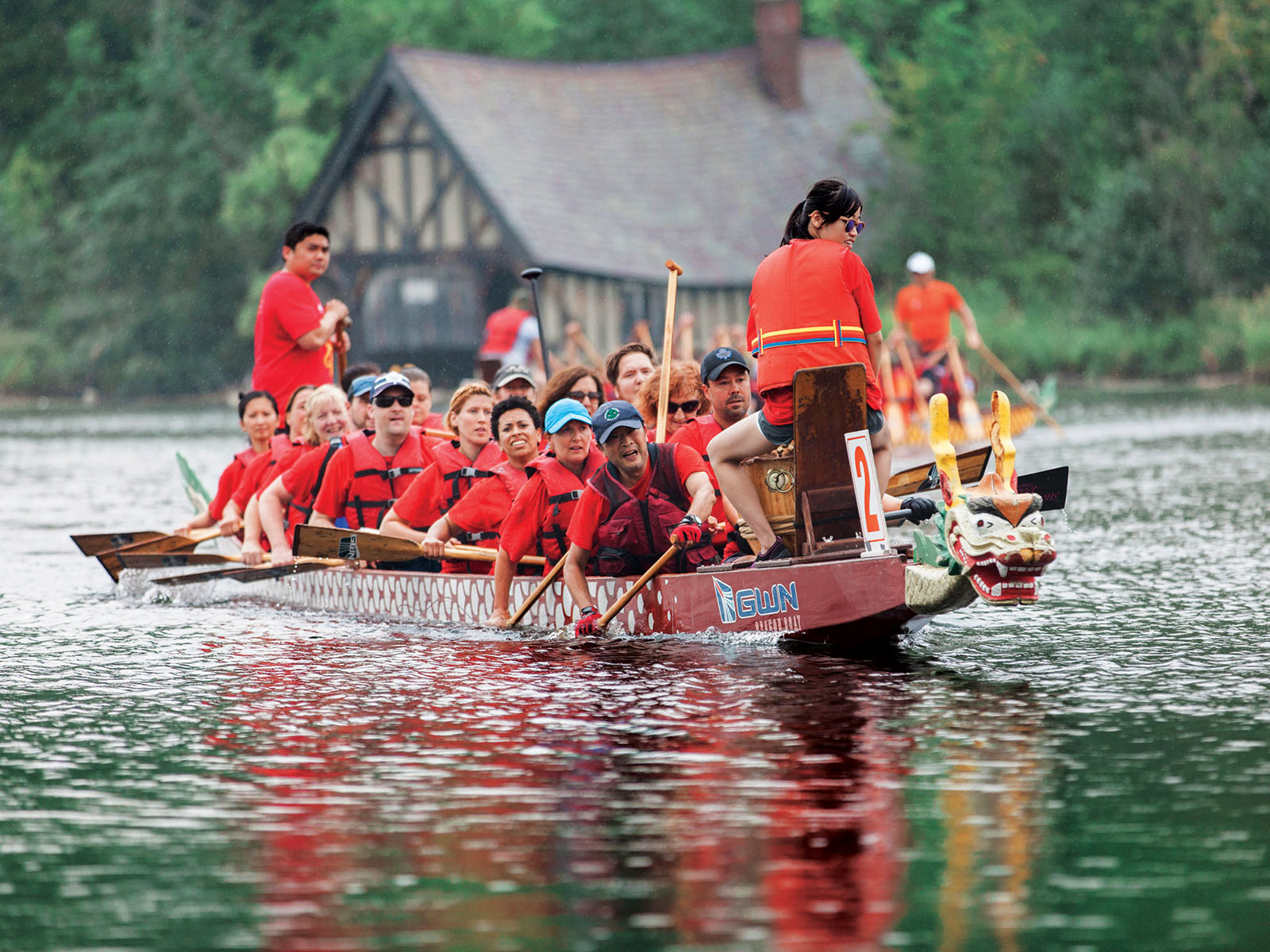 Making Things Better
From immigration to world-leading technology, the environment for Greater Toronto's Top Employers is all about finding solutions that improve workplaces.
By Berton Woodward
When she arrived in Toronto, Jackie Tan faced the same problem so many well-educated new immigrants encounter in Canada. Back in her home country of Singapore, Tan had been a marketing executive for a major luxury hotel. But after landing in Toronto with her husband in 2003, she found the job scene hard to crack. "The first year was tough," she says. "Employers were asking for Canadian experience and I didn't have that, even though I'd been a working professional as well as a department head for five years. My resumes seemed to go into a big black hole."
But this was Toronto, which has always been a problem-solving kind of place -- especially when it comes to employment. Tan connected with the Career Edge Organization, a not-for-profit founded in 1996 by Toronto icon David Pecault and other business leaders to help young and immigrant job-seekers get a start though internships. It's familiar to many of Greater Toronto's Top Employers -- representatives of several sit on its board.
Through a Career Edge internship program for professionals, Tan landed a placement at George Brown College, also one of Greater Toronto's Top Employers. It was all she needed. The placement led to a contract post in project management, then to a full-time position. "And the rest is history," she laughs. Now, after several promotions, she is Senior Operations Manager in the college's Division of Community Services and Health Sciences. "I am very grateful to the people who supported me," she says. "This was literally opening doors. Without that, I might have had to go back to Singapore."
It's a classic example of how Greater Toronto employers work to find solutions, improve business, and inevitably, make the metropolis an even better environment for employees. That is all the more essential in light of the recently released statistics from Canada's 2016 census, which showed that more than half of Toronto people now identify themselves as visible minorities -- 51.5 per cent, to be exact.
Greater Toronto's immense diversity has always been one of its oft-cited for employers. "It's the No. 1 change in the past 20 years," says Anton Rabie, Co-Founder, Chairman and Co-CEO of the Toronto toy and entertainment company Spin Master Inc., a Top Employer which he helped start just over 20 years ago, in 1994. "Diversity drives such great decision-making. It really helps our innovation and in spawning ideas."
But Rabie is the first to agree that Greater Toronto has many other strengths for employers. "There is such a lot of creative talent," he notes. "I don't think the city gets the credit that it should. Look at how many boutique studios we have. We have the number one pre-school TV show in the world, 'PAW Patrol', and the animation is all done at Guru Studio on Spadina."
Then there is the way solutions-based Toronto has built up its technology workforce, now rivalling neighbouring Kitchener-Waterloo and helping to fuel many of Greater Toronto's Top Employers, from Citi Canada, part of the global bank, to Toronto-based software-maker FreshBooks. That factor played directly into the recent announcement by Alphabet Inc., Google's parent company, that after a global search, it had chosen Toronto to build a 12-acre, high-tech urban development on the eastern waterfront. In conceiving a futuristic neighbourhood for employers and residents, replete with autonomous vehicles and the latest urban thinking, the project would be "tapping into Toronto's already-thriving tech sector," said the announcement.
Another key element in Greater Toronto's success as a high-end employment centre is the prevalence of post-secondary institutions, which feed highly educated young people into the workforce and often form partnerships with employers. "There are so many organizations you can work with here," says Leslie Quinlan, Vice-President Human Resources and Organizational Development at George Brown College. "And because we have so many educational institutions and so many streams, we have an opportunity to really help shape what the students learn and help them be successful, knowing what industry wants."
It all makes for a highly competitive struggle among employers to land, as Quinlan says, "the best and brightest" who are attracted to Greater Toronto. "I think it does drive employers to be good employers, because people in Toronto have options," she says. "Employers want to keep the talent that they have, and to do that they need to think about, how I am going to develop these people, how am I going to let them know I value them, how do I give them opportunities to grow and have a say in their workplace?"
And that, of course, is what Greater Toronto's Top Employers seeks to measure -- who are the best of the best in that highly competitive marketplace? "The bar is raised a little bit in different areas each year," says Richard Yerema, Managing Editor for Mediacorp Canada and the list's chief number-cruncher. "We have a 15 to 20 per cent annual change in the list. In a given industry category, we might hear that a competitor to last year's group has changed its vacation policy or its tuition support, or it has added a new program. So now it is included and one of the others has to drop off. To be recognized as one of Greater Toronto's Top Employers, you cannot stand still."
From the official announcement magazine for Greater Toronto's Top Employers (2018), published on December 8, 2017 in The Globe and Mail.
Find jobs from Greater Toronto's Top Employers