About the Competition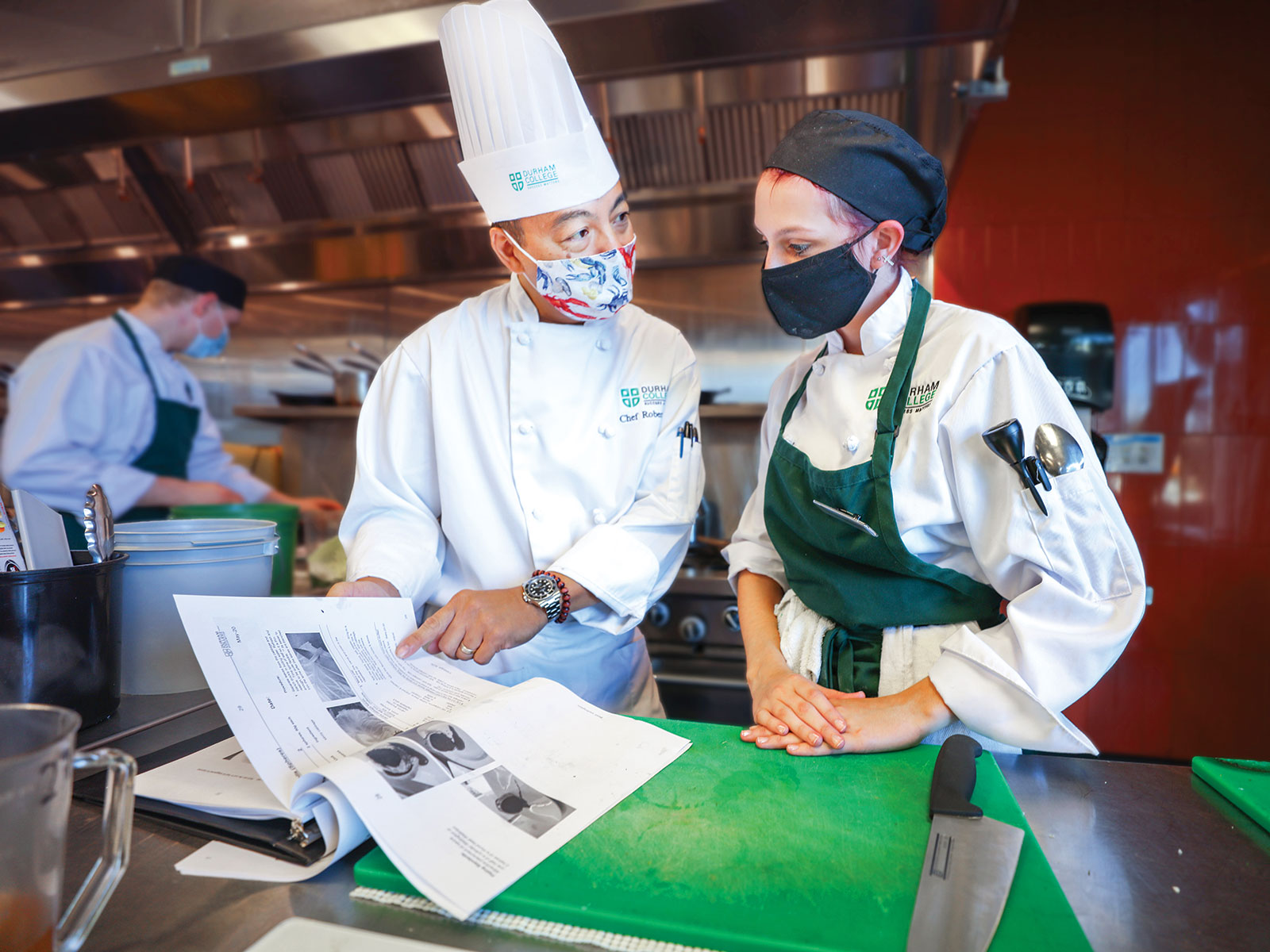 This year marks the 16th annual edition for our Greater Toronto's Top Employers competition, which has become the benchmark in the Greater Toronto Area for workplace best-practices.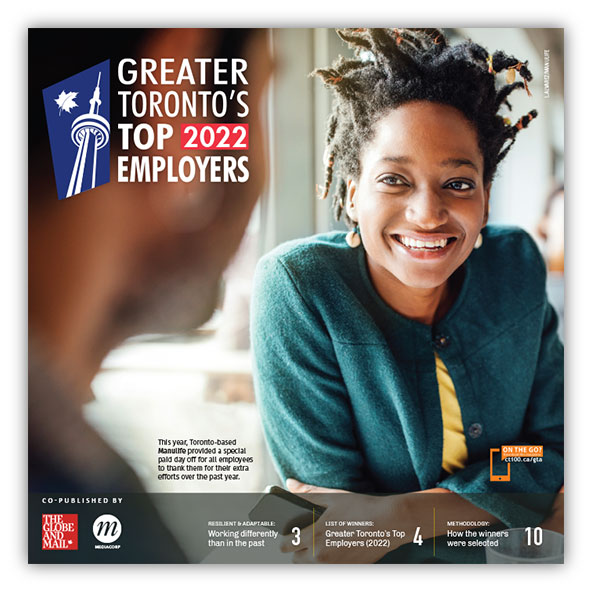 Like the metropolitan area it represents, the competition has become exceptionally strong and competitive — so much so that, for Toronto-area employers, the minimum scores to secure a place on the GTA list routinely rank among the highest in the nation. Our 2022 winners were announced on December 3, 2021 in a special magazine in The Globe and Mail. For more background on this year's competition, read the press release issued on the announcement date.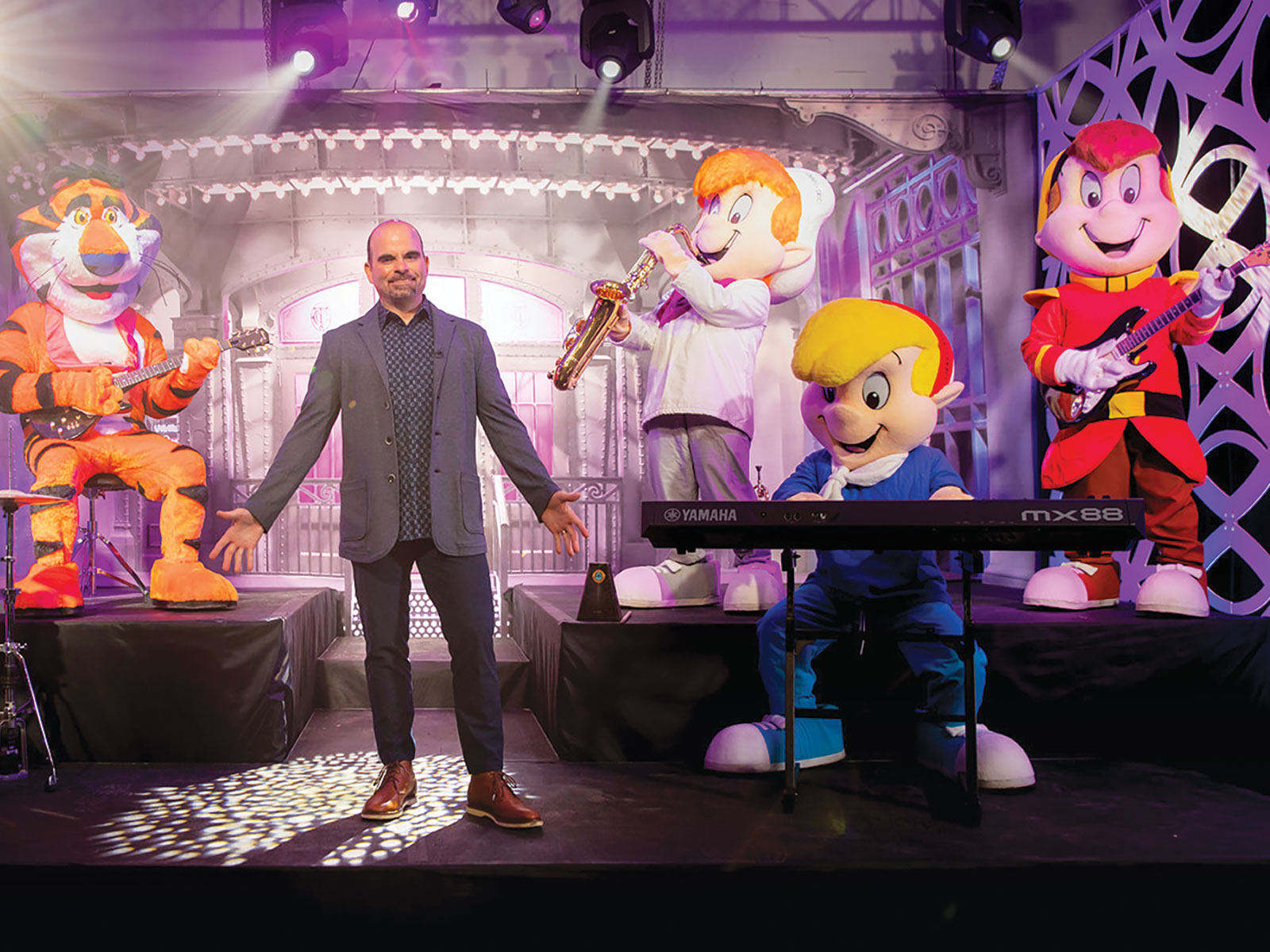 Selection Process
Each year, the winners are evaluated on the same eight criteria as our national competition: (1) physical workplace; (2) work atmosphere and social; (3) health, financial and family benefits; (4) vacation and time-off; (5) employee communications; (6) performance management; (7) training and skills development; and (8) community involvement.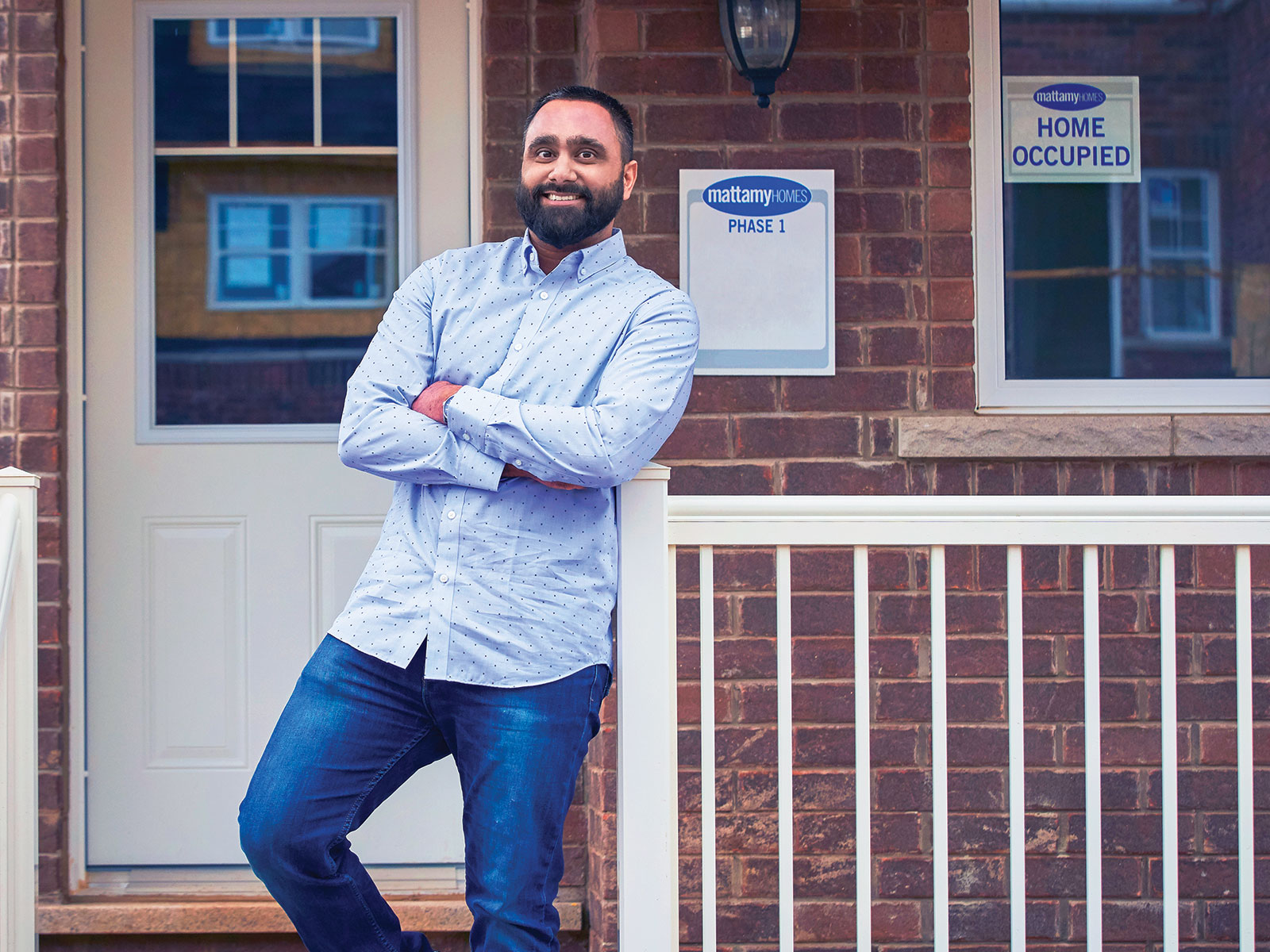 Reasons for Selection
Each December, the winners are announced in a special feature published in The Globe and Mail, which is our media sponsor on the competition. For our detailed reasons for selection, please review the full list of winners below. Publishing detailed reasons for selection is a distinguishing feature of our competition: it provides transparency in the selection of winners and "raises the bar" so that other employers can discover and adopt initiatives that work well elsewhere.
Eligibility Requirements
Any employer with its head office or principal place of business in the Greater Toronto Area may apply for this competition. Employers of any size may apply, whether private or public sector.
2023 Competition
Applications for our 2023 competition will be available early in 2022. Our 2023 winners will be announced in December 2022. Join our mailing list to stay up to date and receive an application for next year's competition.
Introduction

The pandemic may have changed how we work over the past 18 months -- hello Zoom -- but it's also given employers a new opportunity to build stronger, better organizations.
Judged as the most progressive companies in their industry when it comes to human resources policies, Greater Toronto Area's Top Employers 2022, selected by Mediacorp Canada Inc., are ready to remake the workplace.
These organizations have shown resiliency and adaptability in challenging times. While there is still uncertainty about what work will look like in the near future, the best are listening to what their people want and having conversations about working differently than in the past.
For example, after Panasonic Canada quickly moved employees to work from home at the beginning of the pandemic, it followed up with a company-wide survey to capture feedback on remote work, productivity and future work options. In response, the company introduced new flexible work policies, office supply discounts and support for at-home fitness.
Across the organization, staff at Ornge settled on a mix of working arrangements that are dependent on position and preferences, with employees working from home or onsite and nearly half of employees working a hybrid model. TMX Group Inc. is already ahead, having established an employee committee back in 2020 to begin imagining and discussing the future work environment post pandemic.
The stress of the pandemic has also brought wellness to the forefront, with a new focus on mental health. That's become a top priority for Greater Toronto Area's Top Employers 2022, with most significantly increasing funding for mental health benefits as well as resources ranging from mindfulness sessions to healthy cooking class.
Another trend is that many employers have formalized their renewed commitment to diversity, equity and inclusion, incorporating accountability at every level of their organizations. Given the GTA's rich and multi-cultural talent pool (Toronto is reported to be one of the most diverse cities in the world, according to Statistics Canada), that's just smart business.
– Diane Jermyn

This story appeared in the official announcement magazine for Greater Toronto's Top Employers (2022), published on December 3, 2021, in The Globe and Mail. Used with permission.
2022 Winners
Here are 2022 winners of the Greater Toronto's Top Employers competition. Click an employer name to read our editors' full Reasons for Selection: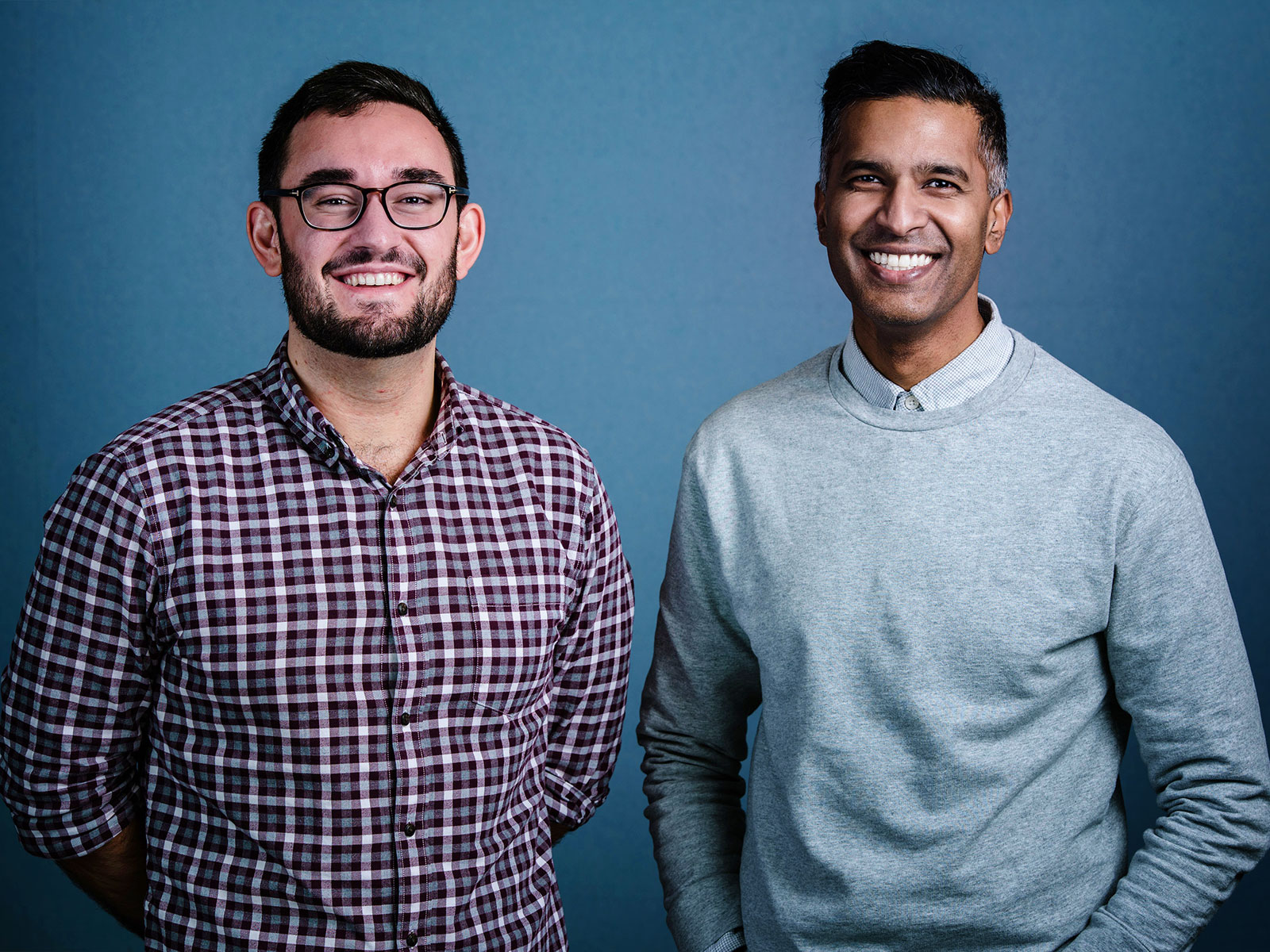 A Hot Contest Gets Hotter
Pandemic or not, the fundamentals of the competition for talent continue to transform Greater Toronto's Top Employers
If you need any proof of how intense the race for talent is in Canada's biggest urban centre, just talk to Richard Yerema and Kristina Leung. They oversee a demanding process: selecting which organizations will make the editorial grade for the annual Greater Toronto's Top Employers competition.
This year the task was harder than ever. Even with the pandemic, the editorial team received a record number of submissions from the GTA -- the most in the competition's 16-year history.
"This is a very unique region in all of Canada, with such a diversity of employers and industries," says Yerema, managing editor for Mediacorp Canada, which runs the competition. "It's a massive, dynamic employment marketplace, and these employers are all competing for talent. They have to be at the top of their game. As they improve their workplaces, they are looking around and realizing they have an important story to tell prospective recruits. It's a very robust environment."
"That's true even in the age of COVID-19," adds Leung, senior editor at Mediacorp Canada. "We've always made the point that the GTA applicant pool is the most competitive in the country. And that's still very much the case. Over the past two years of lockdowns and working from home, GTA employers have had to really take stock of their benefits, especially in health and wellness, and improve their offerings. The outcome is that our entire GTA applicant pool has become much stronger."
With continuing pressure to do more for employees than other GTA rivals -- and be recognized for it -- the quality of applicants from the region has continued to rise. "Many organizations are now going above and beyond our benchmarks, pushing the conversation to the next level," says Yerema. "We're seeing new benchmarks being set for many benefits."
Helen Ashton, vice-president, human resources, for Campbell's Company of Canada, which is on the list, offers a breakdown of what's going on. "It's a very competitive market," she says. "With so many head offices based in Toronto, our candidate pool has a lot of options in terms of where they can work. That's number one.
"I also think that COVID-19 taught us a lot of things, including the fact that we don't always have to hire in the GTA for a job in the GTA -- people can work virtually. So your talent pool is expanding, but the same thing goes for the candidates -- they say, I live in GTA but I don't have to work for a company in GTA. I can work for a company anywhere in the world.
"And then the third piece for me is the skill set. There are certain jobs that require such unique skill sets that we as a society just don't have enough people with them, because it's evolving really quickly." Beyond the intensifying shortage of tech skills, she points to data analytics and artificial intelligence expertise.
"There is a war for talent in the GTA and I think it is going to continue getting more and more competitive," says Ashton.
Certainly the demand for software engineers, developers and other IT professionals is off the charts, as Caroline Stephens, chief human resources officer for Interac Corp., can tell you.
Around May 2021, she says, "we kind of had a perfect storm, when all of a sudden the demand for technology resources for various projects went through the roof and the supply was low. Our folks in technology were being headhunted to the tune of $30,000 or $40,000 more a year for developers. We did a full market review and as a result, we amended our salary ranges to ensure that we were remaining competitive."
But as a model Top Employer, Interac also paid close attention to what employees were saying -- and took steps to ensure that workloads were reasonable and the company's "human-centric" culture was intact. "This is why we have a relatively low attrition rate," says Stephens.
Yet while so many of Greater Toronto's Top Employers are household names, the list also includes organizations as small as Canadian Roots Exchange, a social advocacy organization for Indigenous and non-Indigenous youth that has only 20 employees. Along with offering a wellness spending account and other measures, in 2020 it deliberately skipped the annual performance review, notes Leung. "It may be a smaller organization, but it's very enlightened in recognizing that everyone could use a little compassion given the past year."
To Yerema, the pandemic has brought home to C-suite leaders the importance of the benefits that they may sometimes have reluctantly authorized. "They're not arguing back anymore," he says. "It's more like, oh, we have this mental health benefit -- that's great. And what about these flexible policies -- are they enough? There's a new understanding. Now it isn't just a perk we can give you -- this is something essential for running a successful business."
– Berton Woodward

This story appeared in the official announcement magazine for Greater Toronto's Top Employers (2022), published on December 3, 2021, in The Globe and Mail. Used with permission.
Find jobs from Greater Toronto's Top Employers