About the Competition
Background
Now in its 6th year, Canada's Top Small & Medium Employers is an editorial competition that recognizes the small and medium enterprises (SMEs) that offer the nation's best workplaces and forward-thinking human resources policies.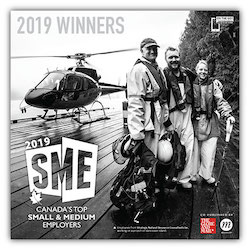 Canada's SME sector is tremendously important to the nation and is responsible for: over half of the nation's gross domestic product; over 90% of the private-sector labour force; and over 95% of the new jobs created in the past decade. Our 2019 winners were announced in a special magazine published in The Globe and Mail on April 12, 2019. Read the press release issued the same day for more background on this year's competition.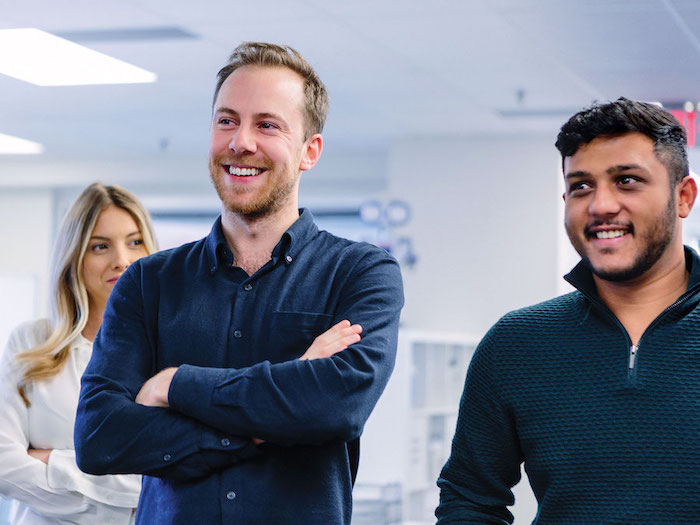 Selection Process
Employers are evaluated by the editors of Canada's Top Small & Medium Employers using the same eight criteria as our national competition:
(1) Physical Workplace;
(2) Work Atmosphere & Social;
(3) Health, Financial & Family Benefits;
(4) Vacation & Time Off;
(5) Employee Communications;
(6) Performance Management;
(7) Training & Skills Development; and
(8) Community Involvement.
To determine eligibility, the Top 100 editors adopted the SME definition used by Statistics Canada, limiting the competition to private-sector commercial organizations with under 500 employees.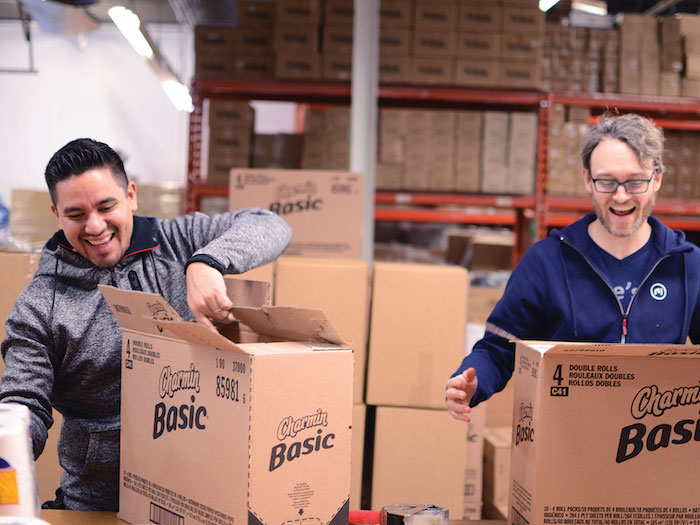 Editorial Partner
The Globe and Mail is our editorial partner on the Canada's Top Small & Medium Employers competition. Each year, the competition winners are announced in a special magazine published nationally in The Globe and Mail. Our editors' detailed reasons for selection are published on our job search engine, Eluta.ca — click an employer's name below to read why each of this year's winners was chosen. Publishing detailed Reasons for Selection is an important feature of our competition: it provides transparency in the selection of winners and "raises the bar" so that other employers can discover and adopt initiatives that work well at other SMEs.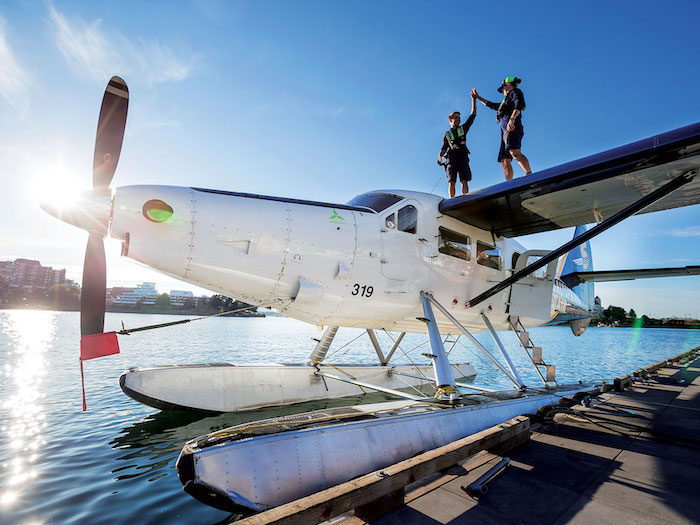 Eligibility Requirements
To be considered a "Small or Medium Enterprise", your company must: (a) have less than 500 employees worldwide, including employees at any affiliated companies; and (b) be a commercial, for-profit enterprise, i.e. non-profit organizations don't meet the definition.
2020 Competition
Applications for our 2020 competition will be available early in 2019. Our 2020 winners will be announced in a special magazine in The Globe and Mail early in 2020. Join our mailing list to stay up to date and receive an application for next year's competition:
Editorial Conference
To learn more about the competition, we invite you to join us at the Top Employer Summit, our annual editorial conference on the Canada's Top 100 Employers project. This event lets you discover the latest best practices from winners, meet competition organizers and editors, and hear inspiring stories from world-class speakers – all presented in a commercial-free format. The conference is Canada's largest annual event for senior-level HR professionals.
Canada's Top SME Employers share a passion for growth
With groundbreaking concepts such as no-limit vacations, this sector also leads the way in human-resource innovation
Job creation is at the heart of Canada's Top Small and Medium Employers (SMEs) 2019. That's good news for job seekers and the Canadian economy -- the SME sector is responsible for more than 95 per cent of new jobs in Canada over the past decade.
It's encouraging to see how many of these top SMEs added new jobs last year, often growing at an incredible pace. Some outstanding examples include Toronto-based Fleet Complete, a provider of fleet and mobile resource tracking, which increased its full-time work force by more than 40 per cent, and R.F. Binnie & Associates, an employee-owned and managed engineering firm in Burnaby, B.C., whose work force increased by more than 38 per cent, resulting in more than 50 new full-time positions.
Besides creating new jobs, SMEs are known to be incubators of human-resource innovation, leading the way for larger employers to follow. Groundbreaking concepts such as no-limit vacations, which allow employees to decide how much time off they need in any given year, are currently offered by software developers Vidyard in Kitchener, Ont., and Verafin Inc. in St. John's. While bold, this kind of forward thinking could bring more balance into our technology-driven workplaces where people are always connected.
Canada's Top SMEs can also compete with those bigger organizations when it comes to traditional benefits, such as support for long-term savings, career development, flexible health plans and maternity and parental leave top-up payments. Our winners often add their own improvements, including the choice to extend parental leave into an unpaid leave of absence or flexible hours to help new parents manage when they return. Increasingly, alternative work options are the norm rather than the exception.
Concern for the well-being of staff continues to be a trend with popular perks, from Zumba class at lunch to comfortable employee lounges with lending libraries, table tennis and a Friday afternoon wine bar. Employees at Rangle.io, a software developer in Toronto, enjoy weekly yoga, onsite massage services, quiet rooms on each floor and swinging hammocks as well as a variety of healthy snacks every day.
Whether you're an individual looking for work or an enterprise looking for inspiration, these top SME employers hit the mark.
– Diane Jermyn
This story appeared in the official magazine announcing Canada's Top Small & Medium Employers (2019), published in The Globe and Mail on April 12, 2019. Reproduced with permission.
2019 Winners
Here are the 2019 winners of the Canada's Top Small & Medium Employers competition. Click an employer name to read our editors' full Reasons for Selection:
Engines of Growth
As Canada's Top Small & Medium Employers get bigger, they are focusing on culture
Who said this? "Just because we're small, doesn't mean we don't stand tall." The child in you may recall it was Thomas the Tank Engine and his friends, who continued: "And we pull our weight like all the others do. You'll be surprised, in spite of our size, just what little engines can do!"
Thomas could be speaking -- OK, singing -- for all 100 of Canada's Top Small & Medium Employers. For they do stand tall. They are a part of the country's 1.1 million enterprises with fewer than 500 employees, known as SMEs. These enterprises make up 90 per cent of Canada's private-sector workforce and produce fully 30 per cent of the country's GDP. Moreover, they account for 95 per cent of net job creation.
And, of course, Canada's Top Small and Medium Employers represent the crème de la crème of those organizations -- the little engines that really could. As Richard Yerema, Managing Editor at Mediacorp Canada, which runs the annual competition, points out, you can't even be considered for the list unless your employee numbers have grown in the past year. "That's a distinguishing factor of this competition," he says. "This is a very active category in terms of recruitment."
And expansion there has been, big-time. "Many of the employers have very impressive growth numbers," says Yerema. "Some have doubled in size. It's a testament to good times for the economy and for the companies themselves."
Fast growth, of course, can bring with it some unintended consequences. Preserving the corporate culture and values may become more difficult if many new employees are coming in the door. Yerema says that among SMEs, it is almost universal to offer referral bonuses to staff who recommend a successful hire. "Not every big employer has this program," he says, "but for smaller companies, there's a sense you're recruiting almost for a family. It's not just qualifications -- cultural fit really matters as well."
Leaders at Clio, a fast-growing legal software firm in Vancouver that expects by the end of 2019 to surpass the 500-employee definition of a SME, are very aware of the potential cultural repercussions of getting big, says Director of Talent Lyndsey Hannigan. So it's important, she adds, to create the right environment while the company is still smaller.
"We want to prove that it's possible to build and scale an organization that is both human and high-performing," says Hannigan. "I have been part of organizations where they care about results at the expense of the people who are there. It's a miserable environment, even when the company is doing well from a bottom-line perspective. I've also been part of organizations that prioritize the human at the expense of performance -- that's also not a fun place to work, because layoffs are happening and people are stagnating. At Clio we're trying to show it's possible to have both qualities, without trading one off for the other."
Last year, taking advantage of its expansive hiring, Clio managed to nearly double the level of female software developers -- to 25 per cent -- in a clear change to the culture. It also created a new role, Manager of Developer Experience, to help preserve the firm's unique culture among the developers, who are crucial to its performance.
Another of this year's winners is Questrade Financial Group, Inc., Canada's fastest-growing online broker and one of the few remaining independents. Like so many SME founders, President and CEO Edward Kholodenko believes strongly in the reasons he started the company in 1999. "We're an extremely fast, innovative, entrepreneurial, and customer-centric organization, and those are the values of our culture that we try to safeguard, especially as the company has grown at such a fast rate," he says.
Kholodenko well understands the benefits of fast growth in a competitive industry. "There's so much more we can do -- growing the company, providing customers with more financial services." But he, too, is aware of the impact on workplace environment. "I recently spoke at our off-site about the challenges of growing quickly and the importance of retaining a great culture, so that it still feels the same as it did when we were 50 or 100, when we're 500 or 5,000," he says.
Beyond culture, though, growth can be very good for employees, Yerema notes. Prosperous SMEs are adding more of the benefits that larger companies offer. "To compete, SMEs can't just say, hey, we've got a cool culture, come work for us," Yerema says. "Along with health benefits, they usually have generous personal time and vacation policies. Tuition support is pretty much across the board now. We're also seeing maternity and paternity leave top-ups creeping in. When you put all that together with a comfortable cultural fit and a more relaxed environment, it's a pretty unbeatable combination." The little engines, in other words, are staying on track.
– Berton Woodward
This story appeared in the official magazine announcing Canada's Top Small & Medium Employers (2019), published in The Globe and Mail on April 12, 2019. Reproduced with permission.
Find jobs from Canada's Top Small & Medium Employers