About the Competition
Background
First published in 2006, the National Capital Region's Top Employers is an annual competition organized by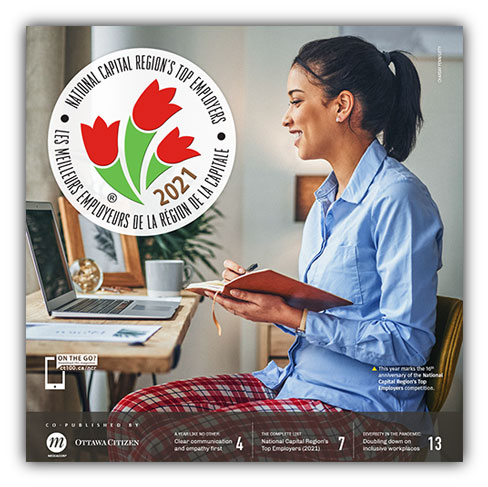 the editors of Canada's Top 100 Employers. This special designation recognizes the employers in the Ottawa-Gatineau metropolitan area that lead their industries in offering exceptional places to work. This year's winners were announced on February 2, 2021 in a special magazine featured in the Ottawa Citizen and in an extended online feature. For more background on this year's competition, read the press release (English | French) issued on the announcement date.
Selection Process
Employers are evaluated by the editors of Canada's Top 100 Employers using the same eight criteria as the national competition: (1) Physical Workplace; (2) Work Atmosphere & Social; (3) Health, Financial & Family Benefits; (4) Vacation & Time Off; (5) Employee Communications; (6) Performance Management; (7) Training & Skills Development; and (8) Community Involvement. Employers are compared to other organizations in their field to determine which offers the most progressive and forward-thinking programs.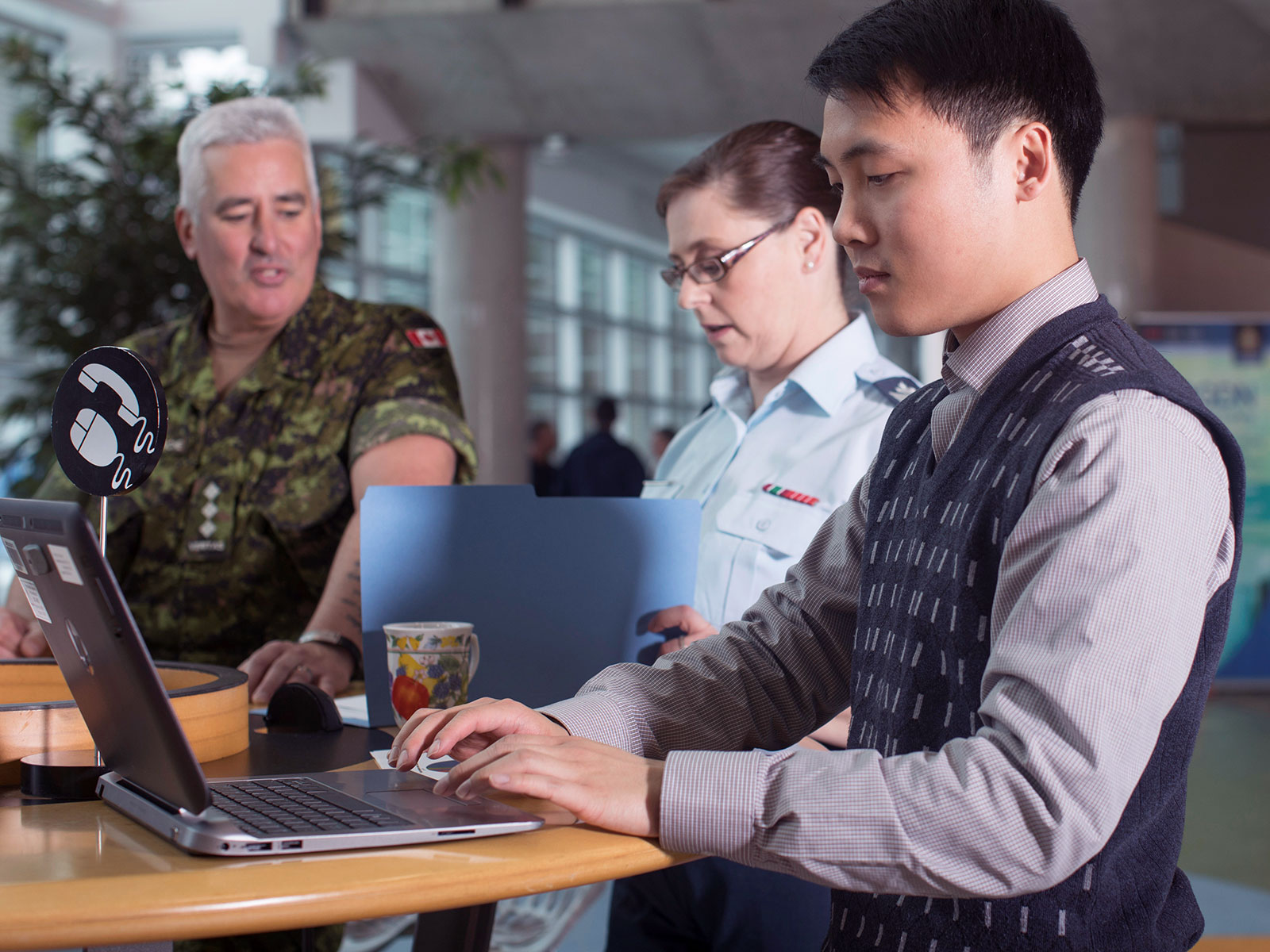 Media Partner
Our media partner on the National Capital Region's Top Employers project is the Ottawa Citizen, the largest newspaper in the Ottawa-Gatineau metropolitan area. Each year, the Citizen co-publishes the special magazine announcing the winners and publishes a special online feature on the competition, which includes a summary of our editors' reasons for selecting each employer.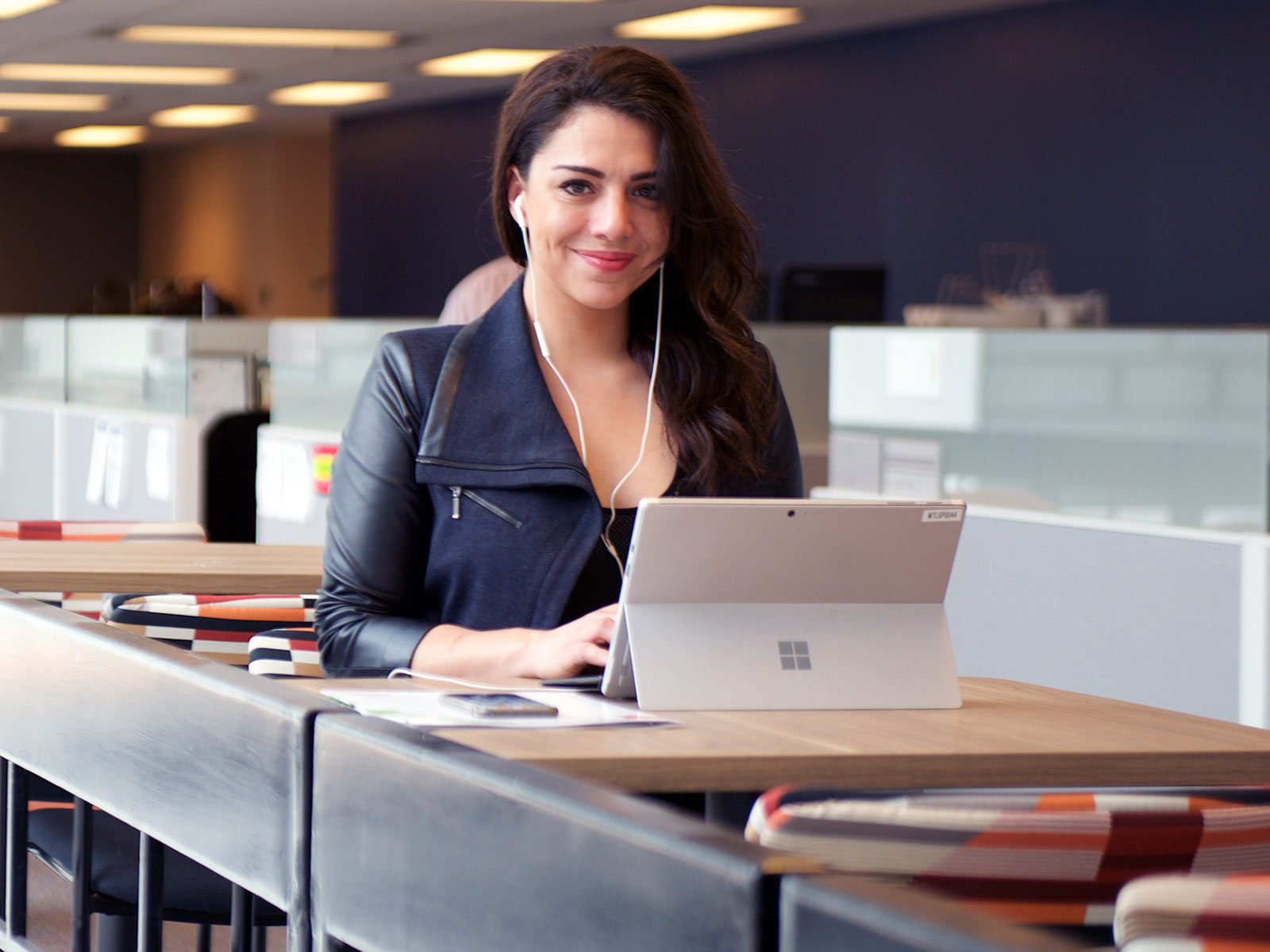 Eligibility Requirements
Any employer with its head office or principal place of business in National Capital Region may apply for this competition. Employers of any size may apply, whether private or public sector.
2022 Competition
Applications for our 2022 competition will be available early in 2021. Our 2022 winners will be announced in a special magazine published with the Ottawa Citizen early in 2022. Join our mailing list to stay up to date and receive an application for next year's competition.
Employees appreciate clear communication and empathetic ear during pandemic

COVID-19 has upended many aspects of life, particularly at the workplace. Many employers, though, have successfully navigated the challenges presented by the pandemic. Some of them are among the National Capital Region's Top Employers this year.
The National Capital Region's 2021 Top Employers competition, which recognizes excellence in compensation, engagement and workplace culture, among many important metrics, also considered how workplaces managed their way through the pandemic.
"For many employers who operate and recruit within the region, it is highly sought after to be included in our list so they can showcase themselves as a great place to work," says Richard Yerema, managing editor at Mediacorp Canada Inc., the organization that manages several annual regional competitions, as well as Canada's Top 100 Employers.
This year's campaign has been like no other, though, because of how the novel coronavirus has laid plain one focus for every employer: Keeping workers safe.
"Across the board, we have seen with top employers that their wellness and support programs, along with related corporate policies, have really come into their own during the pandemic," Yerema says.
One such employer is Bank of Canada, which last spring quickly implemented additional safety measures for a skeleton staff that had to remain on site, while the majority worked from home.
Besides additional cleaning of facilities, providing adequate personal protective equipment like masks and mandating health protocols such as physical distancing, the central bank's management also recognized that communication was among the most appreciated measures.
"Communicating in clear, actionable ways, including updating protocols as needed and offering health and safety sessions to on-site staff," were incredibly well-received by employees, says Alexis Corbett, managing director and chief human resources officer at Bank of Canada.
Besides supports on site, the Crown corporation also has provided enhanced assistance to the majority of its employees now working from home. That included delivering ergonomic office furniture and even developing a home health and safety checklist.
Technology giant Adobe Systems Canada Inc. also moved to a work-from-home protocol early on to protect its Ottawa members.
"We also pledged no layoffs," says Mike Scott, senior director of customer care at Adobe Customer Solutions, as well as the Ottawa site leader.
The big challenge for organizations with so many workers at home has been ensuring they feel connected to the workplace culture, considered the jewel in the crown of sought-after employers such as Adobe.
"To ensure our employees feel informed, supported and safe, we've also increased communications, hosting regular companywide town halls to hear from our executive leaders," Scott says.
These events have not been merely opportunities for management to talk to workers, but for employees to ask questions, raise concerns and, most importantly, get some answers.
Adobe engaged employees with surveys to get a sense of what it can do to support those who may be facing stresses such as caring for aging parents, a spouse out of work or children learning from home.
It also increased its sick and personal days while giving staff every third Friday off since mid-September. The company tried to infuse levity into the home office, arranging fun events so everyone still feels connected, Scott says.
"We've continued to keep our site connection strong with our virtual bi-weekly happy hours, magic shows, trivia, bingo, name that tune and much more."
Similar initiatives have been in place at Bank of Canada. Among them is "meeting-free Friday afternoons to combat online meeting fatigue and allow employees time to wrap up before the weekend, so they can better disconnect," Corbett says.
The overarching goal, she adds, has been keeping employees safe, happy and engaged. A poll taken last summer supported this idea, finding that more than eight in 10 employees felt supported during the pandemic while "90 per cent said their leader had responded to their personal situation with empathy and sensitivity."
It's that concern and focus that are helping businesses move forward during these trying times.
—Joel Schlesinger
From the official announcement magazine for the National Capital Region's Top Employers (2021), published on February 2, 2021, and featured in the Ottawa Citizen.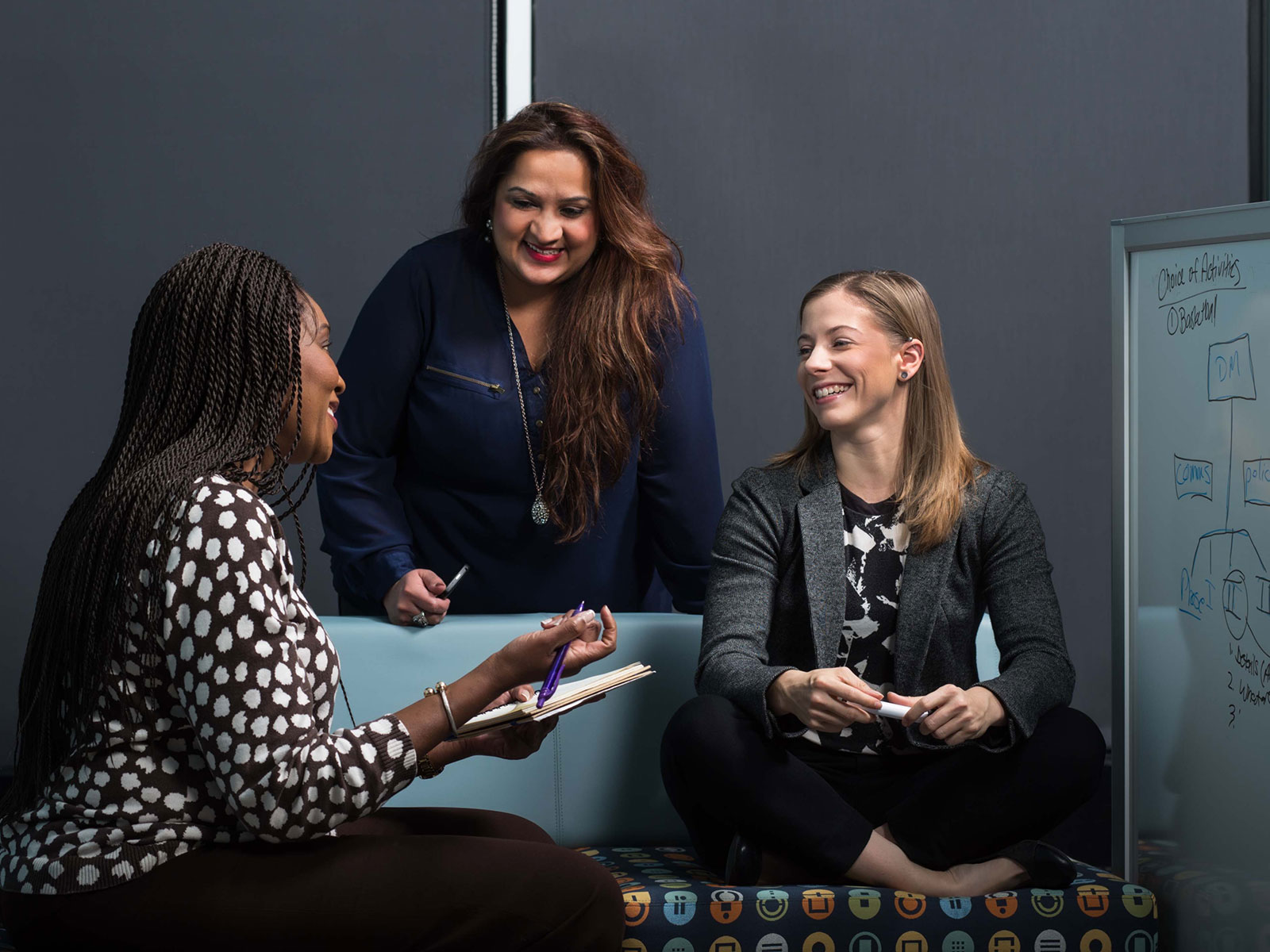 2021 Winners
Here are the 2021 winners of the National Capital Region's Top Employers competition. Click an employer name to read our editors' full Reasons for Selection:
Top employers take diversity and inclusiveness to heart
George Floyd's death in Minneapolis, Minn., has spurred action around the globe.
In Ottawa, the staff at tech company SurveyMonkey Canada Inc. felt a deep sense of sadness and revulsion at the illustration of racial injustice when Floyd, a Black man, was arrested outside a convenience store and died after a white police officer put one of his knees on Floyd's neck for nearly eight minutes
And the leading provider of surveys and market research was listening to its members. What's more, SurveyMonkey was uniquely positioned to respond as an organization for social change.
"Having employees feel like they belong, have a voice and equal opportunities, has always been a major focus for us," says Sabrina Leblanc, one of the site leads in Ottawa at SurveyMonkey Canada.
"But, it's not just saying that we want to be diverse and inclusive; it's about taking a stance and saying, 'We want to be anti-racist.'"
Named one of the National Capital Region's Top Employers this year, SurveyMonkey recognizes being a great place to work -- particularly in the tech industry -- is about more than good wages and fun, quirky perks.
SurveyMonkey believes diversity and inclusion are key to attracting top talent. It even offers referral bonuses to employees who recommend under-represented minorities for job openings at the firm.
"We created this new group to have a place where our diverse workers can share ideas and concerns," Leblanc adds.
The company also puts real economic might behind initiatives to elicit change, not just in its own operations but within its partners, too.
"We spend millions of dollars every year across different vendors, and so we're looking at what those vendors are doing toward promoting diversity and inclusion, and what are they doing regarding minority representation," she says. "In some cases, we've even made the decision to move our dollars elsewhere."
Of course, SurveyMonkey is not entirely unique among Ottawa's leading employers in being the agent of social change its workers would like to see.
Adobe Systems Canada Inc. has also focused on initiatives encouraging staff to share stories about their journey as visible minorities, having different sexual or gender identities, or living with disabilities
"It's hard to leave those conversations and not feel inspired by their stories and proud to work alongside such remarkable people," says Mike Scott, Adobe Ottawa site leader.
Fostering these conversations and promoting social change don't just inspire a greater sense of togetherness among employees, they help attract best-in-class workers from many backgrounds who feel like they belong and are making a difference, Leblanc adds.
"If you can do that as an employer, you're ultimately going to build a better business."
—Joel Schlesinger
From the official announcement magazine for the National Capital Region's Top Employers (2021), published on February 2, 2021, and featured in the Ottawa Citizen.
Find jobs from National Capital Region's Top Employers