About the Competition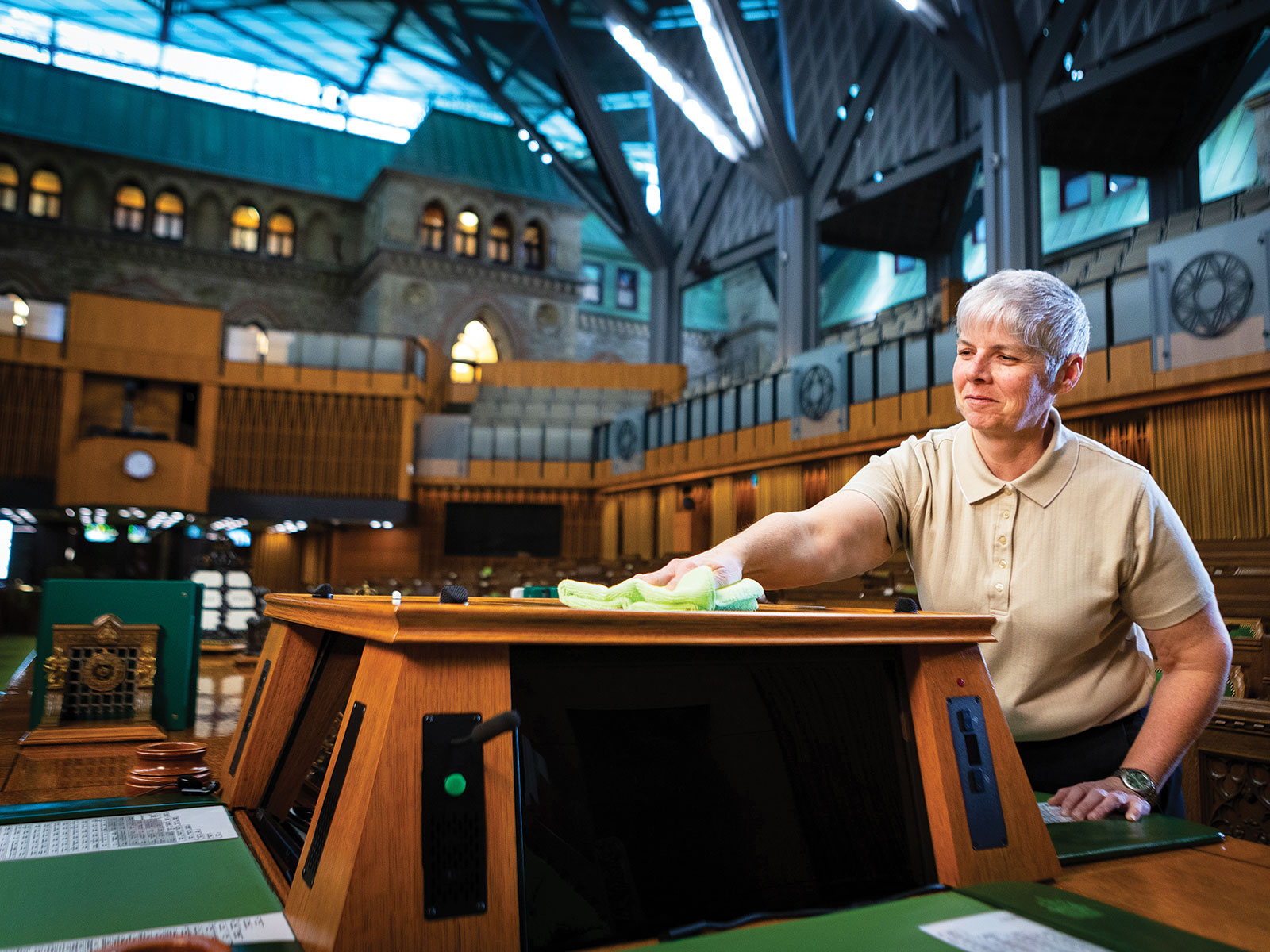 Background
Now celebrating its 21st year, the Canada's Top 100 Employers project is a national competition to determine which employers lead their industries in offering exceptional workplaces for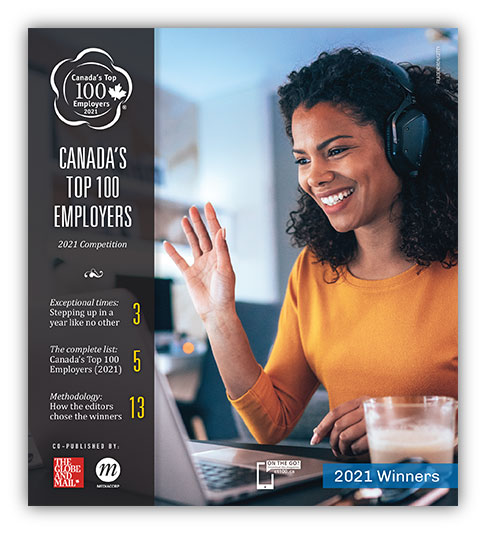 their employees. Our 2021 winners were announced on November 13, 2020 in a special magazine published in The Globe and Mail. More background on this year's announcement is available in the press release (issued in English and French) on November 13, 2020.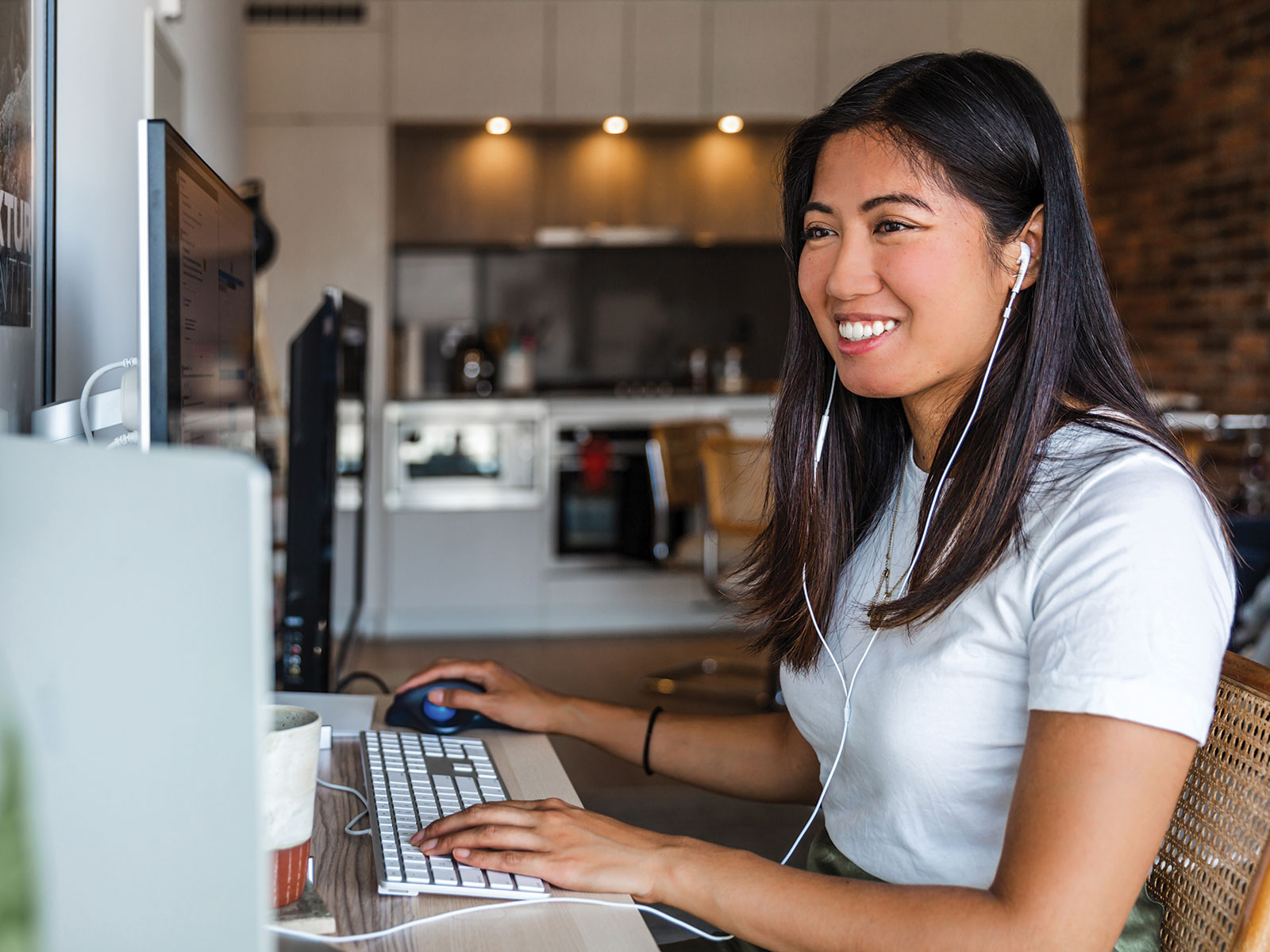 Selection Process
Employers are evaluated by the editors of Canada's Top 100 Employers using eight criteria, which have remained consistent since the project's inception: (1) Physical Workplace; (2) Work Atmosphere & Social; (3) Health, Financial & Family Benefits; (4) Vacation & Time Off; (5) Employee Communications; (6) Performance Management; (7) Training & Skills Development; and (8) Community Involvement. Employers are compared to other organizations in their field to determine which offers the most progressive and forward-thinking programs.
Reasons for Selection
Each fall, the winners are announced in a special feature published in The Globe and Mail, which is our media sponsor on the competition. For our detailed Reasons for Selection, please review the full list of winners below. Publishing detailed Reasons for Selection is a distinguishing feature of our competition: it provides transparency in the selection of winners and "raises the bar" so that other employers can discover and adopt initiatives that work well elsewhere.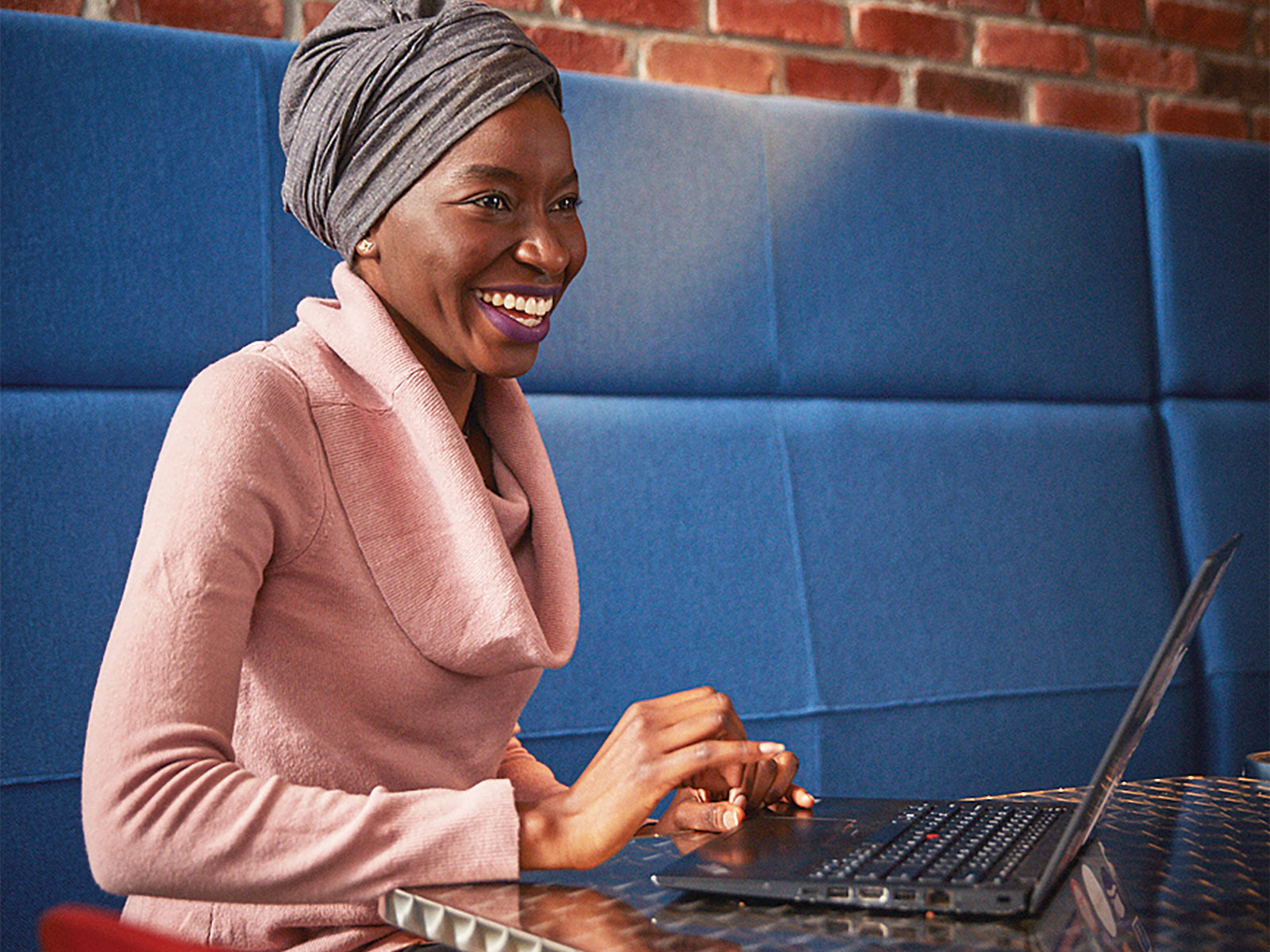 Eligibility Requirements
Any employer with its head office or principal place of business in Canada may apply for our national competition. Employers of any size may apply, whether private or public sector.
2022 Competition
Applications for our 2022 competition will be available early in 2021. Our 2022 winners will be announced in The Globe and Mail in the fall of 2021. Join our mailing list to stay up to date and receive an application for next year's competition.
Introduction
In this age of COVID-19, Canada's Top 100 Employers 2021 selected by Mediacorp Canada Inc. stand out for their resilience. Like all organizations, they were put to the test when the pandemic struck. Their response was immediate, with the health and safety of employees as the top priority.
Seemingly overnight, companies implemented new safety protocols at work sites and massive work from home arrangements. Employees grappled with cameras and the latest tech tools as they became accustomed to a different way of working. Most challenging was how to keep people connected and engaged when they couldn't be together.
With the pandemic far from over, Canada's Top 100 Employers continue to set the standard for doing business in Canada, with best practices as the norm. Here are just a few examples of the creative and innovative ways Canada's Top 100 Employers took care of people – at work, at home and in the community.
With over 7,000 employees moving to work-from-home over the past year, Rogers introduced weekly online forums to help people stay informed, including question and answer sessions with the CEO. Many employers launched new collaborative platforms, such as PCL Construction's "Ideascale" to encourage employees to share their ideas or Thomson Reuters' online hub page to keep people up-to-date while working from home.
Wellness continues to be a top priority, with companies often setting up virtual access to health care professionals. Like many, L'Oréal Canada increased their employees' wellness spending accounts to subsidize additional expenses and launched new weekly Yoga@home sessions. ABB Canada showed that they truly have their employees' backs by providing virtual appointments with ergonomic specialists for those setting up a home office and arranged for employees to be reimbursed for equipment purchases such as chairs.
Stories abound about community response, from firms donating critical care equipment to hospitals to charitable fundraising campaigns, which continued online rather than being abandoned. Labatt Brewing Company adapted its Disaster Relief Program, which traditionally utilizes its canning infrastructure to ship safe drinking water where it's needed, to produce and bottle over 100,000 bottles of hand sanitizer. The bottles were donated directly to food banks across the country.
Leadership demonstrated, when we need it most.
Methodology 2021
While the selection process to choose the winners of Canada's Top 100 Employers continually evolves to include new questions that reflect changes in the workplace, the underlying methodology has not significantly changed since the project began in 2000. The competition is and remains a catalogue of best practices.
To select the winners, the editors of Canada's Top 100 Employers compare each organization's policies to others in their industry and region to see if they're a leader. Each employer's application is judged by rigorous criteria in eight key areas: (1) Physical workplace; (2) Work atmosphere & social; (3) Health, financial & family benefits; (4) Vacation & time Off; (5) Employee communications; (6) Performance management; (7) Training & skills development; and (8) Community involvement.
The Globe and Mail is not involved in the judging process.
– Diane Jermyn

From the official announcement magazine for Canada's Top 100 Employers (2021), published on November 13, 2019 in The Globe and Mail.
2021 Winners
Here are the 2021 winners of the Canada's Top 100 Employers competition. Click an employer name to read our editors' full Reasons for Selection:
Standing up when it matters most
For Canada's Top 100 Employers in 2020, you could say, it was the worst of times, it was the best of times.
Does that twist on the famous Dickens couplet sound odd? Perhaps, but there's reason to it. In this tragic year, there have been thousands of deaths from COVID-19 across Canada in a few short months -- utterly the worst of times. But there has also been an amazing response. Employees and leaders of Canada's Top 100 Employers are among the many Canadians who stepped up, pitched in and made heroic things happen as the pandemic took hold. They truly have been at their best.
In fact, the stories that follow in this magazine -- many never told before -- offer a unique insight into just how the best employers in the country, selected by Mediacorp Canada, have been reacting to keep their people safe, maintain their organizational mission, and help their communities. It's been no easy task.
To begin with, every Canadian employer had to figure out, really in a matter of hours, what to do when governments ordered lockdowns in mid-March. At KPMG LLP, with offices in dozens of communities large and small across the country, leaders shifted more than 7,500 people into work-from-home mode in 48 hours. "The health of our employees was number one," says Stephanie Terrill, business unit leader, management consulting, for KPMG in Canada, "and keeping our team together was our top priority. I'm really proud of the speed with which we acted, because speed in a pandemic matters."
Of course, a professional services firm, where nearly everyone has a laptop handy, is one thing. What about the manufacturing enterprises deemed essential services? Employees in plants and factories can't work from home. At snack-maker Mondelēz International, home to such iconic brands as Cadbury, Oreo and Ritz, leaders have been only too aware of that fact -- and their important role in maintaining normalcy at a time of high anxiety for consumers. "We're part of the food supply chain of Canada," notes Mondelēz Canada president Martin Parent.
"The way we did it," he says, "was to make sure that everyone on the front line could perform their jobs safely with the highest level of protection possible. In each of our facilities, we elevated the level of safety measures and screening very quickly. We had nurses on site, we segregated shifts so people would not connect, and we separated people on the manufacturing line. And we did this by the 12th of March." That was five days before the government of Ontario, where the plants are located, declared its state of emergency.
Meanwhile, Top Employers have been going into overdrive to help the community. Mondelēz, finding its comfort-food sales rising, doubled its millions of dollars' worth of charitable donations for the year. Medtronic Canada ULC, a medical technology company, amped up its own production of ventilators, but also shared design specifications so other manufacturers could make them, too. KPMG has been preparing taxes for frontline workers. Novo Nordisk Canada, a healthcare firm, loaned some of its skilled staff to help Diabetes Canada, a critical charity, deal with its workload
"It's no coincidence that the past year has exacerbated many of our underlying social challenges and tested the employer-employee relationship," says Richard Yerema, managing editor of the Canada's Top 100 Employers project at Mediacorp. "One of the positive observations from this year's competition is the benefit to employers of continually revisiting workplace strategies and programs. The very best employers have always been innovators, so they are better prepared to move quickly in response to a rapid challenge like the pandemic."
Looking ahead, employers are also starting to think about the ramifications of working at home. Shopify, Canada's global commerce-platform giant, declared last May that it would become 'digital by default' and keep its office premises around the world closed until 2021. With everyone at home on screens, as its careers website says, "We can hire you (almost) anywhere."
After experiencing large numbers of staff working from home, many Top Employers are positive about the benefits, while still recognizing the needs of employees who can't work from home. In big cities, remote work has eliminated the time and stress of commuting, but it's also laid bare some of the social divisions between white-collar staff and production/frontline employees who aren't able to use tools like Zoom to work remotely. There's also been concern about skills development and onboarding during the pandemic, especially for recent graduates and younger workers.
Still, many leaders see work from home as very effective overall, with quicker virtual meetings, a more productive environment and more relaxed people. "I can't see us going back to 100 per cent in the office," says Maread Lavery, president and CEO of Export Development Canada in Ottawa. "It's been very efficient working from home. People have really enjoyed the flexibility." Virtual meetings, she adds, actually allow more people to speak and contribute.
"Equally," she says, "I don't want to lose the benefit of collaboration and innovation you get with people in a room in front of a whiteboard or a training session, interactively feeding each other and building on ideas. It's much harder to do virtually."
Lavery echoes the conclusion many Top Employers are reaching about the future of work beyond the pandemic. "I think it will be a hybrid model," she says. "And that hybrid model will lead to a greater degree of employee empowerment and more changes to traditional structures, with more self-monitoring, more self-regulation, and more focus on outcomes."
It will be, everyone hopes, the end of hard times soon. For many of this year's winners, it is a far, far better thing that they do, than they have ever done.
– Berton Woodward
From the official announcement magazine for Canada's Top 100 Employers (2021), published on November 13, 2020 in The Globe and Mail.
Find jobs from Canada's Top 100 Employers