About the Competition
Background
Now entering its 19th year, the Canada's Top 100 Employers project is a national competition to determine which employers lead their industries in offering exceptional workplaces for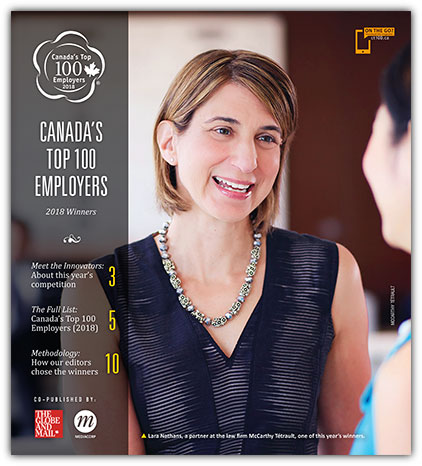 their employees. Our 2018 winners were announced on November 7, 2017 in a special magazine feature in The Globe and Mail. Our press release issued the same day provides additional background on this year's competition.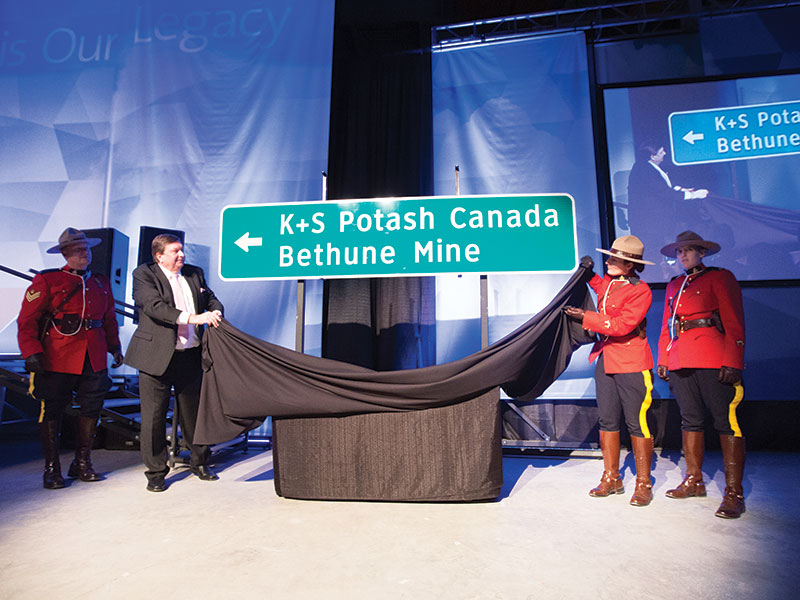 Selection Process
Employers are evaluated by the editors of Canada's Top 100 Employers using eight criteria, which have remained consistent since the project's inception: (1) Physical Workplace; (2) Work Atmosphere & Social; (3) Health, Financial & Family Benefits; (4) Vacation & Time Off; (5) Employee Communications; (6) Performance Management; (7) Training & Skills Development; and (8) Community Involvement. Employers are compared to other organizations in their field to determine which offers the most progressive and forward-thinking programs.
Editorial Partner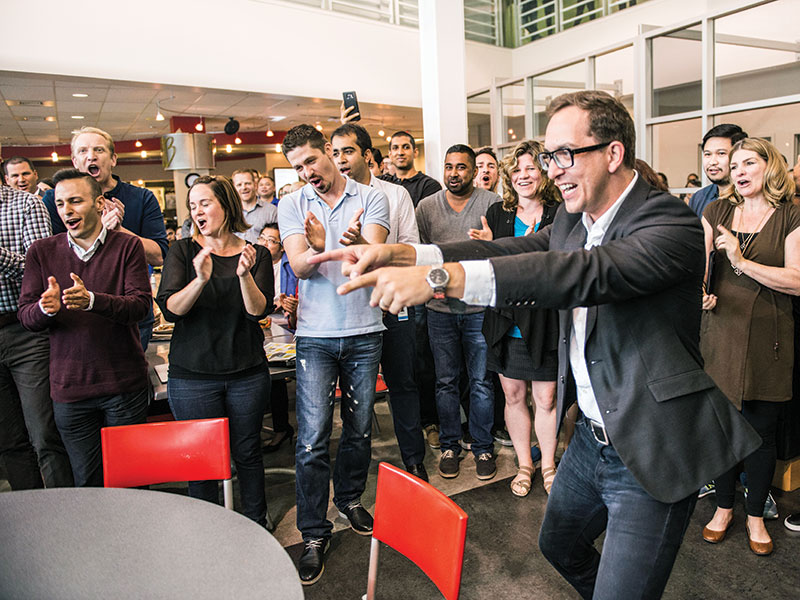 Each fall, the winners are announced in a special feature published in The Globe and Mail. For our detailed Reasons for Selection, please review the full list of winners. Publishing detailed Reasons for Selection is a distinguishing feature of our competition: it provides transparency in the selection of winners and "raises the bar" so that other employers can discover and adopt initiatives that work well elsewhere.
Eligibility Requirements
Any employer with its head office or principal place of business in Canada may apply for our national competition. Employers of any size may apply, whether private or public sector.
2019 Competition
Applications for our 2019 competition will be available early in 2018. Our 2019 winners will be announced in The Globe and Mail in the fall of 2018. Join our mailing list to stay up to date and receive an application for next year's competition:
Editorial Conference
To learn more about the competition, we invite you to join us at the Top Employer Summit, our annual editorial conference on the Canada's Top 100 Employers project. This event lets you discover the latest best practices from winners, meet competition organizers and editors, and hear inspiring stories from world-class speakers – all presented in a commercial-free format. The conference is Canada's largest annual event for senior-level HR professionals. This year's conference takes place on November 19, 2018 at Fairmont Pacific Rim Hotel in Vancouver, BC.
Introduction
Meet the all-stars for 2018. Like winning athletes, these organizations have to be great all-rounders to make the list of Canada's Top 100 Employers. The criteria is tough, asking that employers excel in multiple categories, from providing opportunities for training and career advancement to family-friendly benefits, such as flexible working options that are redefining how people want to live and work today.
Each year, a number of new organizations join the ranks while many others repeat as the best in their industry. There are 16 new names for 2018, as small as Médecins Sans Frontières / Doctors Without Borders (MSF) Canada with 265 employees, and as big as Alberta Health Services with 45,975.
Richard Yerema, managing editor of Canada's Top 100 Employers, Mediacorp Canada Inc., says making room for new entrants from a list of exceptional employers is one of the biggest challenges they face when deciding the winners.
"Each application year, we observe employers making small incremental changes that ultimately help elevate them into the category of a top employer," explains Mr. Yerema. "Truly, these are the employers that continue to develop and adopt policies that define best practices for our current time, employers who understand that HR best practices evolve with the expectations of new generations. Those that do return have very much evolved and kept pace with the changes we have documented."
The result for 2018 is an outstanding list of organizations able to attract and retain top talent in an increasingly competitive environment. Well played!
– Diane Jermyn
From the official announcement magazine for Canada's Top 100 Employers (2018), published on November 7, 2017 in The Globe and Mail.
2018 Winners
Here are 2018 winners of the Canada's Top 100 Employers competition. Click an employer name to read our editors' full Reasons for Selection:
HR: the times, they are a-changin'
Technology is changing the field of human resources, putting more power – and responsibility – in employees' hands. Employee recognition programs are on the front line of this change.
Margaret Cichosz is a Talent Acquisition Partner at the global information company Thomson Reuters in Toronto, where she is working intensely to set up the firm's new Toronto Technology Centre. Already the count of new hires is nearing 200, just in the first year. Eventually, the unit will have 1,500 people, most of them software developers and other technologists.
The demand for such tech people is huge across Canada at the moment, and companies that employ them have a reputation for coming up with every possible kind of pampering to keep them happy. Yet Cichosz was surprised by what she found.
"I thought it might be a bit of an uphill battle recruiting some of the senior people we started with," she says. "But honestly, the uptake was just incredible. I think there are so many people in the Toronto marketplace who feel they are underappreciated at work or are putting in long hours without recognition. When we opened up these positions, you could see the enthusiasm about what we are building here. Candidates were like a deer in the headlights – oh my god, when can I join? Often these people were missing that sense of appreciation in their former workplace and were looking to get that here."
You can bet that the companies these people came from aren't on the list of Canada's Top 100 Employers. Strong employee recognition has been one of the hallmarks of the Top 100, notes Richard Yerema, Managing Editor for Mediacorp Canada, which compiles the list. "Individuals all want to be recognized for good work," he notes. "And Top 100 employers have always done this in a systematic way. What has changed is the suite of tools available."
Indeed, today a great deal of employee recognition is done by the employees themselves, online. Using internal social media systems, they can send out public kudos to colleagues for helping them out, or, when the person has been a much bigger help, send out points that can be redeemed for cool stuff, from movie tickets to flat-screen TVs.
And that, in turn, has brought a mini-revolution to the thinking for employers. It has been a long time since recognition programs were built around such quaint features as "employee of the month". But until recently, singling out staff for praise was still based on a top-down approach, managers to subordinates, often through performance management programs, bonuses, incentives – or pampering.
Listen again to Margaret Cichosz at Thomson Reuters, which has an employee appreciation system in place, complete with redeemable points ("it's pretty much like Costco shopping online," she jokes). "A lot of these new tech hires didn't come from that system," she says. "They came from startups where you get your free catered lunch, you get your dry-cleaning done, you get your pet walked – you get all these things for individuals. But you don't get something that helps you recognize somebody else. And people want to feel appreciated, especially when they're working as a team.
"Here, it's crazy how people react to the points system," says Cichosz, who joined the company a year ago from a post at the University of Waterloo. "I'm new to it myself, and I like a lot. I'm working with teams in New York and other locations, and even though you're not talking to these people face to face, you communicate with them on a daily basis. So the points system allows you to say, hey, I really appreciate what you're doing and here's something for it. It has really taken off."
Some of the names of the points systems tell the story. At Samsung Electronics Canada, they call it U r Awesome. At Air Canada, it is Shine. And the payoff can be lucrative. Last year, Leon Sang Wook Nam, Manager, Supply Chain Planning for IT at Samsung, took home $1,000 worth of gift cards, just for being Awesome.
Paul Brannen, Samsung's Chief Operating Officer, is well aware of how much of a difference this peer-to-peer recognition can make. "In today's business world, we're moving at a thousand miles an hour," he says. "And sometimes we don't take the opportunity to stop and celebrate the little successes that really allow you to achieve the greater overall success of the organization. With U r Awesome, I can even do it on my phone – send out instantaneous appreciation. It allows us to create more engaged employees because of that recognition."
Indeed, managers and leaders like Brannen send out recognition, too – usually their quota of points is higher than the average employee's. But at Thomson Reuters Canada, they go to the next level – recognition for the recognizers. "You often hear that people leave managers, they don't leave companies," says Neil Sternthal, Managing Director for Legal and Tax Divisions.
"We've put in place a leader board among managers. It identifies who's doing the best job at supporting appreciation and promoting a culture of recognition. Because if people don't feel valued at work, they won't have 100 per cent conviction and enthusiasm for what they do." Take note, non-Top 100 employers.
When the non-stop, two-and-a-half-day discussion was all distilled down – aided by sophisticated text and data analytics methods -- the result was a concise but powerful new statement of purpose for RBC and its employees: "Helping clients thrive and communities prosper."
There were also tweaks to the company's five values – notably to the Diversity description. "What came through loud and clear from employees was that the idea of inclusion had to be reflected in this value, and that today, it wasn't simply about respecting differences, but it was also about advocating and speaking up for inclusion," says Scott. "So we changed the value to Diversity and Inclusion, and we added that language."
Scott says the example of the global jam has led to dozens of "mini-jams" through RBC's internal social media. "It's a new era of what communications looks like," he says. "Really, it's not just about listening, but about listening and responding. Employees want transparency and they want a dialogue."
– Berton Woodward
From the official announcement magazine for Canada's Top 100 Employers (2018), published on November 7, 2017 in The Globe and Mail.
Find jobs from Canada's Top 100 Employers