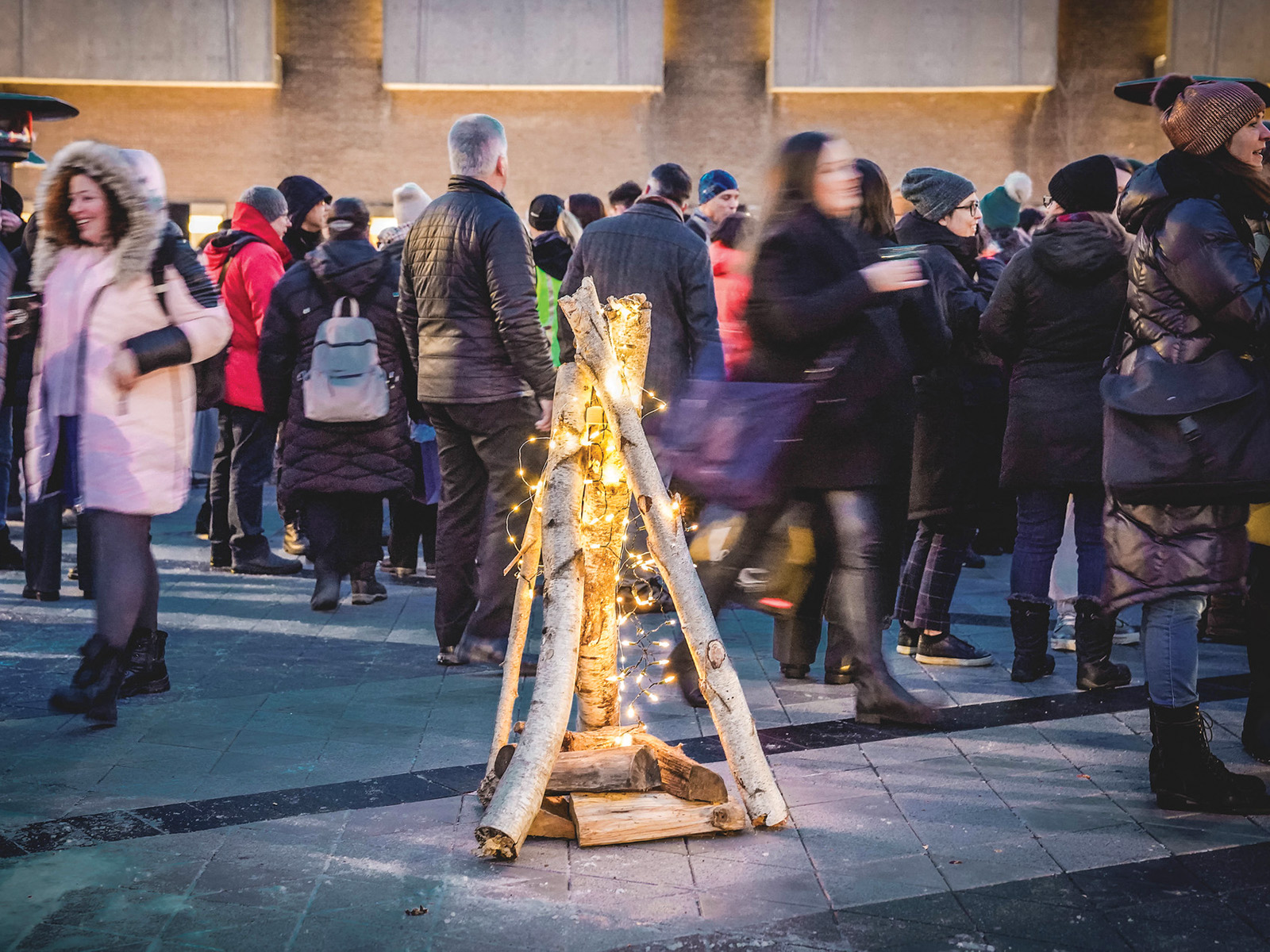 About the Competition
Background
Now celebrating its 24th year, the Canada's Top 100 Employers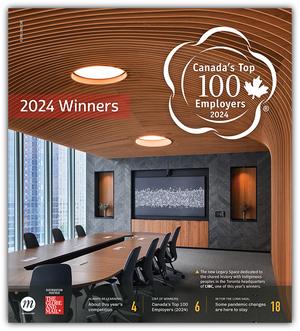 project is a national competition to determine which employers lead their industries in offering exceptional workplaces for their employees. Our 2024 winners were announced on November 17, 2023 in a special magazine distributed in The Globe and Mail. Read the press release from the announcement day for more background on this year's competition: English | French.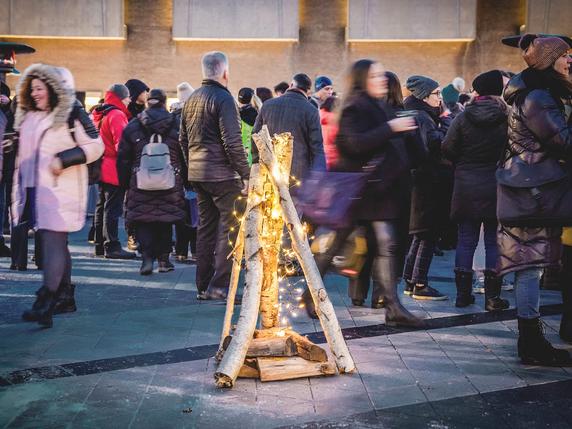 Staff and students celebrating the holiday season on the Place Publique at the Université de Montréal, one of this year's winners. (Photo: J.Lapointe/UdM)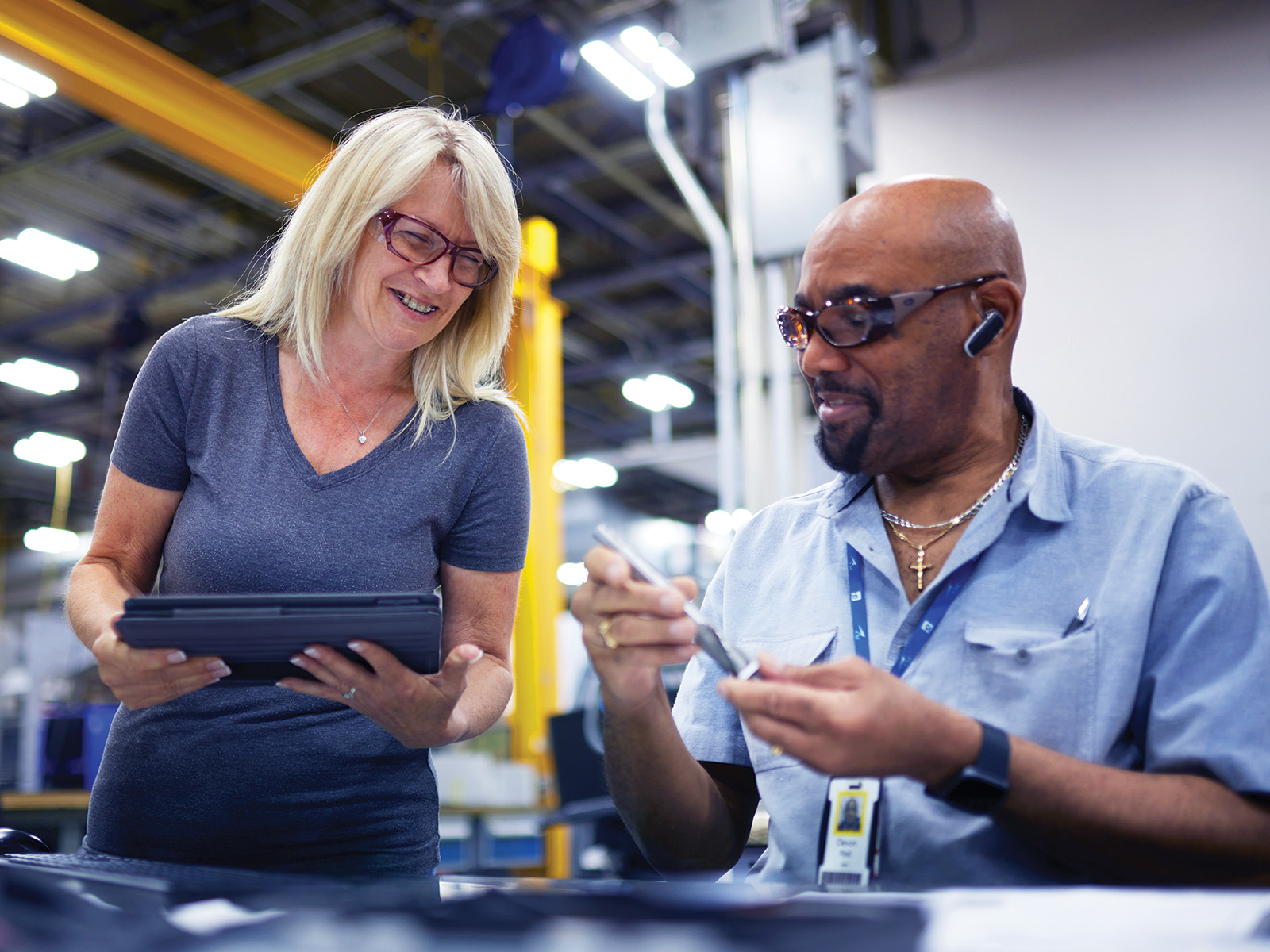 Selection Process
Employers are evaluated by the editors of Canada's Top 100 Employers using eight criteria, which have remained consistent since the project's inception: (1) Workplace; (2) Work Atmosphere & Social; (3) Health, Financial & Family Benefits; (4) Vacation & Time Off; (5) Employee Communications; (6) Performance Management; (7) Training & Skills Development; and (8) Community Involvement. Employers are compared to other organizations in their field to determine which offers the most progressive and forward-thinking programs.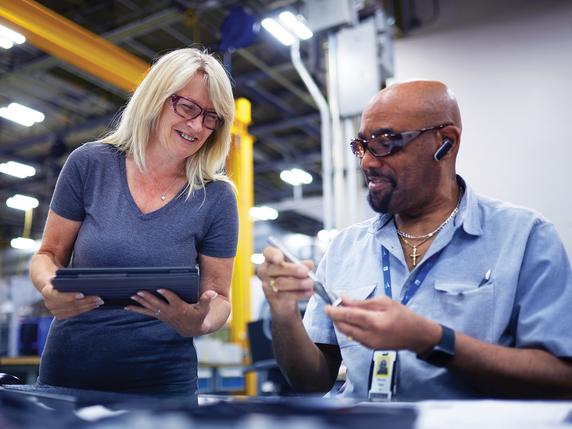 At Montréal-based CAE Inc., employee teams set their own in-office days, with two or three days per week being the most common. (Photo: J.Payette-Tessier/CAE)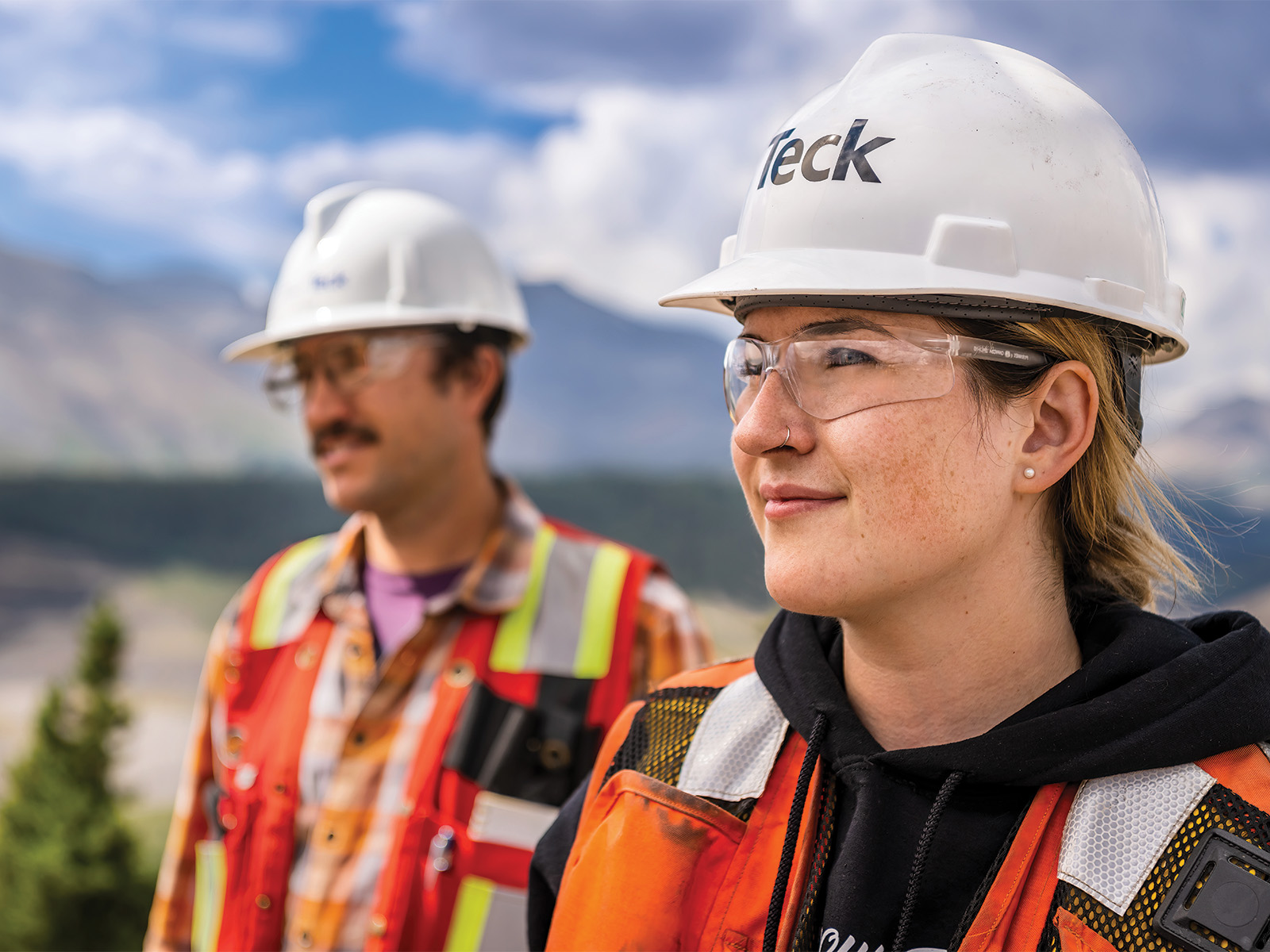 Reasons for Selection
Each fall, the winners are announced in a special feature distributed in The Globe and Mail, which is our media sponsor for the competition. For our detailed Reasons for Selection, please review the full list of winners below. Publishing detailed Reasons for Selection is a distinguishing feature of our competition: it provides transparency in the selection of winners and 'raises the bar' so that other employers can discover and adopt initiatives that work well elsewhere.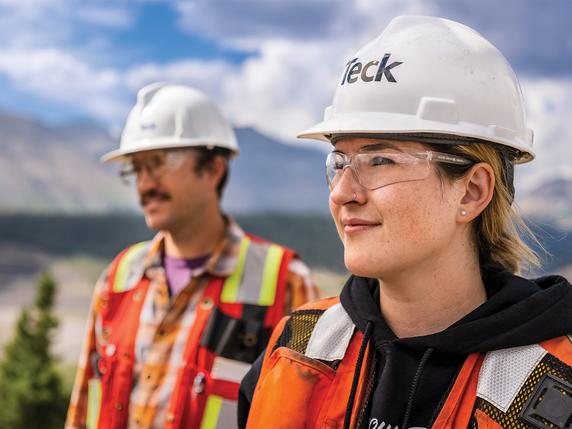 In addition to supporting hundreds of charities each year, Vancouver-based Teck Resources helps its employees do more in their communities, with a generous program that matches employee donations to local charities up to $3,000 annually. (Photo: J. Sinai/Teck)
Eligibility Requirements
Any employer with its head office or principal place of business in Canada may apply for our national competition. Employers of any size may apply, whether private or public sector.
2025 Competition
The upcoming 2025 competition is a special year for the Canada's Top 100 Employers project, marking the 25th anniversary of the competition. Our editorial team will be celebrating this milestone with special events across the country as well as a significantly expanded announcement of our 2025 winners. Applications for our 2025 Competition will be available early in 2024. Our 2025 winners will be announced in The Globe and Mail in the fall of 2024. Join our mailing list to stay up to date and receive an application for next year's competition.
About This Year's Competition
As organizations across the country adapt their workplaces, Canada's Top 100 Employers (2024) are reimagining work.
For the winners of this year's competition, a deeper focus on continuous learning and in-house career mobility is proving transformative. With AI on the horizon, these progressive organizations are building the educated workforce they need for the future -- upskilling the talent they already have and looking beyond current skills for the potential in new hires.
The idea that an organization would upskill its employees isn't new. In an era gone by, learning and mentoring opportunities were often only offered to a select few "stars" fast tracked for promotion. Today, however, the country's best employers make sure that all their employees are eligible for learning opportunities and development. Today's learning revolution includes everyone.
Where you start in a Top 100 employer isn't necessarily where you stay -- unless that's your choice. As your interests change, you may be able to follow a new passion and develop your career in a completely different direction. That could mean taking a left turn into communications after starting out in accounts. Or turning your personal commitment to the environment into a job as a sustainability consultant -- all with the support of your employer.
Many encourage exploration and provide opportunities to train for different paths within their organizations. What matters is acquiring the right skills needed for the job, even if it has nothing to do with an employee's current work. For instance, technology company ABB Canada is committed to developing a learning culture and promoting the idea that growth and development are a recurring part of an employee's journey. The company actively encourages internal mobility for employees by making the application and interview process for job postings confidential, so candidates can check out opportunities privately. And if they need additional training at outside institutions, there's a pathway for that too.
Likewise, the Business Development Bank of Canada offers generous tuition subsidies for courses related -- and not directly related -- to their specific roles with the company. The bank also encourages ongoing development throughout employees' careers, from formal mentoring and apprenticeships to in-house leadership development programs.
Engineering and professional services firm Hatch developed a formal "Manifesto Driven Leadership" program, which articulates what it means to be a great leader. The course orients employees to Hatch's culture and teaches them what it means to lead with emotional intelligence and compassion.
All this focus on learning bodes well for the future of the Canadian workforce, including for Gen Z, who will make up 30 per cent of workers by 2030. Born between the late 1990s and early 2000s, Gen Z are now flooding the workplace with their college and university degrees in hand.
According to the Work-Learn Institute at the University of Waterloo, this new generation wants to work in organizations that support their growth, as well as best practices in equity, diversity and inclusion, and individuality. After spending so much of their recent education online, as well as socially on YouTube, TikTok and Instagram, learning and upskilling on digital platforms are a comfortable fit.
Overwhelmingly, investing in a culture of continuous learning is a win-win. Employees feel valued and engaged while employers enjoy a competitive edge, as well as greater attraction and retention of talent. After years lost to an isolating pandemic, it's what Canadians want and need now.
Always be learning.
– Diane Jermyn

©2023 Mediacorp Canada Inc. From the official announcement magazine for Canada's Top 100 Employers (2024), published on November 17, 2023, and distributed in The Globe and Mail. All rights reserved.
2024 Winners
Here are the 2024 winners of the Canada's Top 100 Employers competition. Click an employer name to read our editors' full Reasons for Selection:
In for the Long Haul
Canada's Top 100 Employers are formalizing what they've learned post-pandemic
It has been nearly four years since the onset of the Great Pandemic, but its effects are still rippling through the workplaces of the nation. For Canada's Top 100 Employers, it is a time of consolidation -- formalizing the insights they gained when lockdowns turned life upside down.
"At that time, a lot of new policies were developed on the fly, almost in a panic, such as work from home, and then hybrid work," says Richard Yerema, executive editor for Mediacorp Canada, which runs the Canada's Top 100 Employers competition. "Coming out of it, employers have said, well, you're not just going to throw all that away. They've been managing workforces differently for three years and now they have a lot of catchy-name programs, like 'Work Ways' and so on. There's been a move to stability, incorporating a lot of changes in a calm, measured way."
The goal, notes Yerema, is retention of good staff more than boosting recruitment. "HR managers are looking at their people and realizing you can't just go back -- you have to incorporate what they've experienced."
Top Employers have learned to listen and to respond, adds Kristina Leung, managing editor for Mediacorp Canada. "They're not static anymore. The pandemic demonstrated that you have to be agile, you have to be flexible, you have to be willing to change. What sets the best employers apart is a desire to understand what their people want and need, and invest in those things.
"They're saying, we're going to offer more -- we're going to increase time off, increase flexibility, and improve benefits for mental health and well-being. There's a lot of evolution."
Many employers are combining various forms of time off, such as sick days, personal days and vacation, and allowing employees to simply take days when needed. A few are even calling the days "unlimited," although employees must still consult their supervisor. But as Leung notes, some commentators call this "the generation that would rather have more time off than more pay."
Among the companies listening and learning has been Montréal-based CAE Inc., which offers a lot of flexible time and took a close look at the office versus home issue. "In the past, it was all about being in the office five days a week," says chief people officer Bob Lockett. "I think that ship has sailed and it'll probably never return again."
There's a benefit for employers as well as staff, he suggests. "What you find most often is that when people are working from home, they actually work longer hours, and so they're more productive in some situations."
Lockett says CAE canvassed what was going on in the wider employment scene, "but more importantly, we listened to people, we listened to the talent market, we listened to our employees about what seemed to work best. And we put some guardrails around it, which I think is the most important thing."
The company decided that teams could set their own timing, with two or three days a week in the office becoming the most common standard. "There's a benefit to that as well," Lockett adds. "Think about the people who were hired during COVID -- they never saw anybody in an office. Their turnover was much higher than those who were hired pre-COVID. If you're in a virtual world all the time, you don't really connect to the purpose or the mission of the company, nor do you really connect with the people on your team.
"So those folks wind up leaving the organization," he says. "But for the people that were hired post-COVID, their turnover rates are much better. There is an importance in bringing people together, particularly when you're new to a company."
Lockett says CAE is well aware of the competitive pressures on compensation in attracting the high-end talent it needs, as well as the effect of inflation. "Has the cost of labour increased? Absolutely. Do we have to increase wages to stay competitive? Absolutely. It's just a fact of life." Around how much per year now? "I would give a range of anywhere from seven to 10 per cent -- that's probably accurate."
Indeed, the advent of inflation has simply added to the post-pandemic pressures. "There is still a sense of chronic stress," says Leung. "It's just not letting up -- inflation, there's a war, there's another war, the cost of groceries, all these things accumulate. So we are finding a lot of organizations doubling down on mental health benefits."
"It's truly the max," agrees Yerema. "When you go back 10 years, mental health benefits were just a side note. Now, you actually compete on the dollar amount. It gets back to the point about retention. HR practitioners today have to have their ear to the ground. What do their people want, in order to keep them? The best employers are the ones who respond."
– Berton Woodward

©2023 Mediacorp Canada Inc. From the official announcement magazine for Canada's Top 100 Employers (2024), published on November 17, 2023, and distributed in The Globe and Mail. All rights reserved.
Find jobs from Canada's Top 100 Employers