About the Competition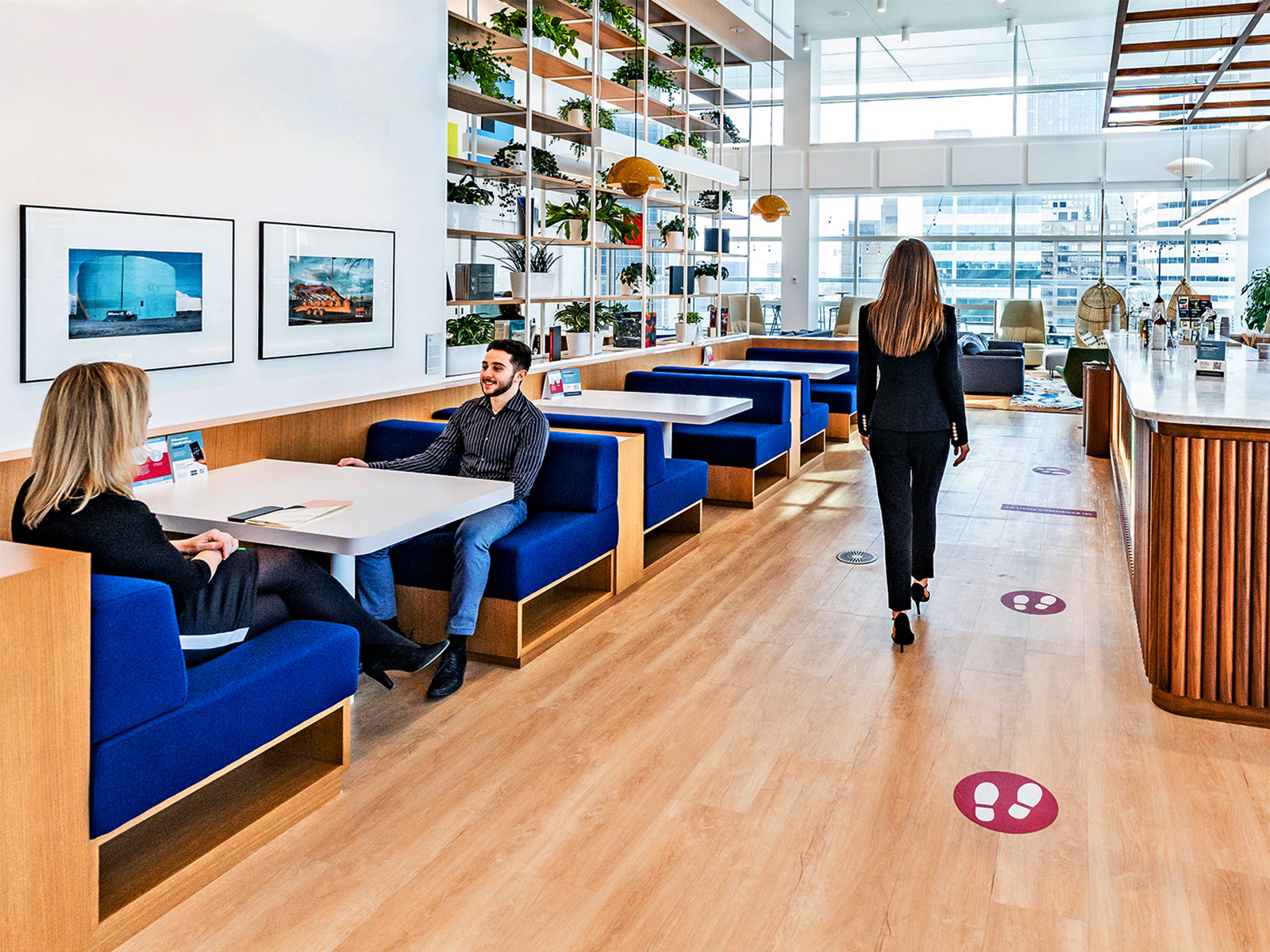 Background
Now in its 16th year, Canada's Greenest Employers is an editorial competition organized by the Canada's Top 100 Employers project. This special designation recognizes the employers that lead the nation in creating a culture of environmental awareness in their organizations.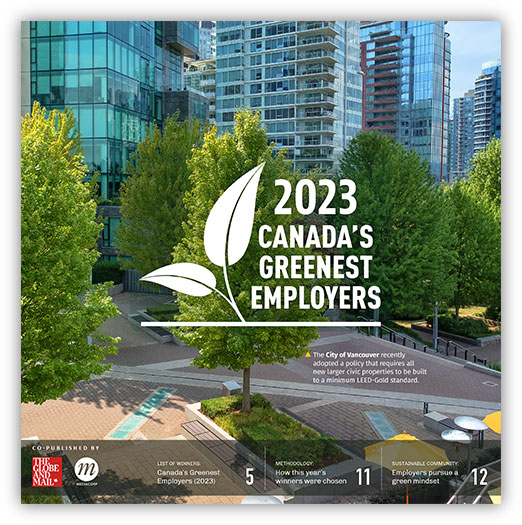 These employers have developed exceptional sustainability initiatives – and are attracting people to their organizations because of their environmental leadership. Prior to 2009, this award was called "Canada's Most Earth-Friendly Employers". This year's winners were announced in a special magazine co-published with The Globe and Mail on April 18, 2023. Read the press release issued the same day for more background in this year's competition.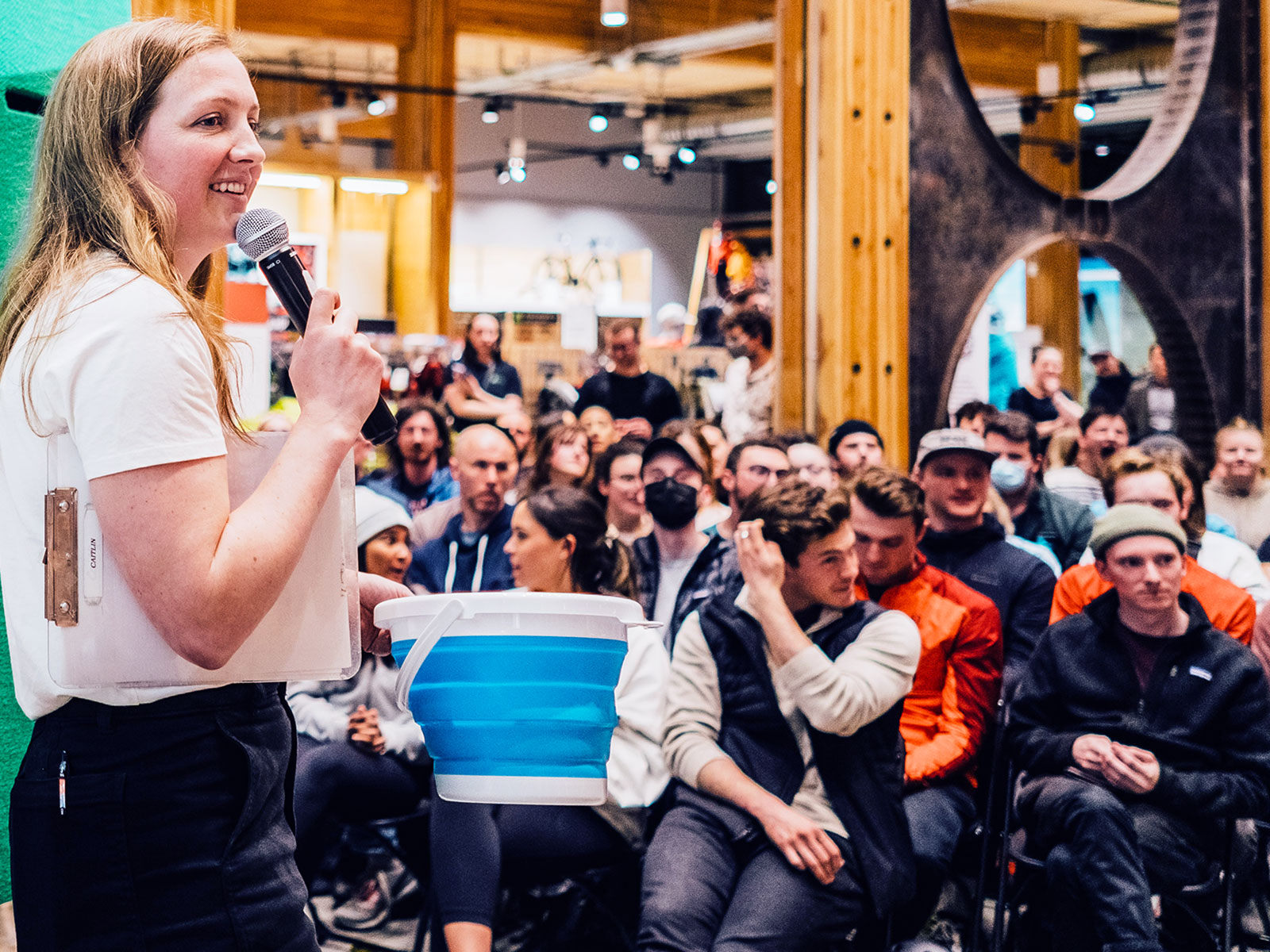 Selection Process
Each employer is evaluated by the editors of Canada's Top 100 Employers in terms of: (1) the unique environmental initiatives and programs they have developed; (2) the extent to which they have been successful in reducing the organization's own environmental footprint; (3) the degree to which their employees are involved in these programs and whether they contribute any unique skills; and (4) the extent to which these initiatives have become linked to the employer's public identity, attracting new employees and clients to the organization.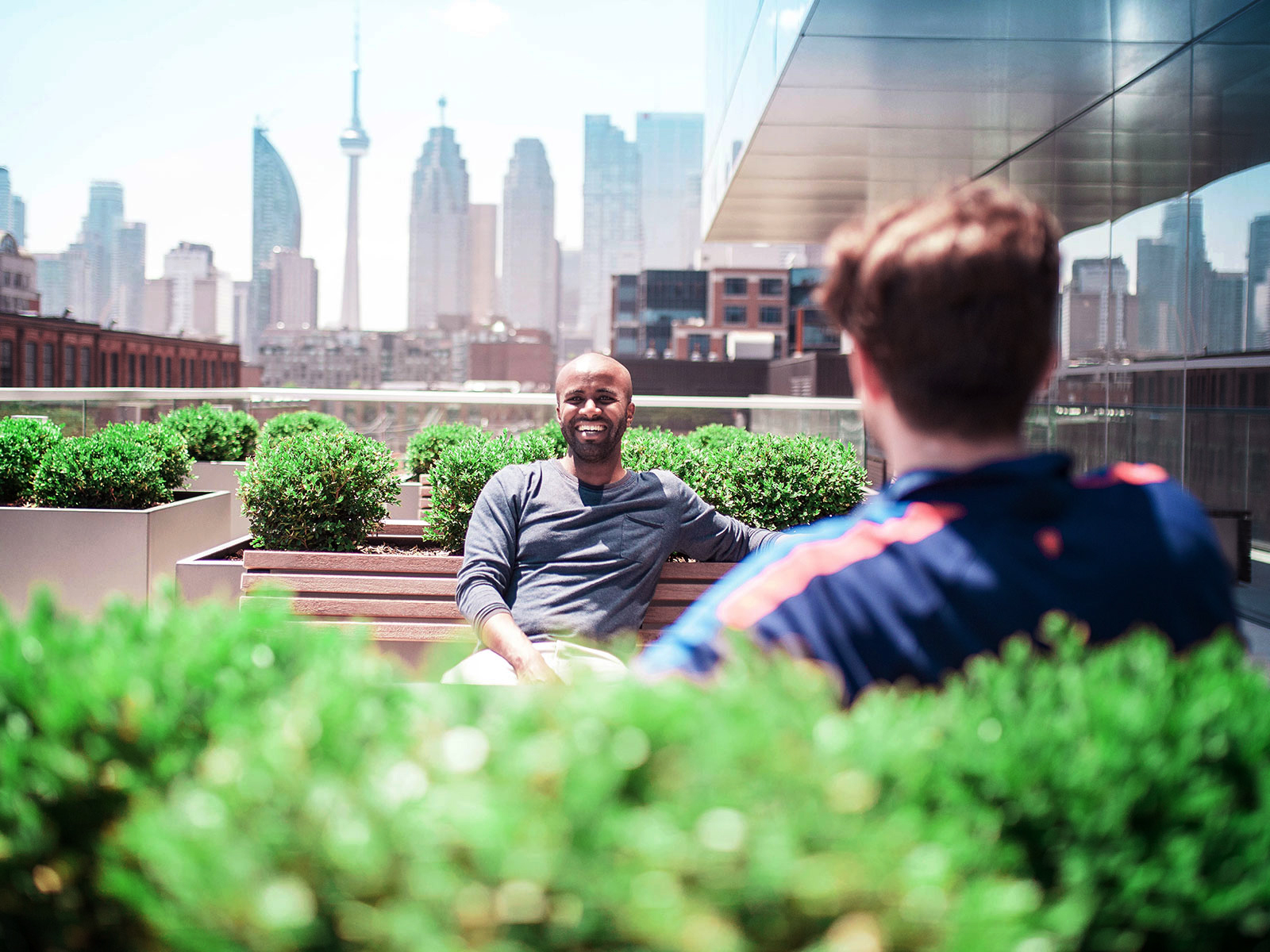 Reasons for Selection
Each spring, our editors release the list of winners and publish their reasons for selection – click an employer's name below to read why each of this year's winners was chosen. Publishing detailed Reasons for Selection is an important feature of our competition: it provides transparency in the selection of winners and "raises the bar" so that other employers can improve upon these best-practices.
Eligibility Requirements
Any employer operating in Canada may apply for the Canada's Greenest Employers competition. Employers of any size may apply, whether private or public sector.
2024 Competition
Applications for our 2024 competition will be available early in 2023. Our 2024 winners will be announced in the spring of 2024 near Earth Day. Join our mailing list to stay up to date and receive an application for next year's competition.
Introduction

In a recent video introducing the United Nations' flagship Climate Report, UN Secretary-General António Guterres referenced the title of this year's absurdist Oscar-winning film as he called for urgent climate action "on all fronts – everything, everywhere, all at once." It's a caveat Canada's Greenest Employers 2023, selected by Mediacorp Canada Inc., take to heart; it's also an apt description of their efforts on multiple fronts, big and small, to embrace sustainability.
All have made the environment a priority in how they run their business, with ambitious targets aimed at reducing their organization's own carbon footprint.
That includes formalized sustainability strategies to identify areas within their operations where they can improve, along with exceptional sustainability programs and initiatives.
The winners offer a myriad of practical initiatives, ranging from onsite honeybee apiaries to recycling and landfill diversion to the greening of vehicle fleets. Other popular programs include tree planting and community gardens as well as some innovative twists. ENMAX, an electricity provider in Calgary, uses goats to manage weeds at its Cavalier Energy Centre facility as an environmentally friendly alternative to traditional herbicides. The bonus is that it aerates, mulches and fertilizes the soil naturally.
Environmental leadership also includes promoting a culture of awareness that engages employees and encourages individuals to make responsible choices both in the workplace and at home. Many employers offer green commuting options such as transit passes, secure bicycle parking and preferential parking for carpoolers and employees driving hybrid or electric cars. Medtronic Canada, a Brampton, Ont.-based manufacturer of medical devices, additionally provides two hours of free charge time at its onsite EV charging stations. Nice perk!
Sustainability also make sense from a business perspective. Job seekers and employees want to work for an employer that cares about making our planet more liveable, and where corporate values align with their own. Likewise, an organization's sustainability is important to concerned customers who are increasingly aware of a company's environmental policies.
More than ever, every choice matters.
– Diane Jermyn

This story appeared in the official magazine announcing Canada's Greenest Employers (2023), co-published on April 18, 2023, and featured in the Globe and Mail. Used with permission.
2023 Winners
Here are the 2023 winners of the Canada's Greenest Employers competition. Click an employer name to read our editors' full Reasons for Selection: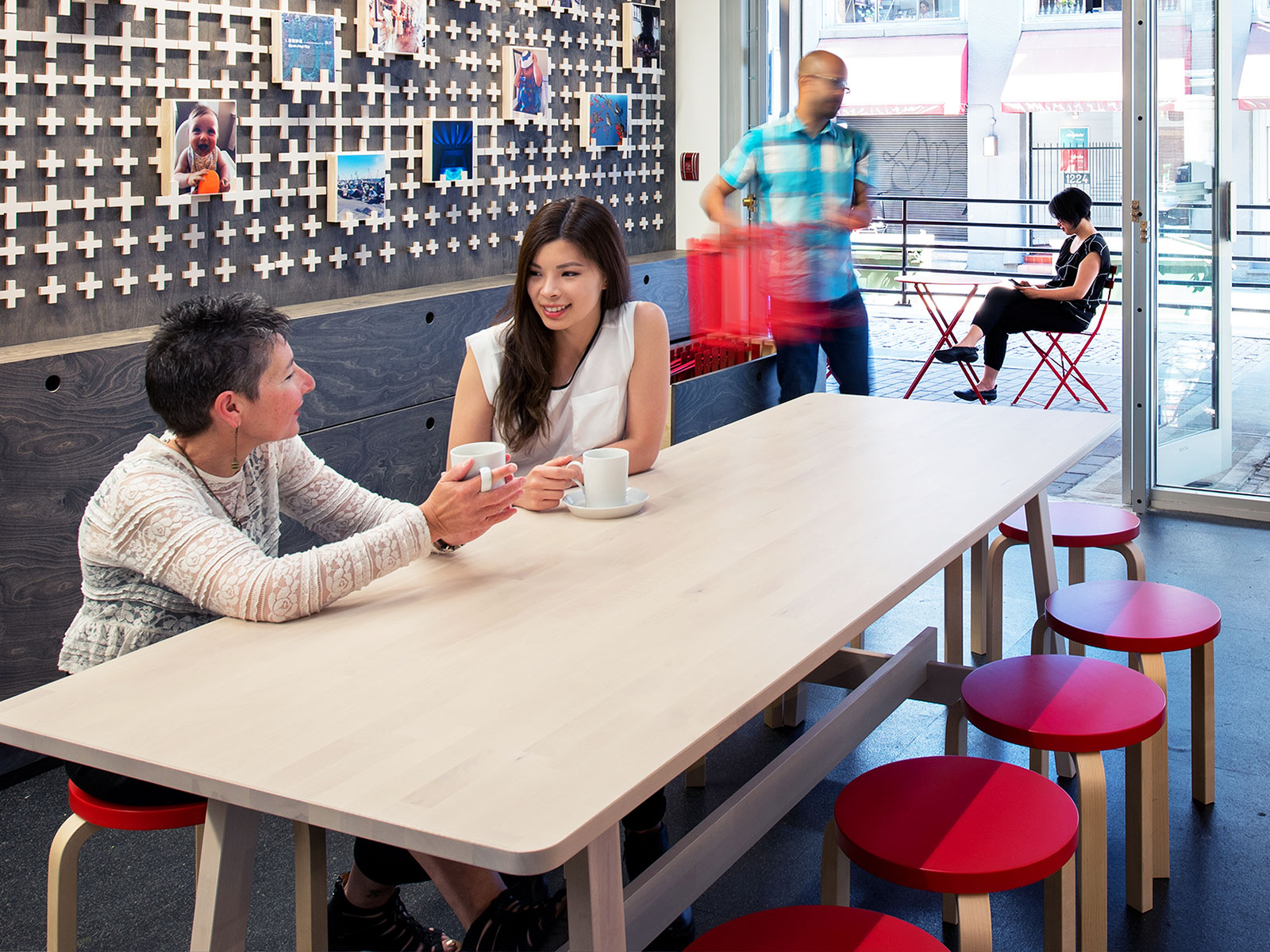 A Sustainable Community

Canada's Greenest Employers seek to create a green mindset
Right near the entrance to the Toronto Zoo, one of Canada's Greenest Employers, you'll find yourself at the beginning of the Plastics Pathway. As you might expect at an organization dedicated to the sustainability of all creatures and their terrain, the pathway has stops throughout the zoo that point out the problems of plastic, and what we can do about it. But as Kyla Greenham, manager of conservation programs and environment, notes, "it's not just the negative issues of plastic, it's positive as well."
The pathway, for instance, shows how recycled plastic can be embedded in asphalt shingles and even in asphalt roadways to make them last longer, or used to make picnic tables and benches, or turned into stuffing for plushies in the zoo gift shop. Big plastic containers for delivering food are reused as playthings that can be tossed around by large animals like grizzly bears, polar bears, lions and tigers. And the display near the entrance shows how cities are using plastic capture technologies like Australian-invented Seabins, which resemble submerged trash cans, to skim out plastic and other waste floating down waterways such as Toronto's Don River.
"It's a neat way to express our commitment and to express what's happening in the industry to deal with a problem, as well as trying to get the public to understand their role in the whole process of a circular economy," says Greenham. Indeed, the Plastics Pathway, created in partnership with the environmental organization Pollution Probe and GreenMantra Technologies, is a timely reminder of what many employers are doing to help Canada meet targets set by the Paris Climate Agreement. The zoo itself, for instance, intends to reduce plastic use to a minimum by 2027, in line with its own goals and the federal government's long-term commitment to phase out plastic use. This year, the federal ban came into force on the import and manufacture of single-use plastics, including checkout bags, cutlery, food-service ware, stir sticks and straws.
"It's kind of a landmark year," says Richard Yerema, executive editor for Mediacorp Canada, which runs the Canada's Greenest Employers competition. "The whole conversation in terms of green employers has been evolving. It used to be that having recycling bins in every office and diverting waste was a big part of the green effort. That has become more mundane now. But it's still essential – you're not going to reduce pollution and emissions if you don't address these things. And the best way to do it is boring, mundane, day-to-day stuff."
Yerema notes that the competition is built around the notion of involving employees in sustainability efforts. Increasingly, those employers are finding more and more ways to expand what they do for sustainability. Many say they are seeking to "embed" green values in their organization or create a sustainability "mindset" among their people. At the same time, they are calling on their employees, often through green teams, to suggest more ways to mitigate the negative environmental impact of their operations.
"The foundation of the project comes out of the idea of community, that employers are very much central to an individual's community in the modern age," says Yerema. "Our communities are defined not so much geographically but by where we go, where we spend our time and how we interact. It's about employers that demonstrate that they care, not just about their people, but about the world in which they live, and that try to mitigate negative aspects of their operations and listen to their people. So this list is very much practically oriented in how employers can reflect those values. It's how do we get there?"
Naturally, too, when an organization makes major reductions in its water or energy usage, there can be financial benefits. Being a green employer can also be a boon for recruitment, given that so many young applicants are looking for solid evidence that a potential employer aligns with their values. "To be green doesn't mean you're just doing it because you feel good about doing it," says Yerema. "It can actually be an engagement initiative."
Not surprisingly, technology is becoming ever more present as organizations look to monitor metrics and engage with employees or, in the Toronto Zoo's case, with visitors as well. At the waste bins In its restaurants, the zoo has set up Oscar sorting systems which use scanners and artificial intelligence to help patrons.
"It tells someone, that's a pop can, that goes in recycling, or that's a paper plate, it goes in composting," says Greenham. "It gamifies the interactions." Besides awareness, the system also creates macro statistics on how much waste has been diverted and emissions reduced, a key need for green employers. As with the zoo and plastics, Canada's Greenest Employers are on a pathway to sustainability success.
– Berton Woodward

This story appeared in the official magazine announcing Canada's Greenest Employers (2023), co-published on April 18, 2023, and featured in the Globe and Mail. Used with permission.
Find jobs from Canada's Greenest Employees