About the Competition
Background
Now in its 13th year, Canada's Best Diversity Employers recognizes employers across Canada that have exceptional workplace diversity and inclusiveness programs.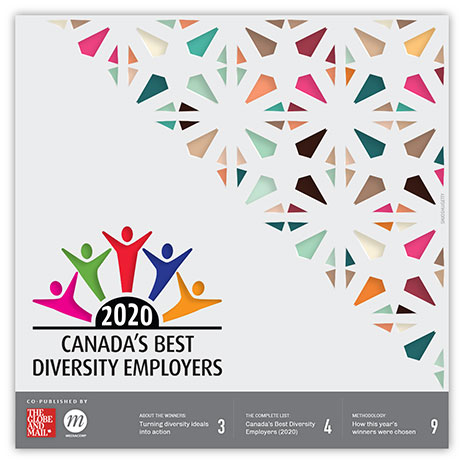 This competition recognizes successful diversity initiatives in a variety of areas, including programs for employees from five groups: (a) women; (b) members of visible minorities; (c) persons with disabilities; (d) Indigenous peoples; and (e) lesbian, gay, bisexual and transgender/transsexual (LGBT) peoples. This competition replaced our two annual rankings of the top employers for women and visible minorities, which we published as an appendix to our paperback between 2002 and 2007, when the present competition was launched. Read the special magazine announcing this year's winners published in the March 6, 2020 edition of The Globe and Mail. Read the press release issued the same day for more background on this year's winners.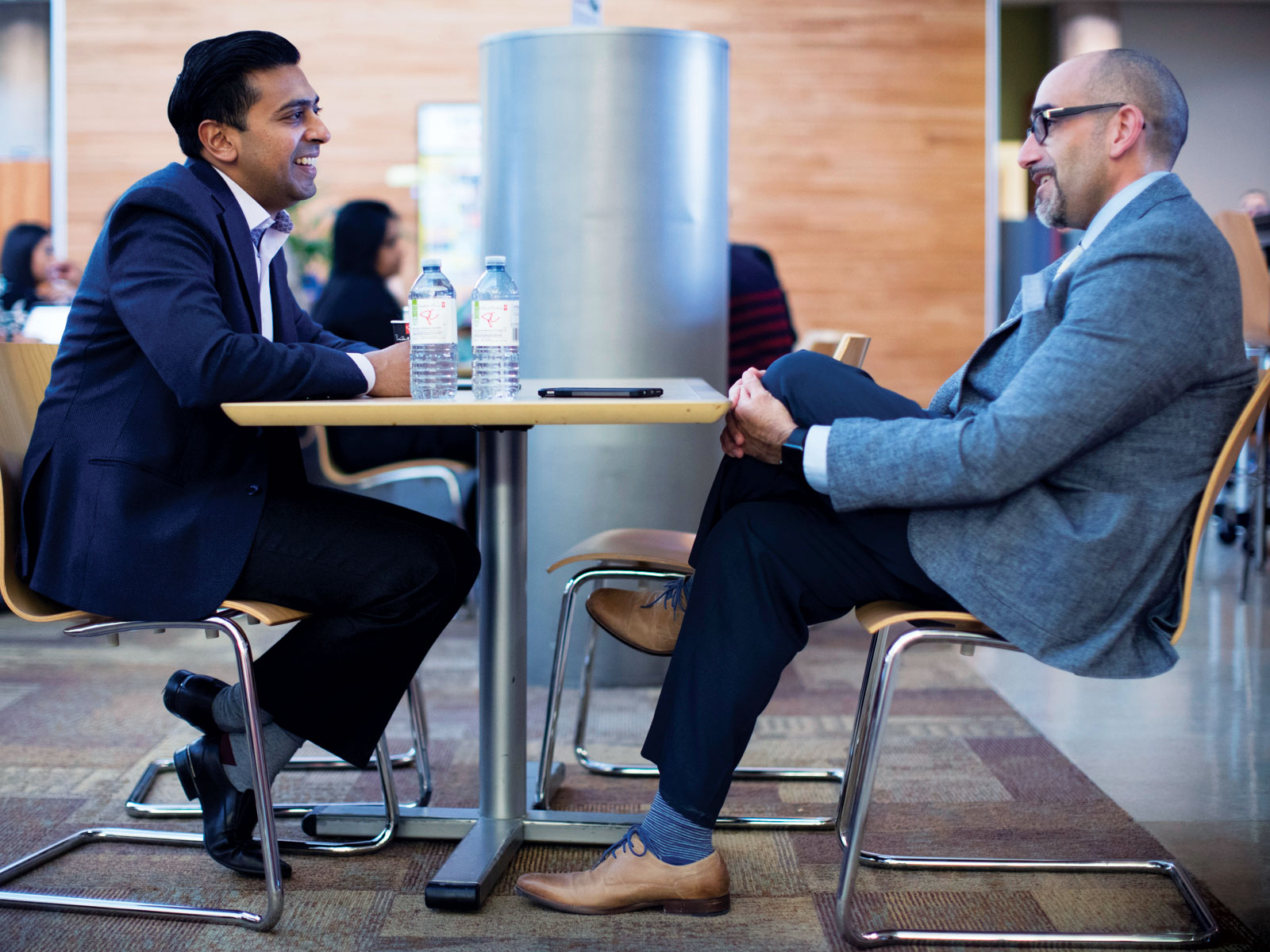 Selection Process
To determine this year's winners of the Canada's Best Diversity Employers competition, Mediacorp editors reviewed diversity and inclusiveness initiatives at a large number of employers that took part in this year's Canada's Top 100 Employers project. From this applicant pool, a smaller short-list of employers with noteworthy and unique diversity initiatives was developed. The short-listed candidates' programs were compared to those of other employers in the same field. The finalists chosen represent the diversity leaders in their industry and region of Canada.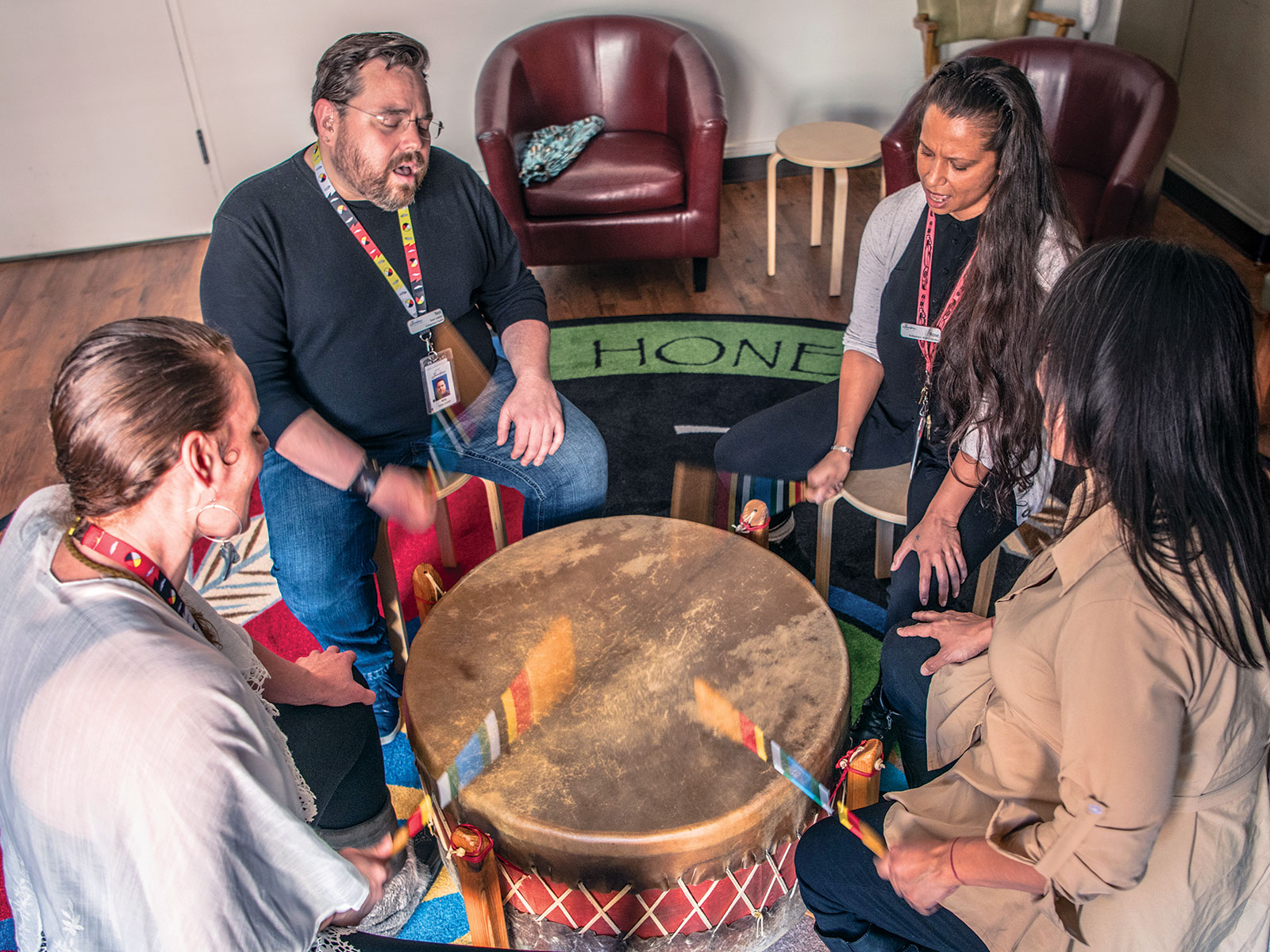 Reasons for Selection
Each year, the winners are announced in a special feature published in The Globe and Mail, which is our media sponsor on the competition. For our detailed Reasons for Selection, please review the full list of winners below. Publishing detailed Reasons for Selection is a distinguishing feature of our competition: it provides transparency in the selection of winners and "raises the bar" so that other employers can discover and adopt initiatives that work well elsewhere.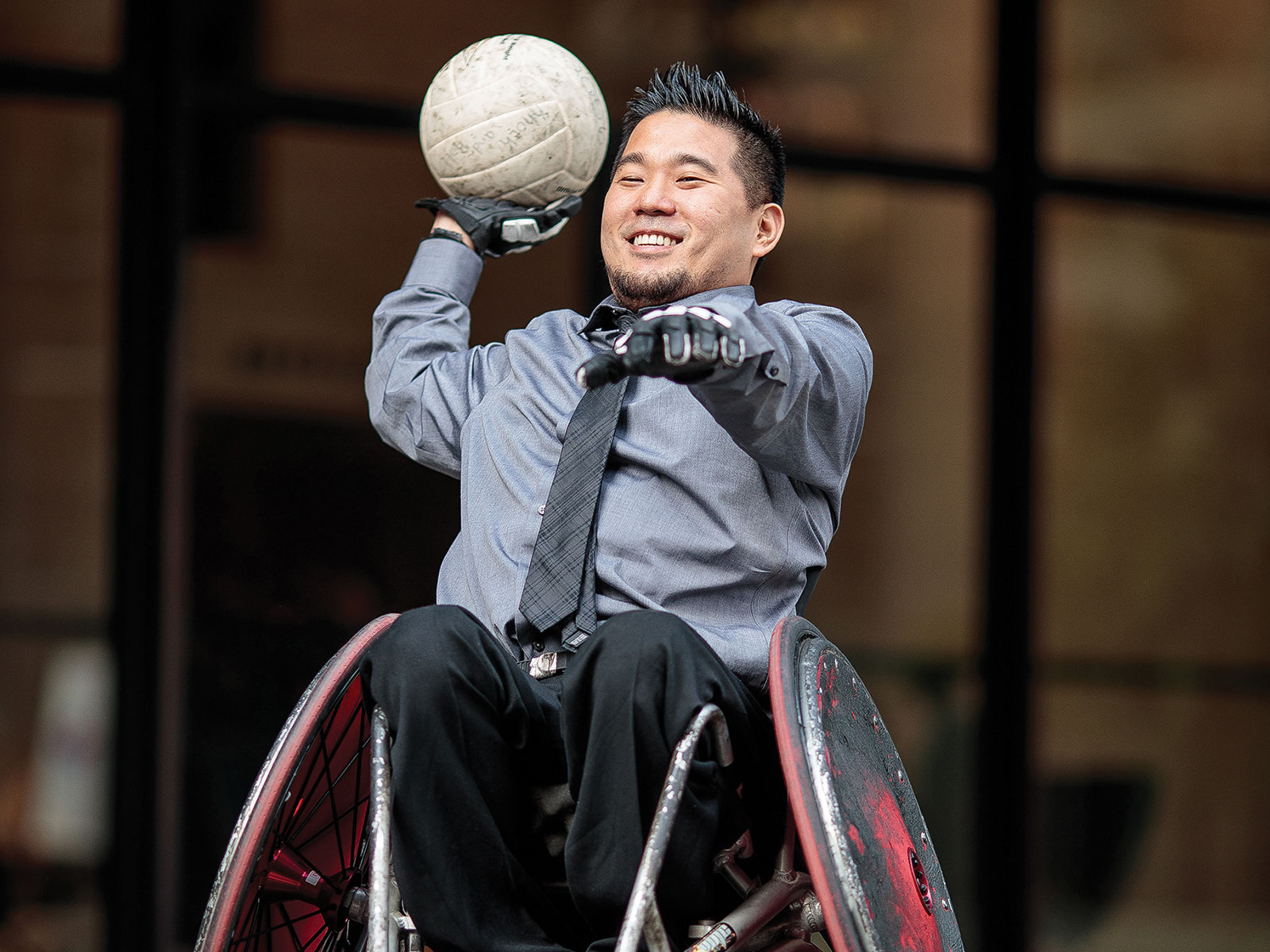 Eligibility Requirements
Any employer with its head office or principal place of business in Canada may apply for this competition. Employers of any size may apply, whether private or public sector. Each applicant must have an interesting initiative for at least one of the five above diversity groups covered by this competition.
2021 Competition
Applications for our 2021 competition will be available early in 2020. Our 2021 winners will be announced in The Globe and Mail early in 2021.
Editorial Conference
To learn more about the competition, we invite you to join us at the Top Employer Summit, our annual editorial conference on the Canada's Top 100 Employers project. This event lets you discover the latest best practices from winners, meet competition organizers and editors, and hear inspiring stories from world-class speakers – all presented in a commercial-free format. The conference is Canada's largest annual event for senior-level HR professionals.
The corporate case for diversity and inclusion in the workplace couldn't be more straightforward. It's good for business -- boosting innovation, productivity and revenue growth at home and in the global market.
Canada's Best Diversity Employers 2020 already understand the competitive economic advantages, but they also understand that diversity and inclusion is foremost about people. It starts at the top with an ongoing strategic plan that gives employees, regardless of their race, gender, disability, country of origin or sexual orientation, the opportunity and support needed to succeed. That's what puts lofty ideals into action.
These diversity champions have all taken proactive initiatives to create both a more diverse workforce and a more respectful, inclusive environment where everyone can feel they belong. That includes steps to promote women and diverse candidates into senior leadership roles because real change doesn't happen without meaningful representation at every level.
There are many practical initiatives in each organization that illustrate how employers can increase diversity and inclusion. For example, Borden Ladner Gervais LLP in Toronto ensures a diverse talent pipeline by requiring diverse representation on shortlists when hiring lawyers, as well as providing unconscious bias training for lawyers conducting law student interviews.
Or take inspiration from Jazz Aviation LP in Dartmouth that held listening groups with its female employees who work in male-dominant work environments. Based on the feedback collected, the company updated its washroom facilities and partnered with Women Unlimited, a not-for-profit organization in Nova Scotia promoting women's participation in trades and technology.
Many of this year's winners made initiatives for Indigenous Peoples a priority, including Alberta Health Services that held a series of Indigenous Listening Days with leaders of the organization in order to explore common understanding of the needs of its Indigenous workforce.
Canadians tend to talk a lot about how diverse and inclusive we are. It's worth taking a look at what Canada's Best Diversity Employers are actually doing.
– Diane Jermyn
From the official magazine announcing Canada's Best Diversity Employers (2020), published March 6, 2020, in The Globe and Mail.
2020 Winners
Here are 2020 winners of the Canada's Best Diversity Employers competition. Click an employer name to read our editors' full Reasons for Selection: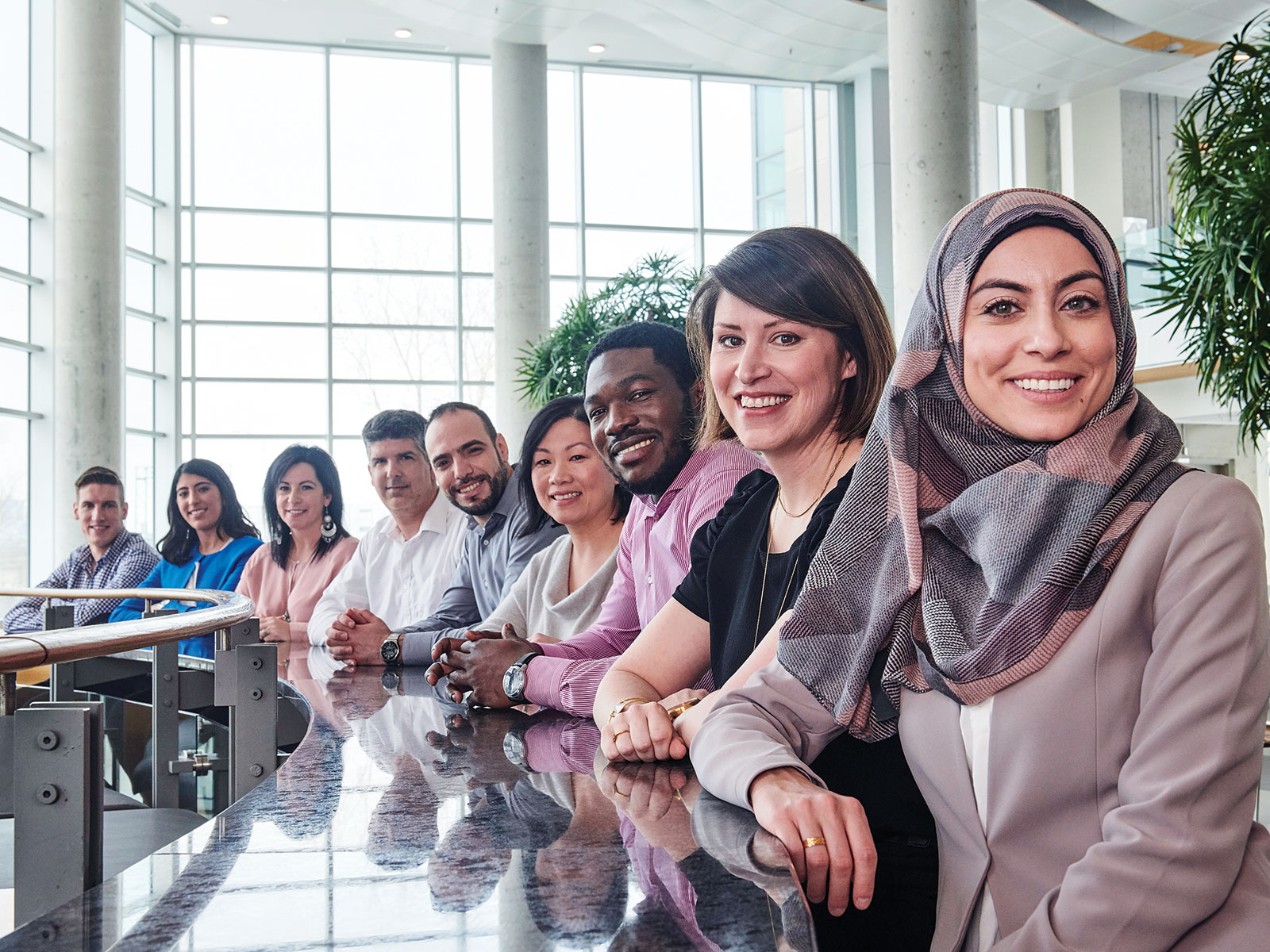 Walking the talk
Canada's Best Diversity Employers are digging ever deeper to bring inclusion to the workplace
When you look at Stephanie Braid's email signature, you'll see her name, her title -- senior manager, inclusion & diversity -- and her firm, KPMG LLP. And right under her name, you'll also see, "Pronouns: she/her".
The art of diversity and inclusion in the workplace has come a long way in recent years, and ensuring that all people are included and addressed with respect is a big part of it. Explains Braid: "As a firm, we've recognized that there's a real need to educate people around gender diversity beyond binary male/female. And as we look to hire people, and also create an inclusive culture where people feel comfortable and can be honest and truthful about their identity, we find that having pronouns in email signatures, and other signals that you are inclusive and you get it, do make a difference."
Indeed, the 75 winners of the Canada's Best Diversity Employers competition are reaching out ever further in their efforts to bring true diversity and inclusion to their workplaces. These organizations have long been in the forefront of those efforts, but increasingly there is a consensus among Canadian employers that D&I, as it's often known, is critical to success.
Arielle Meloul-Wechsler, executive vice president, chief human resources and communications officer at Air Canada, is an experienced observer of such trends. She sees a transformation going on in D&I.
"For many years, companies, with all good intentions, did a lot of talking about it and looking at statistics and analyzing," she says. "But now I feel there is a real shift at the highest levels -- and to get D&I right, you need buy-in at the highest levels. People are now understanding the correlation between financial success and having good diversity & inclusion practices. So we're actually seeing that shift from lip service to really walking the talk."
And Meloul-Wechsler hears a lot of talk among her peers. "When I go to conferences, it is apparent that people are really focusing on it. For example, when they're recruiting, they will not allow a headhunter to bring only white males as candidates. They will force them to at least expose the pool to a diverse group of potential recruits so that they can then make an informed decision. It's a shift to more tangible efforts, as opposed to just saying yes, we should do better."
She also points to the inroads made in creating more diverse boards of directors. "Again, it comes from the top. A more diverse board will spark a conversation and challenge a company to think along those lines as well."
Kristina Leung, senior editor at Mediacorp Canada, which runs the annual competition, has seen the same trends over the past decade. And a key element, she says, is the vast amounts of data that corporations have accumulated. "Ten years ago, there might have been some hesitation to survey so directly," says Leung. "But now there's a stronger emphasis on 'what gets measured gets done'. And it's easier to make a business case to senior levels when you have data to show, 'hey, listen, we've got this many female employees and they're not migrating to leadership roles -- we can show where they end up'."
Increasingly, employers are bringing in unconscious bias training for all staff. Some in engineering fields make a point of going into high schools to encourage girls to study STEM subjects (science, technology, engineering and math). Many have increased their efforts to recruit among Indigenous communities and people with disabilities. Meanwhile, an array of inclusion policies encourage employees to bring their whole self to work.
Crucially, notes Leung, many employers are setting hard goals for staff diversity. KPMG, for instance, plans to reach 30 per cent women and 20 per cent visible minorities by 2022. CIBC has committed to hiring 500 people with disabilities annually. "Employers are putting it out there, so they can be accountable to what they say they're going to do, and create a real outcome," she says.
One thing has not changed over the years -- the understanding that diversity and inclusion strengthen every organization by bringing in more viewpoints and engaging every employee. "Providing diverse perspectives can really lead to increased innovation, productivity and efficiency," says Leung. "There's such a strong correlation."
– Berton Woodward
From the official magazine announcing Canada's Best Diversity Employers (2020), published March 6, 2020, in The Globe and Mail.
Find jobs from Canada's Best Diversity Employers