About the Competition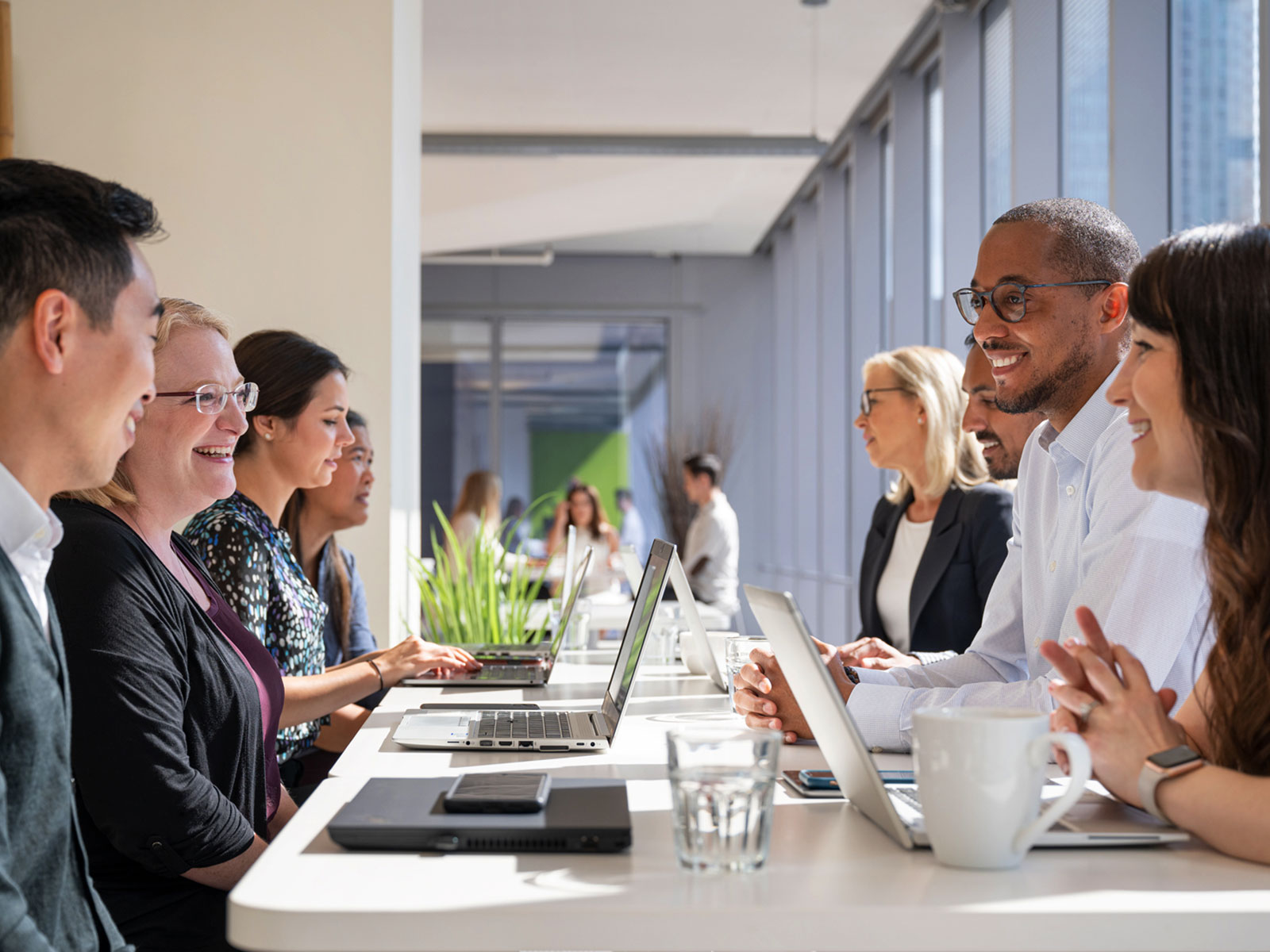 Background
Now in its 16th year, Canada's Best Diversity Employers recognizes employers across Canada with exceptional workplace diversity and inclusiveness programs.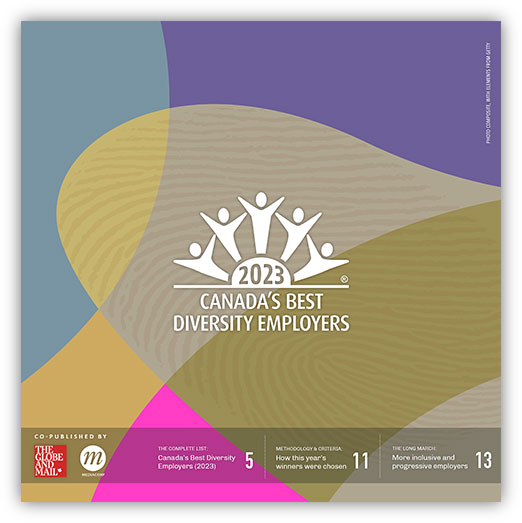 This competition recognizes successful diversity initiatives in a variety of areas, including programs for employees from five groups: (a) women; (b) members of visible minorities; (c) persons with disabilities; (d) Indigenous peoples; and (e) lesbian, gay, bisexual and transgender/transsexual (LGBT) peoples. This competition replaced our two annual rankings of the top employers for women and visible minorities, which we published as appendices to our paperback between 2002 and 2007, when the present competition was launched. Read the special magazine announcing this year's winners co-published with The Globe and Mail on March 7, 2023. Read the press release issued the same day for more background on this year's winners.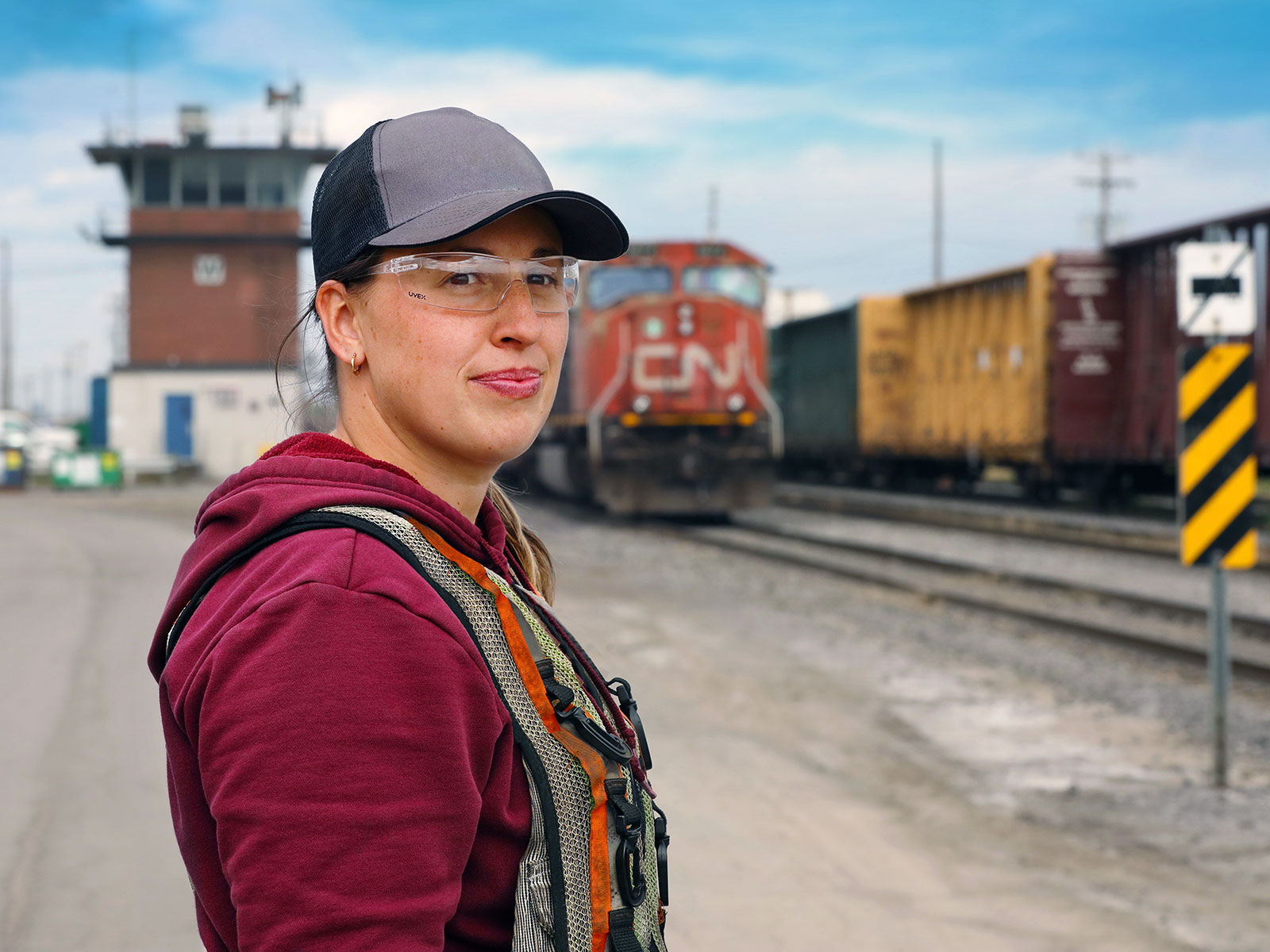 Selection Process
To determine this year's winners of the Canada's Best Diversity Employers competition, Mediacorp editors reviewed diversity and inclusiveness initiatives at many employers that took part in this year's Canada's Top 100 Employers project. From this applicant pool, a smaller short-list of employers with noteworthy and unique diversity initiatives was developed. The short-listed candidates' programs were compared to those of other employers in the same field. The finalists selected represent the diversity leaders in their industry and region of Canada.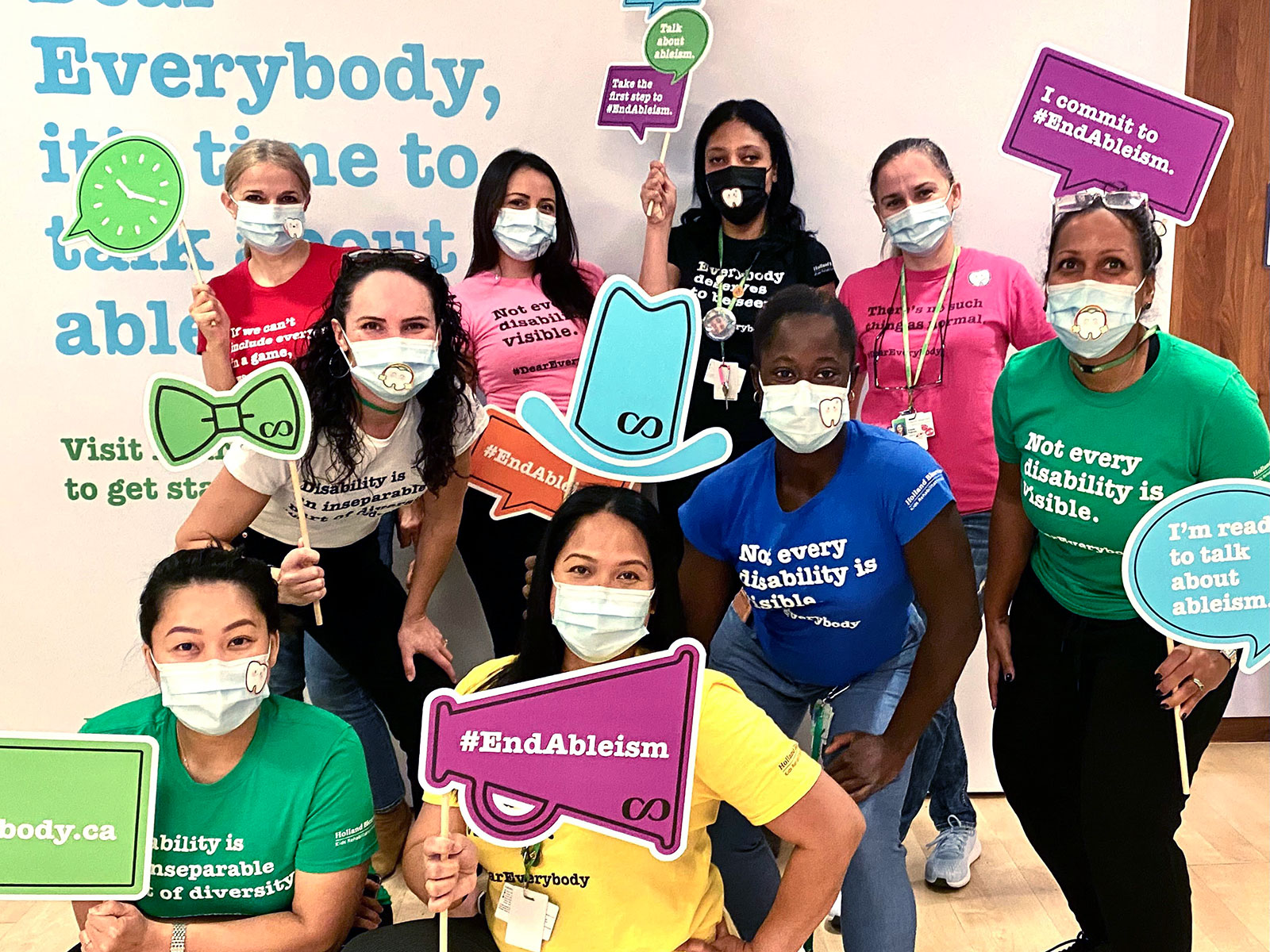 Reasons for Selection
Each year, the winners are announced in a special magazine co-published with The Globe and Mail. For our detailed Reasons for Selection, please review the full list of winners below. Publishing detailed Reasons for Selection is a distinguishing feature of our competition: it provides transparency in the selection of winners and 'raises the bar' so that other employers can discover and adopt initiatives that work well elsewhere.
Eligibility Requirements
Any employer with its head office or principal place of business in Canada may apply for this competition. Employers of any size may apply, whether private or public sector. Each applicant must have an interesting initiative for at least one of the five above diversity groups covered by this competition.
2024 Competition
Applications for our 2024 competition will be available early in 2023. Our 2024 winners will be announced in The Globe and Mail early in 2024. Join our mailing list to stay up to date and receive an application for next year's competition.
Introduction
How do you unlock the power that diversity brings? It starts with a commitment to building a culture where everyone feels like they belong. The winners of Canada's Best Diversity Employers 2023 by Mediacorp have already committed to making diversity, equity and inclusion (DEI) a top priority. These organizations are driving change with progressive policies and programs that translate into real action, and are backing it up with transparency and accountability at every level.
For example, KPMG LLP in Toronto recently achieved its goal of 30 per cent women and 20 per cent people of colour in partnership by 2022, and has established a new target of 33 per cent women and 26 per cent people of colour by 2025. Scotiabank also established ambitious commitments for 2025, including doubling the current representation of Indigenous employees across all levels of the organization and increasing representation of persons with a disability by 20 per cent.
Ledcor Group of Companies, a privately held construction firm in Vancouver, formally kicked off its inclusion and diversity program back in 2018 and has since undertaken a number of initiatives, including the addition of inclusion and diversity questions in its engagement survey, holding focus groups to gather employee feedback, implementing unconscious bias training, conducting an internal gender pay gap analysis and the formation of an inclusion and diversity council.
In Ottawa, Statistics Canada actively tracks employment equity data by occupational category and occupational group and also conducts mobility analysis of hires, separations and promotions in order to determine barriers and gaps in workforce representation.
There is still a long way to go, but the ongoing efforts of Canada's Best Diversity Employers 2023 are gaining ground towards creating a more diverse, equitable and inclusive environment in their organizations and in business.
– Diane Jermyn
From the official magazine announcing Canada's Best Diversity Employers (2023), co-published March 7, 2023, with The Globe and Mail. All rights reserved.
2023 Winners
Here are 2023 winners of the Canada's Best Diversity Employers competition. Click an employer name to read our editors' full Reasons for Selection: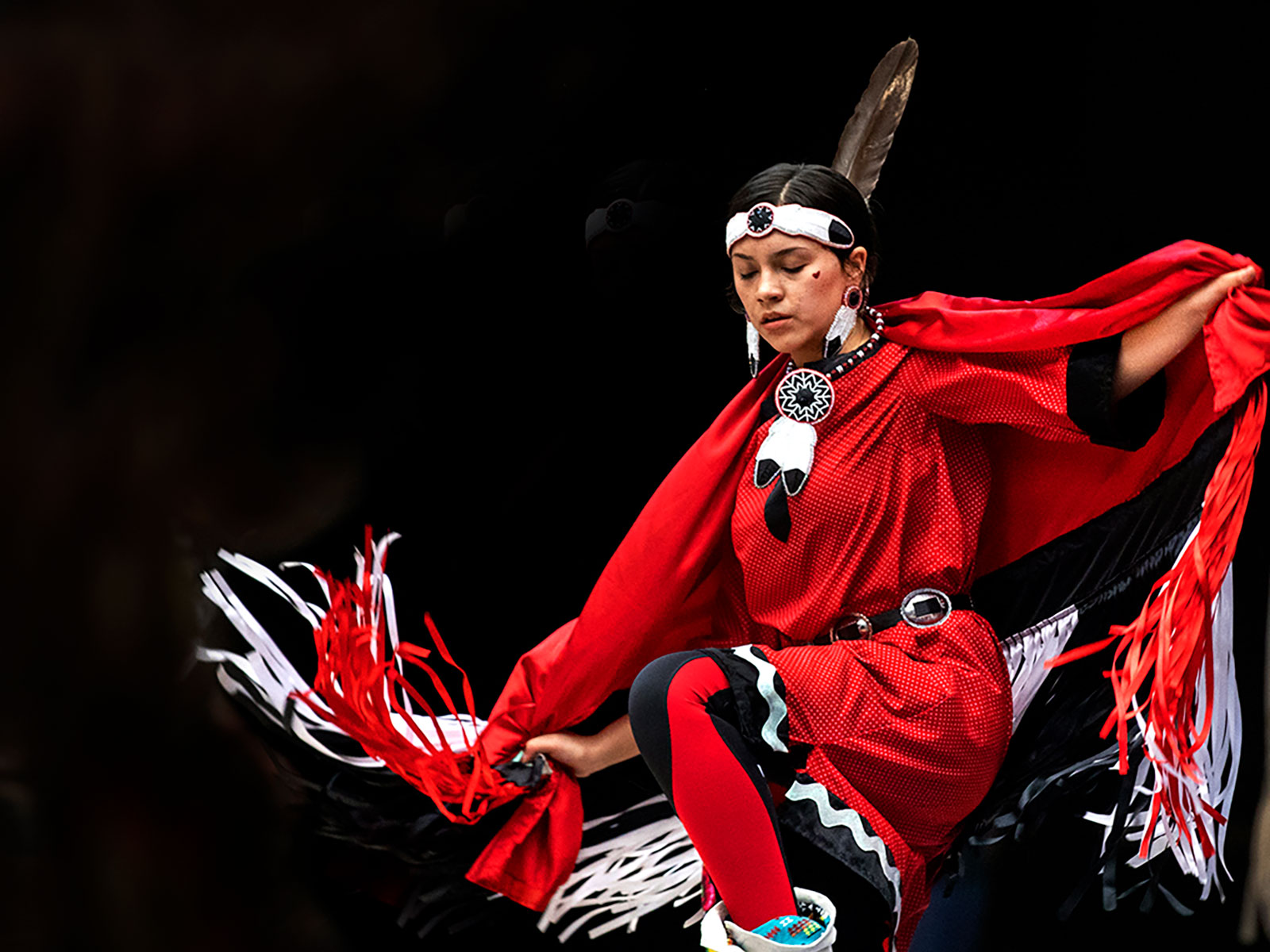 A Long March Toward Equity
Canada's Best Diversity Employers are becoming ever more progressive and inclusive
Saher Fazilat has seen a lot of the history of diversity, equity and inclusion (DEI) in her career. You could say she qualifies as diverse on at least three fronts – a woman, a person of colour and a Muslim immigrant to Canada. Moreover, she trained in India as a civil engineer, a profession dominated globally by men.
"I've lived the DEI piece," says Fazilat, who, far from being daunted by such challenges, is now the vice-president, operations and finance, at McMaster University, one of Canada's Best Diversity Employers for 2023. She started in New Delhi as the only female engineer on a worksite of 400. "I just thought, construction in India must be very male-dominated," she says. Then she came to Canada in 2000 and soon found work in construction management for a major city – without much change. "I was one of only two visible minorities on my team of 60," she recalls.
As her construction career continued, she says, "I was the only female sitting in the room." When she arrived at a Toronto-area town as head of new construction and major renovations, "I found myself among 30-40 men with no women." If she went to a construction site, "I had to work with 250 men, no female there, and no washrooms for me. I had to use Tim Hortons," she says. "It was just a tough environment and, let alone minorities or racialized females, there weren't even white females there.
"And this," notes Fazilat, "is in the last two decades."
In 2014, she started working for various Ontario universities and left front-line work for administration. Not surprisingly, especially since she now has human resources in her portfolio, she sees leading progress on DEI as essential for people like her. "It is very much needed. For those of us in positions of privilege, where we can make a dent, we need to make a dent, and promote and support employers who do this."
But Fazilat is the first to agree that Canada, and Canadian employers, have made major inroads in expanding diversity, equity and inclusion. Women have made the most obvious strides, but Top Employers have constantly widened their reach to include more people of colour, more Indigenous Peoples, more members of the LGBTQ+ community, more persons with disabilities, more everybody.
Increasingly, Top Employers are reaching out to a wide variety of groups to encourage them to apply, and they are revolutionizing the recruitment process, with diverse panels required for every interview. Once people are hired, there are a whole series of supports to ensure inclusion and equity in decision-making and promotions.
And as management guru Peter Drucker once said, "if you can't measure it, you can't improve it." That's exactly what employers are now doing, notes Stephanie Leung, editor for Mediacorp Canada, which runs the competition. "We've noticed that, overall, there's an increase in the amount of metrics and data employers have available for either incoming candidates be interviewed or their current workforce. And within that, they are drilling even further into more self-identified categories -- not just visible minorities but Asian, South Asian, Black, etc., and more gender identities."
At the same time, it's clear that apart from being the right thing to do, DEI policies are also attractive to job seekers. Kristina Leung, managing editor for Mediacorp Canada, says applications from organizations to be considered for Canada's Best Diversity Employers were up 20 per cent for 2023. "It speaks to what employees and applicants are valuing more," she says.
And that trend includes more small and medium enterprises, adds Stephanie Leung. "In the past, it tended to be larger, well-established companies or ones with a global presence that emphasized diversity."
In fact, progressive policies have become so widespread among Top Employers that the biggest challenge now may be to settle on the definitive abbreviation. Is it DEI, intentionally putting diversity first, or IDE, favouring inclusion, or EDI, with equity at the fore? Or as some activist groups and employers have it, adding "justice" to make it JEDI!
Kristina Leung notes that especially since the roiling year of 2020, with George Floyd in the U.S. and truth and reconciliation in Canada, employers -- even the largest banks -- now talk routinely about "systemic racism", a term formerly used only in academic environs or by political radicals.
"It is quite incredible to think that over the course of last 10 years, you can go from, 'oh, we don't want to talk about racism,' to addressing it directly -- saying, 'Hey, we're going to talk about it, we're going to learn about it. We're going to get comfortable with this phrase in order to address it properly and meaningfully and intentionally.'"
It has indeed been a decade of intense, and intentional, change.
– Berton Woodward
From the official magazine announcing Canada's Best Diversity Employers (2023), co-published March 7, 2023, with The Globe and Mail. All rights reserved.
Find jobs from Canada's Best Diversity Employers