About the Competition
Background
Now in its 17th year, BC's Top Employers is an annual competition organized by the editors of Canada's Top 100 Employers.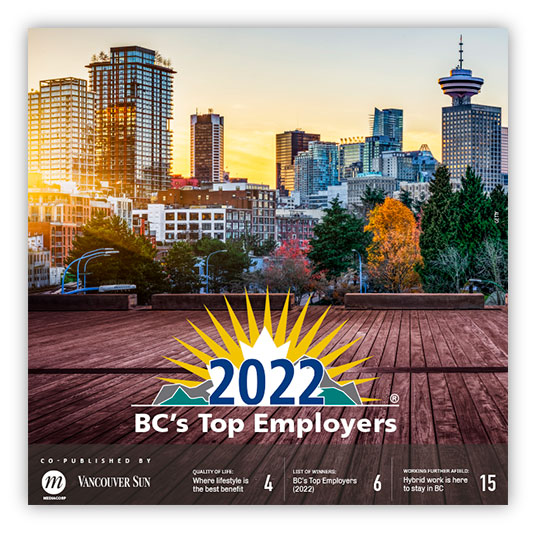 This special designation recognizes the British Columbia employers that lead their industries in offering exceptional places to work. This year's winners were announced in a special magazine co-published with the Vancouver Sun on February 8, 2022. Read the press release issued the same day for more background on this year's competition.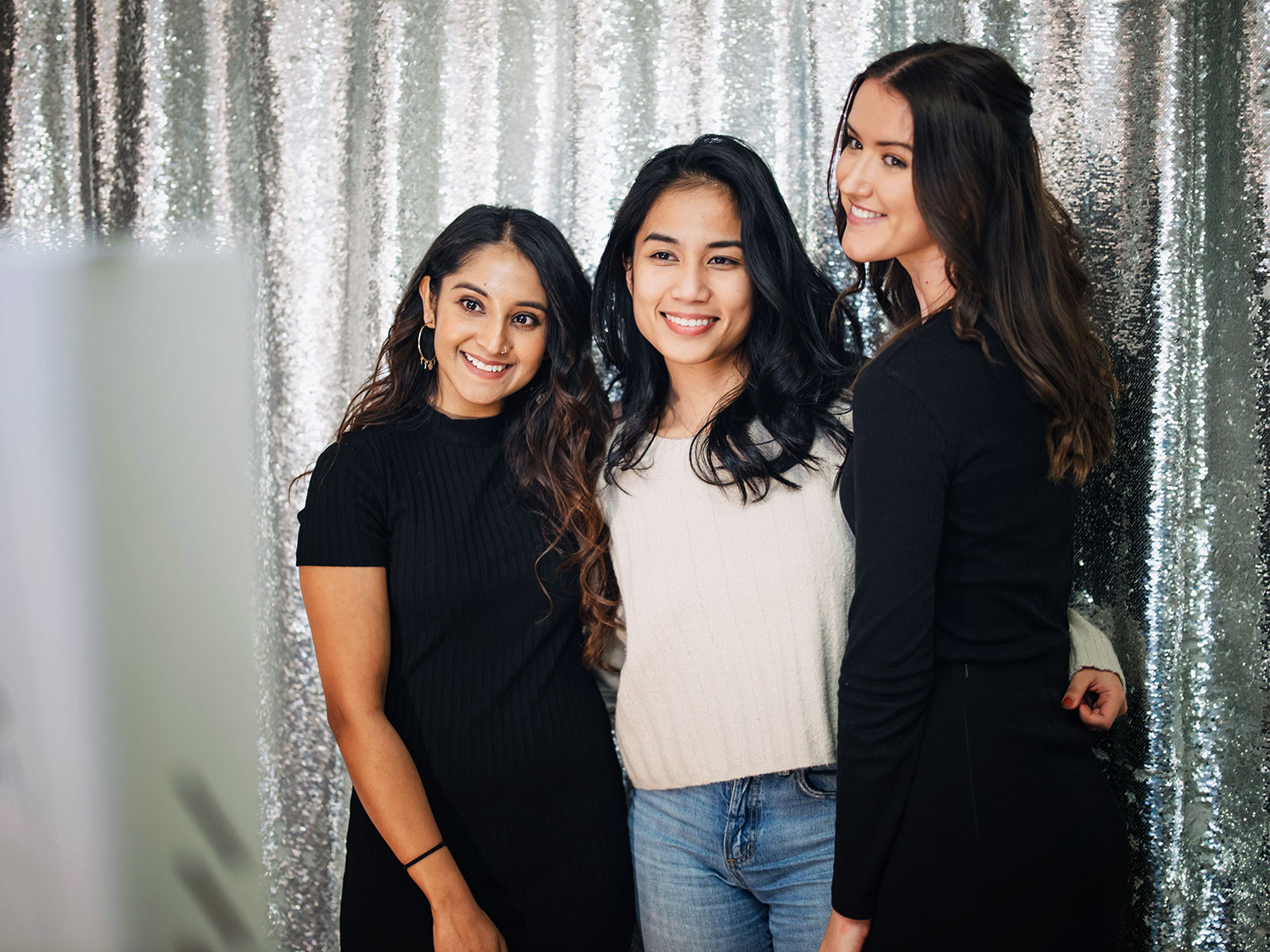 Selection Process
Employers are evaluated by the editors of Canada's Top 100 Employers using the same eight criteria as the national competition: (1) Physical Workplace; (2) Work Atmosphere & Social; (3) Health, Financial & Family Benefits; (4) Vacation & Time Off; (5) Employee Communications; (6) Performance Management; (7) Training & Skills Development; and (8) Community Involvement. Employers are compared to other organizations in their field to determine which offers the most progressive and forward-thinking programs.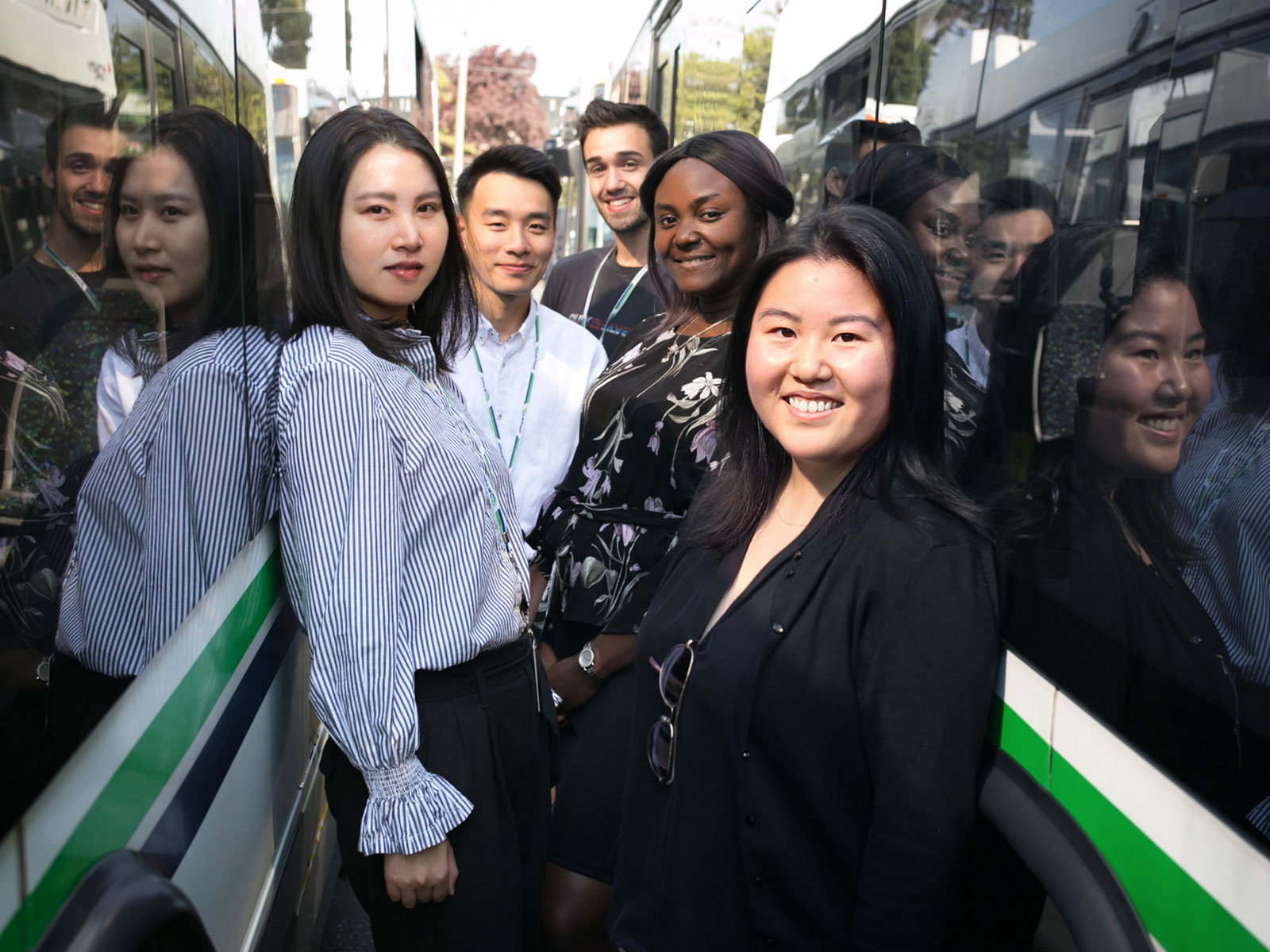 Media Partner
Our media partner on the BC's Top Employers project is the largest newspaper in British Columbia, The Vancouver Sun. Each year, the competition winners in a special online magazine co-published with The Vancouver Sun, which includes a summary of editors' reasons for selecting each employer.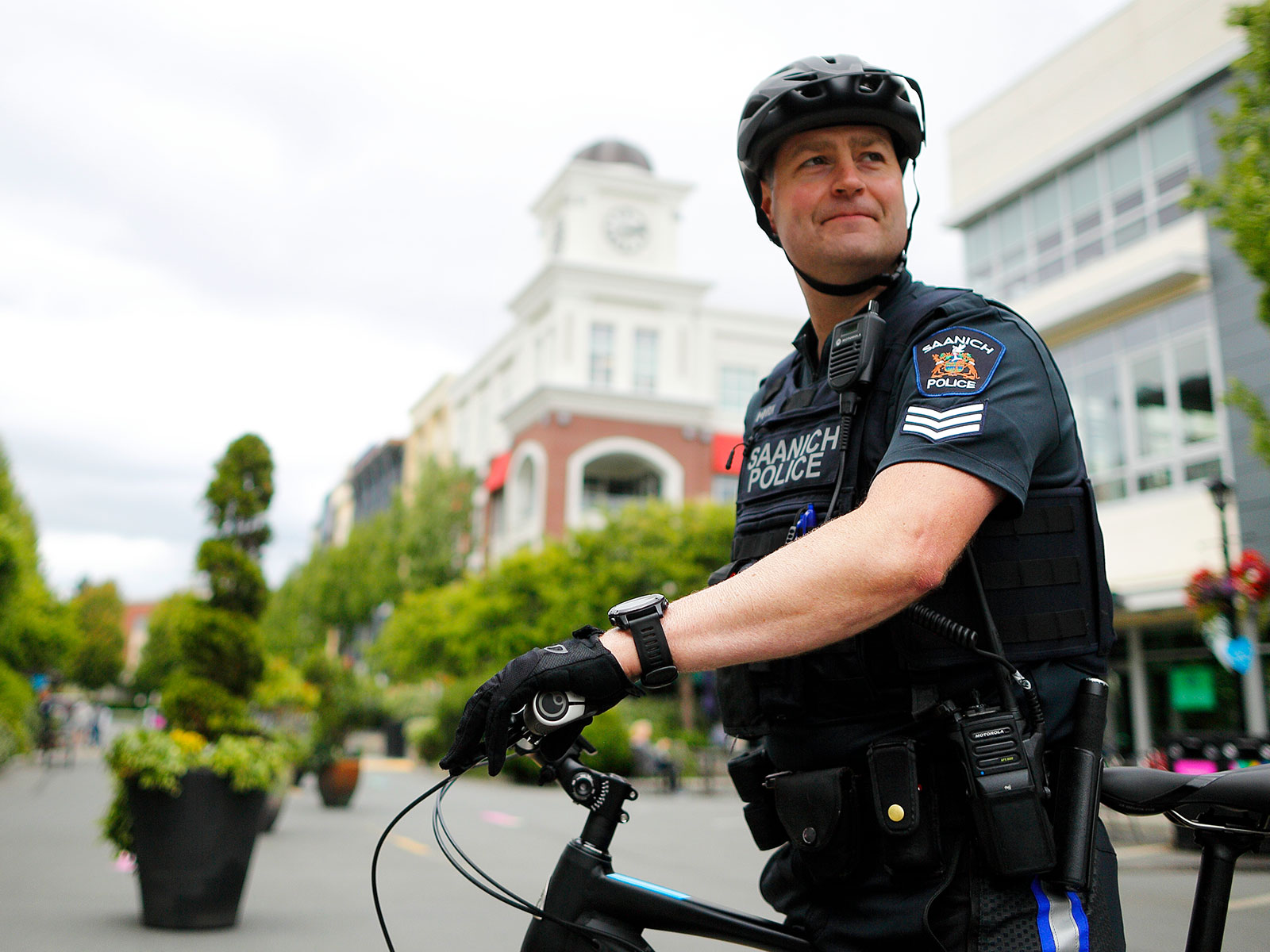 Eligibility Requirements
Any employer with its head office or principal place of business in British Columbia may apply for this competition. Employers of any size may apply, whether private or public sector.
2023 Competition
Our 2023 winners will be announced in a magazine co-published with The Vancouver Sun early in 2023. Employers interested in applying to our 2023 competition should join our mailing list to receive more information.
Top employers go all out to retain top B.C. talent
Hiring in B.C. has become a battle to attract the best, while many head outward in search of cheaper living
For years now, Canada's West Coast has presented affordability challenges to employers and employees alike. But in the past year, that regional reality collided with the sustained pandemic to create some unforeseen outcomes. It turns out that ongoing global shifts in employment strategies may be benefiting B.C.'s workers as much as its biggest employers -- a trend that can be seen in policies at the most popular and successful companies in the province.
Each year, the Canada's Top Employers competition releases its picks for the best employers in many regions of the country, analyzing a wide range of factors to help applicants figure out which companies offer the best work environments. Now, 2022's B.C. ranking has arrived to highlight those employers that have continued to offer creative, competitive compensation and benefits packages even while dealing with a host of local and global difficulties.
The winners are chosen based on multiple criteria, including compensation and benefits, the work and social atmosphere, the quality of the physical workplace, training and upward mobility and community involvement -- all of which were pushed forward by a healthy level of competition between public- and private-sector employers.
"I think the past year has continued to present very difficult challenges for virtually all employers," said Richard Yerema, managing editor for the BC's Top Employers competition. "We are now entering year three of this 'new normal,' compounding the difficulty of challenges like navigating new safety protocols and transitioning to remote or hybrid work."
Cost of living has a big impact on hiring
B.C. employers have felt the difficulty of recruiting workers who often struggle to afford the cost of living near the biggest business centres, and the response has been diverse. While salaries are an obvious concern, B.C. employers have had to turn to alternative benefits, as well.
Dan VanderSluis, associate vice president of human resources at Vancouver Island University, says that rising costs have removed a historical advantage VIU leveraged in the past in recruiting employees and students, creating new recruitment challenges on both fronts. In response, he says that VIU has taken a number of steps including a new emphasis on the lifestyle and other non-monetary advantages of working at VIU.
"Perhaps it's a reflection of a more active culture living in a beautiful province," says Yerema, "but B.C. employers have always been leaders in terms of alternative working arrangements and progressive time off policies." Leading a national trend, Yerema says that over 12 per cent of the top employers in B.C. offer four weeks of paid vacation, to start.
Just as powerful, though, has been the impact of hybrid work, making it easier for employees to work remotely and avoid the cost of living in the densest urban centers.
When the going gets tough, the tough get creative
In a tough job market, employees can often suffer from depressed wages -- but as the last year played out, the market saw several examples of how hard economic conditions can instead lead to increased competition among employers. Some fast-food restaurants, for instance, have been forced to raise even low-end salaries in order to compete.
This trend is even more evident in higher-paying and more knowledge-based industries like software development, where companies have to get creative to entice the province's top talent. These sorts of companies have leaned into the remote work paradigm, benefiting from the fact that most of their employees can easily transition their work to the home.
As power shifts somewhat to the candidate in more hiring interactions, employers have had to get creative to retain top talent. Attractive benefits packages can often seem to carry more value than they actually cost to deliver, while less standard offerings like increased flexibility in time-off can entice new workers for zero money down.
That's how Parm Hari, vice president of people, process and performance at the Vancouver Fraser Port Authority, has seen the situation develop. "With much of the organisation working remotely, we have amplified our internal communications initiatives, including increased executive-level communications to employees, with the objective of keeping everyone hyper-informed and building connection," she says.
What makes the best the best?
It is becoming impossible for employers to ignore that building and maintaining strong teams in B.C. comes down to being the best place to work.
The best employers derive their decisions about policies and the work environment from an understanding of what their employees want. Not all types of workers require the same things; younger workers might value pure compensation, for instance, while older workers with children might prioritize extra flex time.
Put simply, there is no one set of benefits that modern workers want; what they want is a company that listens to their feedback and takes whatever steps are necessary to let work integrate easily with the rest of life.
"Necessity often leads to innovation," Yerema says. "That includes everything from introducing greater work flexibility and new work from home policies, to enhancing support for physical and mental health, to emphasizing more open communication with senior leadership."
In the end, Canada's fortunes are B.C.'s fortunes
Katie Stevens, managing partner at Talk Shop Media, says that the company has had to be mindful of staying ahead of the curve in terms of being a progressive and flexible workplace. According to Stevens, they've made services like online counselling available employees as a benefit, along with the addition of two mental health days for all workers, in addition to existing paid time off. "This is an opportunity to totally shut off, close your laptop, and not be responsible to any clients for that day. That was really important to empower the team during this time, to take that break in addition to regular holidays," Stevens says.
There wasn't a single formula for success in the B.C. business world this year, but an emphasis on employee experience was a component of every strategy that found meaningful success. By making an effort to offer unique and above all well-targeted benefits for employees, employers were able to stand out from the crowd and retain the best talent on the market.
In a world where compensation alone varies less than ever across employers, it's these less monetary differentiators that will determine where the best talent goes, and where it stays for more than just a while.
– Graham Templeton

From the official magazine announcing BC's Top Employers (2022), co-published with The Vancouver Sun on February 8, 2022. All rights reserved.
2022 Winners
Here are the 2022 winners of the British Columbia's Top Employers competition. Click an employer name to read our editors' full Reasons for Selection: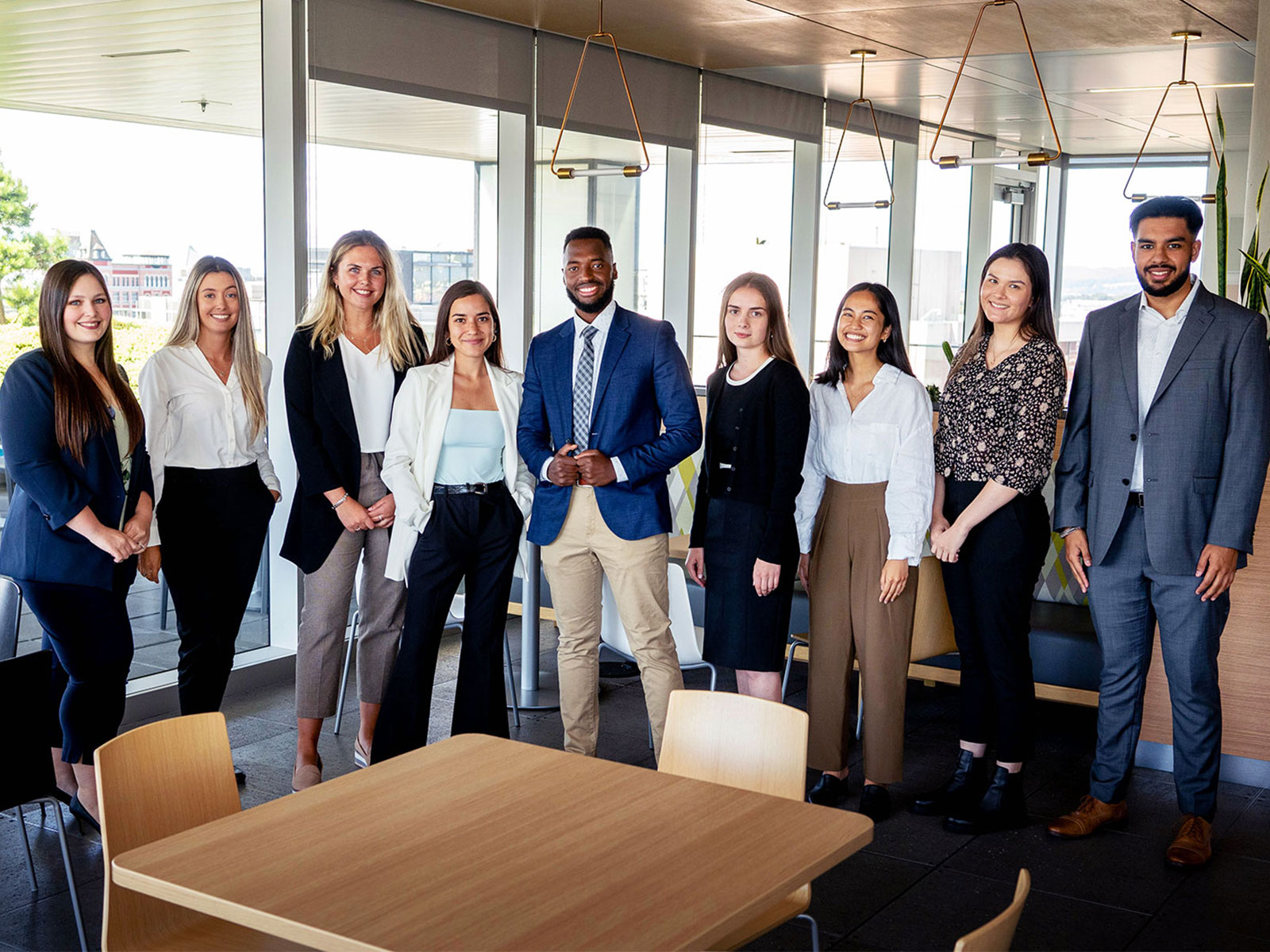 B.C.'s Top Employers are in a "war for talent"
The high B.C. cost of living has driven recruiters to work harder than ever to acquire top talent
In the battle for talent, B.C. presents unique challenges for some of Canada's largest employers, as they are forced to hire out of some of the country's least affordable municipalities. As a result, the province's employers have been driven to work hard — and to above all listen — to keep their roles filled with top quality employees.
Over the past year, that quest seems to have pushed B.C. employers to adapt more powerfully than ever, adopting a wide array of strategies to entice top talent -- including looking outside of the province, itself.
This year's BC's Top Employers competition shows that in the struggle for employees, the most successful companies found ways to maintain efficiency while transitioning to a remote or hybrid work model. Among the province's top employers, there is a trend toward not just better compensation, but a better work-life balance overall.
B.C.'s workers are taking any solution they can get
Kristina Leung, senior editor for the BC's Top Employers competition says that B.C. is "an increasingly diverse industry base, and so the impacts of COVID-19 have been as varied as the industries themselves. From software firms to forestry companies, the impacts and responses reflect the nature of their businesses."
Companies seem to be looking for ways to differentiate themselves to workers who often consider applying for jobs outside the region.
Lak Chahal, president and CEO at Vancouver's Binary Stream Software, says that his company has had to scramble to figure out the most enticing benefits for top B.C. programmers. "There's a war for talent, and we are hiring," he says. "Offering competitive pay, benefits, flexible work and opportunities for growth and development are all part of our package. [In Greater Vancouver], it's a global marketplace, and we are on a global growth journey."
Affordability is the biggest issue for B.C. workers
The cost of living, and in particular housing, seems to powerfully affect B.C.'s workers, and through them the labour market in general. Chahal says that his company has "seen more people wanting to move out to the suburbs, and sometimes even further out, for housing affordability."
Siobhan O'Beirne, human resources business partner at Aquatic Informatics in Vancouver, says that remote work has allowed some employees to buy homes further from the city's high prices. She says they've had employees move to Squamish, for instance. "We've found that they enjoy not just affordability, but also that they're after that more small-town atmosphere," O'Beirne says.
Creative benefits are the answer
It's clear that employers that can offer hybrid or remote-work lifestyles can help to push back on the impact of a high cost of living — but what about when fully remote workers aren't an option?
Arrow Transportation Systems has implemented an extensive suite of benefits aimed at helping employees plan financially, and to achieve their goals as they progress through the company. This support starts with contributions made to employees' retirement funds but extends to educational and tuition funding for professional development.
It turns out that, facing real difficulties that can be eased with meaningful support from an employer, B.C. workers show loyalty to companies that show loyalty to them. That means that even as workers move physically away from Vancouver and other densely populated work hubs, they stay on as a company's best, most experienced employees.
In the past year, what helped employers retain talent in B.C. was the same thing that helped companies retain talent everywhere: a respect for the fact that the most talented applicants and workers are the most likely to leave for greener pastures. Across the country, the only solution has been to grow the company's emphasis on worker happiness — and B.C. is no exception.
– Graham Templeton

From the official magazine announcing BC's Top Employers (2022), co-published with The Vancouver Sun on February 8, 2022. All rights reserved.
Find jobs from British Columbia's Top Employers