About the Competition
Background
Now in its 16th year, BC's Top Employers is an annual competition organized by the editors of Canada's Top 100 Employers.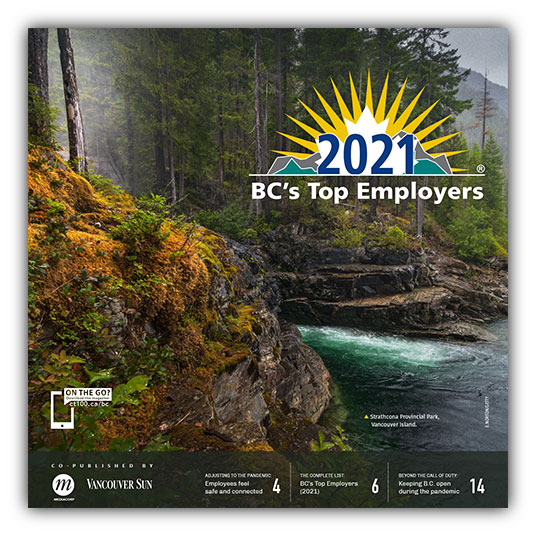 This special designation recognizes the British Columbia employers that lead their industries in offering exceptional places to work. This year's winners were announced in a special magazine published February 16, 2021, and featured in the Vancouver Sun. Read the press release issued the same day for more background on this year's competition.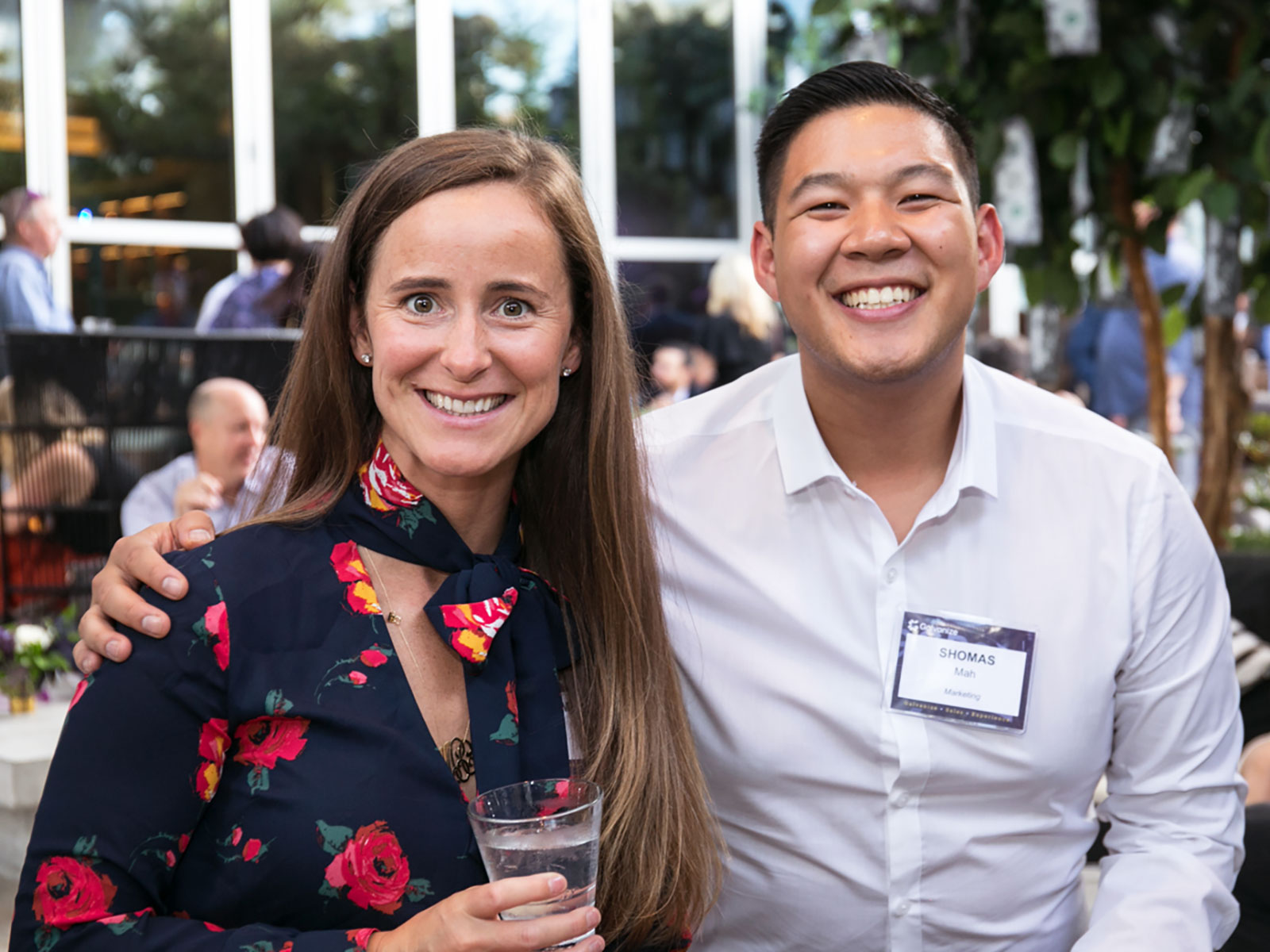 Selection Process
Employers are evaluated by the editors of Canada's Top 100 Employers using the same eight criteria as the national competition: (1) Physical Workplace; (2) Work Atmosphere & Social; (3) Health, Financial & Family Benefits; (4) Vacation & Time Off; (5) Employee Communications; (6) Performance Management; (7) Training & Skills Development; and (8) Community Involvement. Employers are compared to other organizations in their field to determine which offers the most progressive and forward-thinking programs.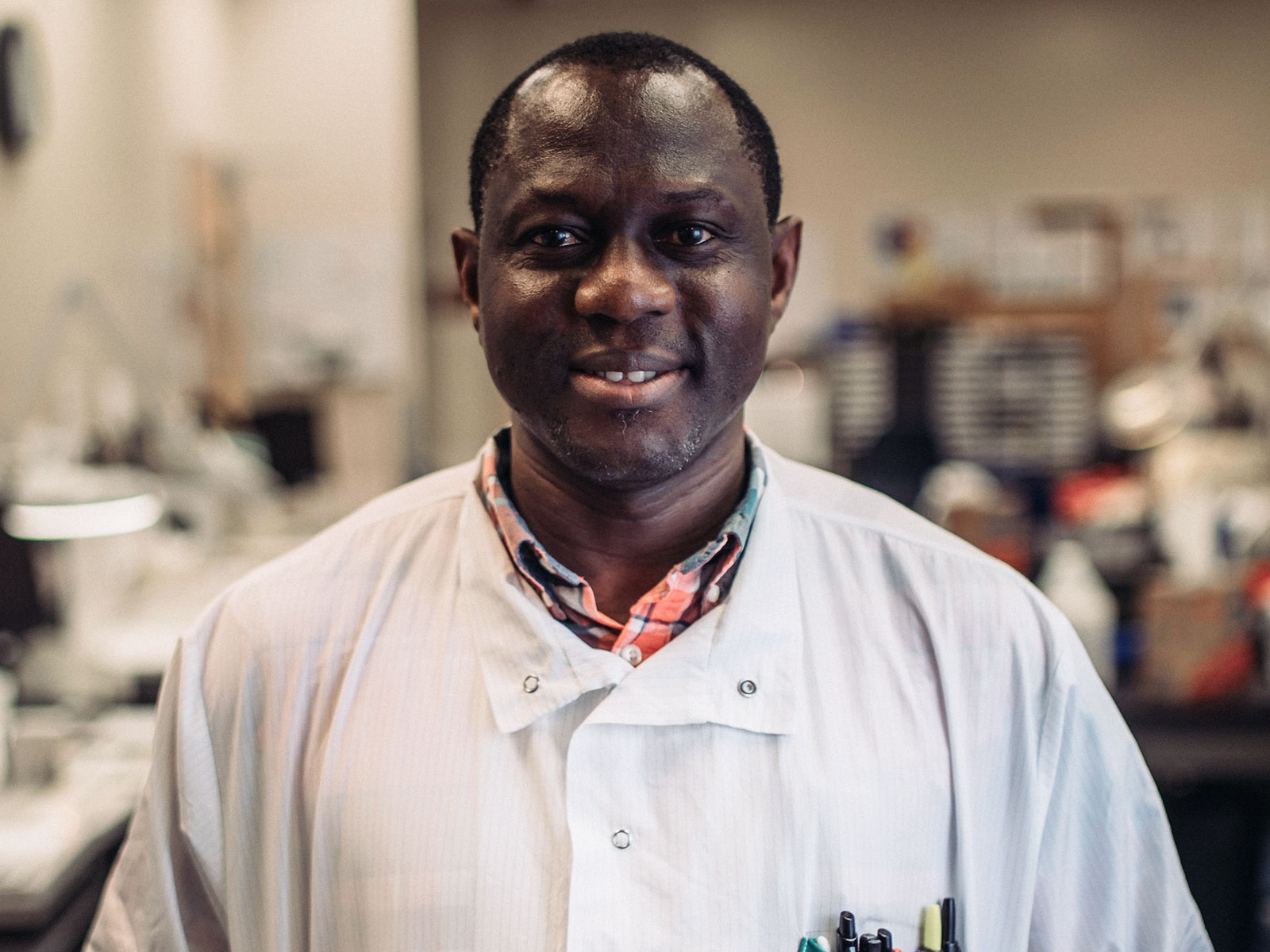 Media Partner
Our media partner on the BC's Top Employers project is the largest newspaper in British Columbia, The Vancouver Sun. Each year, The Vancouver Sun announces the winners in a special online feature, which includes our editors' reasons for selecting each employer.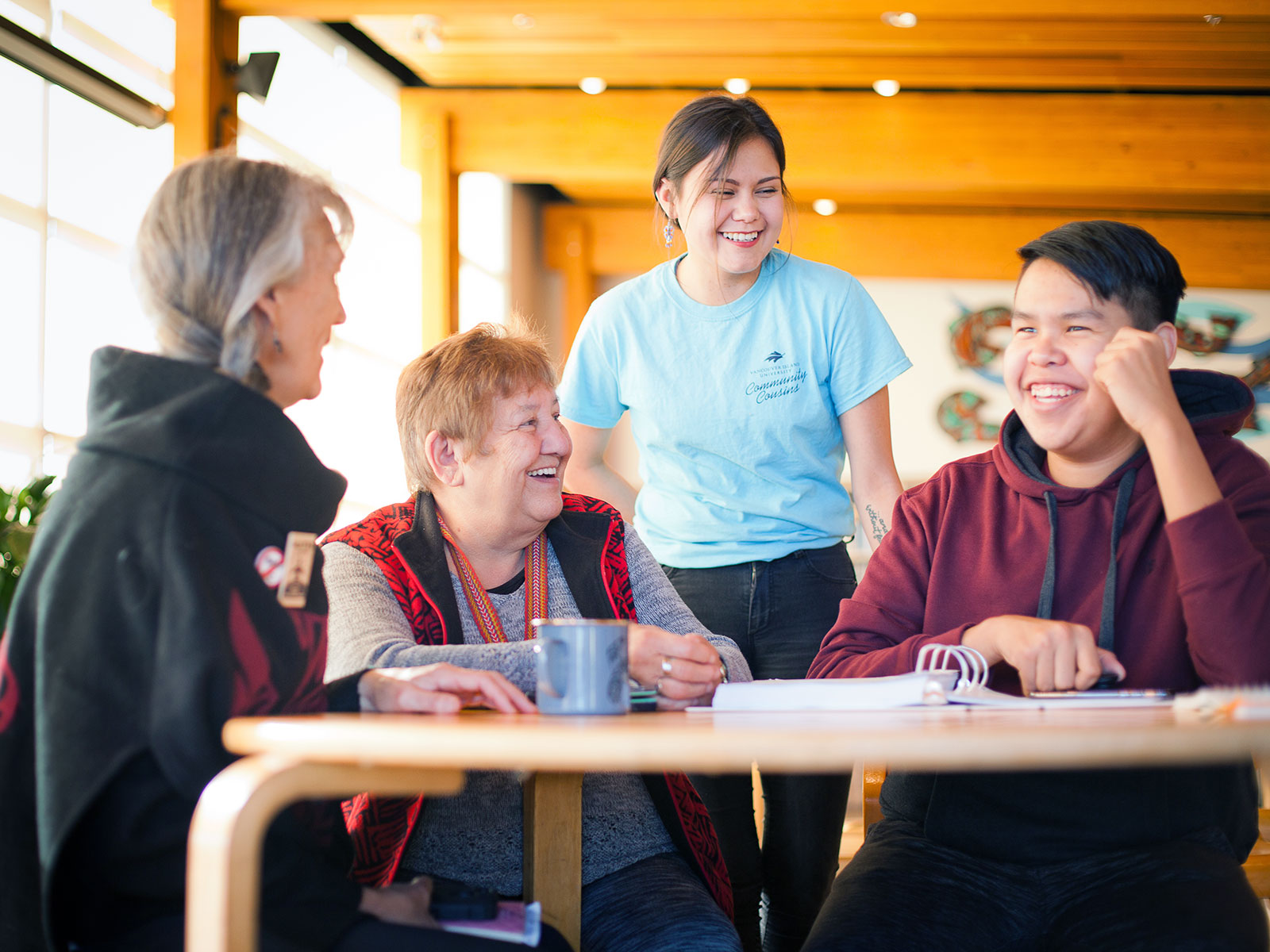 Eligibility Requirements
Any employer with its head office or principal place of business in British Columbia may apply for this competition. Employers of any size may apply, whether private or public sector.
2022 Competition
Our 2022 winners will be announced in a special supplement to be published by The Vancouver Sun early in 2022. Employers interested in applying to our 2022 competition should join our mailing list to receive more information.
Top employers adjust to keep their workers safe and connected
Workplace safety is always top of mind for British Columbia's best employers. But the pandemic has put it in the spotlight like never before.
In this respect, the organizations on this year's list of BC's Top Employers have shone brightly, says Richard Yerema, managing editor at Mediacorp Canada Inc., the organization that orchestrates the annual B.C. competition, as well as Canada's Top 100 Employers. The competitions assess applications from participating businesses on eight criteria before choosing the winners.
"There certainly have been unique challenges from the pandemic," Yerema says. "For one, a lot of people are working from home."
That brings a host of challenges for leading employers, including preserving workplace cultures while at the same time ensuring employees are alright — both physically and emotionally.
B.C.'s top workplaces have emphasized transparency and strong communication while continually looking at how "they can improve as employers," Yerema notes.
Wesgroup Equipment, which operates full-service heavy equipment dealerships across the province, has focused on creating a safe, caring workplace. But it became more important than ever during the pandemic, says Dustan Sept, marketing manager for Wesgroup.
Staff worked remotely from home when possible, says Sept, although some workers had to be on site. The company put in place enhanced measures to protect them.
"This meant going so far as to closing our doors to the public early on, and adapting through enhanced cleaning protocols, providing PPE (personal protective equipment), installing barriers and other initiatives as we moved forward."
Another employer on this year's list of BC's top 100 employers, Douglas College, faced the enormous challenge of providing education for about 25,000 students during the pandemic.
"The majority of services and classes have been delivered remotely," says Marie Gonzales, human resources manager at Douglas College.
A post-secondary educator renowned for its hands-on learning, the college took steps to ensure it could safely offer some education in person during the fall and winter semesters. That meant making sure students, faculty and staff all felt safe. Its Pandemic Response Team helped make that happen, as did the Phased Return to Campus Committee.
These advisory groups developed and put in place measures for signage, physical distancing, occupancy limits on classrooms and masks "to support safe levels of in-person teaching, learning, research and administrative and support services," Gonzales says.
While reducing the risk of employees contracting COVID-19 while at work was paramount, ensuring their well-being overall became more important as the pandemic dragged on for months.
At Perkins & Will, one of Canada's leading architectural and design firms, setting its people up to work remotely from home was the easy and obvious step. The challenge has been ensuring its carefully curated culture didn't start to fray as teams worked virtually as opposed to collaborating in-person, says Lynn McIlwee, talent manager at Perkins & Will, Vancouver.
Before the pandemic, "designers would often work together in-person, sketching ideas or problem-solving on a whiteboard," she says.
Technology helped bring those teams together during the pandemic using tools such as videoconferencing and virtual whiteboards. The shift didn't just help its teams get on with their work, it also fostered a sense of togetherness, as staff embraced virtual gatherings such as trivia days and a Q&A called Between Two Screens, riffing off the popular talk show Between Two Ferns, hosted by comedian Zach Galifianakis.
"Keeping 120 people engaged and connected isn't an easy feat," McIlwee adds.
When possible, in-person get-togethers - like rooftop movie nights at the office during the summer - were very well-received.
Similarly, Arrow Transport Systems had to find new ways to bring staff together. The family-owned business typically organizes annual camping trips, fishing derbies and barbecues - all of which became challenging to hold during the pandemic.
"Our primary objective was to keep our people safe," says Mitchell Zulinick, chief operating officer at Arrow Transport Systems. "As many of our people put it, we have a 'high care factor' here, and that guides us."
Caring has meant not just ensuring fun events continued, albeit virtually. It also meant expanding benefits programs for mental health, recognizing workers are juggling many priorities, from work to home schooling to caring for a sick loved one.
At Douglas College, contract employees were offered access to its employee and family assistance program in recognition of the additional mental health needs of faculty and staff.
Meanwhile, Wesgroup regularly surveyed employees, encouraging them to provide feedback about how the workplace could improve. At the same time, management explained to workers what new pandemic-response measures - benefits included - had been put in place. As Sept notes, doing right by its workers has not just been about keeping them safe.
It's a source of pride.
"We are proud to have ensured the safety of our team…while still operating our business and keeping our customers up and running," he says.
Indeed, all of this year's top employers likely echo that same sentiment.
– Joel Schlesinger

From the official magazine announcing BC's Top Employers (2021), published on February 16, 2021, and featured in the Vancouver Sun.
2021 Winners
Here are the 2021 winners of the British Columbia's Top Employers competition. Click an employer name to read our editors' full Reasons for Selection: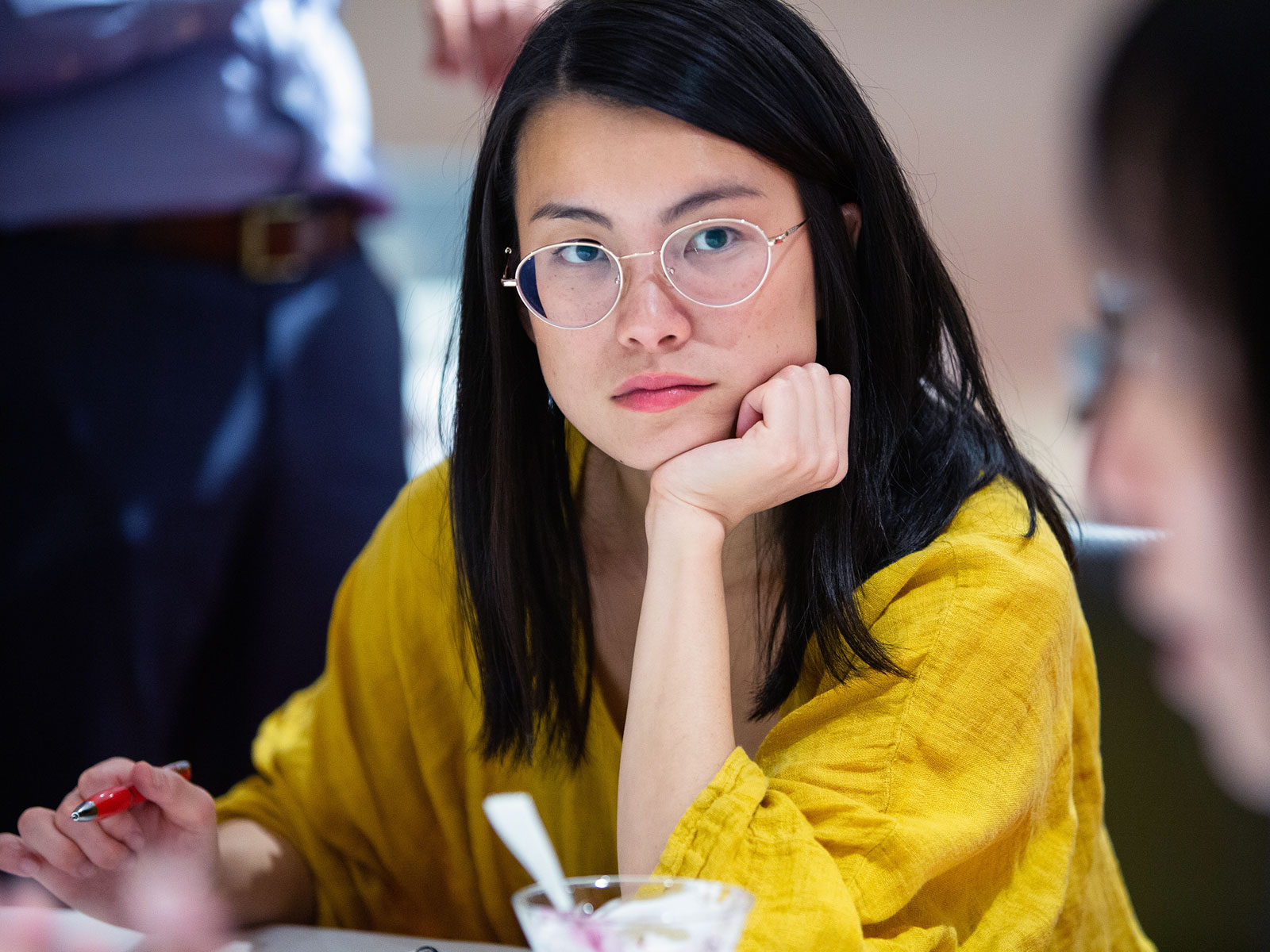 Dedicated workers do their part to keep B.C. on track
It's not just a paycheque. For the thousands of employees at BC Hydro, millions of British Columbians depend on what they do every day - provide safe, reliable, environmentally friendly power.
No matter what.
"We operate in every corner of the province and provide a vital service to 95 per cent of British Columbians," says Carolynn Ryan, BC Hydro's chief human resources officer. "As an essential service... we recognized the importance of taking steps very early on in the COVID-19 pandemic to ensure we could continue to provide reliable power to our customers."
Now, more than ever, there is a sense of pride in their work, she adds. The feeling is similar for many employees listed among BC's Top Employers this year. Despite the pandemic making work more challenging, dedicated employees are making sure British Columbians continue to receive critical services.
Few employers have played a more critical role than WorkSafeBC. Like BC Hydro, WorkSafeBC is one of BC's Top Employers for 2021, according to Mediacorp Canada Inc., which holds annual competitions to judge the best of the best.
"WorkSafeBC is a leader in occupational health and safety, proudly serving 2.5 million workers and 249,000 employers in B.C.," says Rabbia Saghir, talent acquisition adviser with WorkSafeBC.
During the pandemic, the government agency has provided COVID-19-related health-and-safety guidelines to every sector in the province, she adds.
It's been a massive undertaking that called for WorkSafeBC employees to not only adjust to changes at their own workplace, but to help every other business adjust to the new normal, too.
As Saghir notes, WorkSafeBC workers stepped up.
"Our success as an organization is a collective success, involving the efforts of every employee."
Other employers, such as Arrow Transportation Systems, also relied on the dedicated efforts of their staff to keep B.C.'s economy moving.
"Pretty much every business we operate is considered an essential service, so we simply did not have the option to stay at home and work," says Mitchell Zulinick, chief operating office at Arrow Transportation Systems.
The logistics company worked closely with WorkSafeBC - as did other leading workplaces that recognize their strongest, most resilient resource is their human resource.
The strength and dedication of its people can't be emphasized enough, according to BC Hydro's leadership, Ryan says.
"We are incredibly grateful for the effort made by everyone across our organizations... so we can ensure we can continue to deliver safe, reliable power to our customers."
– Joel Schlesinger

From the official magazine announcing BC's Top Employers (2021), published on February 16, 2021, and featured in the Vancouver Sun.
Find jobs from British Columbia's Top Employers