About the Competition
Background
Now in its 13th year, BC's Top Employers is an annual competition organized by the editors of Canada's Top 100 Employers.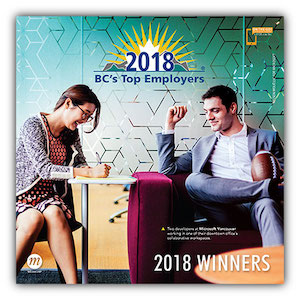 This special designation recognizes the British Columbia employers that lead their industries in offering exceptional places to work. This year's winners were announced in a special magazine published February 22, 2018 in the Vancouver Sun. Read the press release issued the same day for more background on this year's competition.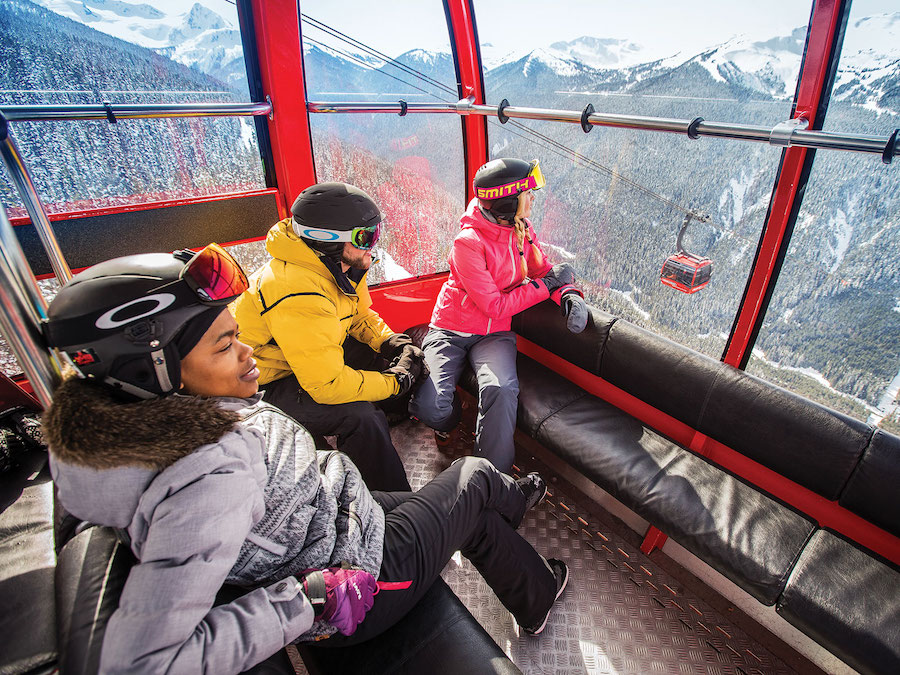 Selection Process
Employers are evaluated by the editors of Canada's Top 100 Employers using the same eight criteria as the national competition: (1) Physical Workplace; (2) Work Atmosphere & Social; (3) Health, Financial & Family Benefits; (4) Vacation & Time Off; (5) Employee Communications; (6) Performance Management; (7) Training & Skills Development; and (8) Community Involvement. Employers are compared to other organizations in their field to determine which offers the most progressive and forward-thinking programs.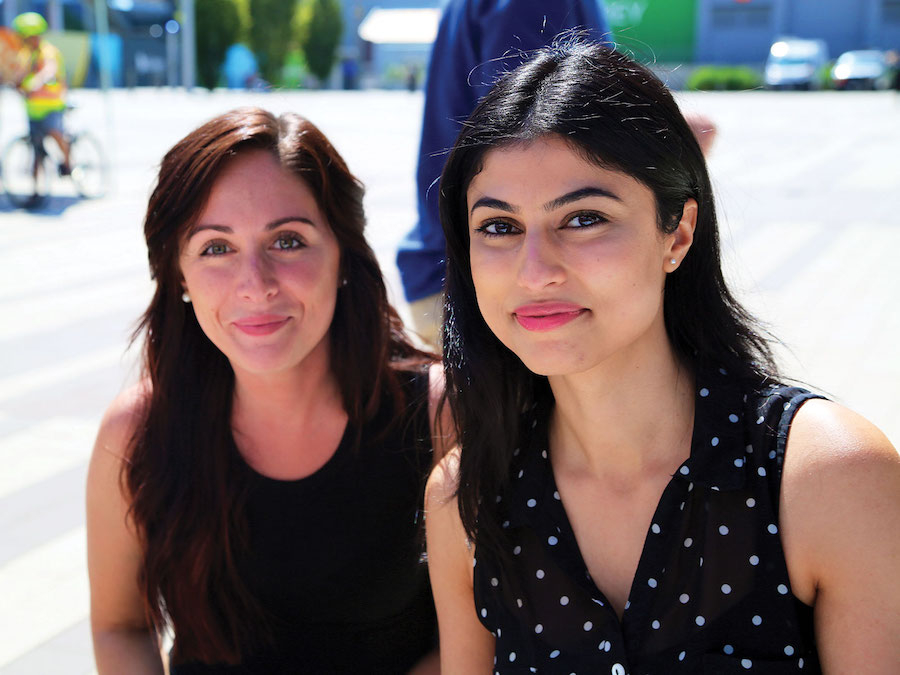 Media Partner
Our media partner on the BC's Top Employers project is the largest newspaper in British Columbia, The Vancouver Sun. Each year, The Vancouver Sun announces the winners in special magazine supplement, which includes our editors' reasons for selecting each employer.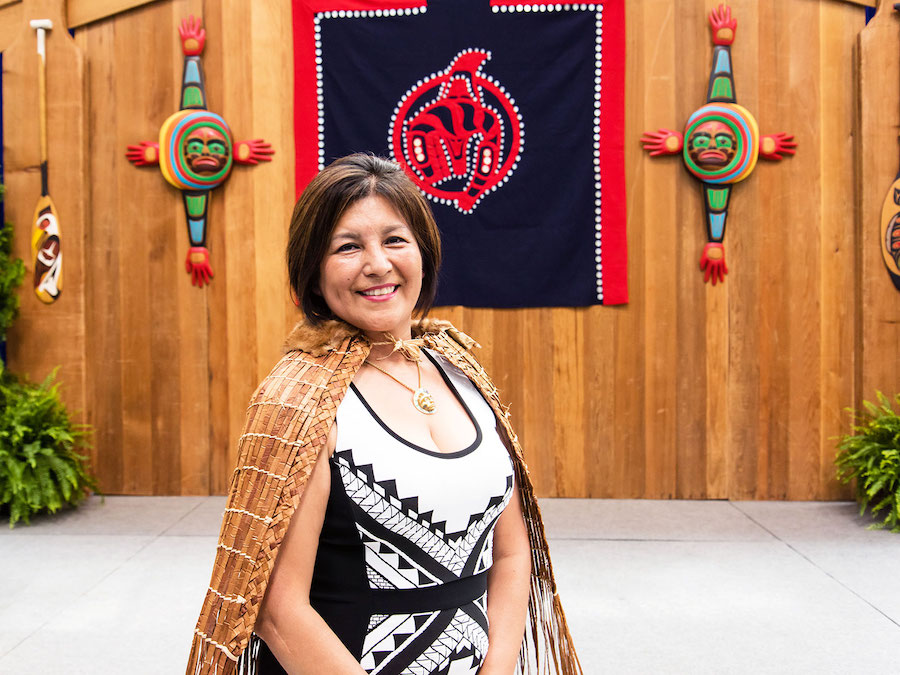 Eligibility Requirements
Any employer with its head office or principal place of business in British Columbia may apply for this competition. Employers of any size may apply, whether private or public sector.
2019 Competition
Our 2019 winners will be announced in a special supplement to be published by The Vancouver Sun early in 2019. Employers interested in applying to our 2019 competition should join our mailing list to receive more information.
Editorial Conference
To learn more about the competition, we invite you to join us at the Top Employer Summit, our annual editorial conference on the Canada's Top 100 Employers project. This event lets you discover the latest best practices from winners, meet competition organizers and editors, and hear inspiring stories from world-class speakers – all presented in a commercial-free format. The conference is Canada's largest annual event for senior-level HR professionals. Held annually, the conference is hosted in Vancouver every other year.
Introduction
A Top Employer must excel at many things, from progressive human resources programs to professional development of their employees to committed community involvement -- all while continuing to drive their business forward to success.
Perhaps because of the province's beautiful natural environment, many of BC's Top Employers for 2018 are also impressively green and sustainable in their practices. For example, Grouse Mountain in North Vancouver features its own wildlife refuge with interactive programming. Nature's Path Inc., a B.C.-based manufacturer of organic foods, maintains an employee-managed onsite organic garden where staff can unwind with a little therapeutic gardening during their day.
Mountain Equipment Co-op, a specialized retailer of outdoor gear, stands out particularly for making environmental issues a priority. From its LEED-Platinum standard head office in Vancouver to annual targets to divert waste, reduce water use and lower carbon emissions, MEC embodies a green culture.
"It's not just the right way to do business, it's the only way," says Valerie Presolly, Director, Sustainable Business Innovation at MEC. "As an outdoor retailer, we're so connected to and dependent on a healthy environment. It's been a big part of our co-op values from the beginning and our members hold us accountable to that."
Presolly says MEC's green focus means applying a more holistic lens to business decisions and how they might affect different things that are interconnected. She believes that helps people work smarter, assuring business continuity and access to resources in the long term.
Being serious about sustainability includes taking a close look at what goes into the garbage -- literally. Twice a year, teams at MEC stores don coveralls and jump in their dumpsters to do a waste audit and find ways to improve.
"Being smart about packaging, shipping and what goes in our garbage is all part of keeping waste out of the landfill," says Presolly, who's actually done it and insists it's not as gross as it sounds.
"It's a lot of fun and very insightful," she says. "Usually there's only one person who jumps into the dumpster to get the waste out. The rest of the group -- in hazmat suits with gloves on -- dissects the stuff to see what could be diverted elsewhere.
"The reason we do this is to understand where we have problems with our recycling and to highlight those things," Presolly says. "We do draw action plans around what we find in the garbage, such as paper towels that should be composted instead. Staff always want to know what we find. If you throw something out and it has your name on it, that's really embarrassing."
The Vancouver office of Perkins+Will Canada, a recognized green architecture firm, is one that walks the walk -- with transit subsidies, secure bike storage and shower facilities to encourage self-propelled transportation. An amazing 95 per cent of employees ride, walk, take transit or carpool to work. Managing Director Susan Gushe says that's just who they are.
"Our brand is very well-known and strong about green design and sustainable building," Gushe says. "When you have a really strong brand about doing the right thing in terms of the environment, you tend to attract staff who come with their heart on their sleeve. The people who come to work for us all share the mission that the firm shares, which is, how can we do less harm and do more good."
Gushe says that a lot of staff use car share instead of owning cars, plus the office is located downtown, only two blocks away from a transit station, so it's ideal for people to use public transit to get to work. She advises that any employer who wants to promote getting employees out of cars needs to be on a major transit route. It's also key that employers provide proper amenities to encourage walking, running and biking to work.
"If you want people to ride their bikes, they can't just park them outside," says Gushe. "Before we had our bike storage room, we had lots of theft off the street. We also have showers and change rooms and lockers for employees so they can come in the Vancouver weather -- which is wet and rainy -- hang up their rain gear, have a shower and get into work clothes. It's the combination of change, storage, showers that make it possible. A company has to make the commitment to support this to make it happen."
In terms of policy, Gushe maintains the firm has never paid for parking for anyone, not even the top leaders of the firm, including the CEO.
"I always talk about us as a boat," she says. "We're all in the boat and we all row in the same direction."
– Diane Jermyn

From the official magazine announcing BC's Top Employers (2018), published February 22, 2018 in The Vancouver Sun.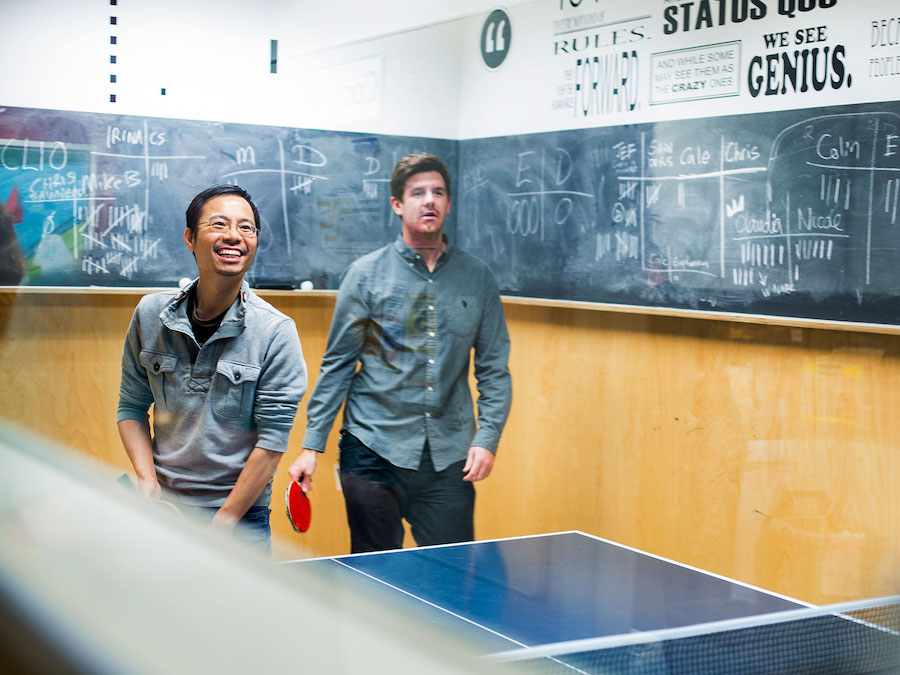 2018 Winners
Here are the 2018 winners of the British Columbia's Top Employers competition. Click an employer name to read our editors' full Reasons for Selection:
Find jobs from British Columbia's Top Employers