About the Competition
Background
First published in 2006, Alberta's Top Employers is an annual competition organized by the editors of Canada's Top 100 Employers.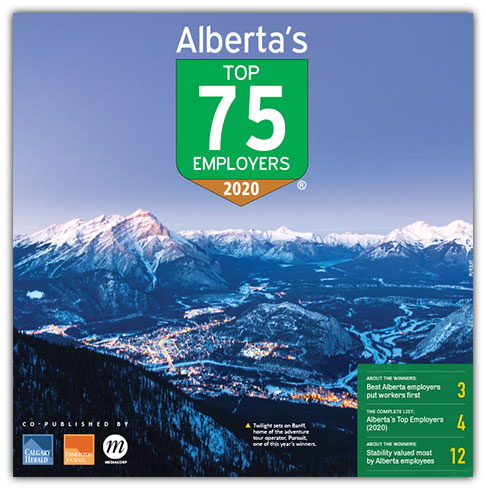 This special designation recognizes the Alberta employers that lead their industries in offering exceptional places to work. This year's winners were announced in a special magazine published February 20, 2020 in the Calgary Herald and Edmonton Journal and in an extended online feature. Read the press release issued the same day for more background on this year's competition.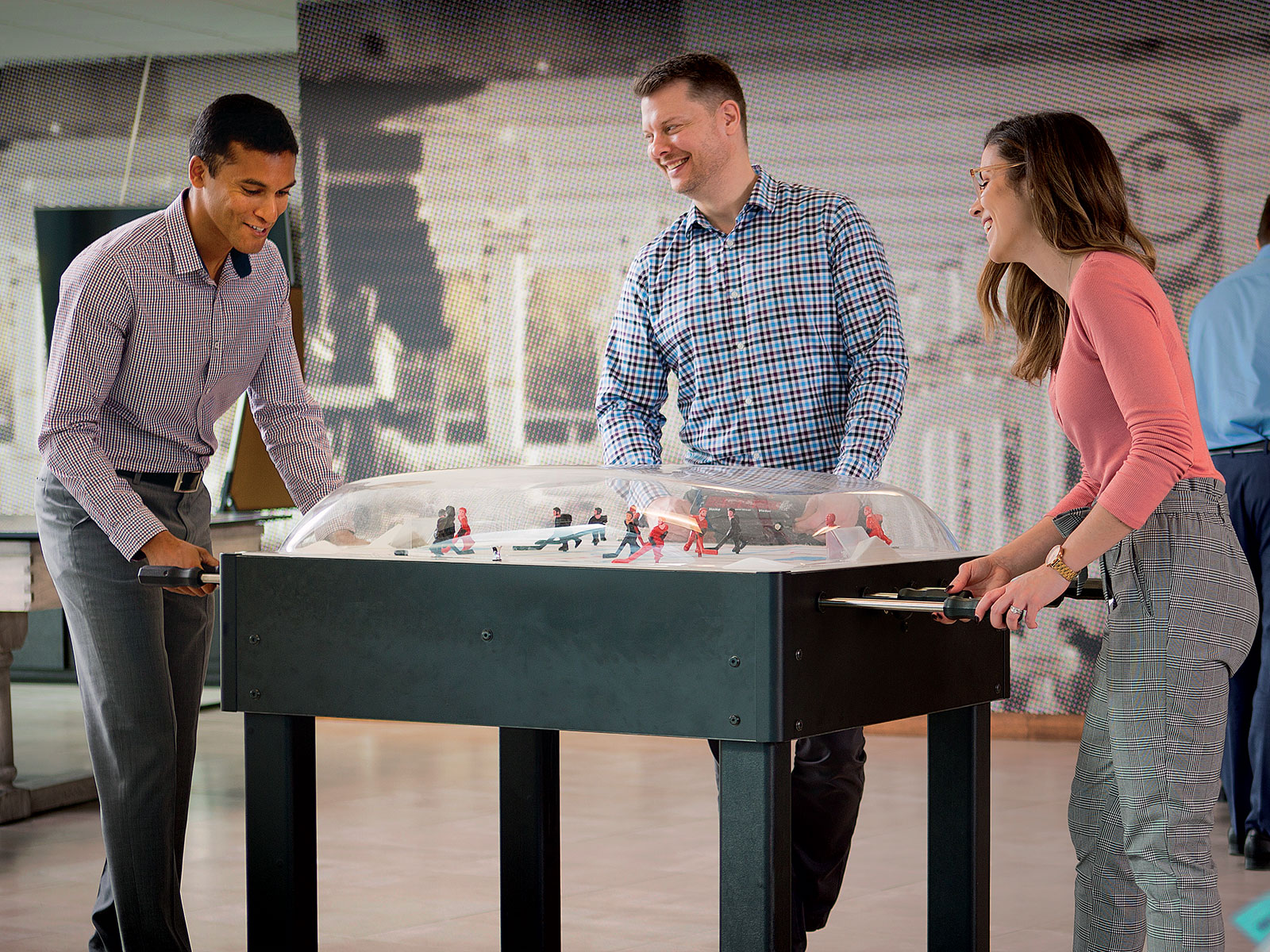 Selection Process
Employers are evaluated by the editors of Canada's Top 100 Employers using the same eight criteria as the national competition: (1) Physical Workplace; (2) Work Atmosphere & Social; (3) Health, Financial & Family Benefits; (4) Vacation & Time Off; (5) Employee Communications; (6) Performance Management; (7) Training & Skills Development; and (8) Community Involvement. Employers are compared to other organizations in their field to determine which offers the most progressive and forward-thinking programs.
Media Partners
Our media partners on the Alberta's Top Employers project are the two largest newspapers in Alberta: the Calgary Herald and Edmonton Journal. Each year, the winners of the competition are announced in a special magazine published in both newspapers.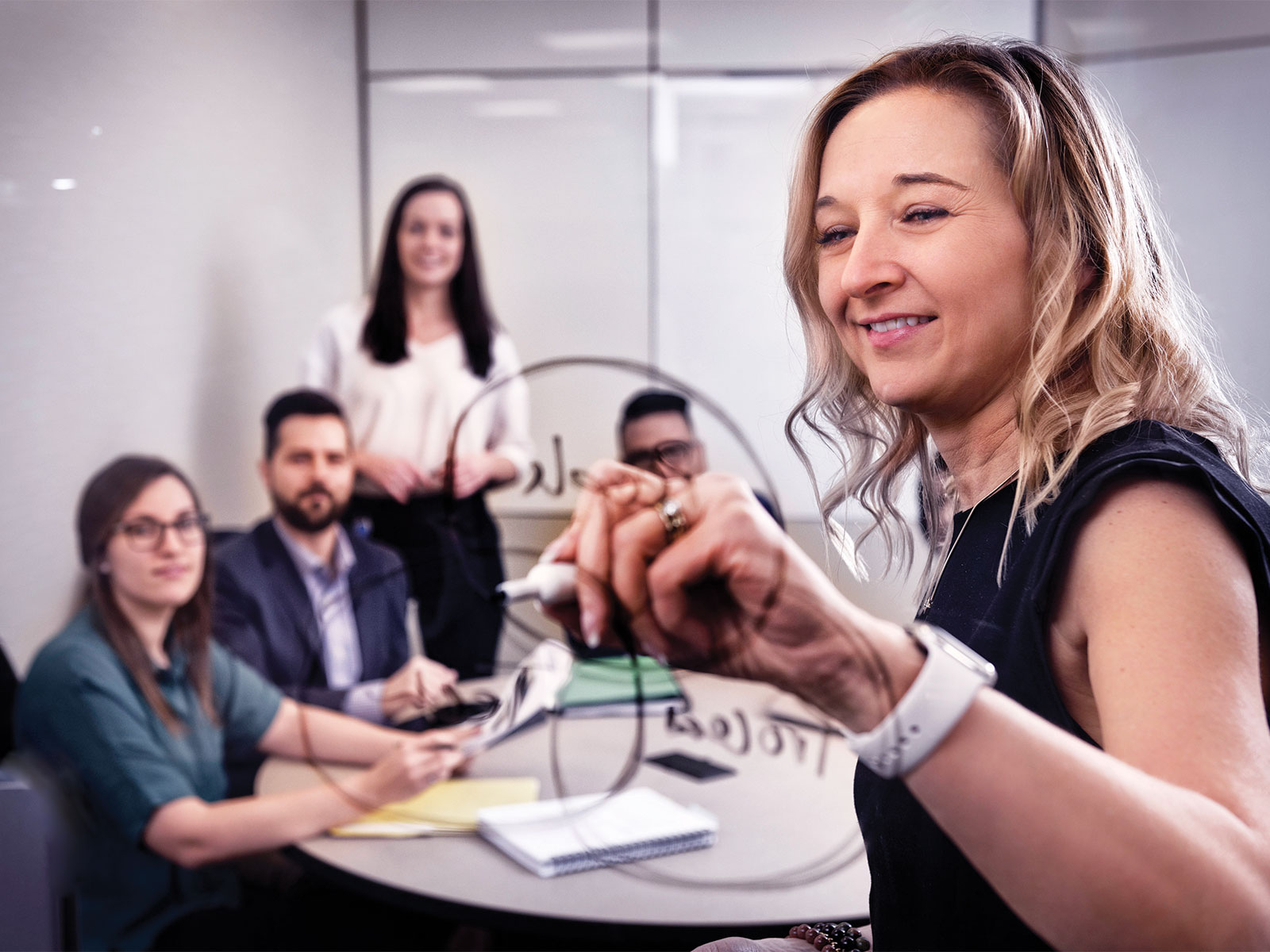 Eligibility Requirements
Any employer with its head office or principal place of business in Alberta may apply for this competition. Employers of any size may apply, whether private or public sector.
2021 Competition
Applications for our 2021 competition will be available early in 2020. Our 2021 winners will be announced in a special magazine in the Calgary Herald and Edmonton Journal early in 2021.
Editorial Conference
To learn more about the competition, we invite you to join us at the Top Employer Summit, our annual editorial conference on the Canada's Top 100 Employers project. This event lets you discover the latest best practices from winners, meet competition organizers and editors, and hear inspiring stories from world-class speakers – all presented in a commercial-free format. The conference is Canada's largest annual event for senior-level HR professionals.
Leading employers put their workers first
Alberta's Top Employers of 2020 are focused on their employees. They understand that when the going gets tough -- as it has in Alberta after several years of economic struggles -- the top employers get going.
And increasingly they are finding that reiterating or refining their own unique vision, values and standards brings some much needed support and stability to those working for them in a time of uncertainty.
It also provides a strong inducement for Albertans starting on a career path, or looking to change direction, to find an employer that displays a strong commitment to staff.
First published in 2006, Alberta's Top Employers is an annual competition organized by the editors of Canada's Top 100 Employers.
This special designation of being included in the top employers for 2020 recognizes those employers in the province that lead their industries in offering exceptional places to work.
Richard Yerema, managing editor of the Canada's Top 100 Employers project, says there is an optimistic message arising from the employers who asked to be judged for this year's competition.
"The positive story is that we are hearing from organizations that do want to throw their hat in the ring and be recognized, that they give a darn about their people, that is the underlying story," says Yerema.
"So often it is not about spending all your money on extravagant benefits. It is so often about doing the right things, whether it is simply workplace design or flexibility of health plans or introducing programs that make it a little easier for people to balance work and personal lives.
"These are the sorts of things we are talking about -- things that do not have to be jettisoned in challenging times," Yerema says of the programs from noteworthy employers. "They are doing progressive things and that doesn't have to change."
Those applying for consideration for the list were judged in eight categories designed to showcase the progressive policies and practices in place in each workplace.
Employers are then compared to other organizations in their field to determine which offer the most forward-thinking programs.
The eight criteria used for judging the Alberta competition is the same as at the national level: (1) physical work-place; (2) work atmosphere and social; (3) health, financial and family benefits; (4) vacation and time off; (5) employee communications; (6) performance management; (7) training and skills development; and (7) community involvement.
The competition is open to all employers, regardless of size, that have their head office situated in the province. The underlying goal is to paint a picture of what it looks like to work in Alberta in 2020.
– Chris Nelson

From the official magazine announcing Alberta's Top Employers (2020), published on February 20, 2020, in the Calgary Herald and Edmonton Journal.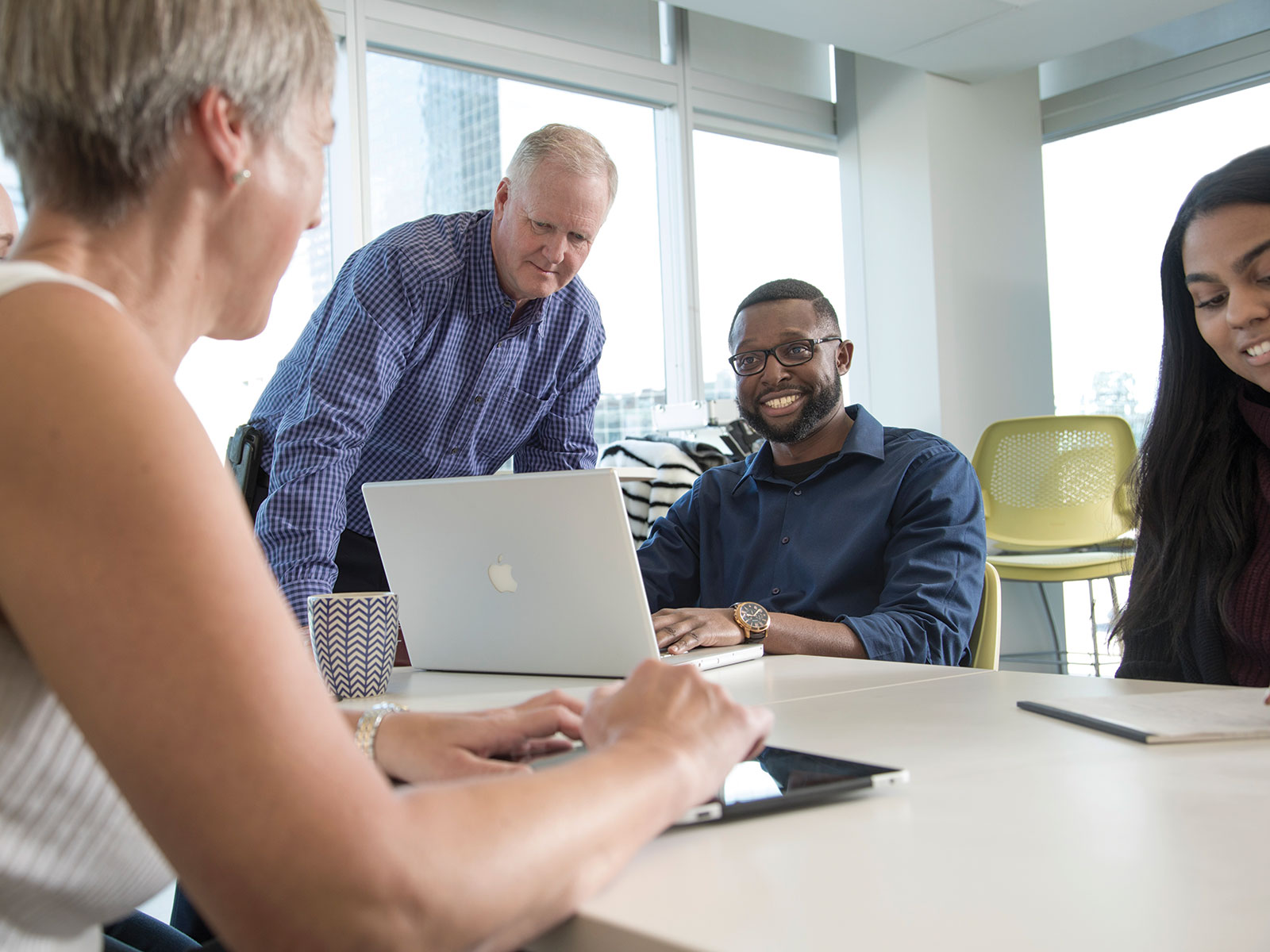 2020 Winners
Here are 2020 winners of the Alberta's Top Employers competition. Click an employer name to read our editors' full Reasons for Selection:
Stability a key attribute for employers in Alberta
The past 12 months have been a political and economic roller-coaster for the people of Alberta and the year ahead looks likely to bring a continuing sense of societal unease.
So, for these employers judged among the top 75 in the province, the challenge they are facing is ensuring all those who work for them now and in the near future feel a true sense of stability when they walk through that workplace door each and every day.
Now, more than ever, these employers understand why it is so vital to reinforce the sense of vision and values that can some-times be placed at risk when the world outside is fraught with so much uncertainty.
They know all their employees need to feel part of something larger, that a job can indeed be much more than simply a pay-cheque and that stability and a sense of purpose can counter the doubts and questions faced in such a turbulent time.
At Calgary's downtown YMCA, those core values are, quite literally, posted on the walls of the building.
"The core values of the organization come through in everything we do, from the basic approach of the values of respect, honesty and responsibility to literally posting them on the walls in any YMCA that you are in," says Brian Gervais, vice-president of culture and people with the organization.
He says that the 'Y' is very much aware that in today's turbulent times things beyond work often affect staff and volunteers. Sometimes it is their family, friends or relatives who have been caught up in the lingering recession across Alberta.
"We have had lots of staff whose partners have been impacted by the downturn so they feel it at home. Here we made a purposeful decision, when the recession hit, not to lay people off. There was some consequences around pay and the like, but we wanted to ensure that people felt secure in the work that they had.
"We continue to have a good benefit program and we empathize wellness and mental health so they feel secure in their own lives when other things are happening to them at home and outside," adds Gervais.
The Calgary organization also encourages everyone to deal with the public in the most empathetic way possible by understanding that other things, happening outside of the YMCA, so often dictate people's actions.
"We have done a lot of mental health, first-aid training with our employees to help them recognize that and be empathetic to it," says Gervais.
Arts Commons, downtown Calgary's major performing arts complex, also interacts with the public on a daily basis. It too believes now is a time that the vision and values of the organization should be paramount.
Glennl Miguel, human resources advisor at the facility, says Arts Commons always takes note of how outside changes might impact the guiding principles the organization constantly reinforces to staff.
"Within Arts Commons, when things shift, we always consider how that shift fits in with our values, not how our values shift but how that shift connects with our values. We have our core values and those feed directly into our organizational vision, which is to be a creative and compassionate society inspired by the arts," she says.
Miguel adds that after much internal brainstorming, the values of the organization were captured: 'Being at our best, always do the right thing and be open in your hearts, minds and arms.'
"After they were created we had a big values event that introduced them to all the staff and now it is integrated in pretty much everything we do. Those values were printed on giant whiteboards and displayed in different areas around our building and on those whiteboards there is space to share their own stories and where staff can acknowledge colleagues for living our values.
"It is extremely important for an organization, as much as it is for an individual that works within the company, to be clear on their values and ensure they keep living them in spite of these turbulent times," says Miguel.
"Without these values in your core then, as an individual or as an organization, you don't have that direction to help you keep pushing forward through whatever challenges come up," she adds.
Clayton Davis, NAIT's executive director of human resources, acknowledges the post-secondary institution in Edmonton is facing its own challenges with recent budget changes by the provincial government.
Which is why NAIT is dedicated to the values it first formalized several years ago.
"Now let's see if we are going to walk the walk and talk the talk. We have so far," he says, adding that it's so important to communicate directly with all staff, using a mix of outlets to make sure everyone stays informed.
"We are using our various communications mechanisms, so we can really talk to our employees and say we are in for turbulent times and here is how we are going to navigate them and that we are dedicated to our values and our vision and where we are going," he says.
The college is determined to continue providing an outstanding educational experience for all students and, although there are challenges to some of the more traditional courses taught at NAIT, Davis sees a new gamut of careers arising in Alberta's employment pipelines.
"The things that we used to do probably won't exist in the future, but the things that we are starting today, or things we don't even know about that start tomorrow, are really ramping up. There are a host of new technologies, approaches and career paths that are arising every day.
"I think the future is vibrant, it is just going to look different from what it does today," adds Davis.
– Chris Nelson

From the official magazine announcing Alberta's Top Employers (2020), published on February 20, 2020, in the Calgary Herald and Edmonton Journal.
Find jobs from Alberta's Top Employers