About the Competition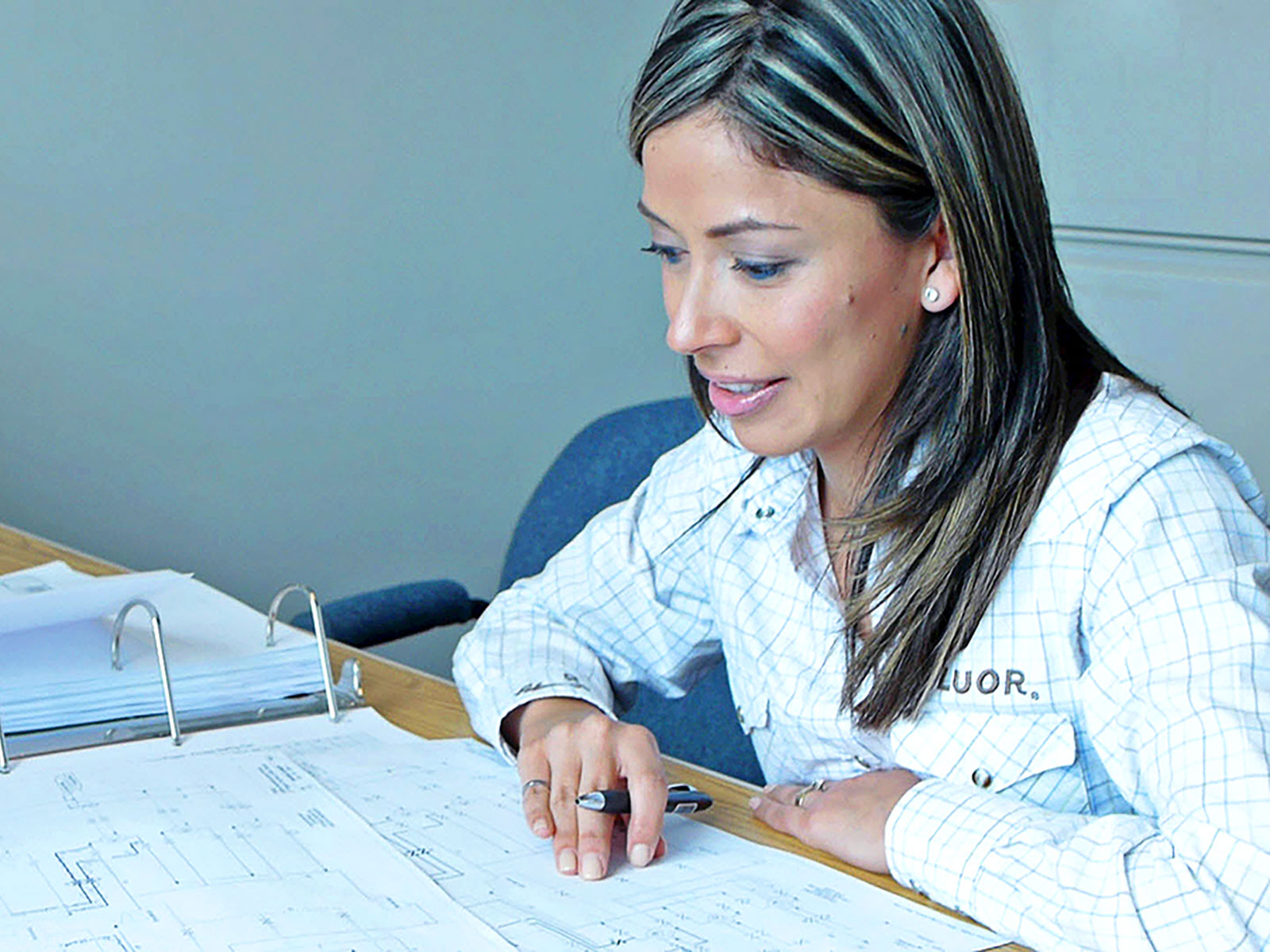 Background
First published in 2006, Alberta's Top Employers is an annual competition organized by the editors of Canada's Top 100 Employers.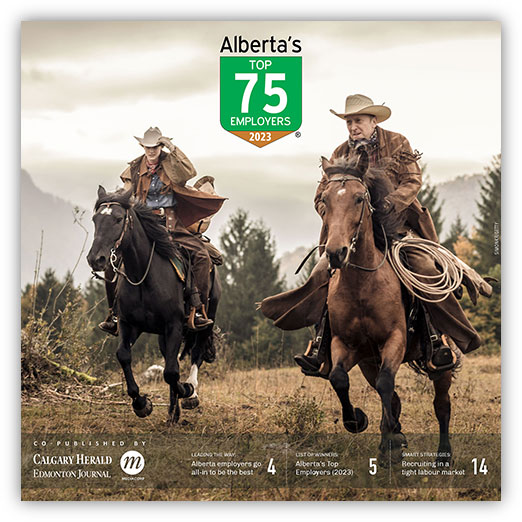 This special designation recognizes the Alberta employers that lead their industries in offering exceptional places to work. This year's winners were announced in a special magazine co-published with the Calgary Herald and Edmonton Journal on January 31, 2023. Read the press release issued the same day for more background on this year's competition.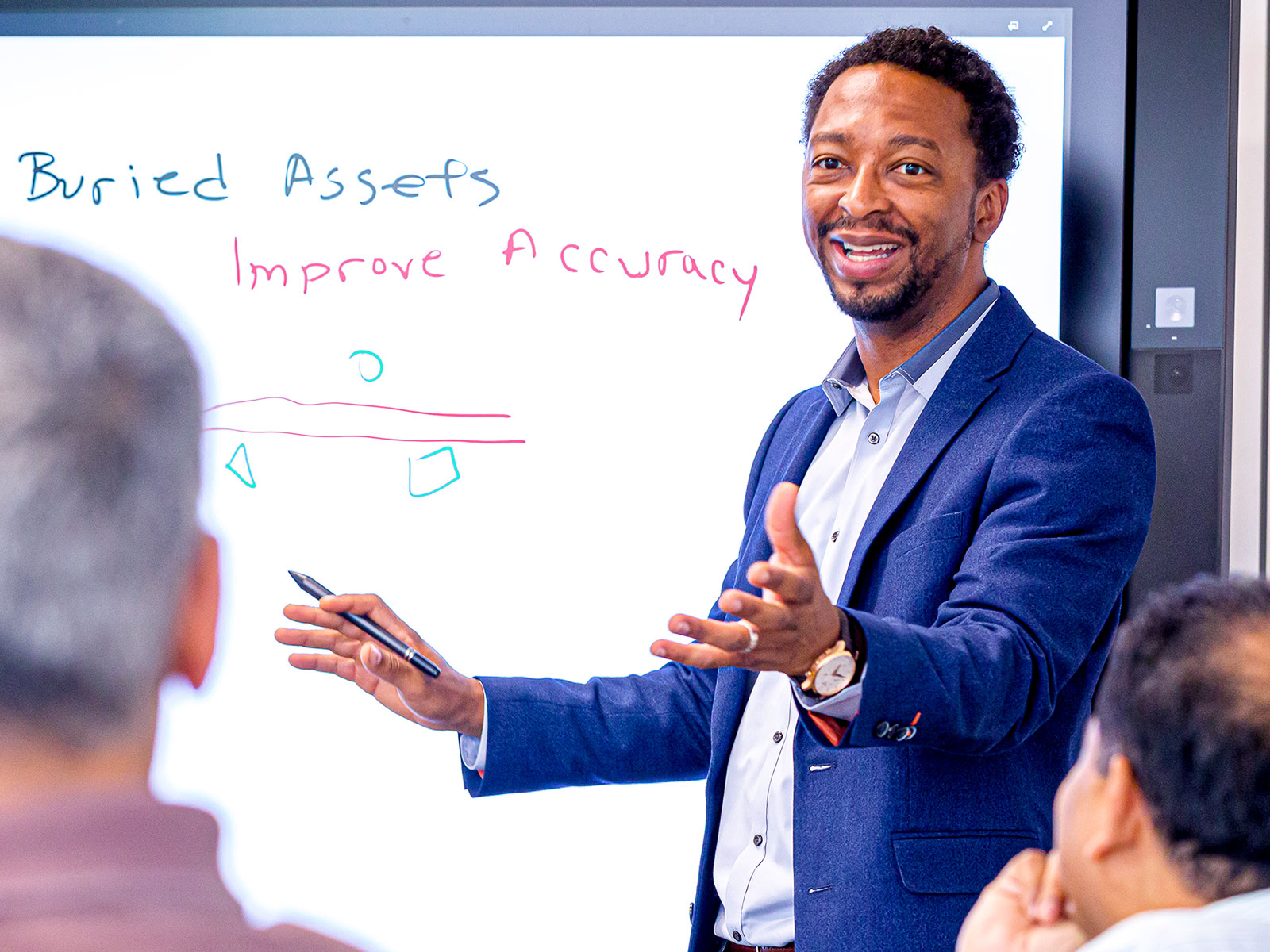 Selection Process
Employers are evaluated by the editors of Canada's Top 100 Employers using the same eight criteria as the national competition: (1) Workplace; (2) Work Atmosphere & Social; (3) Health, Financial & Family Benefits; (4) Vacation & Time Off; (5) Employee Communications; (6) Performance Management; (7) Training & Skills Development; and (8) Community Involvement. Employers are compared to other organizations in their field to determine which offers the most progressive and forward-thinking programs.
Media Partners
Our media partners on the Alberta's Top Employers project are the two largest newspapers in Alberta: the Calgary Herald and Edmonton Journal. Each year, the winners of the competition are announced online in a special magazine co-published with both newspapers.
Eligibility Requirements
Any employer with its head office or principal place of business in Alberta may apply for this competition. Employers of any size may apply, whether private or public sector.
2024 Competition
Applications for our 2024 competition will be available early in 2023. Our 2024 winners will be announced in a special magazine in the Calgary Herald and Edmonton Journal early in 2024. Join our mailing list to stay up to date and receive an application for next year's competition.
Alberta's Top Employers go all-in on being the best at recruitment and retention
Everything from flexibility to savvy marketing is being used to attract employees
It's boom times again for Alberta, with recent forecasts noting that job creation is running at a brisk 5.6 per cent and predicting the provincial economy will continue growing well above the national rate.
But accompanying the rebound are familiar recruitment challenges, and this year's winners of the Alberta's Top Employers competition provide insight into how these challenges are being met. The Alberta competition is organized by the editors of the national Canada's Top 100 Employers project, who annually single out the employers in Alberta that lead the way when it comes to recruitment and retention.
Like the national competition, the editors of Alberta's Top Employers annually release their picks for the best employers. The winners are chosen based on the same criteria as the national competition, including compensation and benefits, work and social atmosphere, the quality of the physical workplace, training and upward mobility.
Richard Yerema, executive editor at Canada's Top 100 Employers, points out that the post-pandemic jobs market is characterized by "revolutionary speeds of change" and that unprecedented demand, the ongoing labour shortages, and other factors "mean that much more skill is required in managing the workforce."
Conquering the North
Overall, a targeted approach to recruitment, focusing on inclusion and ensuring that mental health needs are met are some of the ways companies are attracting new blood. This challenge is made more acute in northern communities across Canada.
Case in point: the Regional Municipality of Wood Buffalo in Fort McMurray. "We have a 1,450-member full-time workforce and are seeking new recruits for a multitude of business areas, from water treatment to finances," says Kari Donnelly, director of human resources. "Attracting newcomers has always been a challenge in our neck of the woods."
Wood Buffalo is overcoming that challenge by establishing five coordinators who cover five different areas of the municipality's operations. "They are specialists with a keen understanding of what we require, and their expertise enables them to find the appropriate recruit," Donnelly explains.
Capping this is a strategy that many companies in remote communities across Canada are undertaking: marketing job opportunities as part of a unique rural lifestyle where outdoor activities abound.
As for retention, Wood Buffalo has undertaken an aggressive course of growing talent from within. "Our model is in the office instead of remote working, so it's critical we give our employees the ability of internal movement," Donnelly says.
A well-oiled machine prioritizes employees' well-being
Increasingly, new recruits expect benefits that support their mental health and family. "The demand for these two elements has become huge," Donnelly says. "We provide a lot of training focused on mental health and augment it with access to the Calm app and psychological first aid."
Inclusivity is equally important to recruitment strategies: a wide range of companies believe that their receptivity to different people, cultures and beliefs not only sets them apart from the competition but also makes for an energetic and productive workplace, and fosters trust.
This is most evident at WCB Alberta. The administrator of the Workers' Compensation Act has invested in improving employee well-being, providing health and wellness spending accounts (up to $3,000) and increasing paramedical coverage in the past year to enhance reimbursement for psychologist, physical therapy, massage therapy, chiropractor and acupuncture services.
At ATCO (a provider of integrated energy, housing, transportation and infrastructure solutions), flexibility is emphasized in nurturing its workforce. The company's Flex benefits program allows staff to choose from a variety of health and dental combinations while also accessing a health and lifestyle spending account to cover extra expenses. Flex Days provides them with a simple way to supplement vacation days when needed.
Trends to watch in 2023
Moving into the spring, the winners of the competition have identified several notable trends: a shift in demand for new skills in areas like tech and analytics; recruiting the right people and then giving them every opportunity to advance; and providing further flexibility so employees can fit their career to what is important in their lives.
Yerema says that while flexibility is a must for any type of employer, it should be part of a greater package of benefits: "Alberta has been doing better than a lot of other provinces in the last few years and companies realize that a wide variety of strategies are necessary to attract and retain the best talent."
As the work world continues to move further away from the dark days of the pandemic, the ingredients that have always enabled employers to stand out from the crowd are more important than ever. Good wages are one thing, but initiatives that make jobs meaningful and workplaces desirable are what really drives recruitment – and inspires loyalty.
– Robin Brunet

From the official magazine announcing Alberta's Top Employers (2023), co-published with the Calgary Herald and Edmonton Journal on January 31, 2023. Used with permission.
2023 Winners
Here are the 2023 winners of the Alberta's Top Employers competition. Click an employer name to read our editors' full Reasons for Selection: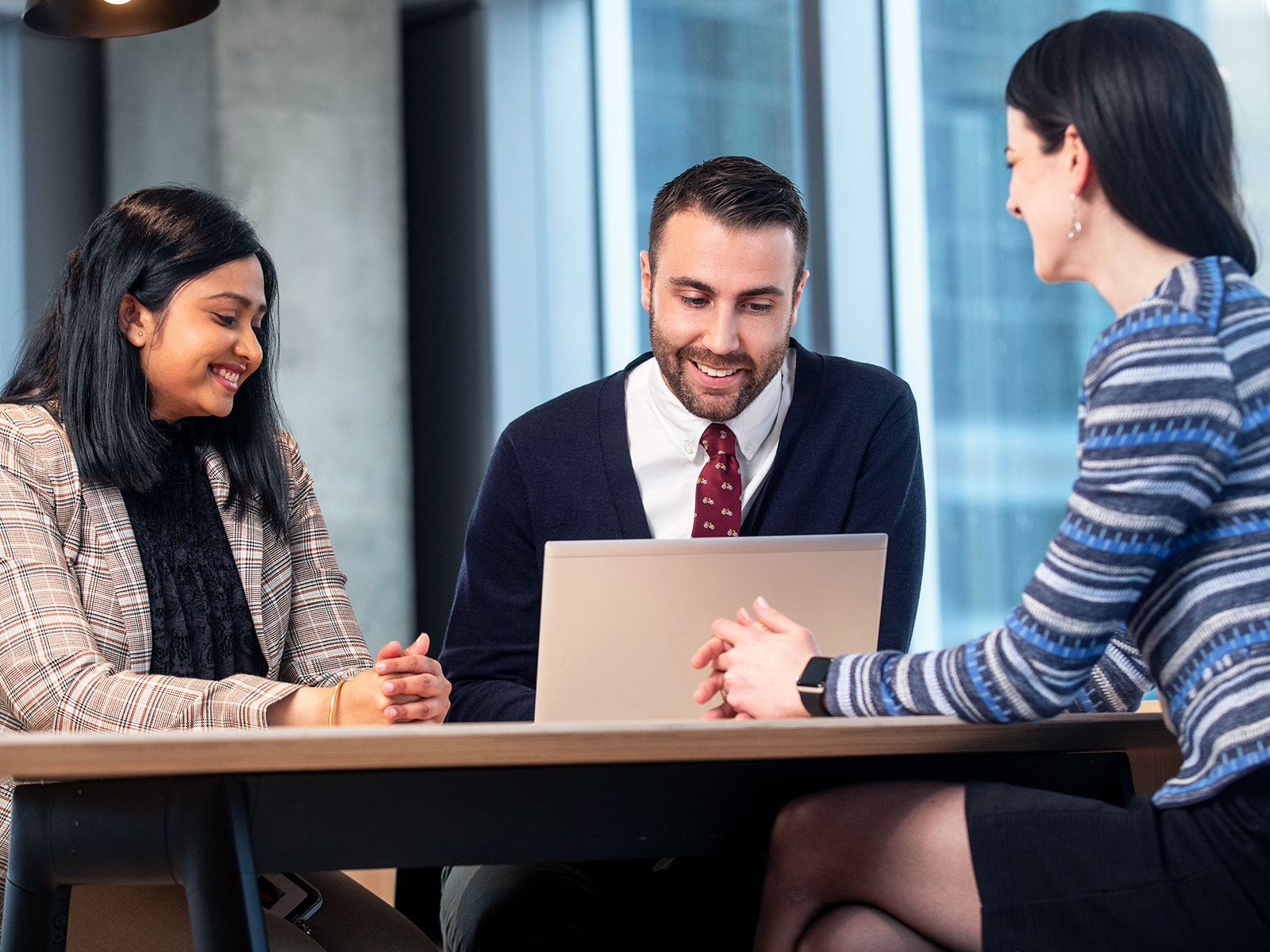 Alberta businesses compete for talent amid economic rebound
Flexibility, career growth are recruitment strategies in a tight labour market
Alberta is enjoying an economic renaissance, and while this is good news for employers, it also means the competition to attract new talent is fierce.
The competition is especially vigorous in the oil and gas sector, where drilling activity and oil production is jumping well above their levels of a year ago, according to a recently released TD Provincial Economic Forecast.
But this year's Alberta's Top Employers competition shows that whether the jobs are in the oil patch or in urban centres, the most successful companies are relying on a multitude of smart strategies to engage and retain newcomers.
Richard Yerema, executive editor at the competition and also a best-selling business author, has seen this shift first-hand. "The recovery of Alberta's industrial sector has been remarkable, and businesses understand that flexibility, health plans and an overall emphasis on employee wellbeing are required to attract the best and brightest," he says.
Such is the case at Inter Pipeline Ltd., a multinational petroleum transportation and infrastructure firm. Inter Pipeline is responding to a growing trend of employees wanting to advance quickly within their place of employment.
"More than ever, people are looking for opportunities that enable them to grow their careers," says Desmond Salisbury, Inter Pipeline's general manager of human resources. "Fortunately, we're well equipped to accommodate that, having an abundance of interesting work and projects for those who want to challenge themselves."
As for the familiar stigma of the oil patch being an undesirable workplace, Salisbury thinks it is largely a non-issue in 2023 and moving forward. "Concurrently we've developed an array of sustainable projects, which helps our standing as a desirable employer," Salisbury says. "Our focus on sustainability is truly exceptional."
Increased competition among employers is also changing how Alberta companies recruit and engage the talent pool.
Salisbury elaborates, "Instead of casting a wide net, which only works when the market isn't hot, we're taking a smart approach to recruitment. We're doing a lot more work engaging our leaders to determine exactly what they need. From there, we undertake initiatives such as reaching out to different networks and being proactive to find the right people."
While it may not be a new trend, the need to give workers flexibility has become paramount to companies such as Fluor Canada Ltd. Stacy Posnikoff, human resources advisor for the engineering consulting company, points out that "Whether it's Millennials or Gen X'ers, people have a lot of different needs, which is why we provide flexible start and end times as well as remote work and hybrid options."
Posnikoff notes that new recruits coming out of the pandemic are exhibiting a desire for a strong sense of community and belonging; to respond to this change, Fluor maintains an array of staff groups, including an Emerging Leaders group, and it has also gone to considerable lengths to augment its physical workplace with amenities such as free parking, free gym and in-office yoga sessions. "All of this is capped by an abiding focus on diversity, equity, and inclusion," she says.
Posnikoff cites another element that makes a big impact in Fluor's workplace desirability. "Our management is incredibly approachable," she says. "All of these initiatives contribute to our on-going goal of staffing up with critical thinkers."
As Alberta's economic recovery continues, the care exhibited by companies such as Fluor and Inter Pipeline not only give them the edge on recruitment but also help ensure that the right people are selected for the right job.
– Robin Brunet

From the official magazine announcing Alberta's Top Employers (2023), co-published with the Calgary Herald and Edmonton Journal on January 31, 2023. Used with permission.
Find jobs from Alberta's Top Employers