About the Competition
Background
First published in 2006, Alberta's Top Employers is an annual competition organized by the editors of Canada's Top 100 Employers.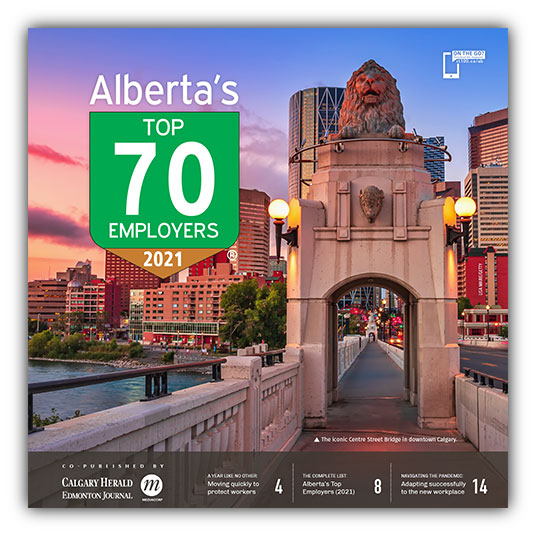 This special designation recognizes the Alberta employers that lead their industries in offering exceptional places to work. This year's winners were announced in a special magazine published January 26, 2021 in the Calgary Herald and Edmonton Journal. Read the press release issued the same day for more background on this year's competition.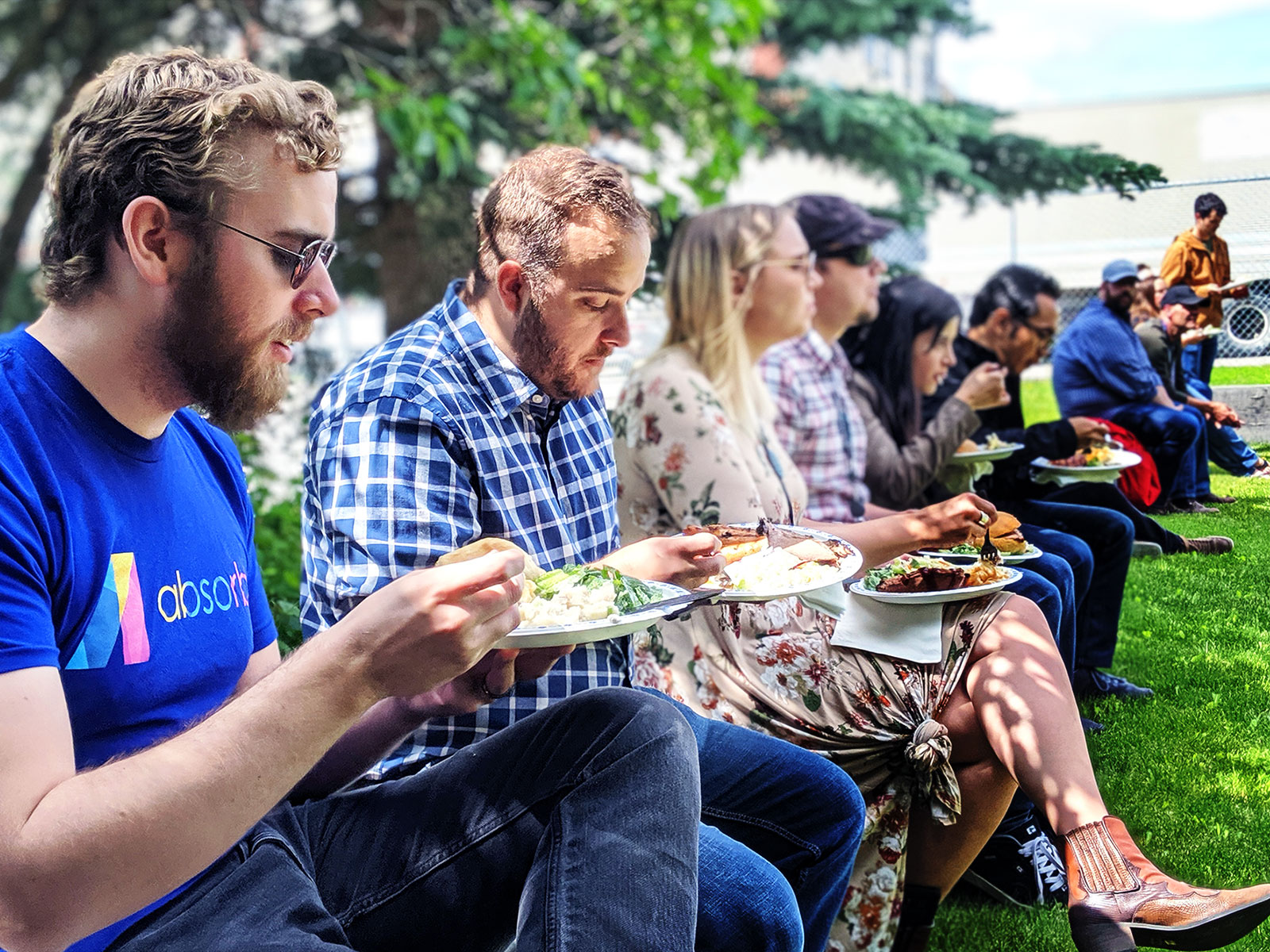 Selection Process
Employers are evaluated by the editors of Canada's Top 100 Employers using the same eight criteria as the national competition: (1) Physical Workplace; (2) Work Atmosphere & Social; (3) Health, Financial & Family Benefits; (4) Vacation & Time Off; (5) Employee Communications; (6) Performance Management; (7) Training & Skills Development; and (8) Community Involvement. Employers are compared to other organizations in their field to determine which offers the most progressive and forward-thinking programs.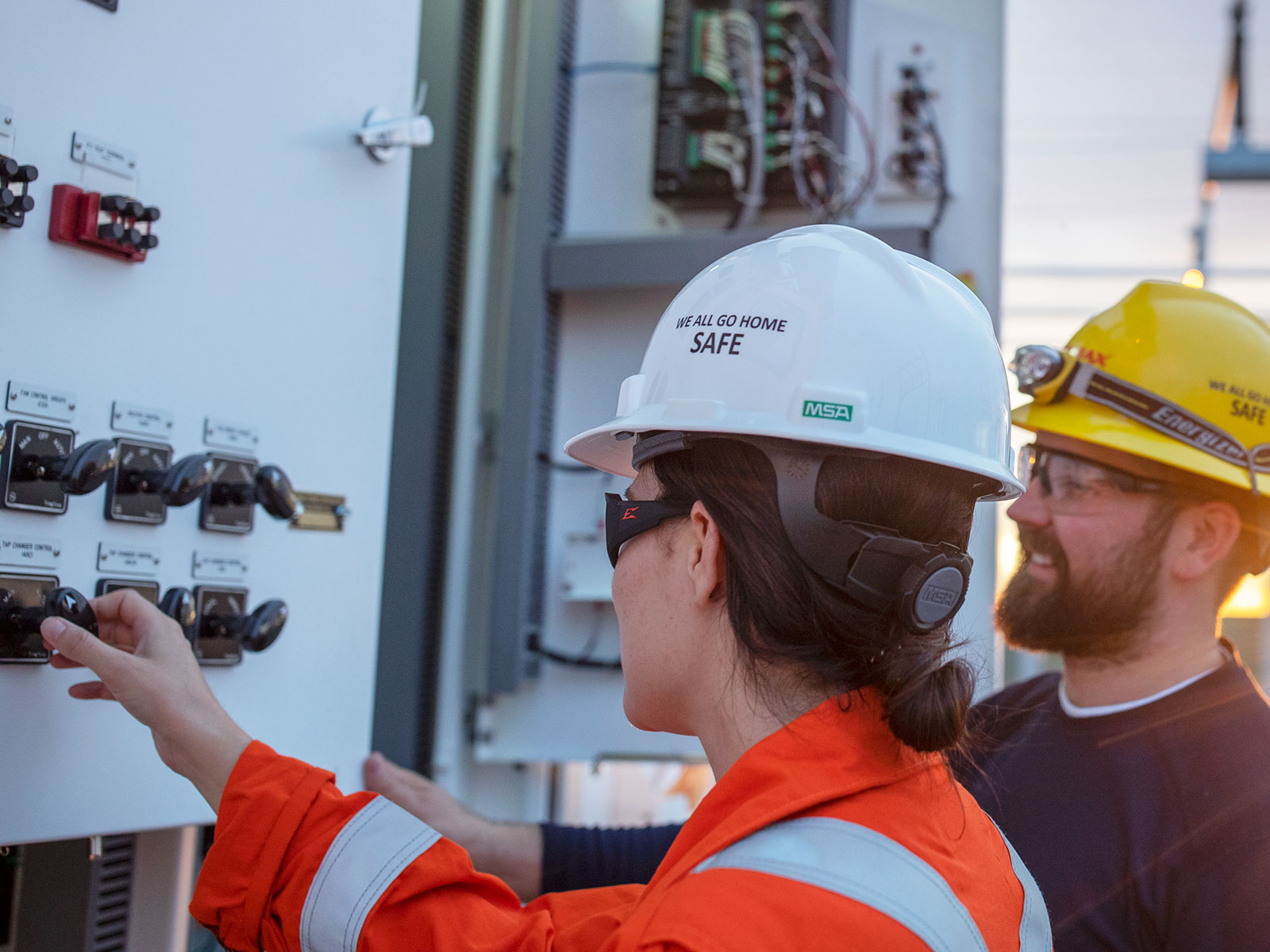 Media Partners
Our media partners on the Alberta's Top Employers project are the two largest newspapers in Alberta: the Calgary Herald and Edmonton Journal. Each year, the winners of the competition are announced in a special magazine published online in both newspapers.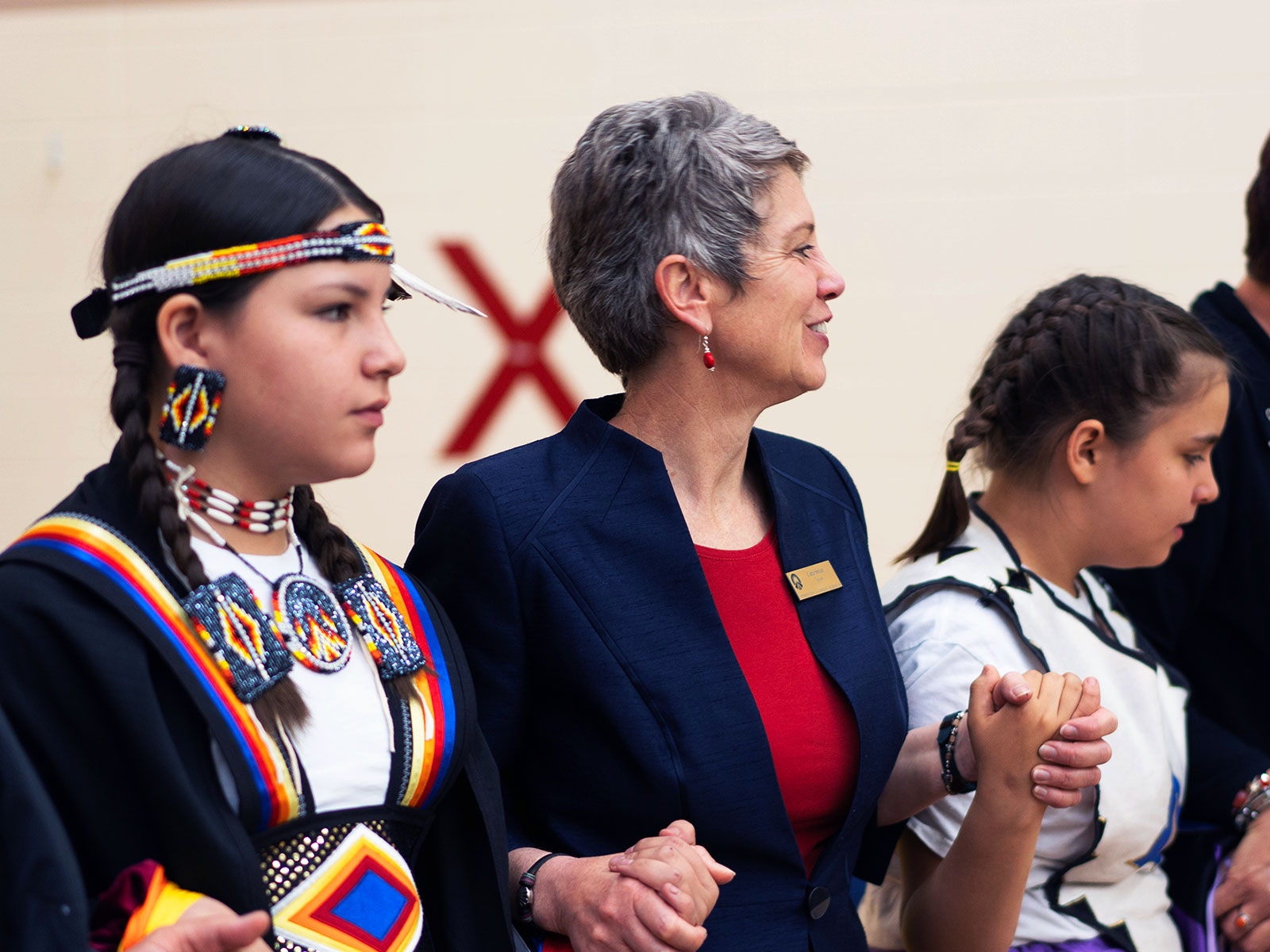 Eligibility Requirements
Any employer with its head office or principal place of business in Alberta may apply for this competition. Employers of any size may apply, whether private or public sector.
2022 Competition
Applications for our 2022 competition will be available early in 2021. Our 2022 winners will be announced in a special magazine in the Calgary Herald and Edmonton Journal early in 2022. Join our mailing list to stay up to date and receive an application for next year's competition.
Top employers move quickly to protect workers during pandemic
The team of more than 350 people at Gilead Alberta ULC has long been driven by a common purpose: Their work saves lives.
A key hub for the California-based biopharmaceutical company Gilead Sciences Inc., the Edmonton employer has been involved in groundbreaking treatments for HIV and hepatitis C.
And during the pandemic, they have again played a pivotal role.
"Our primary focus here is to develop APIs, and those are active pharmaceutical ingredients," says Greg Klak, vice-president of operations at Gilead Alberta.
And so, early on, when COVID-19 overwhelmed health-care systems around the world, Gilead Alberta took a lead role in producing the active ingredient in remdesivir, one of the few anti-viral medications approved to treat novel coronavirus.
"We knew how to manufacture it," says Klak, adding the drug was developed to fight an Ebola virus outbreak in 2014.
"But we had to scale up as an organization very quickly and build a supply chain worldwide under very challenging situations."
The pandemic has posed challenges for all Alberta employers trying to maintain operations while keeping employees safe, happy and engaged. Some of those who have met these challenges have been recognized among Alberta's Top Employers of 2021.
For many, the pandemic reinforced the importance of the work their employees do. That's especially the case for employers providing essential services on the front lines.
"Safety of our people and reliability of our service come first," says Brandie Yarish, senior vice-president of people, safety and culture at ENMAX Corp. in Calgary.
Within days of the pandemic striking, the leading utility provider in the province transitioned 70 per cent of its workforce to home. At the same time, it created a cohort system for field crews to minimize the risk of exposure.
"For our field team members, we implemented paid emergency days. Not surprisingly, employees have used these sparingly, doing what they can to safely report to work whenever possible," says Yarish. "For our employees working remotely, feedback indicated that the blurring of work and personal time was becoming problematic while working from home, so we implemented core hours, which is when virtual meetings are scheduled."
Others top employers – such as Alberta Health Services, the Calgary Police Service and Enbridge Inc. – were equally focused on keeping workers safe so they could keep Albertans safe
At Gilead, the leadership team recognized its employees were working under less-than-ideal conditions on tasks that require a sense of calm so they can make "good decisions," Klak says.
"We appreciated people are not going to be necessarily at their best, so you have to have empathy," Klak says. That's involved putting in place simple initiatives like encouraging staff working from home to flex their hours and take regular 'virtual coffee breaks.'
At the same time, "we worked hard to keep people in the loop and feel connected to our goals," he says. "It's very easy when you are stressed and the normal routine is out of whack – to feel disconnected."
But Klak is quick to point out that Gilead's efforts during the pandemic have been successful because of its exceptional workforce.
"We've been truly fortunate to have very team-focused people," he says. "They stepped up and did what they needed to do."
– Joel Schlesinger

From the official magazine announcing Alberta's Top Employers (2021), published on January 26, 2021, in the Calgary Herald and Edmonton Journal.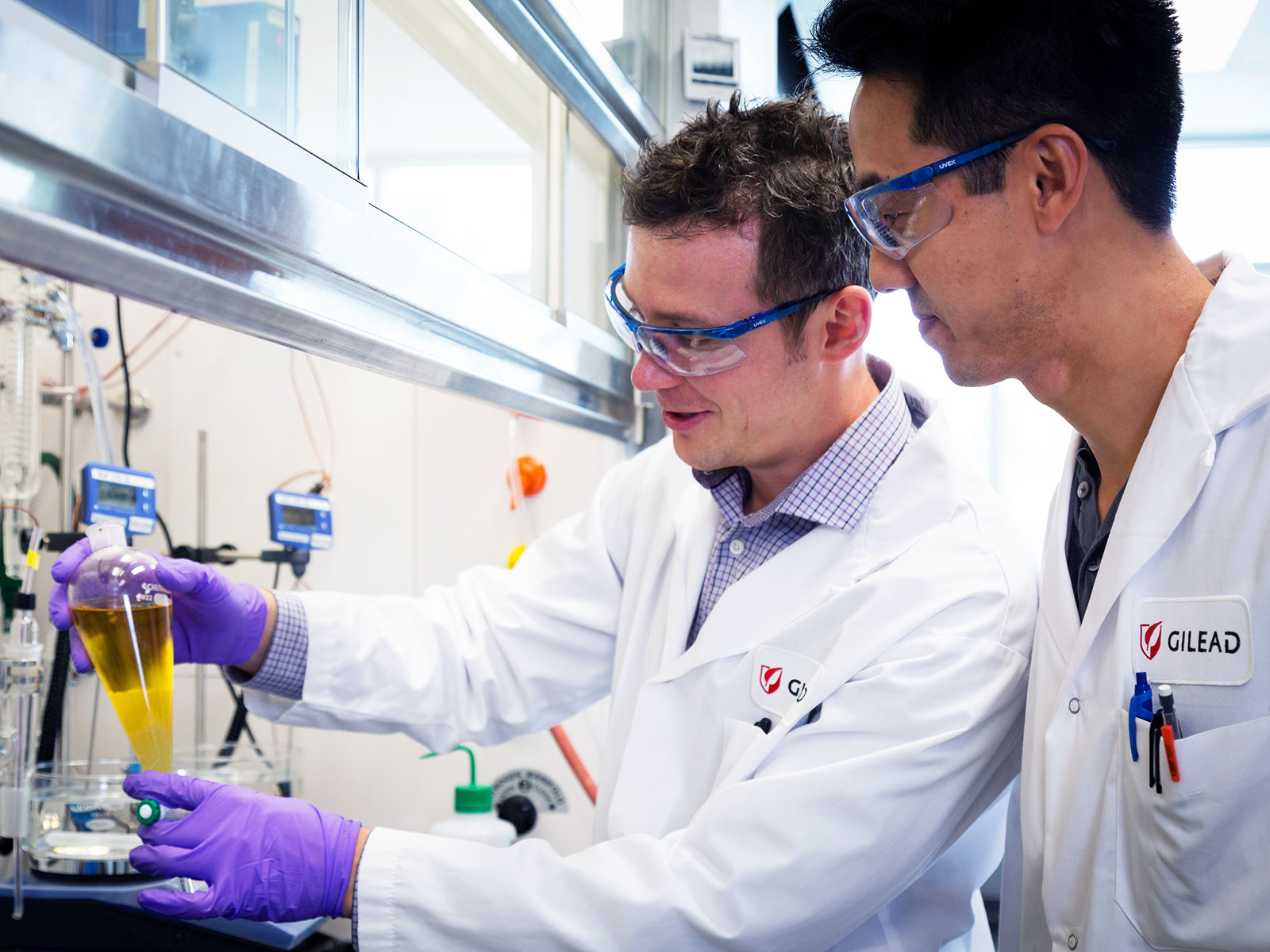 2021 Winners
Here are 2021 winners of the Alberta's Top Employers competition. Click an employer name to read our editors' full Reasons for Selection:
Top Alberta employers successfully navigate uncertain times
The COVID-19 pandemic has been a challenge – to say the least. That's certainly the case for employers across Alberta that have faced numerous obstacles keeping operations running and employees safe.
The best workplaces have risen to the challenge – as they always do when facing an uncertain, shifting landscape.
Many are listed here among Alberta's Top Employers of 2021. Now in its 16th year, Alberta's Top Employers is an annual competition run by Mediacorp Canada Inc. that highlights the best places to work in the province based on several criteria.
"The key theme, obviously, is how employers have responded and adapted to the pandemic," says Richard Yerema, managing editor of Canada's Top 100 Employers, a national competition, as well as regional projects across the nation. "Being a top employer is really about how you help and treat your people."
It's one thing to lavish workers with benefits and perks when times are good. It's another to ensure your team is safe, engaged and feeling well during a deadly pandemic.
Unquestionably, COVID-19 has impacted all workplaces.
Many endured layoffs. Some closed. Others altered their operations to survive. Those able to succeed often boast strong, innovative workplace cultures.
The Alberta businesses earning a spot on the Top Employers list have not only navigated the pandemic well, but scored highly in eight categories – Physical Workplace; Work Atmosphere & Social; Health, Financial & Family Benefits; Vacation & Time Off; Employee Communications; Performance Management; Training & Skills Development; and Community Involvement.
Yerema notes the competition has long been popular among leading employers because it is an opportunity to attract and recruit top talent.
"For many employers who operate and recruit within the region, it's highly sought after to be included in the list to showcase themselves as a great place to work."
While a great recruiting tool, making the list is also a source of pride for employees at places such as Pason Systems Inc., a Calgary-based technology firm that has been reshaping oilfield drilling for decades.
"We are the Internet of things for drilling rigs," says Lars Olesen, vice-president of product and technology at Pason. "We gather and aggregate data on drilling rigs and send that to the cloud remotely so that our customers can see their operations and analytics in real time while using machine learning to optimize what they do."
In a city known for oil and gas, Pason is also an elder statesman in Calgary's burgeoning tech sector.
"We punch above our weight in the oil industry for the size of our company," he says. "But we are at heart a Calgary technology company."
And its workers are what makes the firm a global leader in its field. To be at the top of its game often involves competing for talent with big U.S. tech firms.
"How does a Calgary technology company compete for people with Silicon Valley?"
Part of the strategy involves offering competitive compensation and benefits along with interesting, meaningful work, Olesen adds. But a key advantage for Pason is its focus on work/life balance – often in short supply in the tech industry, which is renowned for long hours.
"We've always been flexible about remote work," Olesen says. "We are office-centric to create a culture and a sense of family, but during COVID, that has taken on a whole new meaning."
Many top employers in Alberta have faced similar challenges, including an Edmonton-based technology company.
Bits In Glass is a leading Canadian provider of process automation and systems integration that allow clients, including large corporations, to manage data more efficiently.
"While it's awesome to have cool workspaces and perks that attract employees, we believe one of the most important components of a great organization is inclusivity and respect," says Patrick Golec, vice-president of technology innovation and human resources at Bits In Glass.
Its workspace features sit/stand desks and playful perks such as foosball and table tennis tables, free office snacks and oddball regular events like celebrating International Sushi Day with, well, free sushi for the staff.
COVID-19 upset these daily rhythms of workplace culture, with Bits In Glass's teams largely working from home.
While keeping them safe and healthy is the top concern, so too are workers' emotional well-being and their sense of belonging that may be missing at their home offices. To keep the team 'together,' at least in spirit, the company has organized a bevy of unique, fun events such as the Chopped Challenge, a Zoom home-cooking competition, and lunchtime Netflix viewing parties.
The obvious difficulties of the pandemic aside, top employers have not wavered from a key mission: Holding onto their talent.
"We want and need our people to stay," Olesen says, adding they are Pason's competitive advantage.
To do that, you truly have to "walk the walk," he adds. "You can't just talk about it."
– Joel Schlesinger

From the official magazine announcing Alberta's Top Employers (2021), published on January 26, 2021, in the Calgary Herald and Edmonton Journal.
Find jobs from Alberta's Top Employers