RECOGNIZED AS ONE OF NATIONAL CAPITAL REGION'S TOP EMPLOYERS (2018)
RECONNUE COMME L'UN DES MEILLEURS EMPLOYEURS DE LA RÉGION DE LA CAPITALE (2018)
By Richard Yerema and Kristina Leung, staff editors at Mediacorp Canada Inc. (January 31, 2018)
Par Richard Yerema et Kristina Leung, rédacteurs, Mediacorp Canada Inc. (31 janvier 2018)
Here are some of the reasons why Royal, The was selected as one of National Capital Region's Top Employers (2018):
Voici certaines des raisons pour lesquelles Le Royal a été sélectionnée parmi les meilleurs employeurs de la région de la capitale (2018):
As part of the organization's efforts to reach out to the next generation of talent, The Royal offered more than 300 placements in 2016 in a variety of roles including registered nurse, recreation therapy, medical administration and personal support worker
The Royal considers previous work experience when setting individual vacation entitlements, with starting vacation for new employees ranging between 2 to 4 weeks – long-serving employees receive a maximum of 7 weeks paid vacation
Employees working at The Royal have access to a variety of onsite amenities including a quiet room for meditation and religious observance, a cafeteria with healthy and special diet menus, and free access to an onsite fitness facility featuring a variety of exercise equipment, a gymnasium equipped for basketball and volleyball, and a range of instructor-led classes such as pilates, yoga and Zumba
Dans le cadre des efforts déployés par l'organisme pour rejoindre la prochaine génération de talents, le Royal a offert plus de 300 placements en 2016 dans une variété de fonctions, notamment des infirmières autorisées, des récréothérapeutes, des administrateurs et des préposés aux services de soutien personnel.
Le Royal tient compte de l'expérience de travail antérieure au moment d'établir les droits individuels aux congés annuels et offre des vacances variant entre 2 et 4 semaines à ses nouveaux employés. Les employés de longue date reçoivent un maximum de 7 semaines de vacances payées.
Les employés qui travaillent au Royal ont accès à une vaste gamme de services sur place, y compris une salle tranquille destinée à la méditation et à la pratique religieuse, une cafétéria qui offre des menus sains et qui accommode les régimes alimentaires particuliers, ainsi qu'un accès gratuit à un centre de conditionnement physique sur place doté de plusieurs équipements, un gymnase équipé pour le basketball et le volley-ball, et une gamme de cours tels que le pilates, le yoga et la zumba.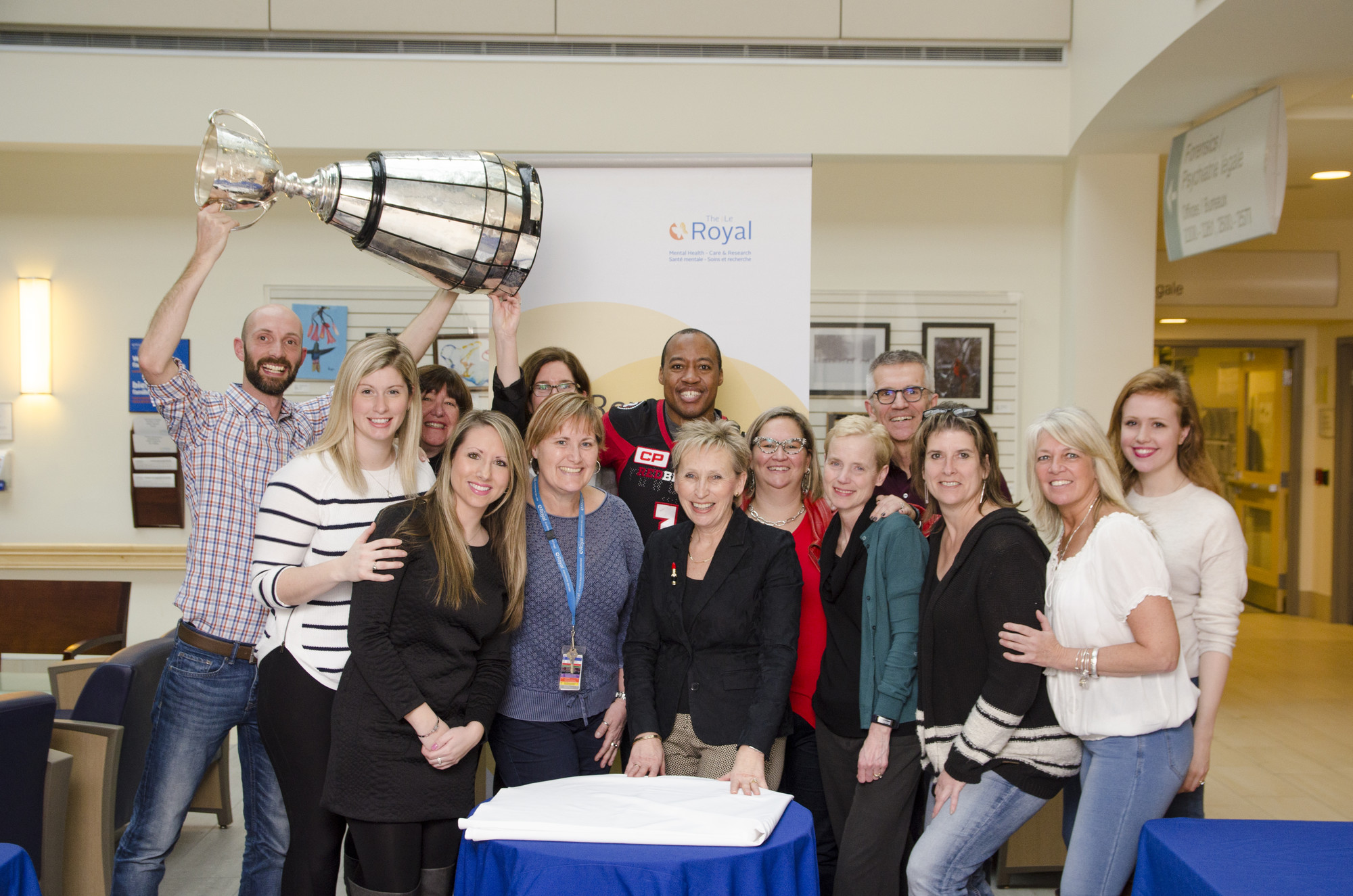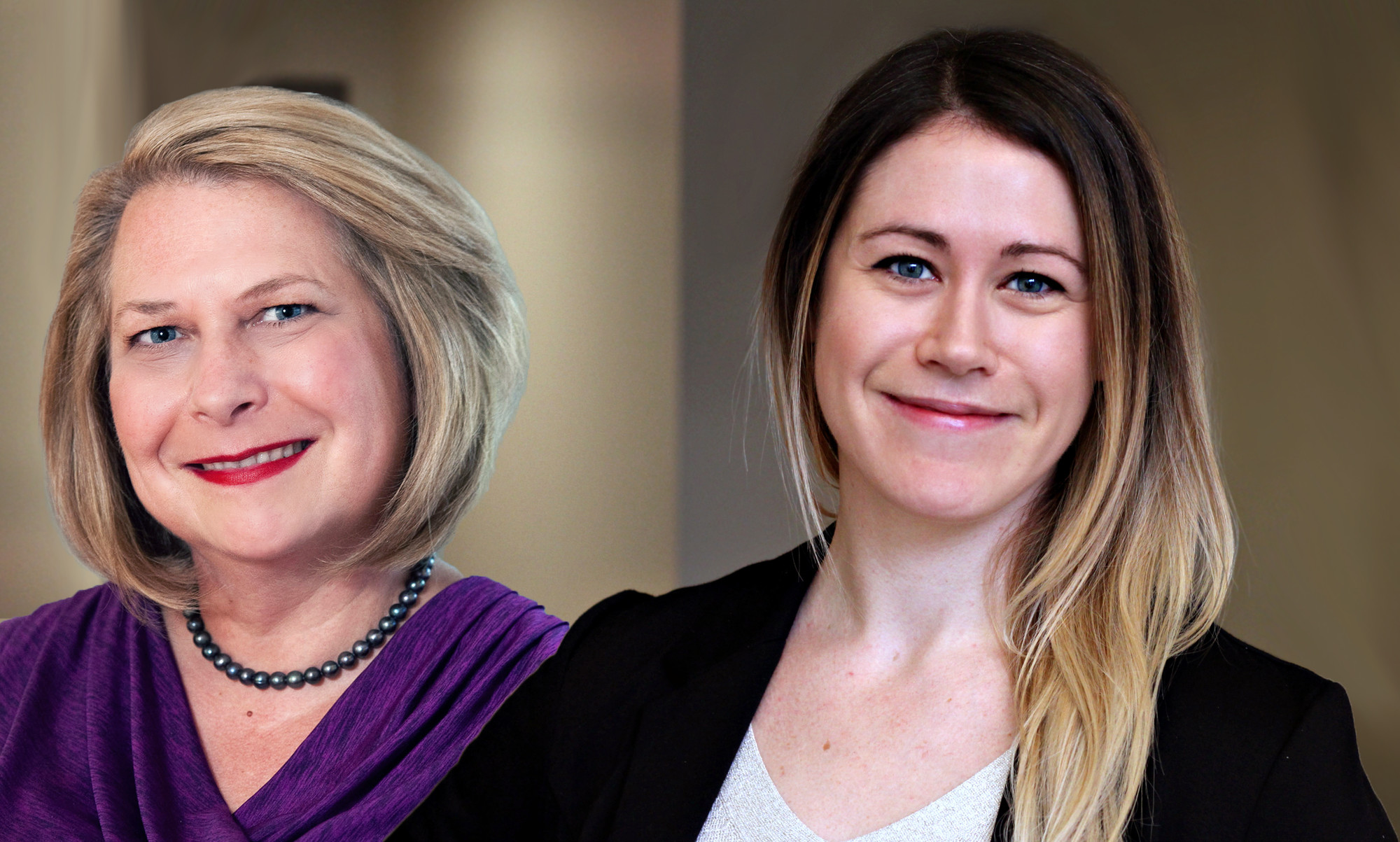 The Royal nurtures continuous learning
Le Royal favorise l'apprentissage continu
Susan Engels and Lisa Young may come from different generations, but both came to The Royal — one of Canada's leading mental health care, teaching, and research hospitals — for the same reason. They were attracted by The Royal's reputation as a place that supports its staff to fulfill their highest potential. Engels joined The Royal three years ago after almost three decades working in public health. "I came largely because of The Royal's tremendous support for continuous education, which in turn leads to continuous improvement in care and research," says Engels, The Royal's Vice President, Quality, Professional Practice & Chief Nursing Executive.
Susan Engels et Lisa Young sont peut-être de générations différentes, mais toutes deux sont venues travailler au Royal pour la même raison. Cet établissement qui compte parmi les plus prestigieux hôpitaux de soins de santé mentale, d'enseignement et de recherche au Canada les a attirées par la réputation qu'il s'est forgé au fil des ans en soutenant ses employés pour les aider à s'épanouir pleinement. Mme Engels est venue au Royal il y a trois ans, après avoir travaillé en santé publique pendant près de trois décennies. « J'y suis venue en grande partie en raison du formidable soutien du Royal à l'égard de la formation continue, qui permet l'amélioration continue des soins et de la recherche », indique Mme Engels, qui est vice-présidente, Qualité, Pratiques professionnelles et chef des Soins infirmiers.
For staff, learning is built into each role, but they also have many opportunities to take that learning further, including frequent lunchtime lectures and knowledge-sharing events. "This is a workplace that is open to people with unique skill sets and wants to hear from everyone at all levels," says Engels. "We truly believe that many minds produce better outcomes."
Pour les membres du personnel, l'apprentissage fait partie intégrante de chaque rôle et fonction, mais ils ont également de nombreuses occasions d'approfondir cet apprentissage, y compris des déjeuners-conférences et des activités de partage des connaissances. « C'est un milieu de travail ouvert aux personnes qui ont des compétences uniques et qui veulent recevoir une rétroaction de la part de tout le monde, à tous les niveaux », explique Mme Engels. « Nous croyons réellement que lorsque plusieurs esprits se rassemblent, ils produisent de meilleurs résultats. »
Young first came to The Royal as a nursing student. After a couple of placements at the hospital, she "fell in love with The Royal's dedication to ongoing learning in a nurturing environment."
Mme Young est d'abord venue travailler au Royal comme étudiante infirmière. Après quelques stages à l'hôpital, elle est « tombée amoureuse de l'engagement du Royal envers l'apprentissage continu dans un environnement stimulant ».
Young's placements gave her the opportunity to learn not only on the job, but also through education sessions, mentorships and The Royal's collaborative team approach to care. When she graduated in 2014, The Royal hired her and she became fully entrenched in its culture of staff enrichment.
Les stages effectués par Mme Young lui ont donné l'occasion d'apprendre au travail, mais aussi par l'entremise de séances de formation, de mentorat et par l'approche collaborative aux soins mise en place au Royal. Lorsqu'elle a obtenu son diplôme en 2014, le Royal l'a embauchée et elle est devenue pleinement ancrée dans sa culture de perfectionnement professionnel.
Young has received extensive guidance and backing from senior colleagues, including Engels, which has helped her refine and focus her skills. This support became especially valuable when she chose to pursue a Master of Science in Nursing degree. The Royal helped cover her expenses through bursaries and offered flexible working arrangements to accommodate her studies.
Mme Young a reçu des conseils détaillés et un soutien approfondi de la part de ses collègues chevronnés, dont Mme Engels, ce qui l'a aidée à centrer et à perfectionner ses compétences. Ce soutien est devenu particulièrement précieux lorsqu'elle a choisi de poursuivre une maîtrise en sciences infirmières. Le Royal l'a aidée à couvrir ses dépenses grâce à des bourses d'études et lui a offert des modalités de travail souples pour lui permettre de poursuivre ses études.
"The Royal recognized and supported my passion to help people and families living with schizophrenia," Young says. "It also helped my thesis research reach wider audiences than it could have without such help."
« Le Royal a reconnu et soutenu ma passion d'aider les personnes et les familles aux prises avec la schizophrénie », affirme Mme Young. « Cela m'a aussi permis de faire rayonner ma thèse de recherche auprès d'un public plus large, qu'elle n'aurait jamais pu rejoindre sans une telle aide. »
The Royal supports the wellness of both patients and employees at its three sites in Ottawa, Brockville and the Carlingwood Shopping Centre community mental health centre.
Le Royal appuie le mieux-être de ses patients et de ses employés dans ses trois sites : à Ottawa, Brockville et au Centre de santé mentale communautaire du centre commercial Carlingwood.
The Ottawa hospital has an onsite, no-cost fitness centre, and its Wellness Series provides frequent workshops and events to promote staff engagement and work-life balance. "Here, we share our knowledge and we support our colleagues," says Young. "If you have a passion and work hard, The Royal will support you to reach your goals."
L'Hôpital d'Ottawa possède un centre de conditionnement physique gratuit dans son enceinte et offre fréquemment des ateliers et activités dans le cadre de son Programme de bien-être, qui vise à promouvoir l'engagement du personnel ainsi que l'équilibre entre le travail et la vie personnelle. « Ici, nous partageons nos connaissances et nous soutenons nos collègues », dit Mme Young. « Si vous avez une passion et que vous travaillez fort, le Royal vous aidera à atteindre vos objectifs. »
The Royal has been selected for The Career Directory, our guide to entry-level recruitment for recent college and university graduates.
Le Royal a été sélectionné pour The Career Directory, notre guide de recrutement au niveau d'entrée pour les nouveaux diplômés collégiaux et universitaire.