RECOGNIZED AS ONE OF NATIONAL CAPITAL REGION'S TOP EMPLOYERS (2018)
RECONNUE COMME L'UN DES MEILLEURS EMPLOYEURS DE LA RÉGION DE LA CAPITALE (2018)
By Richard Yerema and Kristina Leung, staff editors at Mediacorp Canada Inc. (January 31, 2018)
Par Richard Yerema et Kristina Leung, rédacteurs, Mediacorp Canada Inc. (31 janvier 2018)
Here are some of the reasons why The House of Commons Administration was selected as one of National Capital Region's Top Employers (2018):
Voici certaines des raisons pour lesquelles L'Administration de la Chambre des communes a été sélectionnée parmi les meilleurs employeurs de la région de la capitale (2018):
The House of Commons Administration offers exceptional maternity and parental leave top-up payments for new mothers (up to 93% of salary for up to 52 weeks) as well as parental leave top-up for new fathers and adoptive parents (to 93% of salary for up to 37 weeks) -- additionally, employees have the option to extend their leave to an unpaid leave of absence and can take advantage of onsite daycare when they are ready to return
The House of Commons Administration supports the long-term career development of its employees through in-house career planning services and maintains dedicated leadership training for senior management
In addition to 4 weeks of starting vacation, the House of Commons Administration offers a variety of flexible work arrangements to help employees balance work and their personal lives, including flexible hours and telecommuting
L'Administration de la Chambre des communes offre d'exceptionnelles prestations supplémentaires de maternité et parentales aux nouvelles mères (jusqu'à 93 % du salaire pendant un maximum de 52 semaines), de même que de généreuses prestations parentales supplémentaires aux nouveaux pères et aux parents adoptifs (jusqu'à 93 % du salaire pendant un maximum de 37 semaines). De plus, les employés ont la possibilité de prolonger leur congé en prenant un congé sans solde et peuvent profiter de services de garde sur place lorsqu'ils sont prêts à revenir au travail
L'Administration de la Chambre des communes contribue au perfectionnement professionnel à long terme de ses employés grâce à ses services de planification de carrière sur place et offre de la formation au leadership particulière aux membres de la haute direction
En plus d'offrir quatre semaines de vacances dès le début de l'emploi, l'Administration de la Chambre des communes offre toute une gamme d'options de travail pour aider les employés à mieux concilier leur vie personnelle et leur vie professionnelle, notamment des heures flexibles et des possibilités de télétravail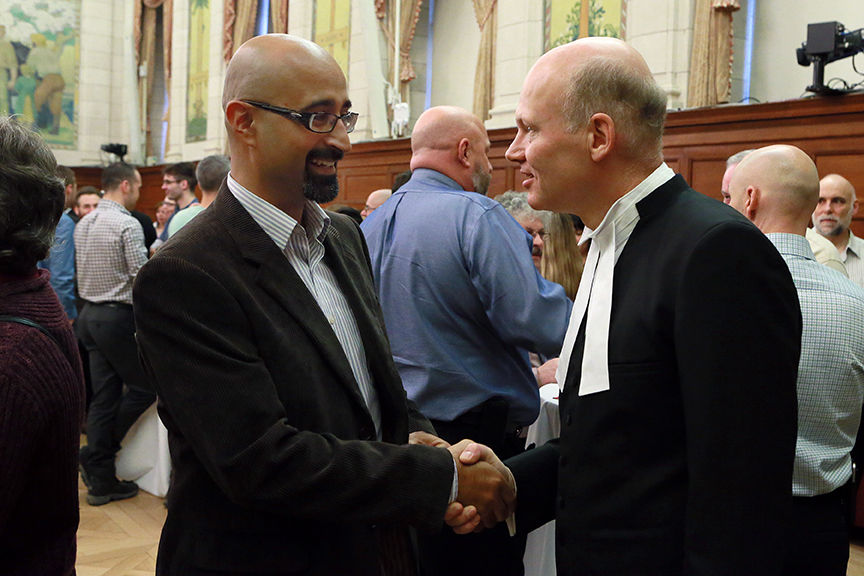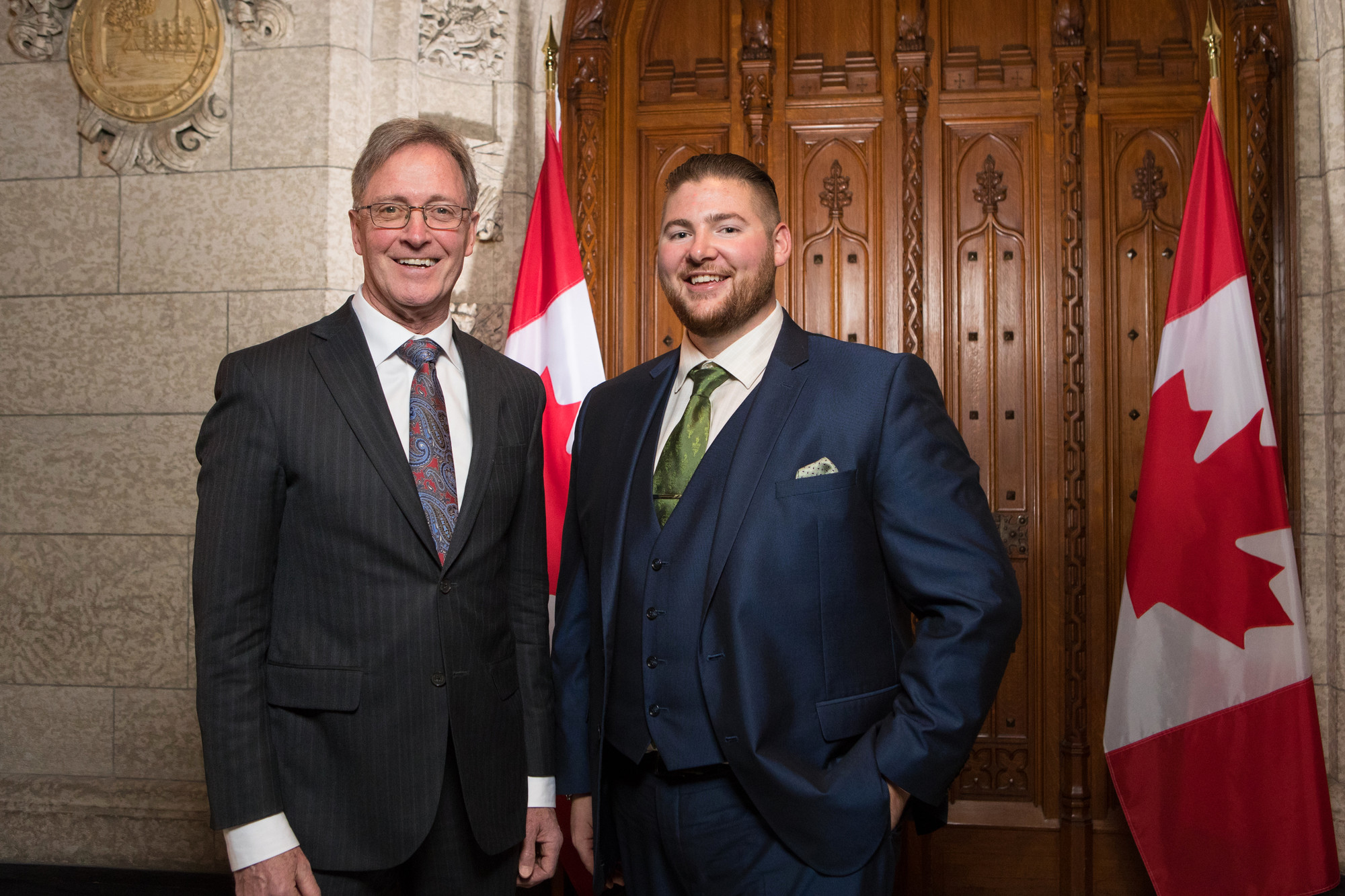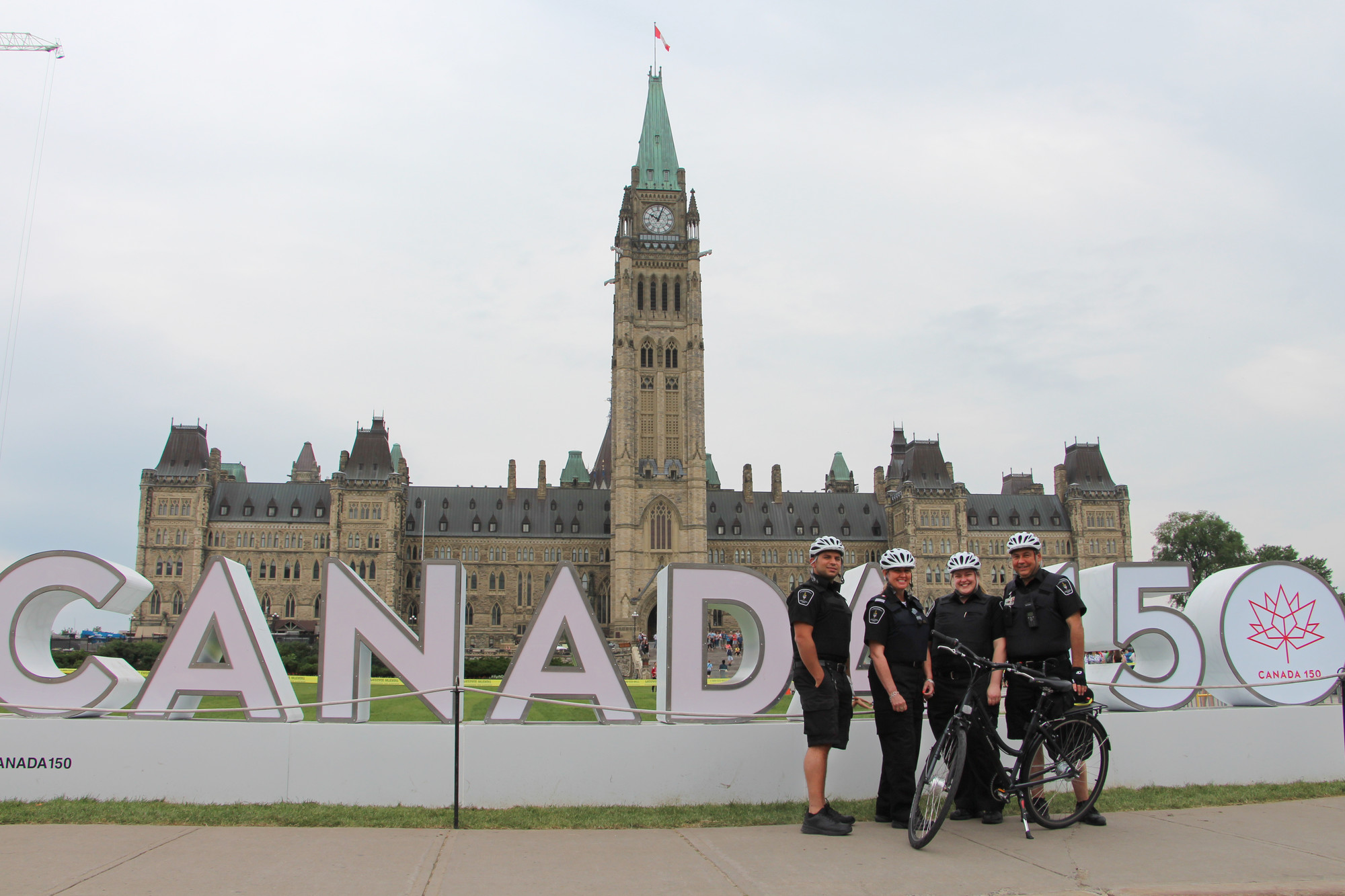 Helping democracy work at the House of Commons
Charles Robert became Clerk of the House of Commons, its senior administrative official and an advisor to the Speaker and MPs on parliamentary procedure, in the summer of 2017. And he says that after 38 years of working for Parliament, he is still thrilled to have "a front-row seat in a location where in fact our heart of democracy is pulsing pretty hard. You sometimes get a lump in your throat when you're walking up the Hill, that this is a place you can call your office."
Robert knows that's also the case for many of the approximately 1,700 full-time employees who work under him at the House Administration – all of them helping MPs do their jobs. They include employees in Procedural Services such as clerks, in corporate services such as IT, and in HR, finance, printing, transportation, trades, maintenance and food services.
"Having a career here, you get to see history in the making," says Robert, who was Clerk of the Senate before landing his current job. "You get to see MPs working hard for the benefit of the country." Clerks, for example, get to be part of special committees tasked with looking at matters of national interest.
Robert also cites employee benefits such as a pension plan, on-site daycare, training opportunities and parental leave for new parents.
Olivier Wildgoose-Labrie, 28, who is currently on a two-year rotation as a senior advisor in the House Administration's Office of the Chief Financial Officer, is among those who share Robert's sense of mission: "We are here to make Canada a better place." An accountant who has worked for the House Administration since 2014, he notes that there are many opportunities to learn and be challenged. In his current rotation, he says he's had "a lot of exposure to senior managers such as the CFO" and is able to "see the strategic thinking process they engage in on a daily basis. It's a great career opportunity for me."
Wildgoose-Labrie appreciates the relative ease of moving between jobs at the House. "I know that there's opportunity for me down the road to work in other services and not necessarily stay in finance. In other organizations, this flexibility may not be as readily available.
"I can actually see myself spending my whole career here, as many people do," he continues. "At the long-service awards every year, we see many people who have over 35 years of service dedicated to the House."
Aider la démocratie à suivre son cours à la Chambre des communes
Charles Robert est devenu le greffier de la Chambre des communes, soit son principal agent administratif et le conseiller du Président et des députés sur les questions de procédure parlementaire, au cours de l'été de 2017. Il dit qu'après 38 ans à travailler au Parlement, il est toujours aussi emballé de pouvoir être « aux premières loges d'un lieu où, en fait, le cœur de notre démocratie bat très fort ». Il ajoute que, parfois, « on a la gorge nouée en chemin vers la Colline à l'idée d'avoir le privilège d'y travailler ».
M. Robert sait que le sentiment est le même pour bon nombre des quelque 1 700 employés à temps plein qui relèvent de lui, à l'Administration de la Chambre des communes. Tous sont là pour aider les députés à accomplir leur travail. Il y a les employés des Services de la procédure, comme les greffiers, ceux des Services corporatifs, qui comprennent les technologies de l'information, mais également les gens des ressources humaines, des finances, de l'impression, du transport, des services des métiers, de l'entretien et des services de restauration.
« Avoir une carrière ici, c'est voir s'écrire l'histoire », dit M. Robert, qui a été le greffier du Sénat avant de décrocher son emploi actuel. « Vous voyez les députés travailler très fort pour le bien du pays. » Par exemple, les greffiers participent aux travaux des comités spéciaux qui sont saisis de questions d'intérêt national.
M. Robert cite également les avantages sociaux qui sont offerts aux employés, notamment le régime de retraite, la garderie sur les lieux, les occasions de formation et le congé parental pour les nouveaux parents.
Olivier Wildgoose-Labrie, 28 ans, s'acquitte en ce moment d'un mandat de deux ans comme conseiller principal au Bureau du dirigeant principal des finances de l'Administration de la Chambre des communes. Il est animé par le même sens de mission que M. Robert. « Nous sommes ici pour faire du Canada un meilleur endroit. » Comptable au service de l'Administration de la Chambre depuis 2014, il souligne que les occasions d'apprendre et de relever des défis sont nombreuses. Dans son mandat actuel, il dit qu'il « côtoie beaucoup des cadres supérieurs, comme le dirigeant principal des finances », et qu'il est en mesure de « constater le processus de réflexion stratégique auquel ils prennent part au quotidien ». Il déclare que « c'est pour moi une expérience professionnelle très enrichissante ».
M. Wildgoose-Labrie apprécie la facilité relative de passer d'un poste à un autre à la Chambre. « Je sais que je pourrai plus tard travailler dans d'autres services et ne pas forcément demeurer aux finances. Il n'y a pas nécessairement la même flexibilité dans d'autres organisations. »
« Je peux en fait me voir passer ma carrière entière ici, comme bien d'autres gens le font », ajoute-t-il. « À la cérémonie annuelle de reconnaissance des longs états de service, nous voyons beaucoup de gens qui ont consacré plus de 35 années à la Chambre. »
Recognized as one of Canada's Top Employers for Young People (2018)
Reconnue comme l'un des Meilleurs Employeurs au Canada pour les Jeunes Canadiens (2018)
By Kristina Leung and Richard Yerema, staff editors at Mediacorp Canada Inc. (February 9, 2018)
Par Kristina Leung et Richard Yerema, rédacteurs à Mediacorp Canada Inc. (9 février 2018)
Here are some of the reasons why The House of Commons Administration was selected as one of Canada's Top Employers for Young People (2018):
Voici certaines des raisons pour lesquelles l'Administration de la Chambre des communes a été choisie parmi les meilleurs employeurs au Canada pour les jeunes canadiens (2018):
Each year, House of Commons Administration selects 40 students from CEGEPs and high schools across Canada to participate in a dedicated Page Program -- students have the opportunity to witness the legislative process firsthand and work on a part-time basis during their first year of study at a university in the National Capital region
House of Commons Administration manages a summer student employment program, offering positions in a variety of disciplines including information services, finance, procedural services, the Office of the Clerk and human resources
Chaque année, l'Administration de la Chambre des communes choisit 40 étudiants parmi les cégeps et les écoles secondaires du pays pour participer au Programme des pages, qui est spécialement conçu pour donner aux étudiants l'occasion d'observer directement le processus législatif et de travailler à temps partiel pendant leur première année d'études dans une université de la région de la capitale nationale
L'Administration de la Chambre des communes gère un programme d'emploi d'été pour étudiants qui offre des postes dans divers domaines dont les services de l'information, les finances, les services de la procédure et les ressources humaines, ainsi qu'au sein du Bureau du greffier