About the Competition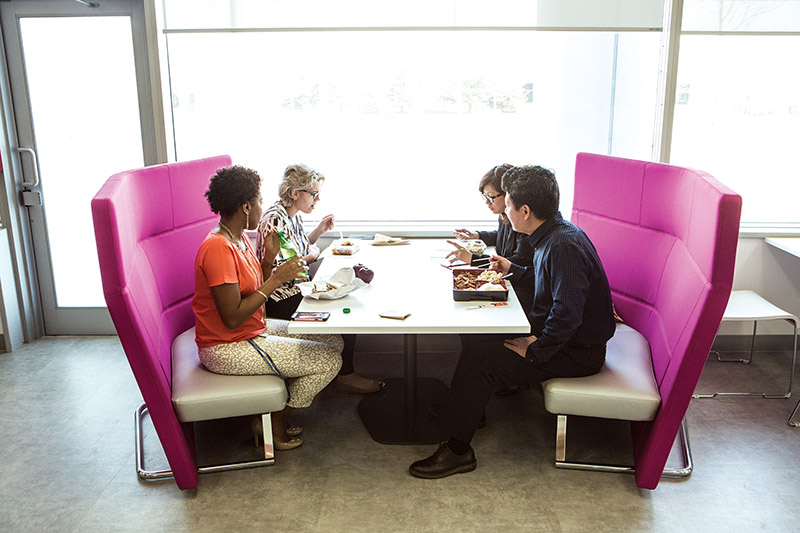 Background
Now entering its 17th year, the Canada's Top 100 Employers project is a national competition to determine which employers lead their industries in offering exceptional workplaces for their employees. Our 2016 winners were announced on November 9, 2015 in a special magazine feature in The Globe and Mail.
Selection Process
Employers are evaluated by the editors of Canada's Top 100 Employers using eight criteria, which have remained consistent since the project's inception: (1) Physical Workplace; (2) Work Atmosphere & Social; (3) Health, Financial & Family Benefits; (4) Vacation & Time Off; (5) Employee Communications; (6) Performance Management; (7) Training & Skills Development; and (8) Community Involvement. Employers are compared to other organizations in their field to determine which offers the most progressive and forward-thinking programs.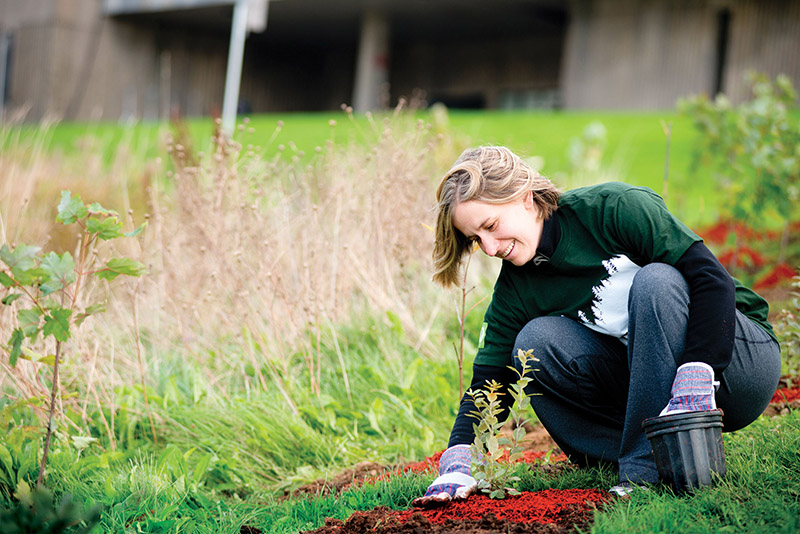 Editorial Partner
Each fall, the winners are announced in a special feature published in The Globe and Mail. For our detailed Reasons for Selection, please review the full list of winners. Publishing detailed Reasons for Selection is a distinguishing feature of our competition: it provides transparency in the selection of winners and "raises the bar" so that other employers can discover and adopt initiatives that work well elsewhere.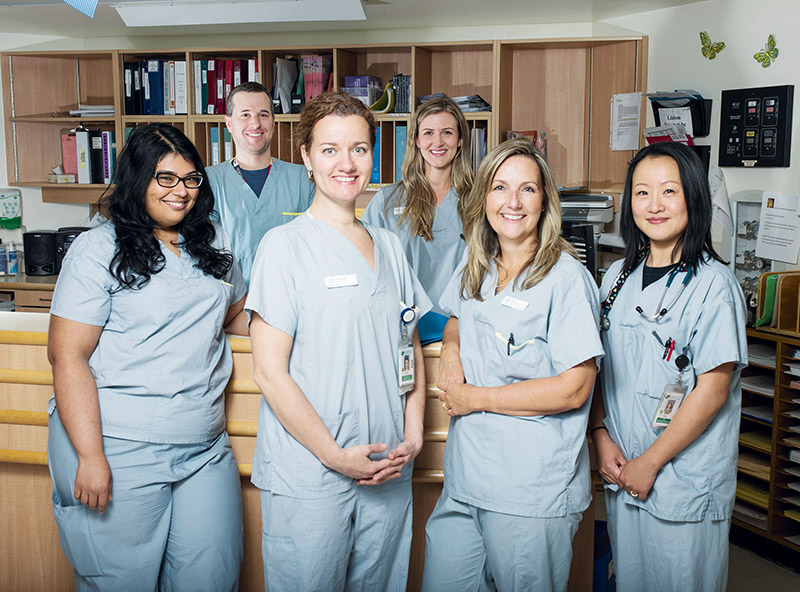 Eligibility Requirements
Any employer with its head office or principal place of business in Canada may apply for our national competition. Employers of any size may apply, whether private or public sector.
2017 Competition
Applications for our 2017 competition will be available early in 2016. Our 2017 winners will be announced in The Globe and Mail in the fall of 2016. Join our mailing list to stay up to date. To receive an application for next year's competition, employers should join our mailing list:

Editorial Conference
To learn more about the competition, we invite you to join us at the Top Employer Summit, our annual editorial conference on the Canada's Top 100 Employers project. This event lets you discover the latest best practices from winners, meet competition organizers and editors, and hear inspiring stories from world-class speakers – all presented in a commercial-free format. The conference is Canada's largest annual event for senior-level HR professionals.
Introduction
It's a significant achievement to make the list for Canada's Top 100 Employers but dozens of Canadian organizations manage to be the best in their field year after year. So how do they do it?
The simple answer is that they've made their companies exceptional places to work, but that's not enough to explain their staying power. Companies rise to the top by continuing to evolve so they get even better. Every year. That requires a dedicated commitment to making their workplace the best it can possibly be through a wide variety of progressive and innovative programs.
Repeat winners are always finding new ways to improve, such as Stryker Canada Inc. in Hamilton that recently showed its support for new moms and dads by increasing parental leave top-up payments to 100 per cent of salary for 26 weeks. Another consistent winner, Telus Corp. in Vancouver, just welcomed a Chief Wellness Officer to support employee efforts to make healthy choices.
Still others introduced new and brave ground-breaking measures. Examples include the Vancouver City Savings Credit Union that became a Living Wage Employer, a program that recognizes the social and economic benefits of paying a real living wage for all its employees and service providers, and Verafin Inc. in St. John's that joined a growing group of small- and medium-sized employers that are introducing flexible "no limit" vacation policies, letting employees decide how much time they need in any given year.
By Diane Jermyn
From the official announcement magazine for Canada's Top 100 Employers (2016), published on November 9, 2015 in The Globe and Mail.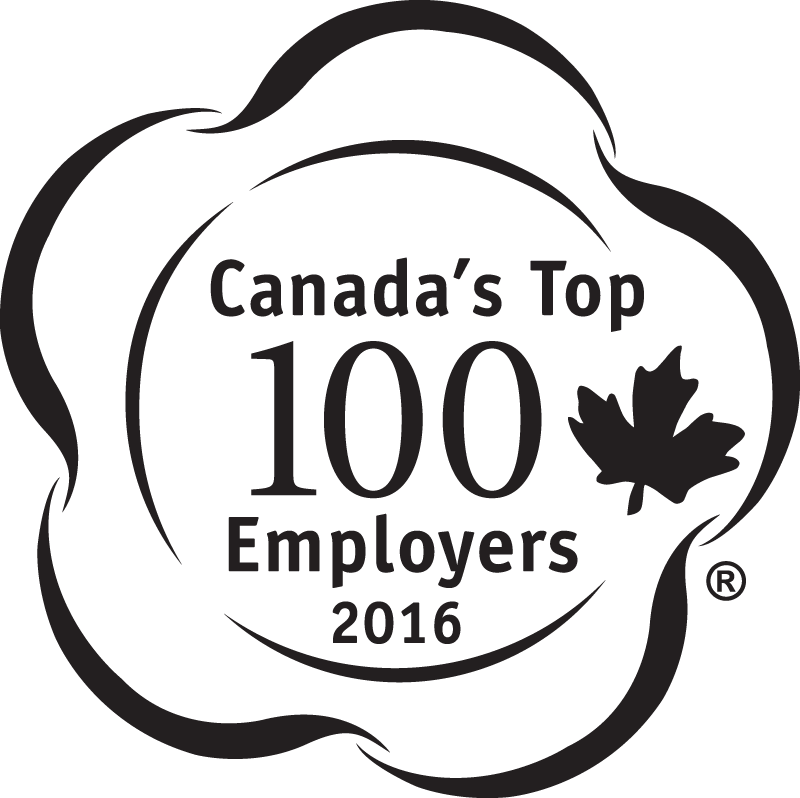 2016 Winners
Here are 2016 winners of the Canada's Top 100 Employers" competition. Click an employer name to read our editors' full Reasons for Selection:
The Power of Influence
Who are the most influential people in the daily lives of Canadians? Politicians, you may say. Or educators, bankers, marketers, counsellors, religious figures. But how often do you consider the leaders of companies with the best employment practices in the nation?
Yet think about it. The companies honoured in this 2016 list of Canada's Top 100 Employers are themselves responsible for nearly three-quarters of a million full-time employees in Canada -- some 743,000 people, and growing. The nation's entire workforce is only 18 million.
Moreover, the influence of the Top 100 extends far beyond their own realm, to the legions of other companies who view these firms as the gold standard in employment and try to emulate their practices as they compete for Canada's best talent.
"The Top 100 companies are influencing Canadians every day, and our goal is to document these leaders in the hope that they will inspire change for others," says Richard Yerema, Managing Editor at Mediacorp Canada, which compiles the Canada's Top 100 Employers list.
The scope for improving lives is vast. Take the impact of benefits, where a generous range of supports is often seen as just the price of admission to the Top 100 list. Yet they mean so much. A new mother decides she can afford to take a full year off with her newborn thanks to her company's maternity top-up. A middle-aged man can plan for his retirement with a clear vision, thanks to the firm's pension and RRSP contributions. People of all ages develop longer life spans by taking advantage of their company's fitness and wellness programs.
Or there are specialized perks that set new benchmarks. Some Top 100 companies offer tuition support not only to their employees, but to their employees' children. A young person's whole path in life may be changed as a result. Other companies have programs that encourage national and international mobility, meaning an employee hired in one part of Canada could end up working in another, or in the U.S., Europe or Asia. Inevitably, the whole family learns from the experience.
But perhaps the greatest influence that the Top 100 companies have on individual Canadians is in how their corporate cultures affect the way their people think and act. Start with the words you hear a lot when you talk to CEOs and HR officers at the Top 100. "Collaboration" is one. "Innovation" is another. It's hard to spend your day collaborating with your work colleagues, busy thinking outside the box, and not bring that style home with you. Or to your parent-school meeting, or to a neighbourhood organization. Such values as cooperation and fresh thinking travel easily out of the workplace.
It goes deeper. Top 100 companies have a strong commitment to diversity and inclusion programs. Sometimes these are influential in unexpected ways. One Top 100 CEO remembers getting a heartfelt note from an employee who said her participation in diversity awareness at work helped her and her husband respond supportively when their son told them he was gay. The concept of "bring your whole self to work" is now widespread among Top 100 companies, changing life for such employee communities as LGBT people, those with disabilities or those who need time to care for elderly parents -- they can be open about their needs.
And above all, there are the volunteers, hundreds of thousands of volunteers. Across Canada, almost every day, some group of employees somewhere is helping to build for Habitat for Humanity, fundraise for Oxfam, run for The Cure, or hold bake sales for their company's own charitable foundation. Often their employers have given them incentives to do good, from time off to matching funds to awards of recognition as they work with seniors or plant trees or fix up a school. The companies are also big donors in their own right. This is where Canada's Top 100 Employers are, unabashedly and decisively, a hugely positive influence in society.
To Carles Navarro, President of BASF Canada, there is no doubt that the select members of the Top 100 influence other employers in Canada. He recounts how his company entered the competition in 2013 - and wasn't chosen. "That was kind of a reality check for us," he says. "We then looked at what the others were doing, and we were inspired to improve our workplace experience."
In 2014, BASF Canada made the list, and it did again this year. "By being one of the Top 100, you feel a special sense of responsibility, because you are now a role model for the rest of Canada's employers," Navarro says. "And you know there are many highly competitive companies on the list, which makes you very aware of constantly needing to improve your offerings to your employees."
It's a virtuous circle, one in which Canada's Top 100 Employers are using their influence to lead Canadians to better lives.
By Berton Woodward
From the official announcement magazine for Canada's Top 100 Employers (2016), published on November 9, 2015 in The Globe and Mail.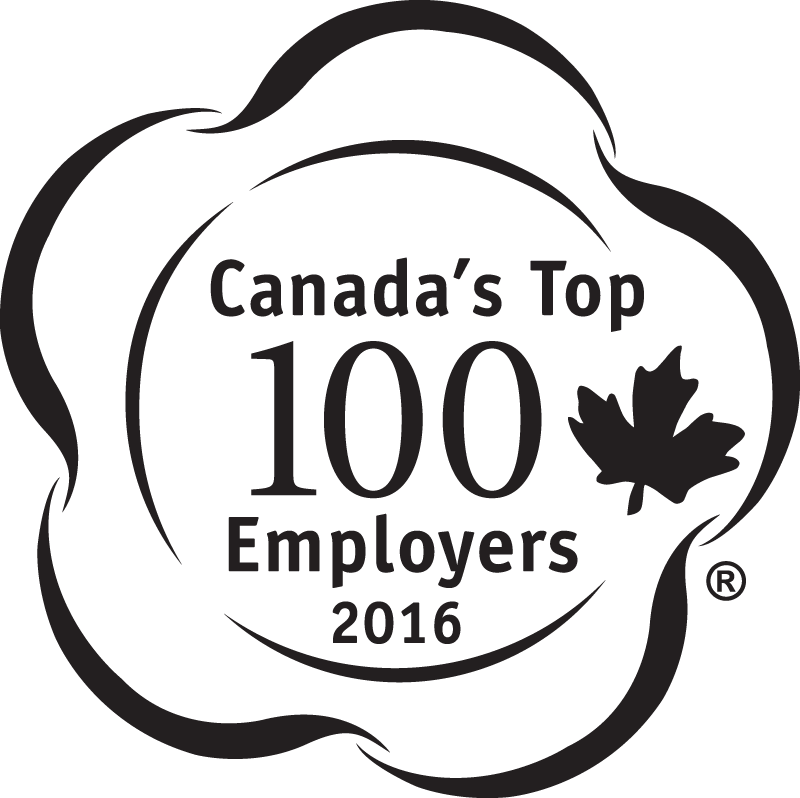 Find jobs from Canada's Top 100 Employers