About the Competition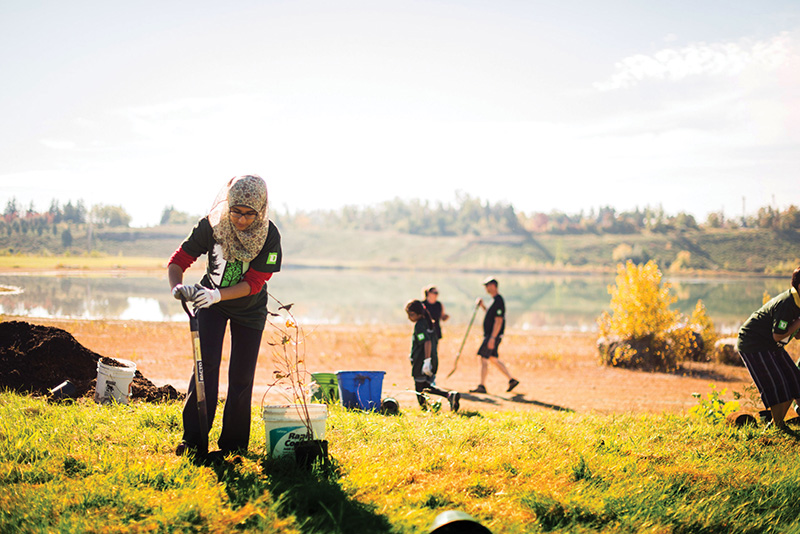 Background
Now entering its 18th year, the Canada's Top 100 Employers project is a national competition to determine which employers lead their industries in offering exceptional workplaces for their employees. Our 2017 winners were announced on November 7, 2016 in a special magazine feature in The Globe and Mail. Our press release issued the same day provides additional background on this year's competition.
Selection Process
Employers are evaluated by the editors of Canada's Top 100 Employers using eight criteria, which have remained consistent since the project's inception: (1) Physical Workplace; (2) Work Atmosphere & Social; (3) Health, Financial & Family Benefits; (4) Vacation & Time Off; (5) Employee Communications; (6) Performance Management; (7) Training & Skills Development; and (8) Community Involvement. Employers are compared to other organizations in their field to determine which offers the most progressive and forward-thinking programs.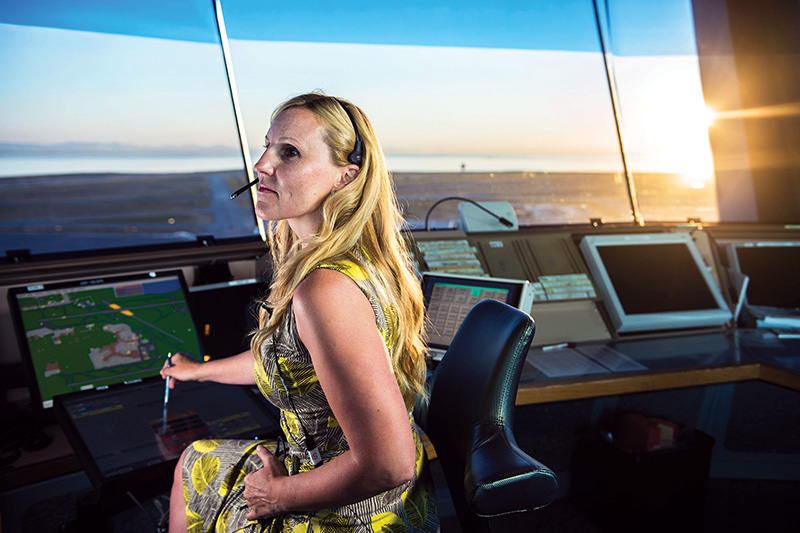 Editorial Partner
Each fall, the winners are announced in a special feature published in The Globe and Mail. For our detailed Reasons for Selection, please review the full list of winners. Publishing detailed Reasons for Selection is a distinguishing feature of our competition: it provides transparency in the selection of winners and "raises the bar" so that other employers can discover and adopt initiatives that work well elsewhere.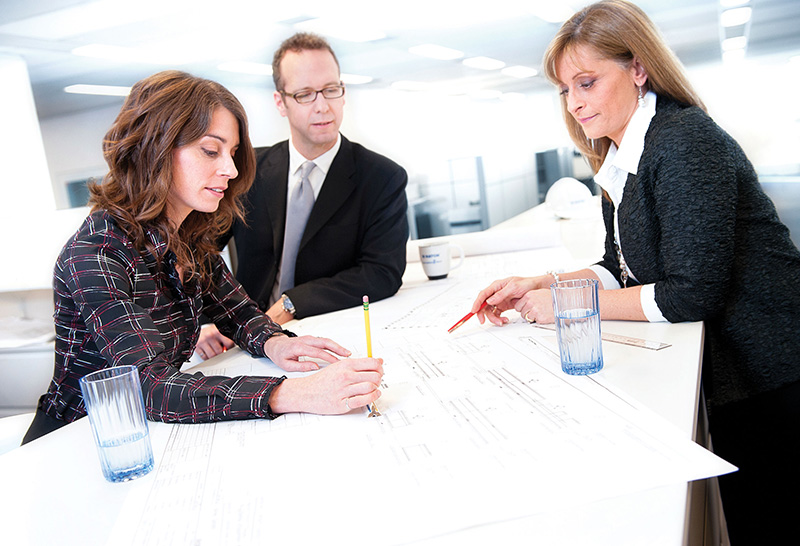 Eligibility Requirements
Any employer with its head office or principal place of business in Canada may apply for our national competition. Employers of any size may apply, whether private or public sector.
2018 Competition
Applications for our 2018 competition will be available early in 2017. Our 2018 winners will be announced in The Globe and Mail in the fall of 2017. Join our mailing list to stay up to date and receive an application for next year's competition:
Editorial Conference
To learn more about the competition, we invite you to join us at the Top Employer Summit, our annual editorial conference on the Canada's Top 100 Employers project. This event lets you discover the latest best practices from winners, meet competition organizers and editors, and hear inspiring stories from world-class speakers – all presented in a commercial-free format. The conference is Canada's largest annual event for senior-level HR professionals.
Introduction
The latest best practices from the winners of Canada's Top Employers for 2017 are worth a second look. While these industry leaders already excel in making their organizations a place where people love to come to work through a wide variety of innovative initiatives, many have gone further in transforming their physical space to further engage workers.
In many cases, employee feedback was key in planning the design of their newest spaces, such as at Samsung Canada. As a result, the company's LEED certified head office features plenty of flexible and open work space that invites employee collaboration, dedicated idea rooms and casual breakout areas, as well as a technology showroom featuring current and future technology. Rogers also recently introduced a new workspace design strategy, which they call Sharespace, that offers greater flexibility with both quiet and interactive zones, including cafés where employees can meet over coffee or tea, while accessing the latest technology. The new Telus corporate headquarters in Vancouver is another example, with features designed to better accommodate the changing nature of work for many employees, including telepresence rooms, reservable walkstation treadmill desks and onsite restaurants that offer their own online ordering system.
That all translates into a more engaged and collaborative workforce with higher company morale, in addition to helping attract top talent while retaining their best.
Other companies should take note.
By Diane Jermyn
From the official announcement magazine for Canada's Top 100 Employers (2017), published on November 7, 2016 in The Globe and Mail.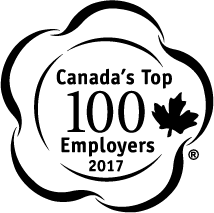 2017 Winners
Here are 2017 winners of the "Canada's Top 100 Employers" competition. Click an employer name to read our editors' full Reasons for Selection:
The Benefits of Listening
Whether it's through technology or one-on-one chats, Canada's Top 100 Employers are getting to know just about everything about their employees.
Listen to your employees. Call it a cliché or call it an essential organizational strategy, but listening is what Canada's Top 100 Employers are all about these days. "It involves understanding everything about your employees – how they work, where they work, what's competing for their time," says Richard Yerema, Managing Editor for Mediacorp Canada, which compiles the Top 100 list.
The value of such information is inestimable to the organizations on this 2017 list of the Top 100 Employers. Backed by ever more sophisticated technology, companies are using surveys, social media, focus groups, interviews and other techniques to drill deep into the fabric of their employees' lives and find ways to help them be happier, more focused, more motivated people.
"In our industry, we're mindful of the fact that our assets go up and down the elevators every day," says Rob Strickland, President of Fidelity Investments Canada ULC, the major component of Fidelity Canada. "So every year, we try to do a better job of listening."
Many companies have programs to gather employees' ideas about better ways of doing things. Fidelity offers rewards for the best innovations. But even then, says Strickland, "it's more than just listening to ideas. Employees want to know that their contribution is visible and recognized and appreciated."
The positive results go well beyond boosting efficiency and productivity. Listening has also contributed mightily to the changes Top Employers have made in recent years to their diversity and inclusion programs. With workplace diversity almost a given in today's Canada, many organizations now put greater emphasis on inclusion, because it covers such a broad range of situations for employees.
The idea of "bring your whole self to work" started in support of members of the LGBTQ community. Now, that emotive idea of inclusion has expanded considerably. Through listening, employers are learning more about all their employees' whole selves. That can mean their need for time to take care of children, or elder care, or, increasingly, support for mental illnesses such as depression. Listening can even centre on more subtle areas – many employers are focusing on the differences between the generations, or even between introverts and extroverts.
Technology has played a key role in the explosion of listening, and allowed companies of every size to compete in this crucial area. "The online capabilities have reached down to the smaller organizations as well," says Yerema. "It's almost like analytics in sports – there's an ability to measure everything. So there's really no excuse for organizations not to figure out ways in which to gauge what their employees are thinking."
At Samsung Canada, they even have an app for it. It's an off-the-shelf online tool called Two-Minute Feedback that any manager, employee or sales person can send to any other employee or outside client. The recipient anonymously answers a few quick questions and, voila, instant feedback.
"It really works well for team-based work and collaborations, as well as feedback for an individual on how they're performing," says Christine Greco, Vice President Human Resources and Corporate Affairs at Samsung.
But it's not only about tech. Employers like Samsung also carry out human listening across the enterprise. "We spend a lot of time getting feedback from our employees," says Greco. "Last year and early this year we conducted over 200 one-on-one interviews, each about 60 minutes long, trying to understand what engages our employees. You get a lot of feedback when you do that."
Possibly the most ambitious listening exercise among the Top 100 in the past year occurred at banking giant RBC, with some 80,000 employees worldwide. It held a 55-hour global "Vision and Values Jam" online, in which some 20,000 employees in 22 countries posted more than 17,000 threads, comments and replies. Set in motion by new President and CEO David McKay, who participated, the goal was to collectively articulate RBC's very reason for existing – its purpose – and refine its vision and values.
"We had come to the conclusion that in the future, successful companies would be purpose-driven, principles-led and performance-focused," says Per Scott, Vice President Human Resources. "That led to the work on what we call our Collective Ambition. And we said, we can't do this work without talking to the employees."
When the non-stop, two-and-a-half-day discussion was all distilled down – aided by sophisticated text and data analytics methods -- the result was a concise but powerful new statement of purpose for RBC and its employees: "Helping clients thrive and communities prosper."
There were also tweaks to the company's five values – notably to the Diversity description. "What came through loud and clear from employees was that the idea of inclusion had to be reflected in this value, and that today, it wasn't simply about respecting differences, but it was also about advocating and speaking up for inclusion," says Scott. "So we changed the value to Diversity and Inclusion, and we added that language."
Scott says the example of the global jam has led to dozens of "mini-jams" through RBC's internal social media. "It's a new era of what communications looks like," he says. "Really, it's not just about listening, but about listening and responding. Employees want transparency and they want a dialogue."
By Berton Woodward
From the official announcement magazine for Canada's Top 100 Employers (2017), published on November 7, 2016 in The Globe and Mail.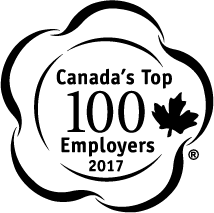 Find jobs from Canada's Top 100 Employers