Recognized as one of Canada's Top 100 Employers (2018)
RECONNUE COMME L'UN DES 100 MEILLEURS EMPLOYEURS DU CANADA (2018)
By Richard Yerema and Kristina Leung, staff editors at Mediacorp Canada Inc. (November 7, 2017)
Par Richard Yerema et Kristina Leung, rédacteurs à Mediacorp Canada Inc. (7 novembre 2017)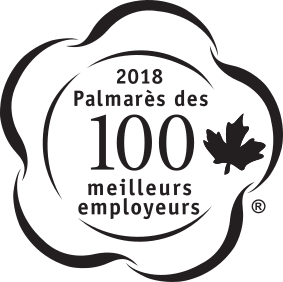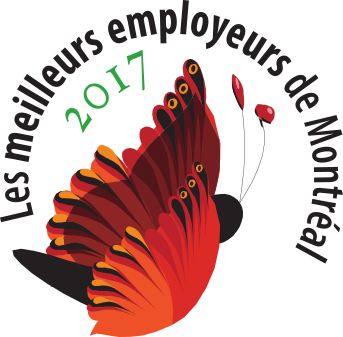 Here are some of the reasons why Bell Canada was selected as one of Canada's Top 100 Employers (2018) and Montréal's Top Employers (2017):
Voici quelques-unes des raisons pour lesquelles Bell Canada a été classée parmi les 100 Meilleurs Employeurs au Canada (2018) et parmi les meilleurs employeurs de Montréal (2017):
Bell Canada encourages employees to become owners through a share purchase plan and offers a number of additional financial incentives, including signing and year-end bonuses for some employees and referral bonuses of up to $2,500
Bell Canada created the national "Let's Talk" initiative to support mental health awareness initiatives across Canada (a total commitment of over $100 million) and also encourages employees to get involved in their communities with matching charitable donations as well as financial donations to charities where employees volunteer their time (up to $2,500)
Head office employees at Bell Canada receive subsidized membership to a fully-equipped onsite fitness facility with instructor-led classes (from Zumba to spinning) as well as access to nutritionist, massage therapist and physiotherapist services -- the company also maintains three fitness centres in Montréal that employees can access with their single membership
Bell Canada encourage ses employés à devenir propriétaires de l'entreprise par l'intermédiaire d'un régime d'actionnariat. L'entreprise offre d'autres incitatifs financiers, dont des primes à la signature et des bonis de fin d'année pour certains employés, ainsi que des primes de recommandation allant jusqu'à 2 500 $.
Bell Canada a créé l'initiative « Bell Cause pour la cause » pour soutenir les efforts de sensibilisation à la santé mentale d'un bout à l'autre du Canada (un engagement total de plus 100 millions $). L'entreprise encourage les employés à s'engager dans leurs communautés en versant une contribution équivalente aux dons qu'ils effectuent et en donnant de l'argent (jusqu'à 2 500 $) aux organismes de bienfaisance au sein desquels ils font du bénévolat.
Les employés qui travaillent au siège social de Bell Canada bénéficient d'un abonnement subventionné à un centre de conditionnement physique tout équipé sur place, qui offre des cours donnés par des instructeurs (depuis des cours de Zumba jusqu'à du cardiovélo). Ils ont également accès aux services de nutritionnistes, de massothérapeutes et de physiothérapeutes. L'entreprise parraine aussi trois autres centres de conditionnement physique à Montréal auxquels les employés ont accès avec leur seule carte de membre.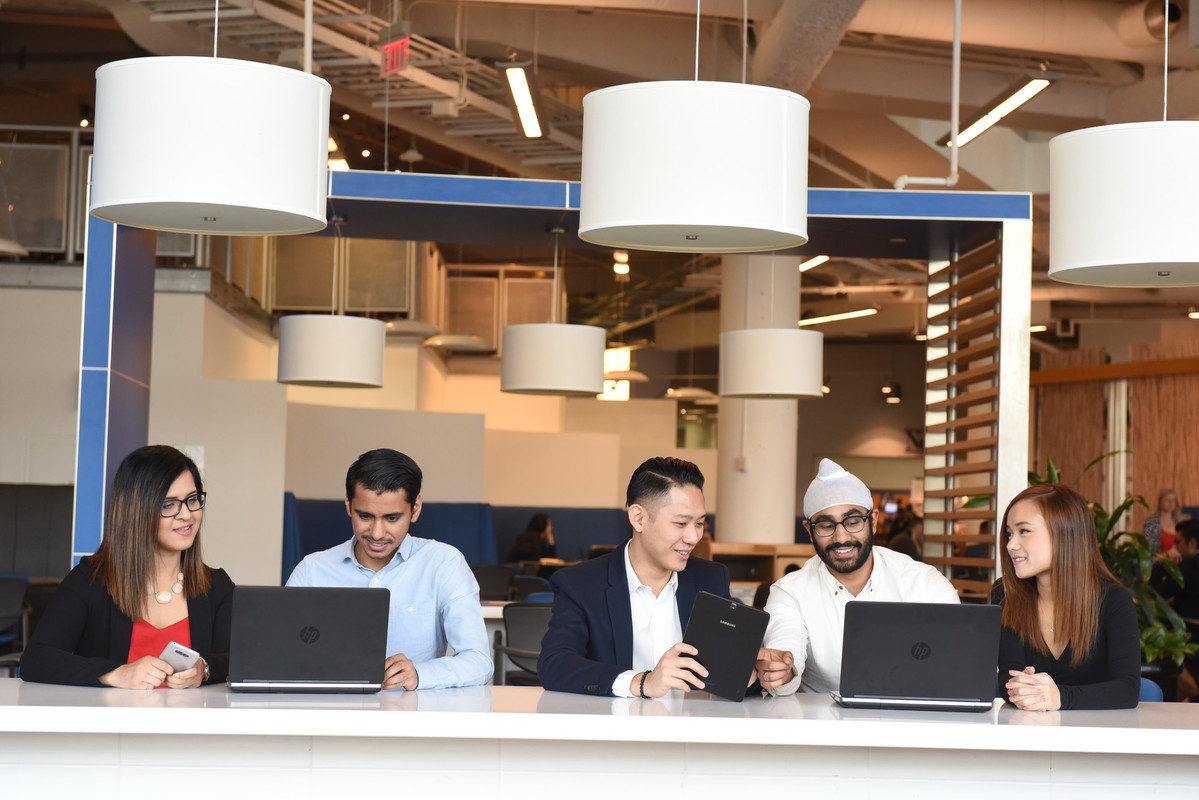 Employer Background
Renseignements généraux sur l'employeur
Industry

Secteur d'activité

Communications
Communications

Publicly traded

Société cotée en bourse

yes
Oui

Parent company

Société mère

BCE Inc.

Parent company head office

Siège social de la société mère

Montréal QC

Major Canadian hiring locations

Principaux lieux de travail au Canada

Montréal QC, Toronto ON, Halifax NS, Winnipeg MB, Saint John NB, Calgary AB, Vancouver BC
Montréal (Québec), Toronto (Ontario), Halifax (Nouvelle-Écosse), Winnipeg (Manitoba), Saint John (Nouveau-Brunswick), Calgary (Alberta), Vancouver (Colombie-Britannique)

Full-time employees in Canada

Nombre d'employés à plein temps au Canada

37,137
37 137

Part-time employees in Canada

Nombre d'employés à temps partiel au Canada

9,520
9 520

Full-time employees worldwide

Nombre d'employés à plein temps dans le monde entier

37,929
37 929

Workforce engaged on a contract basis

Employés contractuels

3.7%
3,7%

Average age of employees in Canada

Âge moyen des employés au Canada

41.4
41,4

Longest serving employee

Plus grand nombre d'années de service

50

.6 years

,6 ans
Physical Workplace
Lieu de travail
A+
Commuter amenities

Agréments pour les navetteurs

transit subsidies, online car-pool sign-up, free parking, electric vehicle charging stations, secure/sheltered bicycle parking
Subventions au transport collectif, inscription au covoiturage en ligne, stationnement gratuit, bornes de recharge pour véhicules électriques, stationnement de bicyclettes sécurisé et à l'abri

Workplace features

Caractéristiques du lieu de travail

physical workplace and amenities vary by office location, Bell's Mississauga office features onsite gyms while Bell Media's historic Toronto office houses CP24 and other programs, Bell's Montréal head office is LEED certified and features telecommuter workstations, nap room, religious observance room, outdoor barbecue, outdoor patio
Les lieux de travail et les agréments physiques varient selon l'emplacement. Les bureaux de Bell à Mississauga sont équipés de gymnases et les locaux historiques de Bell Média à Toronto sont occupés par la chaîne CP24 et par les équipes d'autres émissions. Le siège social de Bell à Montréal a reçu la certification LEED et il est doté d'un stationnement pour véhicules électriques, de postes de travail pour télétravailleurs, d'une salle de sieste, d'un lieu de culte, d'un barbecue en plein air et d'une terrasse extérieure

Employee lounge amenities

Salle de repos pour les employés

comfortable seating, fireplace, television, pool table, foosball table, board games, table tennis, private phone rooms, self-serve library and reading area, outdoor terrace with parasols
Sièges confortables, foyer, téléviseur, table de billard, table de baby-foot, jeux de société, tennis de table, salles de téléphone privées, bibliothèque libre-service et zone de lecture, terrasse extérieure avec des parasols place

Onsite cafeteria

Cafétéria sur place

healthy menus, special diet menus, marche-style cafeteria, onsite coffee shop
Menus santé, menus pour les personnes ayant un régime particulier, cafétéria de style marché, café sur place

Onsite fitness facility

Centre de conditionnement physique sur place

for employees only, subsidized membership, treadmills, stationary bikes, stairmasters, instructor-led classes (Zumba, spinning, cardio-interval, step combo), rowing machines, weights, basketball court, sauna, shower facilities, nutritionist, massage therapist and physiotherapist services, outdoor space for volleyball, ball hockey and basketball, single membership provides access to all three facilities in Montréal
Pour les employés seulement, abonnement subventionné, tapis roulants, bicyclettes stationnaires, escaliers d'exercice, cours donnés par des instructeurs (Zumba, cardiovélo, exercices cardiovasculaires à intervalles, sauts combinés), machines à ramer, poids et haltères, terrain de basketball, sauna, douches, services de nutritionnistes, de massothérapeutes et de physiothérapeutes, terrain extérieur pour le volleyball, le hockey-balle et le basketball, une seule carte de membre donne accès aux trois centres de conditionnement physique à Montréal

Other nearby amenities

Autres commodités à proximité

golf course, tennis club (with over 20 indoor courts), spa (with discounted employee membership), Elgar Community Centre, fitness club, Domaine St. Paul & Lac Des Battures (features 26 hectares of forest with walking trails and a bird sanctuary), daycare, restaurants, shopping mall, 10 km of illuminated bicycle paths, outdoor rinks and cross-country ski trails, a number of parks with playgrounds
Terrain de golf, club de tennis (plus de 20 courts intérieurs), spa (rabais sur l'abonnement), centre communautaire Elgar, club de conditionnement physique, Domaine Saint-Paul et lac des Battures (26 hectares de forêt comprenant des sentiers pédestres et une réserve ornithologique sanctuaire d'oiseaux), garderie, restaurants, centre commercial, pistes cyclables éclairées (10 km), patinoires extérieures, pistes de ski de randonnée, nombreux parcs avec terrains de jeux pour les enfants
Work Atmosphere & Communications
Climat de travail et communications
A
Employee social committee name

Nom du club social des employés

various committees at locations across Canada (est. 2007)
Divers comités dans les différents emplacements au Canada (établis en 2007)

Recent social events

Récentes activités sociales

each of Bell's departments organize dedicated social events and celebrations throughout the year, including an offsite event at Mont Tremblant, annual barbecues, a scavenger hunt, holiday celebrations and a bowling tournament (to name a few), Bell also maintains employee sports teams and clubs, from baseball to chess and bowling to hockey (pre-dating the NHL, Bell's first teams played in 1903, competing for the Telephone Trophy)
Chaque service de Bell organise des activités sociales et des fêtes spéciales tout au long de l'année, notamment une activité externe à Mont-Tremblant, des barbecues annuels, une chasse au trésor, des fêtes de fin d'année et un tournoi de quilles pour n'en citer que quelques-unes. Bell parraine aussi des équipes et des clubs sportifs d'employés, qui vont du baseball au hockey (antérieures même à la LNH, les premières équipes de Bell y jouaient en 1903, s'affrontant pour le « trophée du Téléphone »), ainsi que des échecs aux quilles

Cultural aspects

Aspects culturels

employee sports teams, business casual dress (e.g. jeans) daily, casual dress Fridays, music while working
Équipes sportives d'employés, tenue d'affaires décontractée, tenue décontractée (p. ex. jeans) tous les jours, vendredis décontractés, musique en travaillant

Employee communications

Communications avec les employés

intranet site, company newsletter, traditional/email suggestion box
Site intranet, bulletin d'entreprise, boîte à suggestion classique ou par courriel

Other in-house communications

Autres communications internes

quarterly town hall meetings, annual meetings with the CEO hosted at locations across the country (including live webcasts for some of the meetings), InTouch (retiree newsletter)
Rencontres Dialogue en direct trimestrielles, réunions annuelles avec le chef de la direction organisées dans des emplacements d'un bout à l'autre du pays (y compris la webdiffusion en direct de certaines des réunions), En contact (bulletin des retraités)
Financial Benefits & Compensation
Avantages financiers et rémunération
A
Financial benefits note

Remarque au sujet des avantages financiers

Bell Canada has multiple employee groups, financial benefits may vary by position
Comme Bell Canada comporte plusieurs groupes d'employés, les avantages financiers peuvent varier en fonction du poste

Outside salary surveys

Enquêtes externes sur les salaires

participates in outside salary surveys every 12 months
Participe à des enquêtes externes sur les salaires tous les 12 mois

Employee salary reviews

Révision des salaires des employés

individual salaries are reviewed every 12 months
Les salaires font l'objet d'une révision tous les 12 mois

Long-term savings

Épargne à long terme

defined-contribution (DC) pension
Régime de retraite à cotisations déterminées

Long-term planning

Planification à long terme

retirement planning assistance, life & disability insurance
Aide à la planification de la retraite, assurance vie et invalidité

Share purchase plan

Régime d'actionnariat pour les employés

available to all employees
Accessible à tous les employés

Year-end bonuses

Bonis de fin d'année

available to all employees
Accessibles à tous les employés

Referral bonuses (max)

Primes de recommandation (maximum)

new employee referral bonuses (up to $2,500) for some positions
Primes pour la recommandation d'un nouvel employé (jusqu'à 2 500 $) pour certains postes

Signing bonuses

Primes à la signature

available for some positions
Offertes pour certaines postes

Additional financial benefits

Avantages financiers supplémentaires

subsidized home insurance, subsidized auto insurance, discounted auto lease rates, subsidized home internet, participates in over 20 salary surveys annually to ensure competitive compensation across its diverse business
Taux préférentiels pour les assurances automobile et habitation, réduction sur les tarifs de location de voiture, programme subventionné de services Internet résidentiels, participation annuelle à plus de 20 enquêtes sur les salaires afin de maintenir une rémunération concurrentielle dans les différentes unités d'affaires
Health & Family-Friendly Benefits
Avantages sociaux pour la santé et la famille
B
Health plan note

Remarque à propos de soins de santé

Bell Canada has multiple employee groups, health plans may vary by position
Comme la société comporte plusieurs groupes d'employés, le régime de soins de santé peut varier en fonction du poste

Health plan premium

Prime du régime de soins de santé

as part of the health plan, the employer pays up to 100% of the premiums
Dans le cadre du régime de soins de santé, l'employeur verse jusqu'à 100 % des primes

Flexible coverage

Protection souple

health plan is flexible with adjustable premiums and coverage levels
Le régime de soins de santé est souple et propose des primes révisables et différents niveaux de protection

Waiting period

Délai de carence

there is no waiting period for coverage
Il n'y a aucun délai de carence pour la protection

Family coverage option

Option de protection familiale

yes
Oui

Dental coverage

Assurance soins dentaires

routine, restorative, orthodontics
Couvre les soins dentaires courants, les restaurations et les soins d'orthodontie

Eyecare

Soins de la vue

$200 every 2 years
Allocation de 200 $ aux deux ans

Traditional coverage (e.g. prescription drugs)

Protection classique (p. ex. médicaments sur ordonnance)

yes
Oui

Additional coverage

Couverture additionnelle

employee assistance (EAP) plan, physiotherapy, medical travel insurance, medical equipment and supplies, massage therapy, nutrition planning, podiatrist, osteopathy, chiropractor, alternative coverage (e.g. accupuncture, naturopathy)
Programme d'aide aux employés (PAE), physiothérapie, assurance de soins médicaux pour voyages, fournitures et matériel médical, massothérapie, planification alimentaire, podiatre, ostéopathie, chiropraticien, soins alternatifs (p. ex. acuponcture, naturopathie)

Other health plan information

Autres renseignements sur le régime de soins de santé

dedicated mental health and wellness site on the company's intranet, which features articles, videos, training and a variety of related resources, retirees have access to "MyFuture" health benefits program (with no employer paid premiums)
Site spécialisé sur la santé mentale et le mieux-être sur l'intranet de l'entreprise, qui comprend des articles, des vidéos, des formations et diverses ressources connexes. Les retraités ont accès au régime de soins de santé « MonFutur » (sans primes payées par l'employeur)

Family-friendly benefits note

Remarque sur les avantages sociaux pour la famille

Bell Canada has multiple employee groups, family-friendly policies may vary by position
Comme Bell Canada comporte plusieurs groupes d'employés, les politiques en matière d'avantages sociaux pour la famille peuvent varier en fonction du poste

In vitro fertilization (IVF)

Fécondation in vitro

$15,000 per lifetime
15 000 $ dans la vie de l'assuré

Maternity top-up (mothers)

Prestations complémentaires pour congé de maternité (mères)

up to 67% of salary for 17 weeks
Jusqu'à 67 % du salaire durant 17 semaines

Parental top-up (fathers)

Prestations complémentaires pour congé parental (pères)

up to 67% of salary for 12 weeks
Jusqu'à 67 % du salaire durant 12 semaines

Adoption top-up

Prestations complémentaires pour congé d'adoption

up to 67% of salary for 12 weeks
Jusqu'à 67 % du salaire durant 12 semaines

Additional family-friendly benefits

Avantages complémentaires pour la famille

extended parental leave to unpaid leave, daycare centre onsite
Congé parental prolongé allant jusqu'au congé non rémunéré, garderie sur place

Alternative work options

Régime de travail optionnel

flexible work hours, shortened work week (fewer hours with less pay), compressed work week, telecommuting
Horaire flexible, semaine de travail raccourcie (nombre d'heures et rémunération réduits), semaine de travail comprimée, télétravail

Additional family-friendly information

Renseignements supplémentaires sur les avantages pour la famille

maternity and parental leave programs vary by employee group and location, to 75% for 25 weeks (Atlantic Canada), to 75% for 15 weeks for new mothers and 75% for 10 weeks for new fathers and adoptive parents (Ontario)
Selon le groupe d'employés et l'emplacement, le congé de maternité et le congé parental varient de 75 % pendant 25 semaines (Canada atlantique) à 75 % pendant 15 semaines pour les nouvelles mères et à 75 % pendant 10 semaines pour les nouveaux pères (Ontario)
Vacation & Personal Time-Off
Vacances et congés personnels
B
Vacation note

Remarque à propos des vacances

Bell Canada has multiple employee groups, vacation policies may vary by position
Comme Bell Canada comporte plusieurs groupes d'employés, les politiques en matière de vacances peuvent varier en fonction du poste

Vacation allowance

Durée des vacances

new employees receive 3 weeks of paid vacation after their first year on the job
Les nouveaux employés ont droit à trois semaines de vacances payées après une année de service

Vacation jump

Augmentation de la durée des vacances

vacation increases after 10 years of employment
La durée des vacances augmente après dix ans de service

Maximum vacation allowance

Durée maximale des vacances

employees move to a maximum of 5 weeks of vacation over their career
Au cours de leur carrière, les employés peuvent avoir droit au maximum à cinq semaines de vacances annuelles

Personal paid days off

Jours de congé personnels payés

employees can schedule 4 personal days off each year, as needed
Les employés ont droit à quatre jours de congé personnels par année, au besoin

Unpaid leave maximum

Durée maximale de congé non rémunéré

36 months
36 mois

Self-funded/deferred salary leave maximum

Maximum de congé sabbatique ou à traitement différé

1 month
1 mois

Additional time-off information

Renseignements supplémentaires sur les congés

depending on their group, employees can purchase 2 to 5 extra days of vacation through benefit flex credits or payroll deductions
Selon leur groupe, les employés peuvent acheter de deux à cinq journées de vacances de plus au moyen de crédits du programme d'avantages sociaux flexibles ou de déductions à la source
Employee Engagement & Performance
Engagement et rendement des employés
A+
Employee performance reviews

Évaluation du rendement des employés

employees receive individual performance reviews every 6 months
Chaque employé reçoit une évaluation de son rendement tous les six mois

Managers receive performance review training

Les gestionnaires reçoivent une formation sur l'évaluation du rendement

yes
Oui

360° feedback option

Option de rétroaction à 360°

as part of the review process, performance feedback is also solicited from co-workers and other managers familiar with each employee's work
Dans le cadre du processus d'évaluation, la rétroaction sur le rendement est également sollicitée auprès des collègues de travail et d'autres gestionnaires qui connaissent bien le travail de chaque employé

Confidential employee feedback

Confidentialité des commentaires des employés

employees can also provide confidential feedback on their manager's performance
Les employés peuvent également formuler des commentaires en toute confidentialité sur le rendement de leur gestionnaire

Exit interview

Entrevue de départ

exit interview option is available for departing employees
Une entrevue de départ est offerte aux employés qui quittent leur emploi

Performance recognition

Reconnaissance du rendement

individual performance bonuses, on-the-spot rewards, peer-to-peer recognition awards, long-service awards, (each business unit at Bell has a formal recognition program and presents awards to employees each quarter), Bravo Award program to recognize remarkable achievements and performance (presented at an annual gala that has featured musical guests such as Blue Rodeo, Sam Roberts Band, Sarah McLachlan and Nikki Yanofsky), long service awards since 1931, leading to the President's Wallet Program to commemorate employee retirement
Primes de rendement individuelles, récompenses immédiates, prix de reconnaissance des pairs, récompenses pour longs états de service, chaque unité d'affaires de Bell a son programme de reconnaissance et présente des récompenses à ses employés tous les trimestres, programme de prix Bravo qui reconnaît les réalisations et le rendement remarquables (présentés lors d'un gala annuel qui a mis en vedette des invités musicaux tels que Blue Rodeo, Sam Roberts Band, Sarah McLachlan et Nikki Yanofsky), récompenses pour longs états de service depuis 1931, menant au programme de portefeuille du président remis aux retraités

In-house survey period

Période de sondage interne

in-house surveys are conducted every 12 months
Des sondages internes sont menés tous les 12 mois

Outside survey period

Période de sondage externe

outside consultant surveys are held every 12 months
Des sondages sont effectués par des consultants externes tous les 12 mois
Training & Skills Development
Formation et perfectionnement
A
Career planning

Planification de carrière

in-house career planning services, online employee skills inventory
Services internes de planification de carrière, inventaire des compétences des employés en ligne

In-house training initiatives

Initiatives de formation internes

apprenticeship/skilled trades programs, mentoring, in-house training, online training, leadership training, paid internships, subsidies for professional accreditation
Programmes d'apprentissage et de métiers spécialisés, mentorat, formation interne, formation en ligne, formation au leadership, stages rémunérés, subventions à la certification professionnelle

Related tuition subsidies

Frais de scolarité subventionnés pour des cours liés à l'emploi

employer covers up to 100% of tuition per year
La contribution de l'employeur aux frais de scolarité peut atteindre 100 % des frais par année

Annual tuition maximum

Maximum de la contribution annuelle

employer pays up to $1,500 in tuition subsidies for job-related courses per year
L'employeur paie jusqu'à 1 500 $ de frais de scolarité par année pour les cours liés à l'emploi

Unrelated tuition subsidies

Frais de scolarité subventionnés (pour des cours non liés à l'emploi)

employer covers up to 100% of tuition per year for courses unrelated to current position
La contribution de l'employeur aux frais de scolarité peut atteindre 100 % des frais par année pour les cours non liés à l'emploi

Unrelated tuition maximum

Maximum de la contribution annuelle pour des cours non liés à l'emploi

employer pays up to $1,500 in tuition subsidies per year for courses unrelated to current position
L'employeur paie jusqu'à 1 500 $ de frais de scolarité par année pour les cours non liés au poste actuel

Financial bonuses for course completions

Primes en argent pour cours suivi

yes
Oui

Unique training & development programs

Programmes de formation et de développement exclusifs

formal leadership development program (focused on new and existing leaders as well as the development of the next generation of leaders), mental health training initiative
Programme officiel de développement du leadership (axé sur les nouveaux cadres et sur les cadres actuels, ainsi que sur le développement de la prochaine génération de cadres), initiative de formation en santé mentale
Community Involvement
Engagement communautaire
A+
Scope of charitable involvement

Ampleur de l'action caritative

local, national
Locale, nationale

Employee charitable involvement

Engagement caritatif des employés

employees are involved in selection of charities, employees receive paid time off to volunteer, (up to 1 paid day)
Les employés sont engagés dans différentes œuvres de bienfaisance et ils ont droit à des congés rémunérés pour leurs activités de bénévolat (jusqu'à une journée payée)

Total employee volunteer hours (on company time)

Heures de bénévolat des employés (durant les heures de travail)

over 336,000 hours last year
Plus de 336 000 heures l'an dernier

Total number of charities supported last year

Nombre d'œuvres de bienfaisance soutenues l'an dernier

approximately 3,000 charitable and community organizations were supported last year
La société a soutenu approximativement 3 000 associations caritatives et organisations communautaires l'an dernier

Some of the community organizations supported

Certains des organismes communautaires appuyés

Queen's University ($1 million Bell Canada Mental Health and Anti-Stigma Research Chair), Fondation de l'Institut universitaire en santé mentale de Québec ($1 million), Nunavut's Embrace Life Council (suicide prevention initiative), over 70 grants to community organizations providing mental health care at the community level (from $5,000 to $25,000), and numerous other initiatives and events across the country
Université Queen's (Chaire de recherche Bell sur la santé mentale et la lutte contre la stigmatisation de 1 million $), Fondation de l'Institut universitaire en santé mentale de Québec (1 million $), Embrace Life Council (initiative de prévention du suicide) au Nunavut, plus de 70 dons à des organismes communautaires offrant des soins en santé mentale au niveau des collectivités (de 5 000 $ à 25 000 $) et un grand nombre d'autres initiatives et événements partout au pays

Charitable giving

Dons à des organismes de bienfaisance

matches employee donations, matches employee volunteer hours with company donations
La société verse un montant équivalent aux dons des employés et elle verse des dons équivalents à leurs heures de bénévolat

Community highlight

Faits saillants concernant l'engagement communautaire

The Bell Let's Talk mental health initiative is one of the largest commitments to mental health in Canada, with a total commitment of over $100 million over a decade. Employees support many of the program's initiatives, including the annual Bell Let's Talk Day, a high-profile campaign to reduce stigma and raise funds to fight mental illness. Since the initiative was launched in 2010, the campaign has funded more than 700 partner organizations who have worked with over 1.7 million people across the country.
La contribution de Bell dans le cadre de l'initiative en santé mentale Bell Cause pour la cause s'élève à plus de 100 millions de dollars sur une période de dix ans, ce qui en fait l'un des plus importants engagements d'une entreprise à l'égard de la santé mentale au Canada. Les employés appuient de nombreuses initiatives de ce programme, notamment la Journée Bell Cause pour la cause, une campagne très médiatisée visant à réduire la stigmatisation et à recueillir des fonds pour lutter contre la maladie mentale. Depuis le lancement de l'initiative en 2010, la campagne a financé plus de 700 organismes partenaires, qui ont œuvré auprès de plus 1,7 million de personnes d'un océan à l'autre